Disclosure: This post may contain affiliate links, which means if you will make any purchase through our links, we may get some commission at no extra cost to you.
A landing page gives you the tool best suited to drawing in visitors to action, generate sales, build a following online, and capture those potential leads.
Your presence online needs more to make it realize potential monetary value. Steering away from the generic landing page is your goal.
Sales leads and lead conversion rates are and must be at the core of your marketing plan. Creating custom landing pages will move you in the right path of coaxing visitors to jump in.
The best landing page builders create incredibly optimized and designed landing pages within minutes. The choice of the best landing page builder is quite narrow. What we consider as determining factors include page builder features, pricing, ease of use, interface design, automation tools, third-party integrations, amongst others.
You can also check: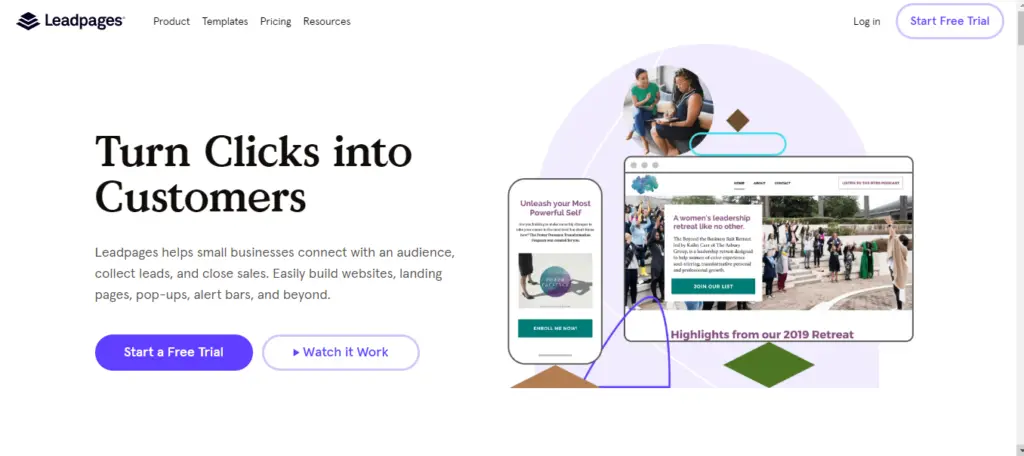 Leadpages makes the list, as a viable option for price-conscious folk. As the budget landing page builder, it boasts a competitive and attractive set of features despite the much lower tier pricing compared to the competition.
For you, Leadpages is aptly suited for selling products or advertising on your landing pages. Visitors learn more about what is on offer and also proceed to make purchases all in one place.
A set of over 160 templates work in tandem with a drag-and-drop page builder. This makes Leadpages a quick and easy page builder to use for lead generation. Leadpages allows integration of payment gateways, webinar tools, email marketing services, and CRMs. On top of this, you can run split tests and view conversion rate analytics.
What does Leadpages have to offer?
Easy format of lead capturing
Works with 40+ tools
More than 160 unique templates
No limit to the number of mobile-responsive Pages
WordPress integration option is available
A/B testing
Pros:
Low starting price (see cons)
A great editor worth working with
Quality A/B testing and analytics feature
Cons:
Some templates are not free
Customization is limited
The cheapest package doesn't offer A/B testing
How much does Leadpages cost?
Standard Plan: $25/month for 1 Site, Landing Pages, Pop-Ups, Alert Bars, Unlimited Traffic & Leads, Free Custom Domain (with annual purchase), Free Hosting, Mobile-Responsive Templates, Lead Notifications, Tech Support (via Email), and 40+ Standard Integrations.
Pro Plan: $48/month for 3 Sites, all the features available in the Standard Plan plus Online Sales and Payments, Unlimited A/B Split Testing, Email Trigger Links, and 10 Opt-in Text Campaigns.
Advanced Plan: $199/month for 50 Sites, all the features available in the Pro Plan plus Advanced Integrations, 5 Pro Sub Accounts, 50 Extra Opt-In Text Campaigns, and 1-on-1 Quick Start Call.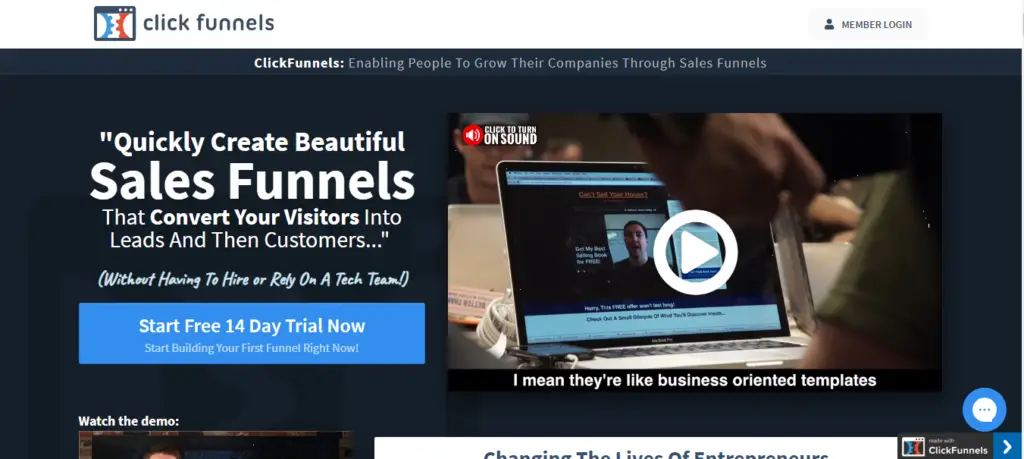 Clickfunnels lives true to its name as a tool to help you design and build a sales funnel suited to your product. As a plus, ClickFunnel has software tools ideal for creating landing pages, lead generating systems, membership sites, product launch pages, and more.
Join more than 100,000 companies that use the features and functions packaged in ClickFunnels. According to their website, visitors to your page will receive a guided step-by-step sales process walkthrough. Chances of your visitors getting confused or leaving prematurely are next to zero. ClickFunnels also directs your customers to a particular product or service they are looking for. It doesn't end with visitors leaving your page, ClickFunnels allows you to follow up with them.
What does Clickfunnels have to offer?
User-friendly drag and drop page editor
​One single dashboard allows users to manage everything
The quick building of sales funnels that convert
​24/7 Customer support
Generate and run automated marketing campaigns
Intuitive shopping carts that convert
Pros:
User-friendly and flexible allowing for convenient editing and revision
Simple template design
Page design and form creation plugins
Fast integration of major payment and email providers
Allows you to save on time with the complete funnel workflow creation tool
Free training materials and continuous webinars on offer for newbies
Cons:
The pricing is relatively high in comparison to lead pages which are a lower-priced web feature
The standard plan limits the number of pages, funnels, and visitors (100 pages and 20 funnels)
First-time users may be overwhelmed while learning the ins and outs of the features
How much does ClickFunnels cost?
Startup Plan: $97/month for Clickfunnels, 20 Funnels, 100 Pages, 3 Domains.
Platinum Plan (Etison suite): $297/month for Clickfunnels, Actionetics, BackPack, Unlimited Funnels, Pages, and Domains.
What are the benefits of landing page builders?
Landing page builders are a marketing and sales team's gift and answer to many a prayer. The landing page builder offers a tool through which qualified leads can be generated for the sales conversion funnel. It is because of this that sales and marketing teams favor using landing pages in most of their campaigns.
Better Brand Awareness
Landing page builders ensure that you maintain a look, style, feel, and write up that is consistent with the content you are linking to. The resulting consistency in branding presents an extra avenue for enhancing your brand's awareness through marketing. This consistency across multiple media platforms benefits your business by giving users more opportunities to recognize and interact with your brand.
Mailing List Growth
By using a landing page builder, your ultimate aim is lead generation. You will have a form that will collect visitor information like phone number, email, or company. Landing page forms that collect email information will help grow your mailing list. All opt-in visitors always consent to receive emails and offers from you. Having these opt-in users grows your mailing list, allowing you to stay relevant and at the top of their minds by sending them newsletters, promos, announcements, and sales offers.
Increased Conversions
Landing page builders are your tools of influence on the online market. Landing page builders help you create CTAs and user-friendly ways for users to take action. These responses by users to your CTAs are the conversions from having used the landing page builder. The landing pages you build and launch result in leads and more income as a result of an increase in conversions.
Direct Support for Your Business Goals
The goal of any business is landing new customers, closing sales, branching into an untapped niche market, or publicizing a new product. Landing page builders help you create pages that target specific audiences or goals. This, in turn, allows measurement of success concerning that goal or audience. Therefore landing page builders help in creating pages that woo visitors into making purchases, opt-in or signup to your mailing list, subscribe to newsletters, or request for consultation.
Do you need a website for a landing page?
Most businesses will steer away from the idea of piling multiple, if not dozens of marketing pages onto their website. This is more so if a particular campaign isn't going to run for an unlimited amount of time. On top of this, building marketing pages onto an existing website is not always a rosy affair unless you are a code editing ninja.
You will not need to have a website to carry any of your landing pages. All you need is a reliable and robust landing page builder, and you are well on your way to landing page bliss. You will have to part with some money, but for the tools and features you get, it is always worth the investment.
Do landing pages affect SEO?
Unless you are unable to optimize your landing page properly, then landing pages won't affect SEO. To affect your landing page SEO, you have to mess around with inbound and outbound links plus what you add to the page.
Your landing page is at the center of all targeted PPC traffic. Hence all focus is selling and/promoting particular products or services to the audience received through the PPC efforts.
A remarkable landing page is both engaging and intuitive, reeling in the user while answering any question the user may have on what is on offer. Delivering on value and user experience is paramount during the making of a landing page.
How do you structure a landing page?
Have a custom URL and Publish to it
Have a suitable title for your page
Determine in advance the keywords to use
strategic keywords placement on your landing page
Call to action
Have all backlinks to your landing page secured
Properly layout content on your page
Easy Navigation
Speed up your landing page
Make your content shareable
Conclusion
As you search for your go-to landing page builder, it will be worth putting into consideration what appeals to you in a landing page builder and the cost implications involved. The best landing page builder software will offer unrivaled drag-and-drop builder experience, have the right integrations that match your budget, and templates to make your building process as smooth as possible.