Even though there several password reset request letters templates, these considered ones offer you concise and simple templates. Instead of just giving you templates having a cool design, these options also offer you the usability testing, coding, security as well as the best copy to making them the most effective.
Notably, anytime you start to do coding of whatever kind of web application, you have to create and try different emails thus the password reset. This is normally tiresome and time-consuming. Therefore, as a developer, your priority is about creating features as well as test experiences for the users. In making much fun and simplifying your application, it is important to have in place password reset system. Bearing these given options your time for development and customer experienced is much boosted and energy saved. These reset request letters are mostly using with the login form templates.
Luckily, you don't need to have much time researching the best email templates. This article offers you a real-time solution in terms of the pre-built password reset emails.
Free Password Reset Request Letter Templates
If you are looking forward to utilizing a good password reset email, you must consider these numbered guidelines. The password reset request email template should:
Have a clear name that uses the product's name and a subject line that bearing the need for resetting the password of the user
Greet the user by name (or username) thus building trust as well as identify which account calls for a reset
The notification message should be clear and concise bearing the attached password reset link on its line.
Give some peace of mind if the user did not request a password reset. This is indicated by suggesting ignoring the email or contacting the support.
The reply-to address must go to the real person as well as the support address
Must bear the expiration time for the password reset link to prevent abuse.
Never, ever should the password be in plain text.
Having mastered the above tips, let's now explore into details the best ten passwords reset request email templates.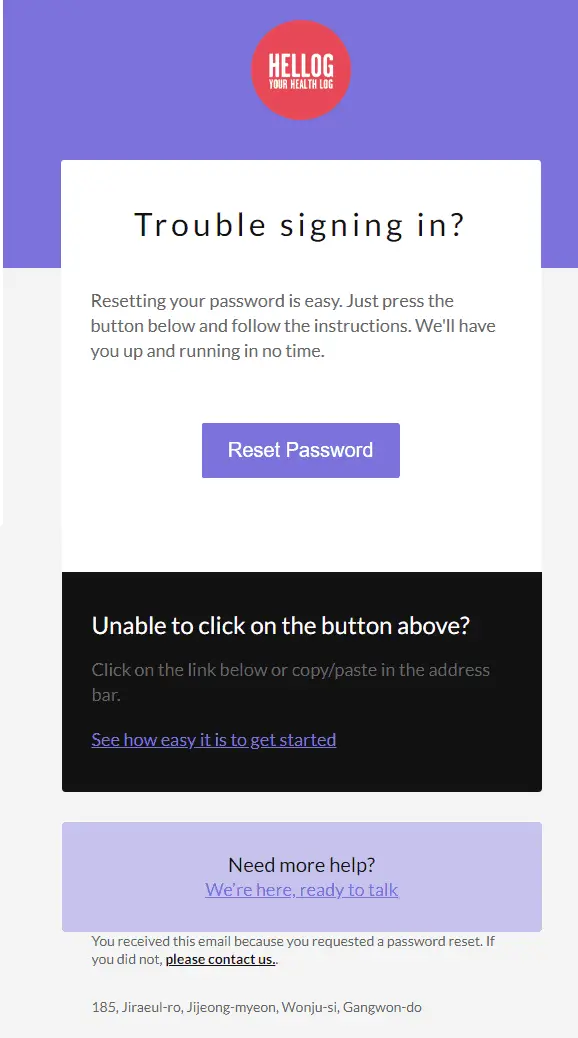 Postmates  Password Reset Request Email Template
Postmates is one of the modest and coolest password reset email template. These are offers different options such as design, coding as well as usability, and security. The template presents a simple reset step with conciseness. Additionally, it offers tri-applications; app, food, and password reset functions.
Moreover, the template offers the notification message explaining the need for the change of password. This message simply reads that you have received the message because you had requested to reset Postmates email password thus offering real-time security. The message is followed by direction, clicking on the below button to reset your password, that simple.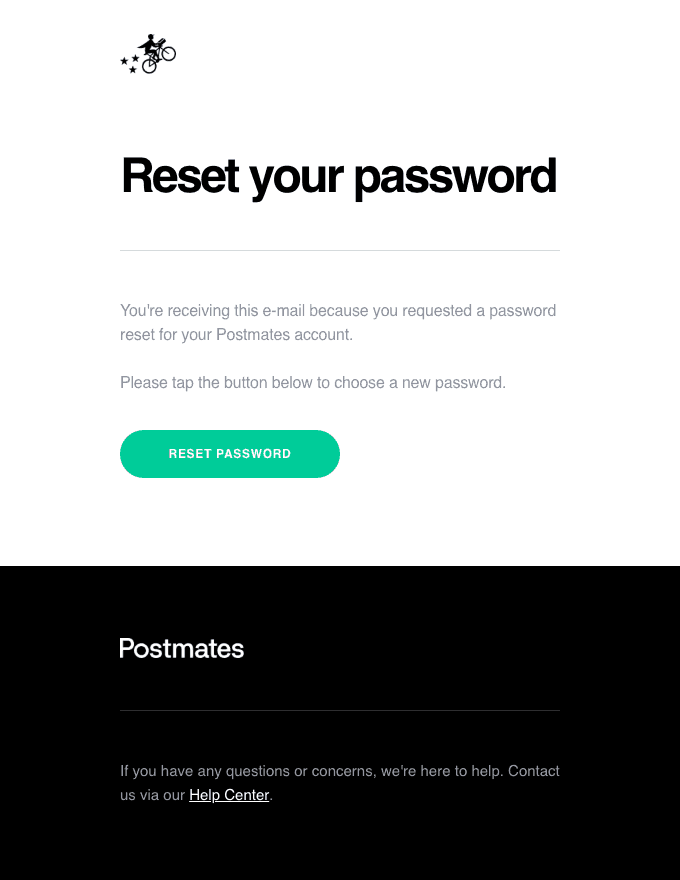 Crisp Password Reset Confirmation Email Template
Crisp password reset email template is another easy password recovery template offering amazing and simple steps. No more sweat in recovering or resetting your Crisp account, things got better and easier. Notably, this email template offers effective optional functions; designing, coding, security, and usability.
The password reset template simply notifies you if you have lost your password with immediate below button indicating recover my password. It, therefore, offers a real-time solution, and a quick password reset to maintain the security of your account.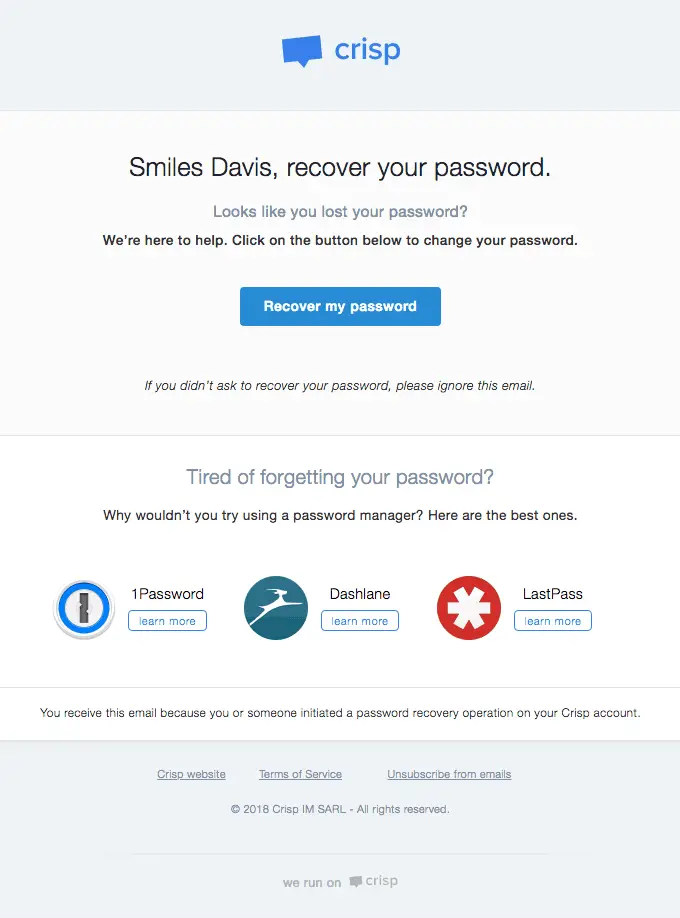 Password Change Notification Email Template
Verve Wine is another better alternative password change notification email template. It offers the four primary functionality of password reset email templates, designing, coding, security, and usability. In addition, Verve Wine is very simple to use, it offers three optional application namely coffee/ beverage, transactional and password reset.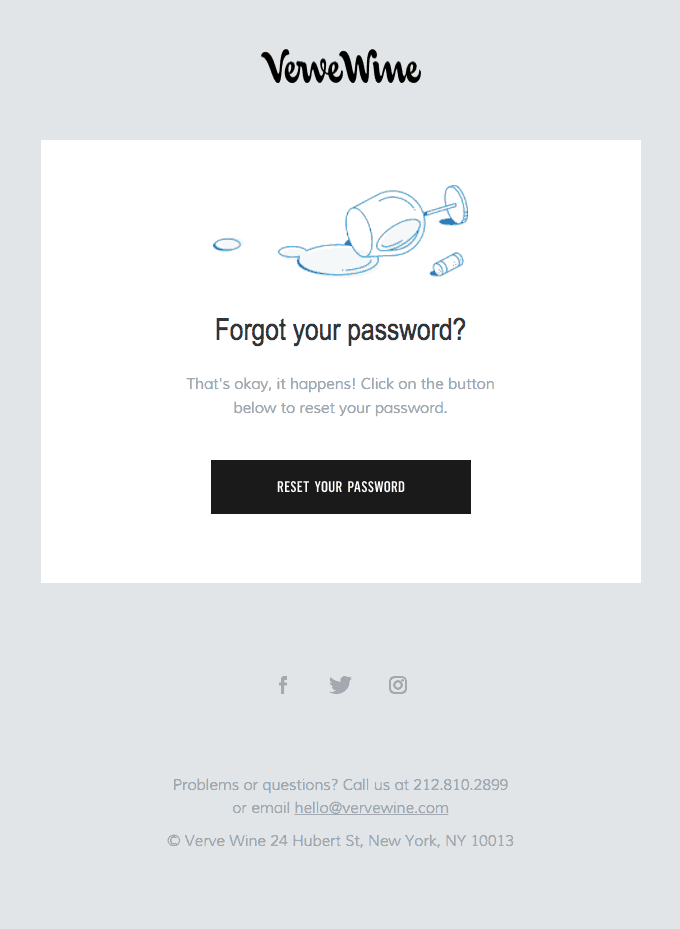 Patreon : Free Forgot Password Email Template
Patreon is another amazing password reset email template you got to try out. The template is simple to use. It offers an effective application of password reset. Just like any modern template, it offers four primary functionality; security, design, and usability as well as coding. It offers simple and clear notification, upon receipt of the need to reset password thus on-time security check. Amazingly, the notification bears that if you never asked for such change, you have all the freedom to ignore. The following button is just set your new password.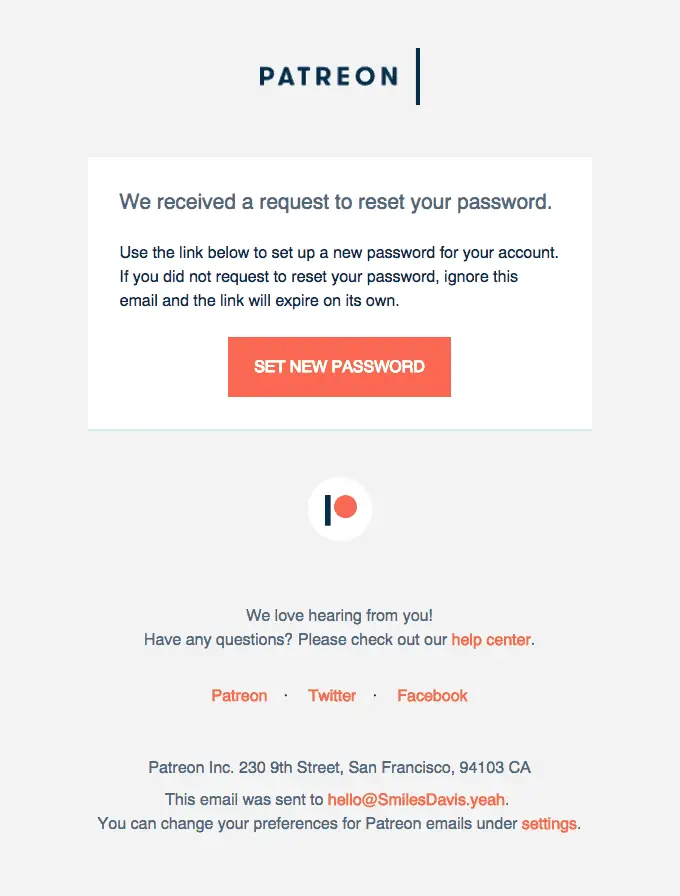 Lingo Reset Password HTML Template
Lingo is a modern, friendly and excellent password email reset template. Amazingly, it does not make you feel dump about forgetting your password. The template is lovely, bright colors with huge button, outstanding CTA. Importantly, Lingo offers the security, usability, coding as well as design options. Applicably, it also offers alert, and password reset alternatives. The email password rest template is simple and easy to use; it offers real-time security and alert, which are notified via message. The message indicates forgot your password; we got you sorted boss. Let's get you your new password. The immediate below button is about reset password. In short, Lingo is simply A+!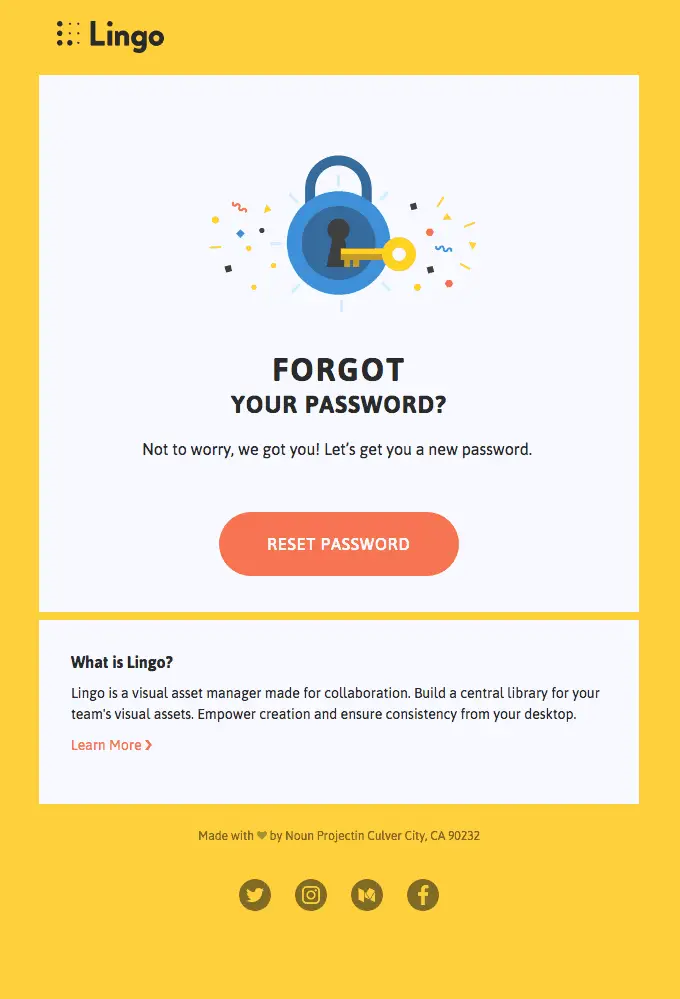 Jet : Forgot Password Email Template With Format Content
Jet is an amazing modern password email reset template offering you four primary functionality; security, coding, design, and usability. It is simple and direct. The password reset template offers 3 amazing applications; E-commerce, password reset and transactional options.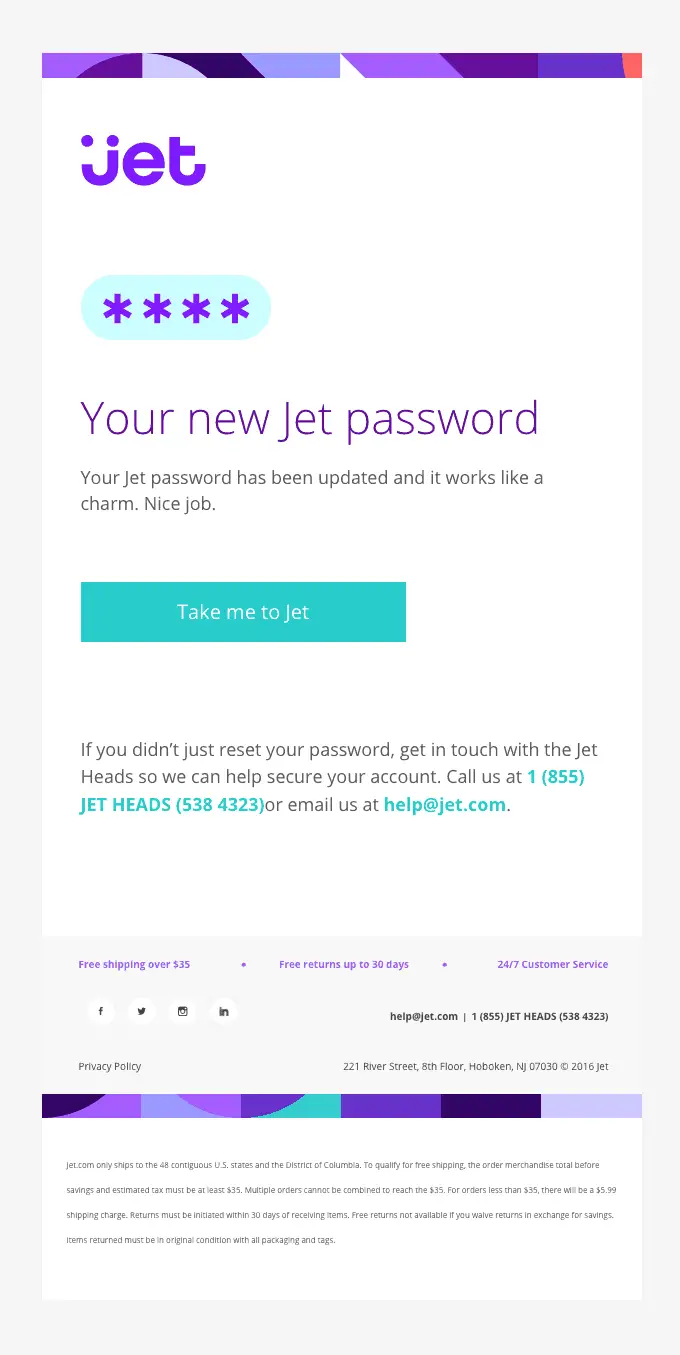 Here is the Version for Reset Password,
Moreover, the Jet template offers timely security and alert, it sends notifications bearing your new jet password has been updated and works like a charm. Notably, it offers password reset expiration time,  that in case you didn't change your password get in touch with the head office.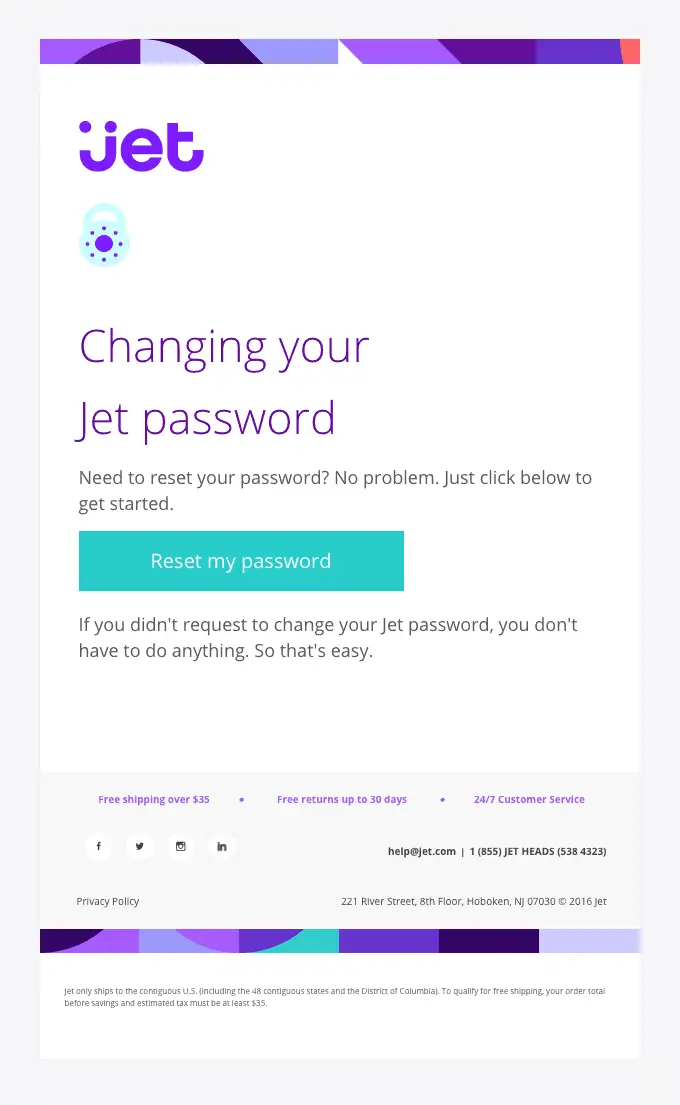 Free Simple Reset Your Password HTML Template
This email password reset template offers notification bearing simple English, forgot your password? Happily, the notification message encourages you that forgetting is neither sin nor crime; it's natural to be forgetful. It then presents you with an immediate below button to reset your password!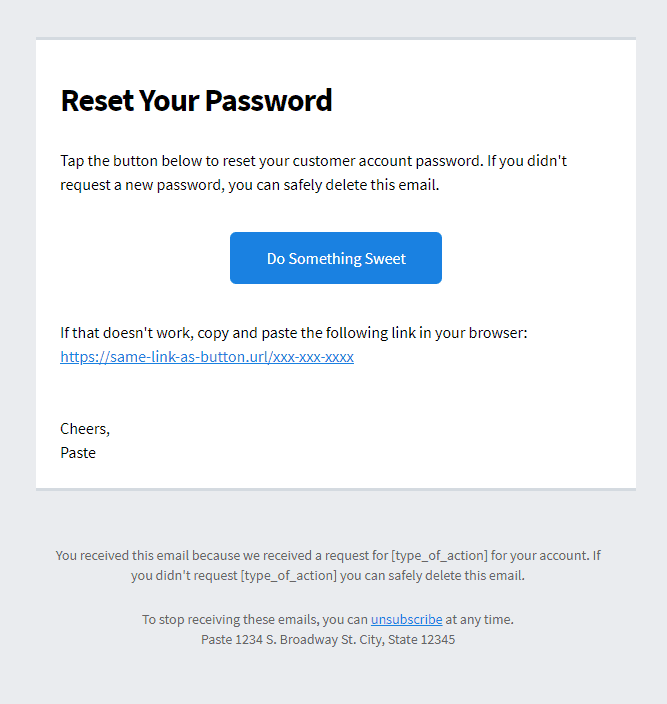 Conclusion
In conclusion, in password reset emails, one must accomplish some goals. The primary goal is to help the user to regain access to his/her account securely. However, it is possible by utilizing a link of the password reset. In other cases, it is quite complex. These may be bearing circumstances of the expiration of the link, key in the new password, and failure to work on their mobile devices. In solution, any software application must have a 'reset password' notification. This offers security alerts. Finally, the password reset template must offer coding, usability, and design thus creating room for applications ranging from e-commerce to password reset alerts. Find your account today!