Do you plan to corner the market on your niche? Without a doubt, the list of popular Magento themes should be high on your list. Maybe you are still hoping to enhance your selling spree without a website? Fat chance. To get you up to speed, the use of online sales continues to reach new heights. So, without a website, your opportunities to outpace traditional industry leaders are next to nothing. Instead, with a website built with Magento your opportunities to become the next one in your niche is enormous. With so many eCommerce platforms out there, why go for Magento you may ask?
Well, there is no silver bullet, yet one thing is sure – Magento is a top-notch tank on a field of eCommerce battle. With a lot of advanced features under the hood, Magento has everything you may need to reach for the stars. A galore of Magento fashion themes, responsive designs, ability to add thousands of products, categories & orders, and the list goes on. Without a doubt, the possibilities of Magento have no end in sight. Want to get into some nitty-gritty details? Join Magento Blog to get answers to the most widely asked questions. I'm a true fan of it and what about you?
10 Top Rated Responsive Magento Themes
So, are you ready to start growing your eCommerce business today? Even if you're just starting out and have no experience, I've walked in your shoes and will show how to take the easy way out. So, now don't miss out your chance to find yours.
Amalgam – Wholesale Magento Theme
Don't get overwhelmed with all the details for launching your wholesale website. Let Amalgam keep it simple and take care of everything for you. Clean, attractive and responsive, Amalgam has you a lot to offer. Apart from being versatile and easy to customize, it sticks out from the popular Magento themes. It fits wholesales, fashion, and food online stores. Also, it offers you tons of extensions to facilitate managing your online store. So, what's your real-world benefit? Well, multiple homepage layouts, product pages, and header & footer styles. Besides, Amalgam comes with Ajax Catalog, Ajax Search and Mega menu extensions to help get the most usage out of it. At last, save you time and money with Amalgam. As a result, you are free to focus on what you're good at, building your wholesale business.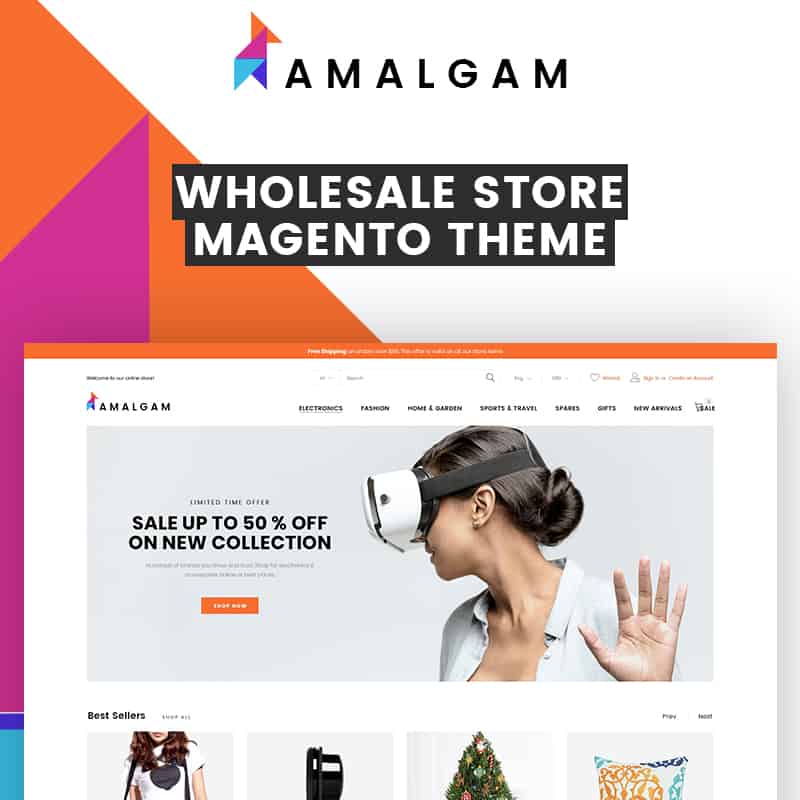 Ketty – Fashion & Clothing Store Magento Theme
Do you want to attract new prospects? Or maybe you wish to increase sales or communicate more effectively with existing clients? No problem, with Ketty you've won the jackpot. Bring to effect the desired change and improve your profits from day one. Lend a more elegant feel to your fashion apparel store and make your website shine. So, its mobile-friendly design and AMP-technology can help make mobile web content appear immediately. As a result, you get a better ranking in the search engine for mobile. Boom, everybody wins, including you. Also, add your best-selling items on your homepage sliders to add more interest and attention to it. It's your smart bet to get as many eyeballs on your content so don't miss it out. Ajax Search, sorting options, various product types, and theme options, what else could you dream of?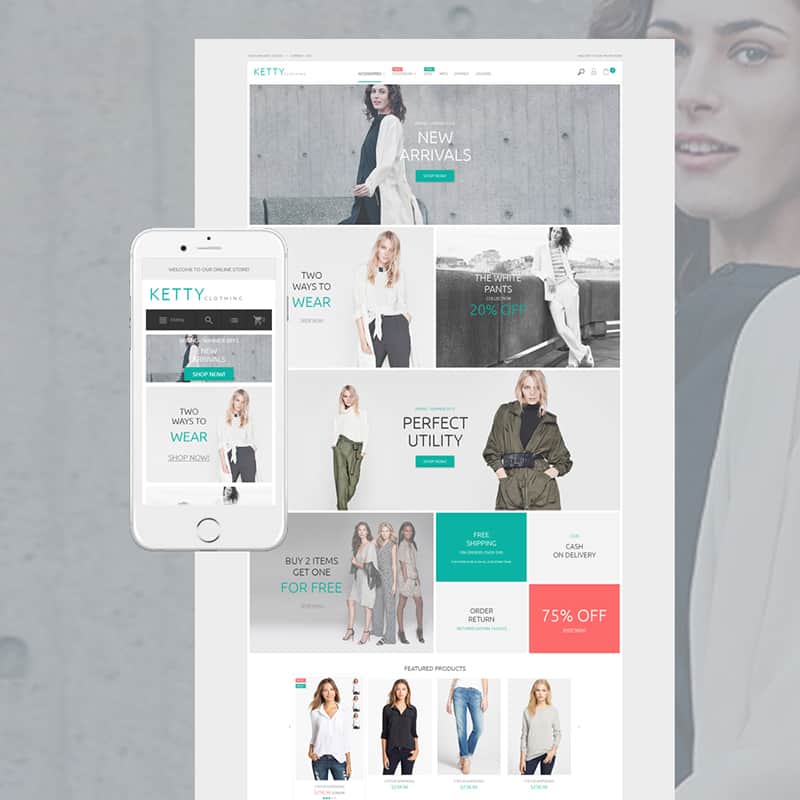 ILEA – Decor & Furniture Magento Theme
Looking for a worry-free solution to design your décor & furniture website from the ground up? End your search on ILEA. Clean, fresh and modern, it stands out from the other popular Magento themes on the list. Built in line with the best web design practices, ILEA has everything you can only dream of. It allows you to build any kind of eCommerce store selling furniture, exterior design or home décor items. Of course, you can choose between several pre-designed homepages layouts, headers & footers, and product page styles to make sure that your website is a cut above the rest. Take time to poke around its advanced extensions to get the most out of it from day one. Indeed, the ability to respond to any modern device that exists now makes your website worth exploring. So, are you ready to take the next step?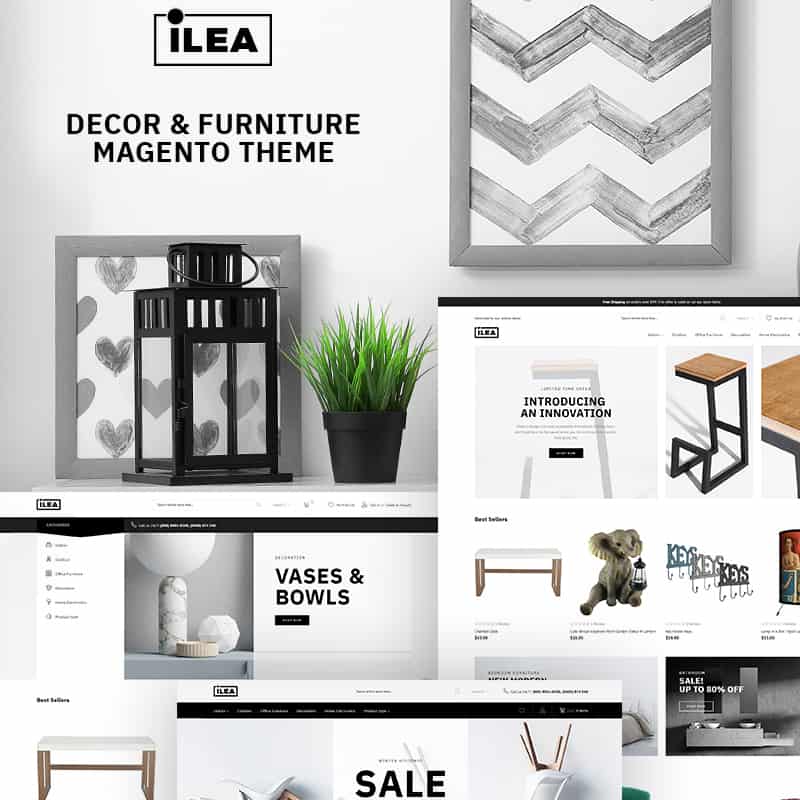 Flash – Multi-Purpose & High-Performance Magento Theme
No matter your niche, a good eCommerce web design is crucial for turning website visitors into customers. Ideally, you should make the shopping experience online as stress-free as possible. If your website is not in tip-top shape, you are losing a large chunk of prospects. It's time to turn the tables with Flash. Clean, modern and multi-purpose, it comes with 12 unique home pages to help get you started quicker. In addition, it includes a massive amount of advanced extensions to help you see more conversions in no time. Besides, it includes Mega menu functionality and newsletter subscription pop-up to help you broaden your customer base. Need more features?
Image slider
Optimized for speed
AMP-technology
TM Ajax Search
Sliced PSD
Ajax Shopping Cart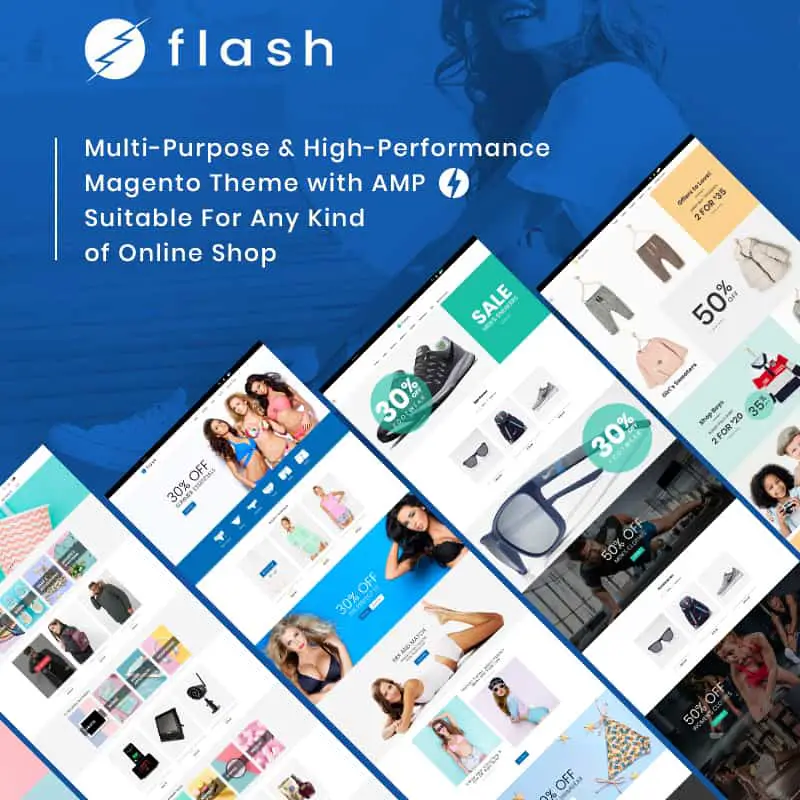 Motor – Car Services Magento Theme
Not sure of your car service website has a good user experience? Give Motor a try. This attractive specimen of the most popular Magento themes can surprise you. Whether you want to promote your car dealer service or sell wheels and tires, there's nothing to stop you. Create beautiful customized menus and stunning image sliders to add attention to your pages. To help keep your visitors informed, the newsletter subscription pop-up feature will come to your aid. Ajax Compare & Wishlist, film slider, smart product labels, and other extensions can help get to main conversion points more quickly. Don't fret if your coding skills are not as perfect as they could be, a friendly 24/7 customer support is your best ally.
JX Ajax Search
SEO optimization
AMP-technology
Sliced PSD
Extra Pages Layouts
Product Quick View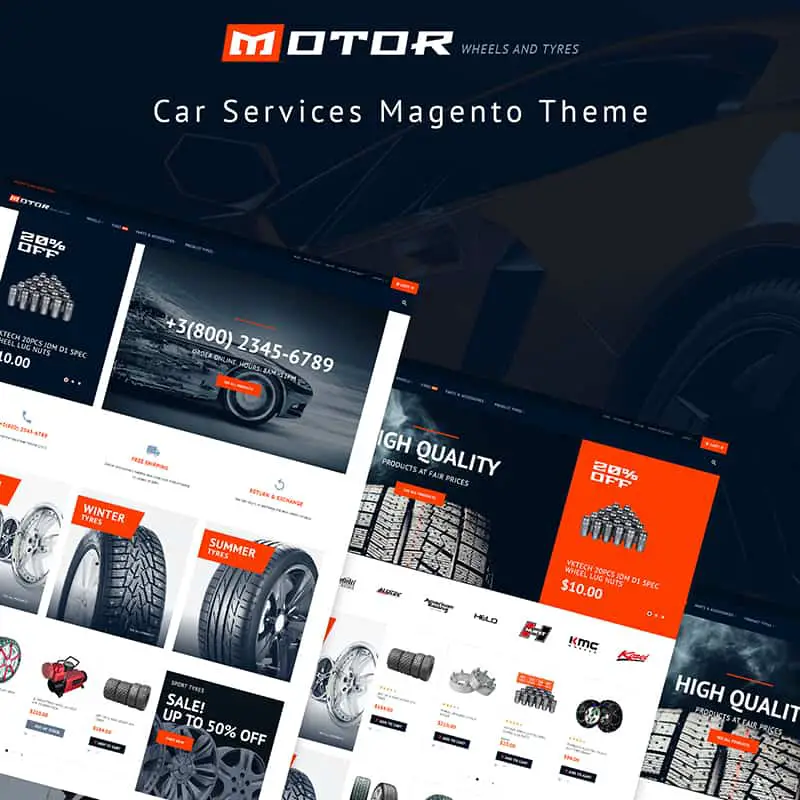 Magetique – AMP-Ready Multipurpose Magento 2 Theme
As a serious business owner, the last thing you want your eCommerce website to confuse people. Chances are that you've heard that Magetique is one of the most popular Magento themes out there. Since its launch, it has got over 20+ theme updates. So, if you're still in doubt, it's more likely that 900+ satisfied customers can't go wrong. Jam-packed with a galore of incredible features, it allows you to effortlessly manage your store even with no one's help. Depending on your niche, 5 unique premium topic layouts with over 100+ content elements can make your dreams a reality. In addition, 4 color variations will help you change a color scheme as per your liking. Thousands of pre-designed page elements will help do the hardest work for you. Go on and treat yourself to something great. The more inside.
AMP pages
Marketing Toolbox
Ajax Wishlist & Compare
Parallax Video & Background
Smart Product Labels & Featured Products
GTMetrix & Google's Page Speed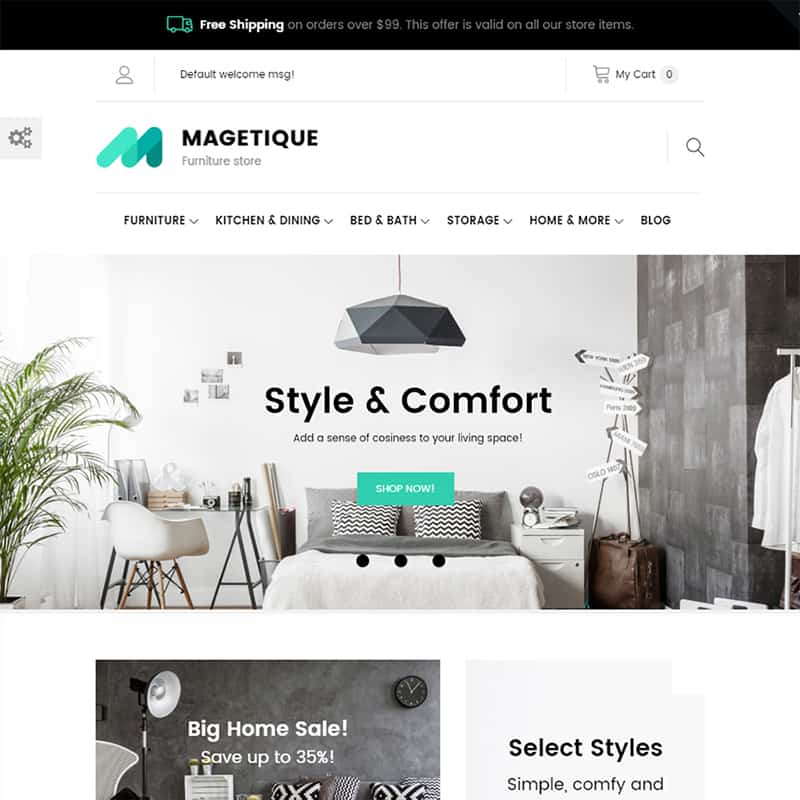 Illin.co – Tools & Equipment Store Magento 2 Theme
While it is wise to optimize your website for conversions, you also want your site to stand out from your competitors. A website built with Illin.co makes standing out easy. Responsive from the ground up, your website has a better chance to stay top in the search engine results. Compatibility with the Mega menu, allows you to funnel your visitors to the right pages and take actions that benefit your business. Also, newsletter subscription pop-up is your best ally to keep your visitors informed and tuned to your business. To add more interest to your best-selling items, website sliders are your best ally. At last, accelerates mobile pages will help make your mobile web content appear immediately. As a result, it improves your search engine rankings and allows you to win so much.
Product Types & sorting Options
TM Ajax Search
Ajax Product Filter
Responsive & Retina ready
Parallax & Video Background
Social Login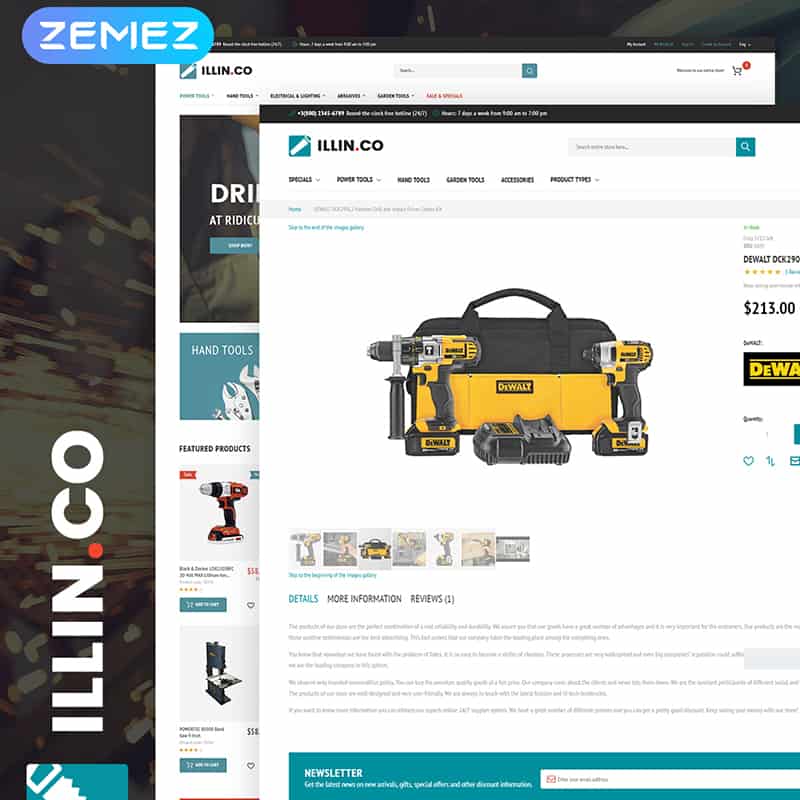 EVA – AMP Fashion & Beauty Store Magento Theme
As more consumers prefer purchasing goods online, it makes sense to take your fashion business to the next level. Even if you haven't built a website before, don't fret, EVA could be your best ally. The ability to reach more people globally shows your seriousness to the business you take care of. With EVA, you get nothing but the best. Responsive, attractive and fresh, it's an ideal solution for any fashion or beauty eCommerce website. Jam-packed with tons of extensions & customization options, it allows you to spice up your e-store to the next level. Got a compliment for a client? Promote it right on the homepage slider. Want to make your web content appear immediately? Let AMP-technology take care of it. All in all, the more you want, the more you get.
Optimized Page Speed
Different Product Types & Sorting Options
Quick TM Ajax Search
Mega menu
Ajax Compare & Wishlist
Special Price Countdown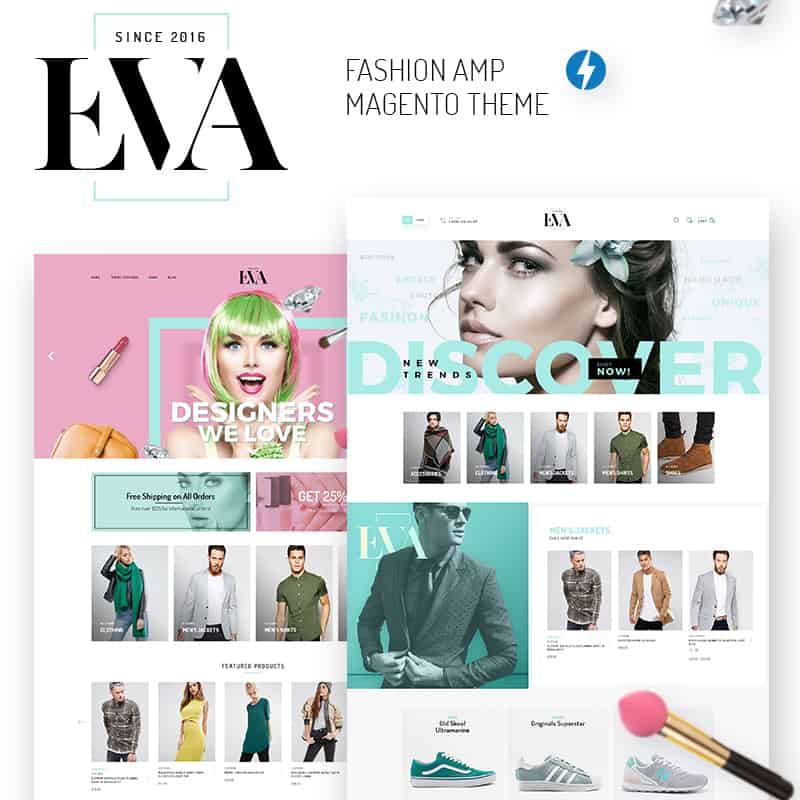 Volta – Electric Vehicles Parts and Components Minimal Magento Theme
What can help set your online store for success? An impressive and effective website design that creates demand. With Volta, it's easy to build a visually appealing website that can break through the online noise. Developed for online stores, Volta can help make your website shine. So, it comes with a set of pre-designed layouts and header & footer styles to speed up the site-building work from day one. Also, it includes a massive amount of extensions to help you enhance your marketing effectiveness. Indeed, your responsive website will respond to any modern device that exists now and down the road. So, instead of showing your visitors everything you've got, helpt hem take actions that benefit your business. Ready to set your eCommerce website to success?
Responsive Layout
Ajax Product Filter & Ajax Compare
Mega menu
Layout Switcher
Ajax Search & Ajax Catalog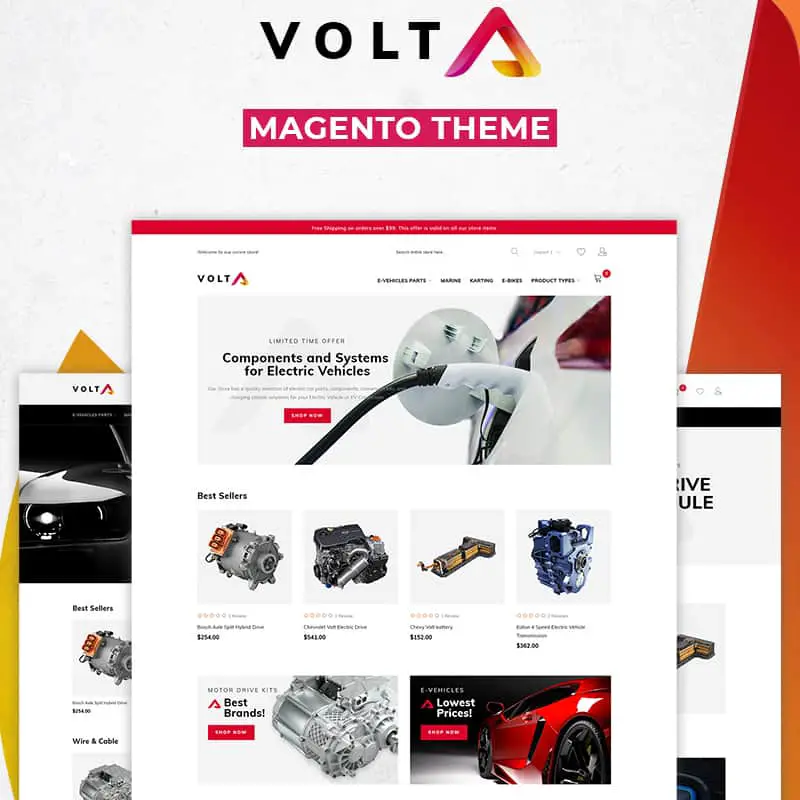 Parts'n'Tires – Car Tuning Clean Responsive Magento Theme
Need to improve your ranking with the search engines? Using the responsive specimen of the popular Magento themes allows you to do the trick more efficiently. Parts'n'Tires could be right at home for online stores selling auto parts, wheels, and tires. Do you have any special needs? Feel free to customize it up to your business needs. You can take advantage of a set of pre-designed pages. Also, it's easy to make any changes to your headers & footers. Of course, it makes sense to get the best usage of Essential Modules Pack. Indeed, Mega menu functionality allows you to create beautiful customized menus with no fuss. All in all, no matter how far you'd like to go with Parts'n'Tires, your customization possibilities are almost endless.s
Advanced Theme Options
Ajax Product Filter
Different Product Types & Sorting Options
Ajax Search & Ajax Catalog
Layout Switcher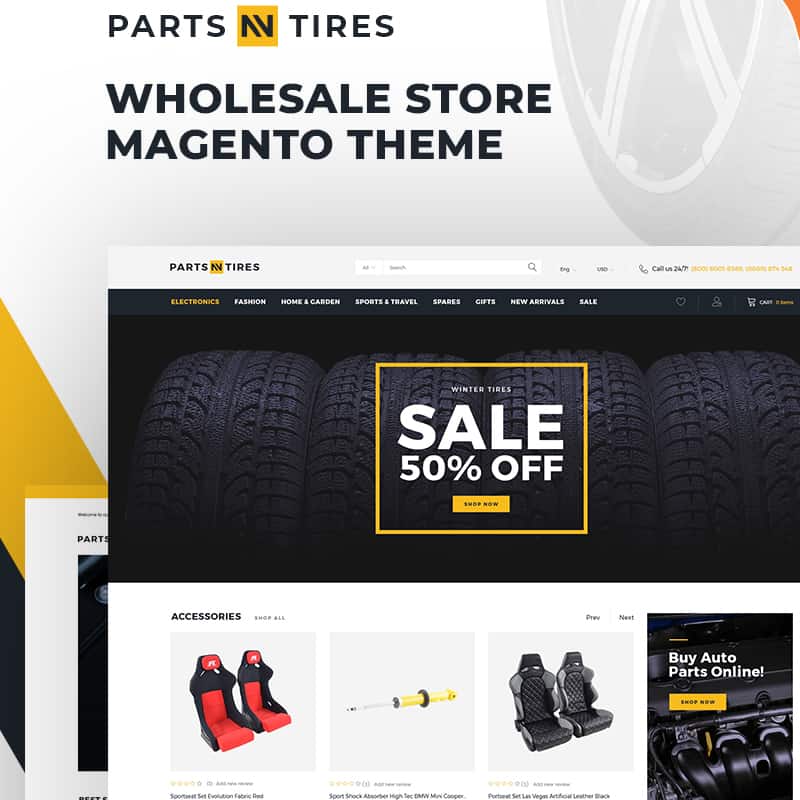 Final Thoughts about the List of Most Popular Magento Themes
Don't be daunted by the number of popular Magento themes out there. Built in line with the best web design practices, all of them can offer you nothing but the best. It all depends on what your particular business needs are. Your prospects expect a frictionless experience on your eCommerce website no matter what. Once a consumer feels comfortable on your site, he is more likely to buy your products and return. In case you're still looking for ways to improve your user experience, give these popular Magento themes a shot.
At last, when designing an eCommerce website, it's not just about beauty. Better yet, is to create an online shopping experience that will convert prospects into paying customers that return. Need help? Don't hesitate to ask for assistance at any time. All in all, a friendly 24/7 customer support would be a nice extra for you.