Running a Joomla business website may seem quite a quest if you're new to it all. In fact, this task is not that hard. You just have to know the right themes to use. In this post, we introduce the top Joomla business templates released in 2019.
The themes that we share with you in this post are powered by Joomla CMS (Content Management System), which is the second most popular CMS in the world. There are many reasons for its popularity:
Firstly, Joomla offers fast, safe and simple editing. Its admin panel is full of options and you'll find everything you need.
Secondly, Joomla has an inbuilt frontend editing interface, meaning that you can edit website elements by clicking them on the website frontend.
Moreover, Joomla is SEO-optimized and naturally multilingual. You do not need to install additional extensions to speak to the world.
Also, there is a huge number of extensions for Joomla that make its capabilities literally limitless.
Finally, Joomla is a sound option for running a present-day e-store.
Best Responsive Joomla Themes for Ecommerce
Looking for a business, corporate, heavy industry, startup or Joomla restaurant template? Then, don't hesitate to take a closer look at the themes below!
Blue Energy – Industrial Company Joomla Theme
If you run a natural gas, oil or petroleum company, you need an attractive and well-developed website theme. It's a great idea to use the clean and bright Blue Energy template, which creates an atmosphere of trust.
Blue Energy has a rich set of pages on board. These pages do a great job presenting your services, company and team, as well as provide users with different means to stay in touch with you. If you pay closer attention to the theme's storytelling Homepage, you'll see that it presents your services in a concise way and encourages your site users to navigate to other website pages to explore more. In addition to this, the pages of Blue Energy manage to effectively engage users with a number of visual tricks, such as Parallax effect, vector icons, creative tabs, toggles and galleries.
Built with valid semantic coding, Blue Energy, delivers you tons of useful functionality on top of its sound and fast-performing core. First of all, the theme delivers you a professional slider, with the help of which you can display your promos, best offers and accomplished projects. Moreover, the theme lets you easily create MegaMenus with Joomla. Create menu panels that make navigating your website a pleasing and comprehensive task. Finally, the theme also has a premade newsletter subscription box on board.
Other features:
Cross-browser compatible;
Google Fonts and Maps;
Social Login;
Advanced Search Options.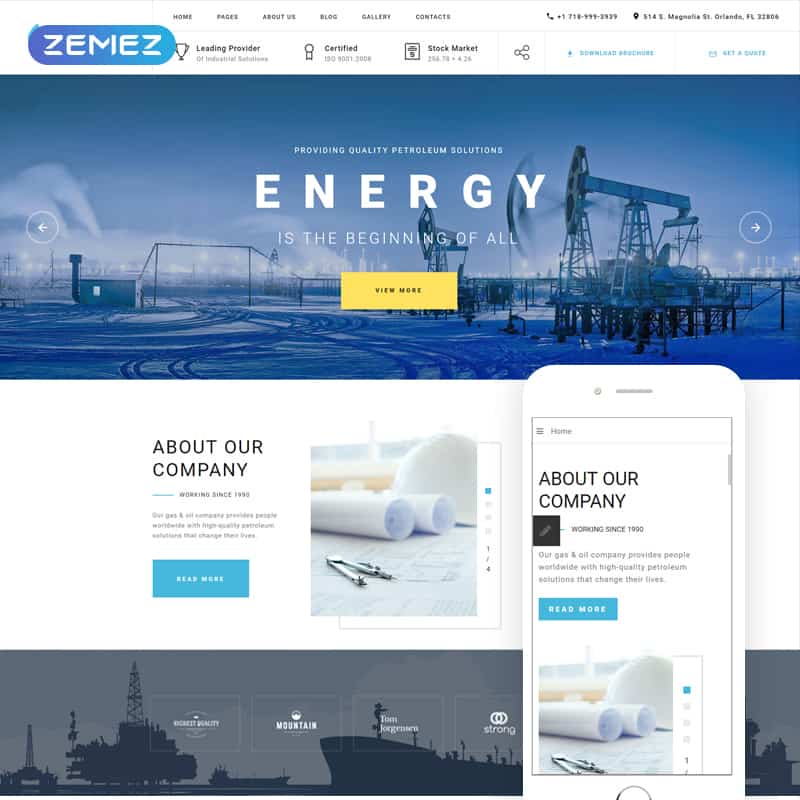 Joombiz – Efficient Business Joomla Theme
Built with an eye for detail, Joombiz is an elegant and efficient Joomla template, which allows even a web design newbie to create a high-profile website. This template is underpinned by the forward-looking t3 framework, which makes the theme compatible with the upcoming Joomla 4.
There's a number of Joombiz features that make this theme really user-friendly. First and foremost, it's the prebuilt SP Page Builder, which allows every user to edit content within a simple WYSIWYG interface. Trusted by 350K+ users, SP Page Builder is a leading WYSIWYG Joomla solution this year. And it definitely deserves its popularity with comprehensive content management and options. Secondly, Joombiz is packed with a handy collection of addons for the builder. Utilizing these addons takes no coding knowledge and makes every user able to add and customize the attractive pre-made blocks. The addons are divided into several categories for your convenience and some of them bring you different premade styles for more web design variety.
Finally, Joombiz incorporates a new Login Form that will make registering and logging in to your website a piece of cake. Thanks to the new form, users can log in with their Google and Facebook accounts. Logging in will take just a couple of clicks.
Other features:
MegaMenu;
Theme Color Switcher;
Newsletter Subscription;
Slider and Gallery Extensions.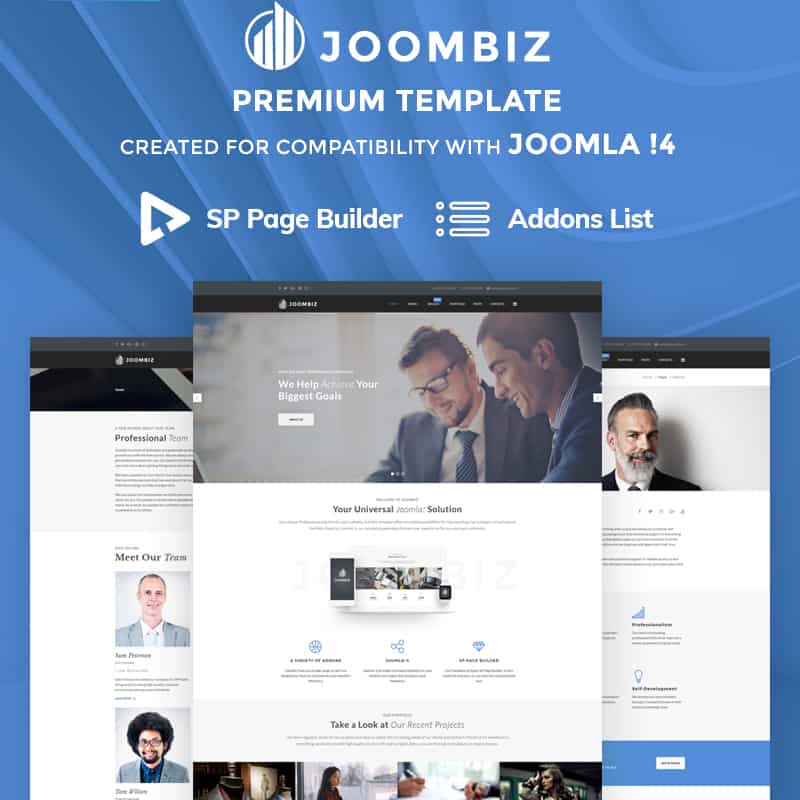 Virginia – Corporate Joomla Theme
If you need a clean and breathtaking corporate Joomla theme, Virginia will please you with its modern design and functionality. To let you accomplish your project in a short period of time, the template comes with an extensive set of pre-built pages. This set includes such pages as Pricing, FAQs, Our Team, History, Testimonials, Site Map, Portfolio, etc.
Moreover, Virginia comes with a rich set of UI elements, such as lists, block quotes, pricing tables, progress bars, counters, etc. On top of fully-fledged social integration and sharing options, the theme lets your website users login to your website, using their accounts in social networks, such as Facebook and Google+. Finally, Virginia's responsive slider is ideal for adding custom slides with promos, new products, and other offers that you want to highlight.
Virginia also brings you a handful of functionality-boosting extensions. For example, it's pre-loaded with extensions for the creative Gallery displays, a working Newsletter Form, Megamenu, and Advanced Search. Moreover, Virginia offers you a Theme Color Switcher tool for controlling the color scheme of your website like a pro!
Other features:
Valid Semantic Coding;
Cross-browser Compatible;
Search Engine Friendly;
Documentation and 24/7 Support.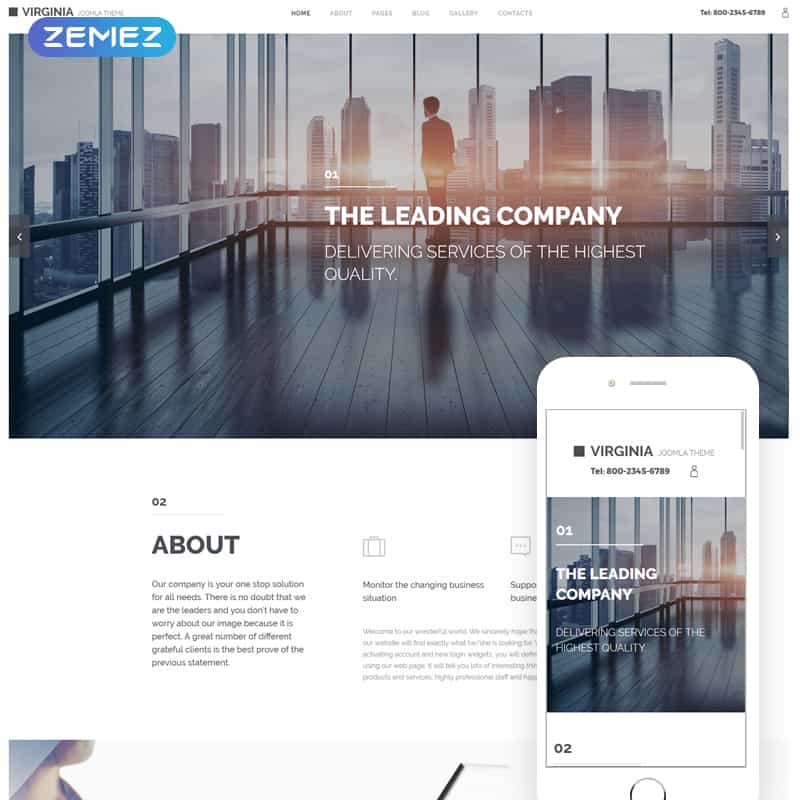 Scope – Investment Company Joomla Design
Scope is a modern Joomla template for investment and financial companies. By default, this theme offers you a sleek dark interface. The theme's elegant and ultra-modern top slider is a perfect tool for showcasing your promos, deals of the day and most popular products.
Scope theme includes a sound UI package that will please every business. You get tons of additional blocks such as accordions, toggles, pricing tables, progress bars, and counters. Moreover, Scope is an ultimate booster of UX on your website. For example, users can log in using their accounts in social networks, navigate your website with ease thanks to MegaMenu, and learn more about your company on the go, as the theme is 100% responsive and cross-browser compatible. Moreover, with Scope, you can change the color scheme of your website's interface in one click using the Color Switcher tool. You can also control a number of display options, ensuring that your website meets your expectations. All in all, Scope is a great option for your investment, finance or corporate website, delivering your guests an awesome interface and user experience.
Other features:
Contact and Newsletter Subscription Forms;
Modern Filterable Gallery;
Google Map;
Cross-browser Compatibility.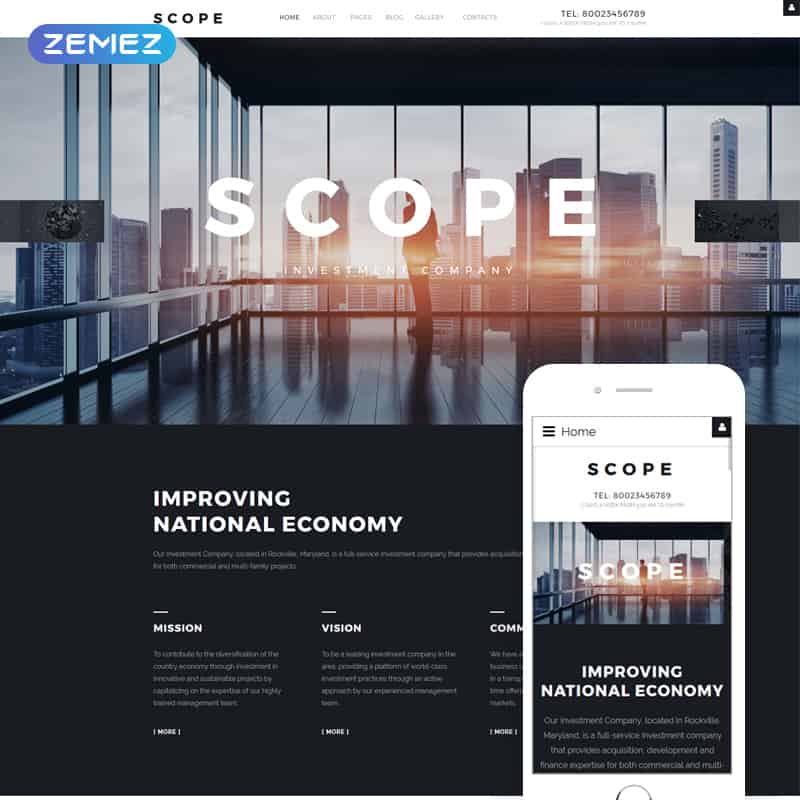 Alfa Industries – Industrial Joomla Theme
Are you looking for a clean and present-day template for construction and heavy industry? Then, don't miss your chance to launch a speedy and reliable website with Alfa Industries theme.
Alfa Industries theme comes with a set of 10+ pre-built pages. On top of the must-have set of website pages, you also get a number of additional pages, such as History, Pricing, Careers, Portfolio, Forum, etc. Moreover, this template has a convenient interface for managing the content of different types. You'll be rejoiced to see how many content optimization options this theme has on board. Next, the clean website layout, use of negative space and clear-cut typography ensure the good readability of your Alfa Industries site content.
This theme ensures supreme website browsing experience thanks to such features as a stick-to-top menu, MegaMenu, extended commenting system, etc. Moreover, Alfa Industries comes with an inbuilt Color Switcher and Social Login functionality that lets your users log in with Facebook and Google+ accounts. Finally, the theme's Gallery page is ideal for presenting your projects within a filterable portfolio with different layout types.
Other features:
Cross-browser Compatible;
PSD Files Included;
Fully Responsive;
Multiple Content Types.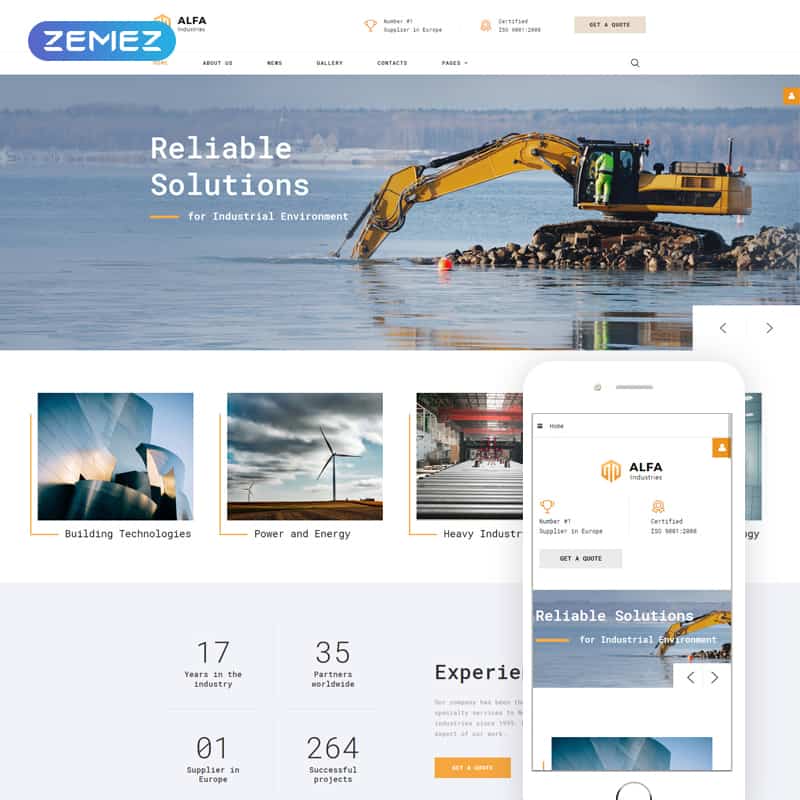 Amilia – Multipurpose Corporate & Creative Joomla Theme
It's hard to find a corporate theme that looks more creative and present-day than Amelia. This theme is packed with animated content and engages at first sight. Amelia includes the animated Revolution Slider, which is designed to tell about your company and present the services you offer. Additionally, this template delivers you a powerful Gallery section, within which you can categorize your projects into several categories.
Amelia is also present-day in a way that it provides you with SP Page Visual Builder. This builder features a new shiny front-end editing system. It allows you to customize your website live, with no pop-ups and previews. Moreover, this builder gives you device-wide responsiveness control to make your websites fit for each and every device. Moreover, Amelia also delivers you 24+ custom addons to be used within the builder for the creation of different blocks and sections.
Amelia is built with Bootstrap 4. Its core is powered with Helix framework. Helix is currently considered the best framework for Joomla, multiplying the capabilities of this CMS. Helix is very fast and multilingual-ready. It allows you to design beautiful websites that fit all form factors with ease. Helix delivers you a number of header variations, MegaMenu builder, functional Media Manager, flat admin interface and more.
Other features:
Easy-to-install with Quickstart Package;
15 Premade Homepages;
10+ Portfolio Layouts;
7+ Blog Layouts;
Owl Carousel.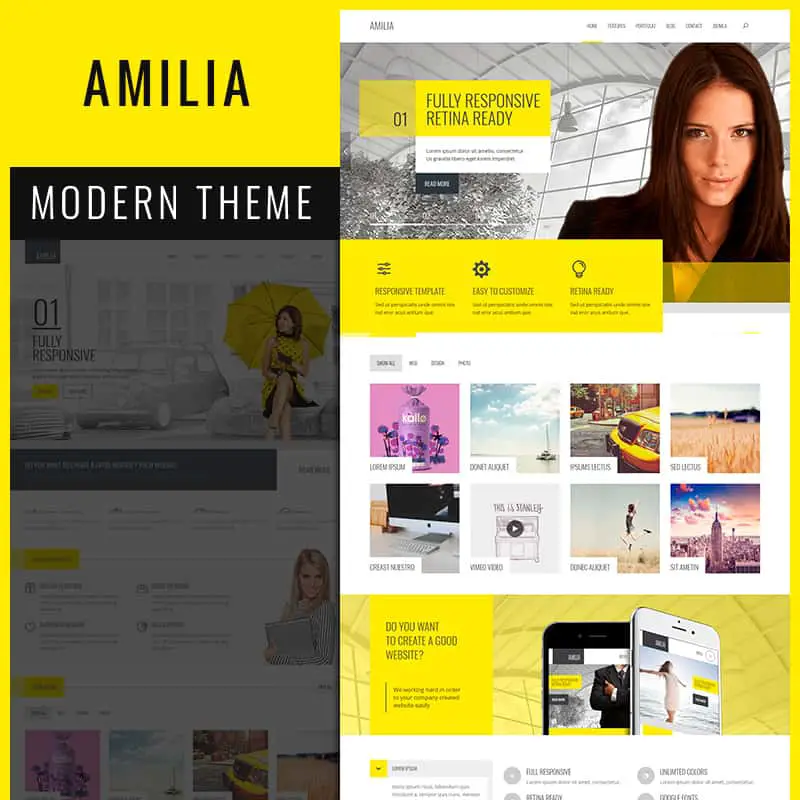 Flash – Corporate Joomla Theme
Want to power your advertising or marketing website with Joomla? Then, Flash is the most modern and advanced solution for you. The theme is equipped with a rich set of revolutionary features that let you create a responsive, cross-browser compatible and fast-performing website in a matter of hours.
Flash is packed with extensions that let you add Parallax and video backgrounds to your website pages. This provides for richer user experience on the pages of your website. Site guests will want to stay with you and convert. Next, the theme comes with the full set of pages you will ever want for an advertising website. The layouts for introducing your company and team, presenting your projects and defining your services and pricing are provided. Additionally, Flash incorporates a social login system and an inbuilt Color Switcher that lets you change the color scheme of your website in no time.
Flash also offers you more than 500 Google fonts that give you the freedom in typography choice. Finally, this theme is SEO-optimized and ensures your best possible position in search engine search results.
Other features:
Rich Set of UI Elements;
Theme Color Switcher;
Slider and Gallery Extensions;
MegaMenu.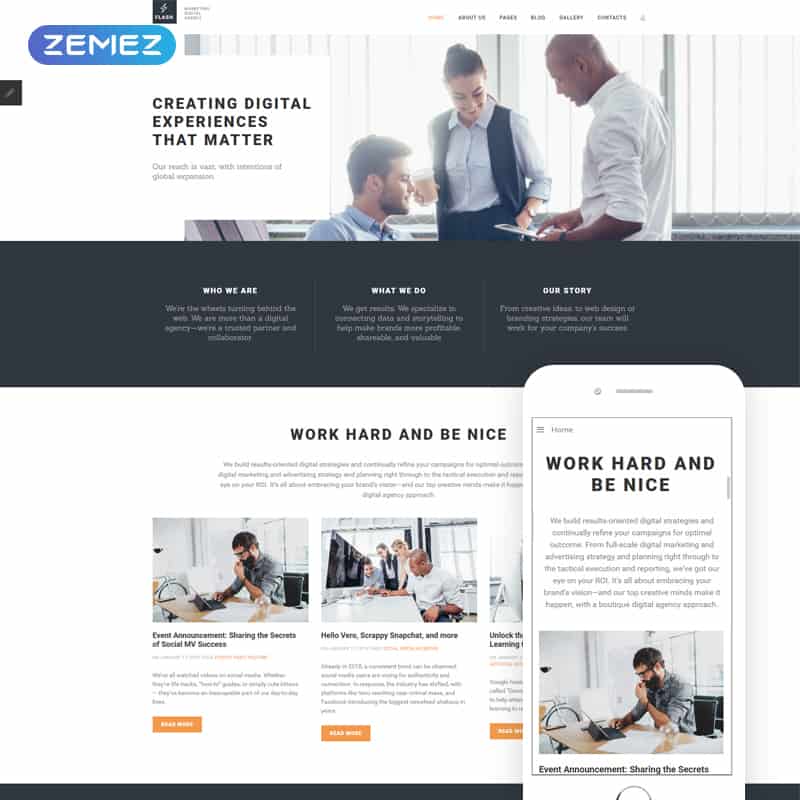 Mentax – Industrial Company Joomla Theme
Take advantage of this professionally designed template to give your site a cool look paired with advanced functionality. This industrial template will be ideal for heavy industry companies of all scales. It has a clean layout, which is combined with minimal design for a classy yet modern look.
The classy interface of Mentax is created with a set of powerful additional content blocks. With these additional elements, it takes next to no time to power pricing tables, accordions, lists, progress bars, toggles, etc. All these interactive elements do not only look professional but are also animated for higher user engagement. Moreover, the impact of your website's imagery is enhanced with Parallax effect. Moreover, Mentax incorporates the full range of additional pages you may need to quickly create a website. You'll enjoy the premade designs of such pages as Pricing, Portfolio, Our Team, History, Career, Site map and Forum that let you save your time creating website content.
Finally, Mentax theme is fully responsive and adapts to different screen resolutions on the fly. As a result, your website will be user-friendly for those, who want to contact you on the go using their mobile device. To conclude, Mentax is an accomplished solution for a heavy industry website, providing it with a diverse, clean and informative interface.
Other features:
Extended Gallery Options;
Theme Color Switcher Tool;
Social Login;
Valid Semantic Coding.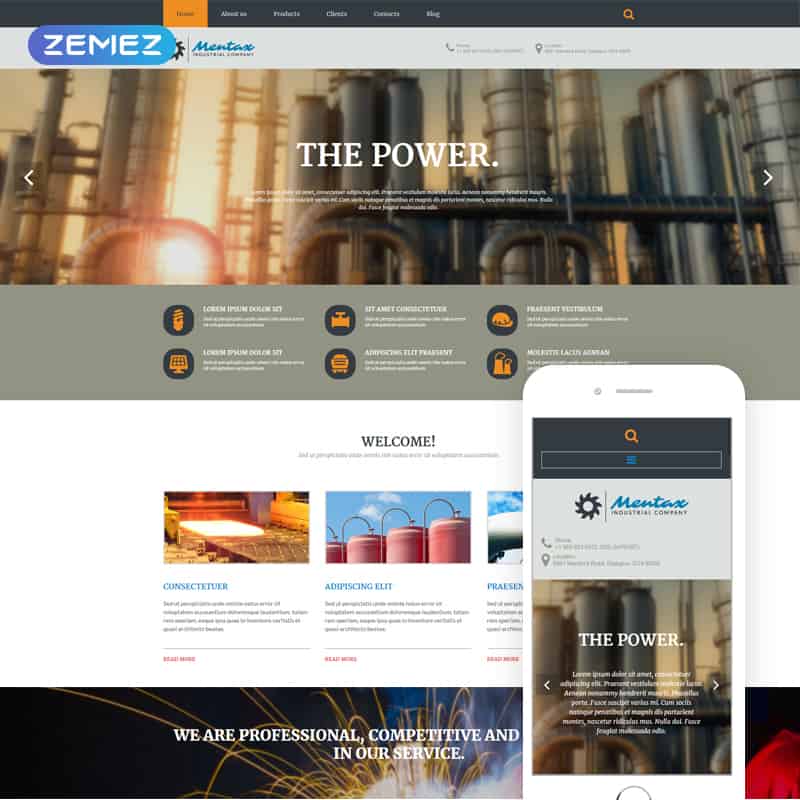 Holden – Business Joomla Theme
Want to create your reliable business website with ease? Then, Holden is a great option for you. The clear-cut and classy designs of this theme let you tell everything about your company and services. Thanks to advanced JQuery techniques, this theme showcases awesome dropdown effects, carousels, sortings and more.
Holden is built with the help of the award-winning Helix framework. This framework is considered one of the best for Joomla. It ensures high speed, responsiveness and reliability of your website. Moreover, Holden theme is packed with all the features that provide for creating successful blogs, portfolios, corporate websites and e-stores of different types. It includes three alternative homepages and lets you jumpstart an electronic store with J2Store extension.
Holden is newbie-oriented. It's simple to install this theme over your Joomla instance thanks to the premade Quick Install package. Moreover, customizing the layouts and content of this theme takes no coding expert with Page Builder PRO included. Within this builder, you'll get access to tons of pre-built content blocks that supercharge website creation.
Other features:
Helix Ultimate Framework;
Built on Bootstrap4;
Unique Effects and Functionality;
Free Lifetime Updates and Support.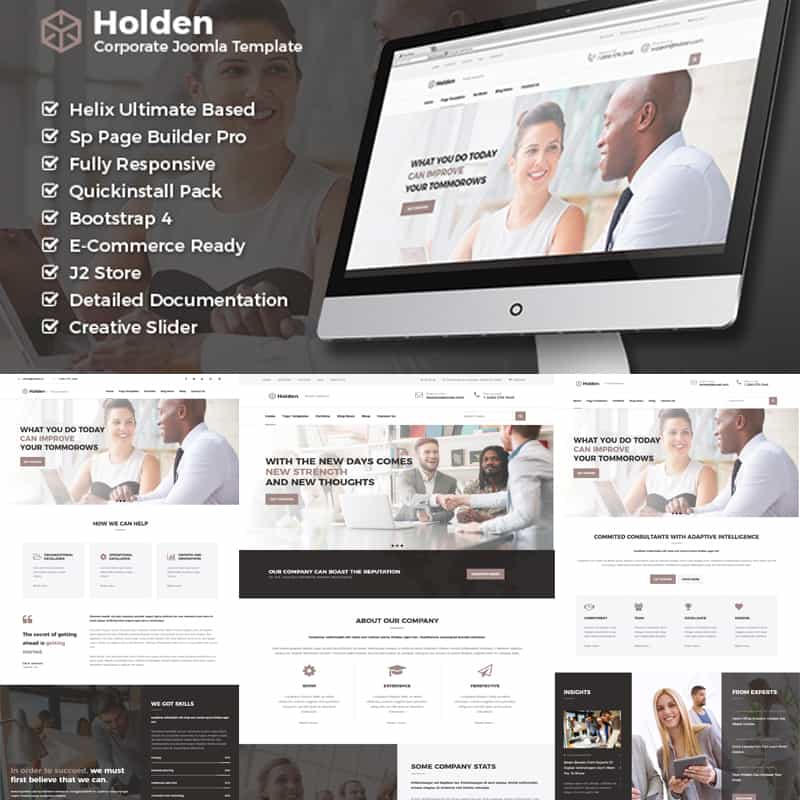 Afela – Flexible Multipurpose Joomla Design
Afela is a modern and pleasingly flexible Joomla theme. This versatile template will be ideal for digital agencies, startups, photographers, e-stores, freelancers, personal portfolios, etc. Afela includes 8 Home variations, e.g. Business, Agency, Onepage, Shop, Magazine, etc. And this theme also brings you the full set of additional pages.
Afela installs in a couple of clicks and can be later customized with SP Page Builder. You also get a chance to launch a number of sliders with Revolution (Unite) Slider extension and 3 premade slider styles. Moreover, you get a chance to change the theme's color scheme in clicks with 8 prebuilt color schemes. Afela also lets you share your contact details in multiple ways with UT Contact Pro extension.
Afela has powerful blogging and portfolio options. It lets you create a multi-category blog, as well as an advanced filterable portfolio. Finally, Afela encourages your site guests to comment thanks to its integration with 3 commenting systems: Disqus, Facebook and IntenseDebate.
Other features:
Newsletter Subscription Form;
ET-Line Icons;
Share Buttons;
Fully Responsive.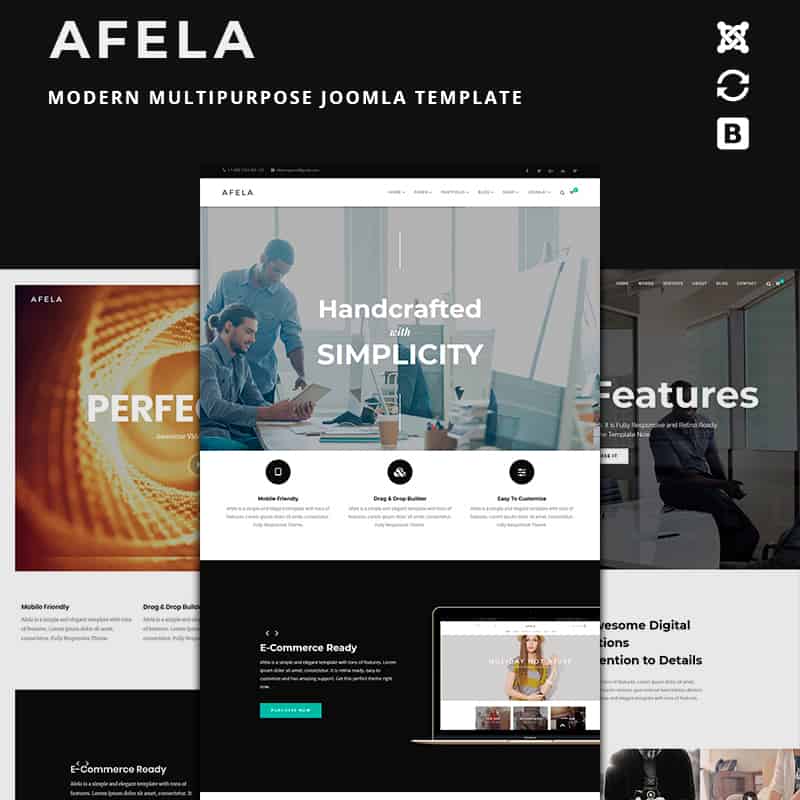 Wrapping Up
Now you know what the best themes to choose if you want to power a Joomla business website are. Use the powerful themes I introduced today to ensure the high conversion and effective social integration of your website. Moreover, you'll find a number of premium add-ons packed within these top e-store themes that boost the functionality of your website.
Have you ever used Joomla themes to create a website? Share your experience in the Comments section below. Stay tuned!