Disclosure: This post may contain affiliate links, which means if you will make any purchase through our links, we may get some commission at no extra cost to you.
For online marketing teams using landing page builders is no longer an exception but the rule. In today's online space, the success or progress of all marketing efforts is dependent on well-packaged landing pages.
There is no downplaying the power of landing pages. You might currently be grappling with questions related to unappealing conversion rates. You can make lead and sales conversions from the usual visitor to your webpage by just using the right landing page builder. If you are not satisfied with Unbounce, check these Unbounce alternatives.
Looking for Unbounce Alternatives?
Unbounce is a very amazing landing page builder that provides users with exceptional services and features, but its overall functions may not suit the needs of some website or online business owners, which brings us to the top 5 Unbounce alternatives.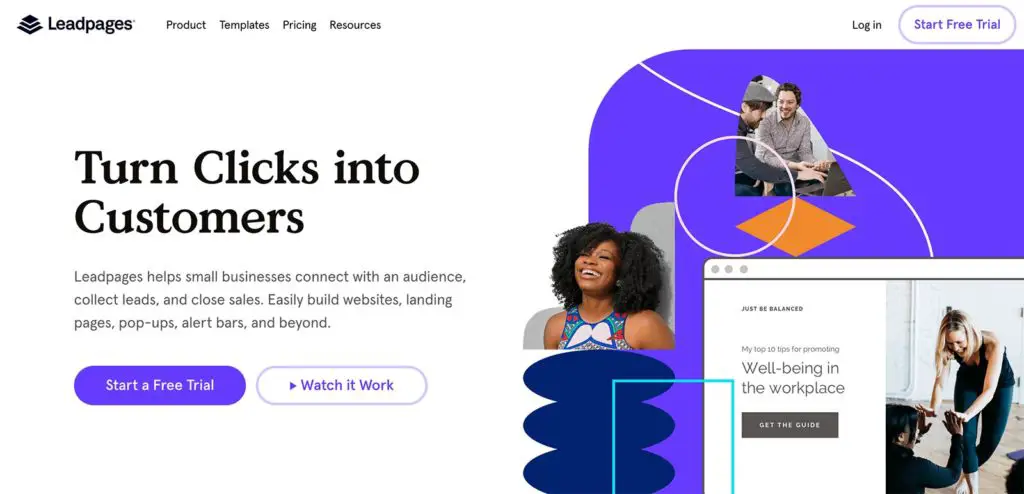 Just like Unbounce, Leadpages is a popular landing page builder that provides great features and services for both small and big online businesses. The platform offers users a very affordable and effective way to relate with their visitors/customers as they can collect leads, analyze them and boost their sales rate with the platform's effective functions, which makes it a great Unbounce alternative. Some exclusive features of Leadpages include;
>> Start 14 Days Free Leadpages Trial <<
Landing page; Leadpages provide users with several tools and features that aid in the creation of amazing landing pages with effective conversion rates and sales boost. The tools include;
Templates; Leadpages provide users with more than 130 templates that allow them to quickly create landing pages with tools that enable them to carry out editing and customization very easily.
DragandDrop Builder;with Leadpages drag and drop builder, users can easily customize any section of the page and control the elements and customization tools easily.
Marketing Integrations; Leadpages also provide users with several integration options and third-party plugins that allow them to connect their landing pages to several other apps and platforms for more effectiveness.
Hosting Services; Leadpages also offer users hosting services for all landing pages created on the platform and the option to use their domain names if they preferred.
Split testing; is another core feature for landing page builders as they enable users to determine the performance level of a landing page with different versions available to test which version of the landing page is mostly acceptable by their audience.
Analytics;aside from the dashboard analytics on Leadpages, users also have access to detailed analytics that offer easier connection with advanced connections and analytics of landing pages.
Leadboxes; with this tool on Leadpages, users can display pop-up forms on their pages automatically or manually, based on their preference and also link a button to create a two-step-opt-in that aids conversion boost.
Leadlinks; with this feature, users can create a one-click sign-up for existing subscribers by simply sending them a link.
Leaddigits; is a niche feature that allows users sync leads to email lists or webinar through automated text messages.
CTA creation; with Leadpages smart CTA button, users can create a call-to-action for their landing pages that improves the platform's optimization.
Leadpages Pricing
Leadpages offer users with up to three plans that offer different features and level of functionality which are;
Standard; is accessible at $27 per month and it provides users with a site use, unlimited landing pages, traffic and leads. Users also have amazing tech support and more than 40 standard integrations responsive mobile support.
Pro; offer users up to 3 site use, with all the services available on the standard plan and unlimited A/B split testing, email trigger links and up to 10 opt-in text campaigns amongst others accessible at $59 per month.
Advanced; is accessible at $239 per month, offering users the most amazing services on the platform with up to 50 site use, advanced integrations, 50 opt-in text campaigns, 5 sub-accounts (with access to only Pro plan features) and all pro features.
Leadpages is an amazing, but it comes with its share of downsides which brings us to the Pros and Cons of Leadpages;
Pros
Affordable price
Beginner-friendly
Unlimited traffic and leads generation
Amazing integration options
Cons
Split testing is limited to the Pro and Advanced plans
Form builder lacks customization options
No option for enterprise
Instapage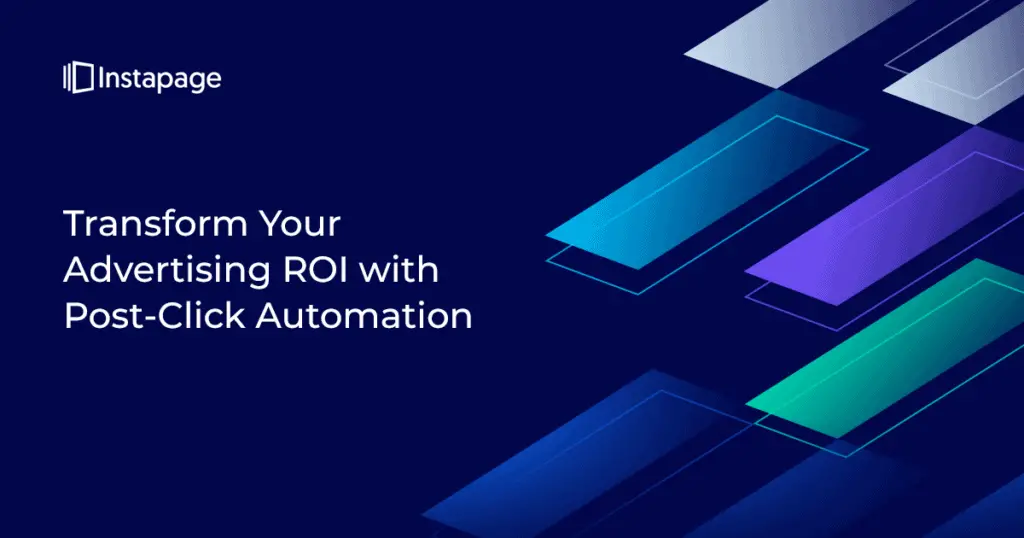 Instapage is an amazing landing page builder that allows users to create effective landing pages, generate leads, and boost sales of products online. The platform provides users with professional tools and features that produce high conversion rates with little effort and it serves as a great. Some of the features available on Instapage include;
Templates; Instapage offers users about 80 advanced templates that enable them to create landing pages and create popups and sticky bars within a couple of minutes and may also start from scratch if they wish to. The templates offer users several options and tools for landing page building such as sales form, app downloads, event registration, signup forms, and even basic functions like thank you notes with advanced filters for editing and customization.
Drag and Drop Builder; users can easily create, edit and customize landing pages as well as popups and sticky bars with the drag and drop feature on Instapage, that allows users easily move and place objects on their landing pages to their preferred configuration.
Customization Tools; with a wide range of customization options with exciting properties and tools on Instapage, including the option to add custom CSS to a page's content as well as custom JavaScript, users will enjoy better functionality and efficiency.
Instablocks; is an exclusive feature onInstapagethat offer user's great time-saving functions for the creation of multiple landing pages and also enables users to create several assets and blocks that are reusable. Instablocks also provide other amazing functions including the creation of CTA, page headers and footers, and other contents that can be used on multiple pages within the platform.
Landing Page Tools; Instapage also provides users with other amazing landing page tools/widget that enable users to add elements into their landing pages by simply clicking on either of the widgets on the sidebar menu of the Editor and immediately drop the element anywhere on the canvasbefore moving to preferred parts of the page. Some of these widgets include; forms, visual presentations, headlines, buttons, straight lines and timers amongst others.
Mobile-Friendly Designs; the platform also offers mobile-friendly services that are set by default and can be modified for access of only mobile users or desktop users.
Integration Options; with Instapage's integration options,users have access to a wide variety of analytics tools and other third-party plugins that aid sale promotions and connections with other apps online.
A/B Testing; users can run split tests on their landing pages that enable them to create new copies of a landing page with simple edits on elements such as CTA and then provide different versions of the landing pages to visitors to determine which is more acceptable by visitors.
Tracking and Report; users can track/monitor the performance of a landing page with the in-built heatmap tool, which could also provide reasons for degenerating leads and fall-backs of landing pages to users which helps in improvement of areas that need restructuring.
Instapage Pricing
Instapage offer users two plans with one having full customization options of a user's specific needs of the platform.
Business; plan costs $149 per month with unlimited conversions, conversion analytics, AdMap, Heatmaps, Split testing and several other amazing features. With up to 30,000 visits per month, 5 workspace and users and 30 landing page, the plan offers a pretty great function for both small and large businesses.
The Enterprise plan provides subscribers with the option to customize their needed features from the several features available on the plan with the price solely based on their customization.
Instapage offers amazing features and services for creating landing pages and several other functions, however, the builder has its downsides and these factors need to be considered before deciding for or against it. The pros and cons of Instapage include;
Pros
Several professional templates
Users can deliver files and sell items from through their landing pages
Ease of use for beginners
Moderate mobile support
Access to online documentation
Multi-user options for team members
Cons
Templates are few compared to other platforms.
Limited plans
eCommerce options are slightly limited
Instapage is quite expensive
Start 14 Days Free Instapage Trial
Hubspot Landing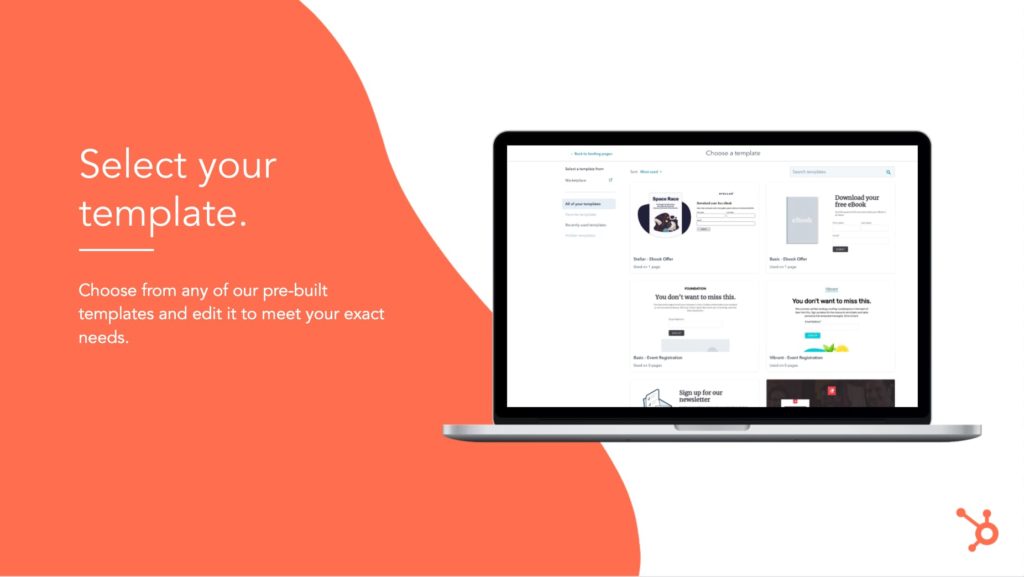 Hubspot Landing is a landing page tool that aids in boosting conversion rates and customer involvement. The platform provides users with the needed tools for marketing and also offers education on the processes. Hubspot Landing offers users good CRM and customer assistance, great sales management, and integration tools. Some amazing features of Hubspot include;
Great landing page designs and in-built templates
CTA support with no need for coding experience
Split testing tools
Analytics and tracking
Content strategy support
Market integration and third-party plugins
Website building and management
Hubspot Pricing
Hubspot is not solely a landing page builder as it offers other website related functions and marketing strategies. The platform offers users several plans, but the plans that support landing page creation and publishing include;
The Professional plan is accessible at $890 per month with access to all inbound marketing features including landing pages and other marketing strategies.
The Enterprise plan is available at $3200 monthly and it provides users with sophisticated marketing strategies and integrations that aid rapid boost of leads and sales
Although Hubspot is not solely a Landing page builder, its landing page services are amazing and it provides website owners with a pretty good alternative for Unbounce. The platform, however, has its downsides as well as its highlights which take us to the pros and con of Hubspot Landing
Pros
Email integration
Great Split testing and analytics
Excellent templates for landing pages
Amazing marketing strategies
Cons
Expensive
The platform is quite complicated
Landingi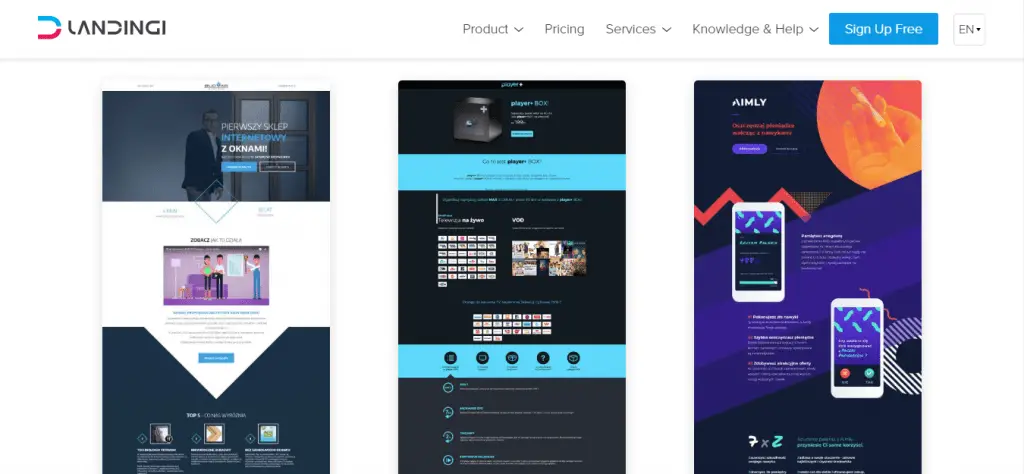 Landingi is another service that enable them to create both basic and advanced landing pages and also increase conversion rates and sales. Some of the amazing features of Landingi include;
Templates; with over 200 templates users can create landing pages by simply editing them to meet their desired presentation and also have the option to create their landing pages from scratch. Landingi offers users advanced templates for industrial purposes as well as basic tasks and easy customization/editing process with the drag and drop tool.
Split testing; enable usersto determine the performance of their landing pages and improve their websites and online business based on visitor's/customer's acceptance.
Integration; landingi is in partnership with several third-party apps that allow for the integration of third-party plugins with landing pages created on the platform as well as SEO tools, SSL certificates, numerous royalty-free images and several other amazing features and functions.
Drag and Drop; with the drag and drop builder, users can easily manoeuvre through the pages and get quickly acquainted with the platform.
Landingi Pricing                      
Landing offer users up to four plans which are;
Core; this plan is availed at $29 per month and it offers users unlimited landing pages and conversions, with up to 5,000 monthly visitors, 1 custom domain, 150 landing pages and allows for multiple users. This plan, however, lacks several advanced features like popups, free images, custom HTML and more.
Create; provide users with several advanced features and services at just $55 monthly. Users get all the benefits on the core plan with up to 50,000 visitors, 10 custom domains, 200+ landing pages, popups, popup templates, 5000 free images, custom HTML and several others.
Automate; is the most advanced plan on Landingi, offering users with up to 100,000 visitors, 20 domains and smart sections in addition to other features on the Create plan, it is accessible at just $79 per month.
Although the features and services on Landingi may seem great, the platform also comes with hitches, which brings us to the Pros and Cons of Landingi.
Pros
Numerous templates
Great widgets
Lots of extra features
Affordability
Cons
The mobile view is not automatic
The analytics available is quite basic, although Google Analytics is supported.
Start 14 Days Free Landingi Trial
Optimizepress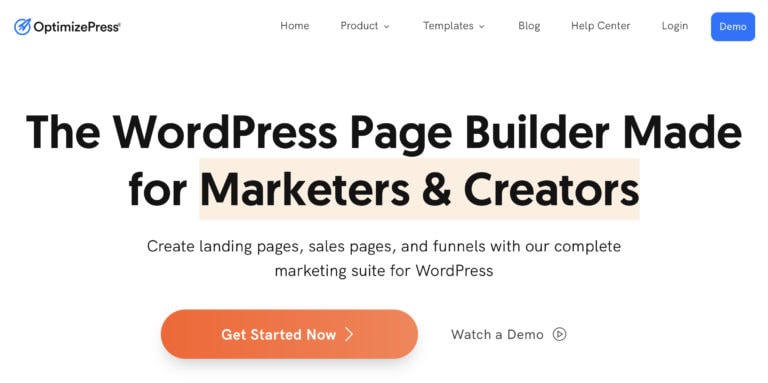 Optimizepress creates pages to generate leads and boost conversion pages. Some amazing features of Optimizepress include;
The simple drag and drop builder that allows for easy creation of pages on the platform
WordPress themes and plugin support
Templates for time-saving creation of pages
Support for paysites
Membership sites and several others
Other advanced features on Optimizepress include;
Live Editor;Optimizepress provide users with an in-built page builder that enables users to create edit and customize landing pages.
Templates; users will have access to about over 200 templates on the premium plan.
Custom Elements; with over 40 elements on Optimizepress, users have several customization options and a responsive design that is supported by different devices as well as other amazing features.
Optimizepress Pricing
Essential; this plan is accessible at just $99 per year and it offers a user up to 250 conversion-optimized templates, single-user access, unlimited leads and traffic as well as unlimited pages more than 27 integrations.
Business; plan offer users all the features available on the Essential package and OptimizeUrgency that adds scarcity alerts to landing pages. This plan is availed at just $149 per year and offers access to 5 users on a single subscription.
Suite; is accessible at $199 per year, offering up to 20 user accounts and all features on the Business plan. OptimizeUrgency, OptimizeFunnels, OptimizeCheckouts, OptimizeLeads and Easy Split testing are all exclusive to this plan.
Pros and Cons of Optmizepress
Pros
Affordability
Ease of use
Great template options and designs
Cons
The design is quite out-dated
The save format is not standard
Falls a little behind competitors
Start 14 Days Free Optimizepress Trial
Getresponse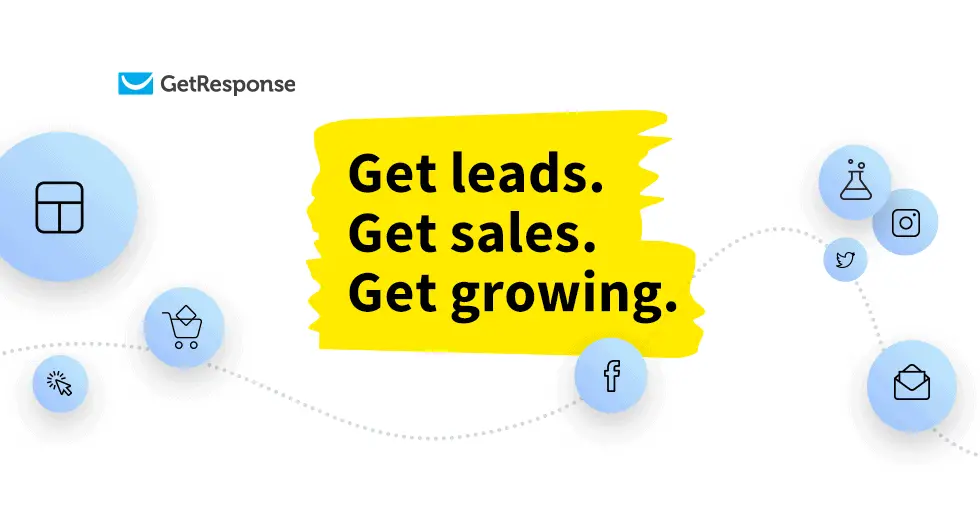 Getresponse is an online marketing tool that provides several amazing online options including landing page building, eCommerce options, web hosting and sales funnels. Its automation builder is designed to createprofessional landing pages in a couple of minutes with advanced market automation tools and templates. Although the platform's services are not exclusive to landing pages, it has an amazing landing page builder that is a great alternative. Some of the features of Getrespose landing page builder are;
100+ in-built templates that enable users to design landing pages within minutes
Split testing that allows for up to 10 versions of a landing page
Image editor and several customization options and many more.
Getresponse Pricing
Basic; the basic plan is accessible at $15 per month, offering users email marketing, unlimited lead funnels and landing pages and 1 salesfunnel amongst others.
Plus; users will have all features available on the basic plan with up to 5 workflows, 5 funnels and 3 users amongst others. The Plus plan is accessible at $49 per month.
Professional; the professional plan offer users the whole plus package with up to 5 users.
The Max plan offers users several full customization options with flexibility.
Pros and Cons of Getresponse
Pros                          
Ease of use
Affordability
Advanced features and services
Integration with Google Analytics and other tools
Cons
The drag and drop interface is quite quirky
There is no phone support, except on the Max plan
Start 30 Days Free Getresponse Trial
Final Verdict
It is high time to step off the bandwagon of over 78% of businesses that aren't too happy with how well they convert online. One of your key targets should now be establishing an improved sales funnel. My first suggestion is go with Leadpages, which is the best Unbounce alternative.