Disclosure: This post may contain affiliate links, which means if you will make any purchase through our links, we may get some commission at no extra cost to you.
A web presence is a must-have in this online age. The internet is full of individuals and entities promoting, selling, informing, or offering content to the masses.
The marketing element to your product or service demands that you create a way to entice your visitors to purchase.
How is this done?
The answer is landing page software.
Which is your best landing page builder software?
As you think of your go-to landing page builder, there are a few pointers worth keeping in mind. Your ideal landing page software will get visitors signing up to what's on offer, support your promos, send audience targeted messages, capture leads, and focus visitor attention on what you are marketing.
This content puts together the highlights of these landing page builders, showcasing their strong points, differences, and drawbacks. Since you need to make an informed choice, we have considered templates, interface layout, software integration, plus exclusive features that each landing page builder has.
1. Instapage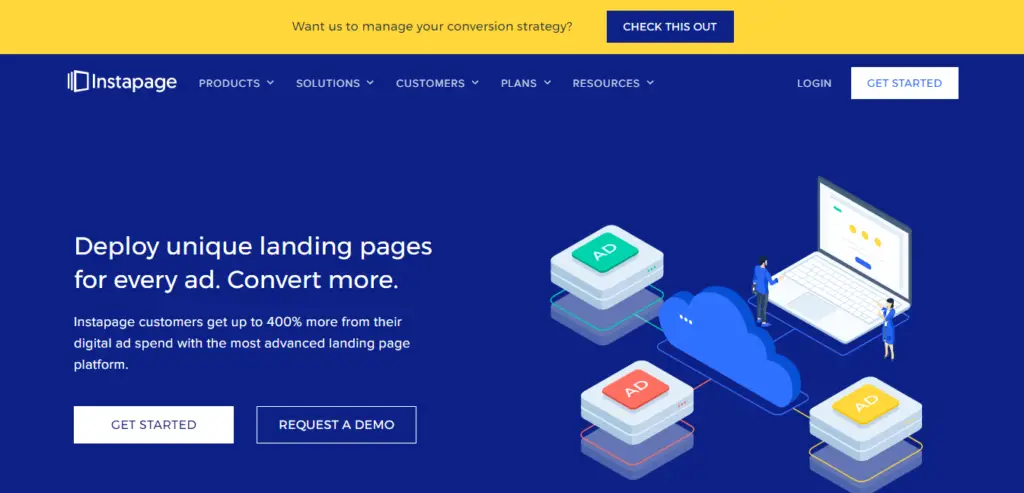 It is all about getting your landing page up and running fast. Customize your page more quickly as the tools here are easy to learn. The choice of templates stands at 100+, though not as diverse as those in Unbounce. You won't be spending time going through templates, which help in reducing the time taken to create your landing page.
Well-designed landing pages are yours for the making. With a simple drag and drop function, it can create professional and stunning landing pages.
As a beginner with landing page builders, it's pricing is quite fair. However, to enjoy features such as A/B testing, basic personalization, and heat maps, you have to pay more in the form of a higher pricing plan.
What does it have to offer?
Customizable, well-designed and atypical templates
User-friendly, page editor
Integration with Facebook, Google AdWords, and Google Analytics
Limitless A/B testing
Lead capturing through forms, which can send to Marketo, Mailchimp, GetResponse, Salesforce, AWeber, Zapier, Hubspot, Autopilot, and more
Custom code insertion to pages
Interactive widgets
Heatmaps (available at higher pricing plans)
Pros:
Creating landing pages is fast
The generated analytic reports are great
An impressive drag-and-drop editor
An ideal option for both novices and experts
Cons:
Limited flexibility
Popup options are unavailable
The cheaper plan lacks A/B testing
How much does it cost?
Business Plan: $149/month for all you need to set up your landing page and optimize post-click experiences for high conversion results.
Enterprise Plan: Custom priced based on your needs. It offers all the advanced features and services. Scale your marketing and advertising and get you the most out of your investment.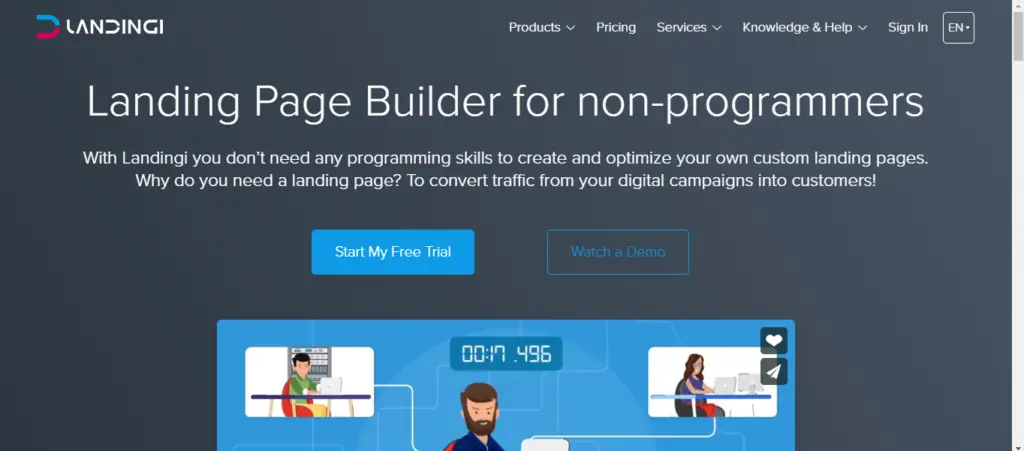 Landingi is an incredible landing page builder that allows you complete control over the creation, publishing, and optimization of your landing pages.
This also allows you to run A/B tests on your own, regardless of how tech-savvy you are.
It's not just another landing page builder out there. Top-grossing companies form part of more than 4,000 users of the great feature offerings from Landingi.
The creation process is simple and straight forward via the eyecatching mobile-responsive templates and drag-and-drop editor.
Landingi is the landing page builder of choice for flexible, dedicated traffic to customer conversion of all your marketing campaigns.
What does Landingi have to offer?
Simple and user-friendly drag-and-drop page editor
A/B split testing
Lead capturing and automation
Integration with tools such as Hubspot, Salesforce, MailChimp and more
Web analytics tools
Page visit tracking and conversion rate
Pros:
No limit on the number of leads, domain, user, traffic, and landing pages
Basic automation features
Set of unmatched design features
Analytics
Robust landing page editing
Cons:
Only the pricier plan offers A/B testing
Cheaper package has limited integration options
How much does Landingi cost?
Core Plan: $29/month for unlimited landing pages, 5 custom domains, 100,000 visitors per month, 5 account users, email support, 10 active popups.
Create Plan: $45/month for unlimited landing pages, 10 custom domains, 150,000 visitors per month, 15 account users, email, phone, and chat support, unlimited popups.
Automate Plan: $59/month for unlimited landing pages, 20 custom domains, 200,000 visitors per month, 20 account users, email, phone, and chat support, unlimited popups.
3. Unbounce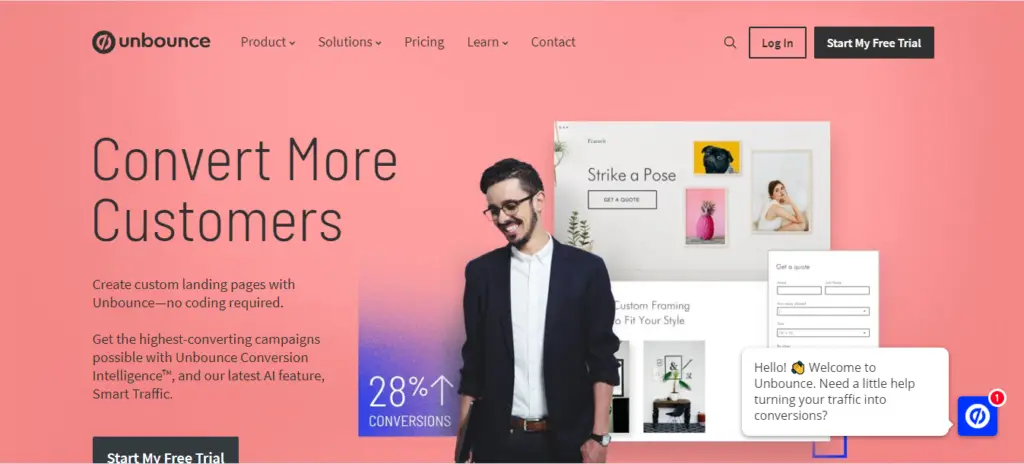 Unbounce is a landing page builder with an overwhelmingly positive reputation. The people behind it boldly claim it as the conversion platform for marketers. Such a tag and brand offering has to have some backing to it. It promises and does deliver by creating optimized landing pages that help you convert prospecting visitors to buying customers.
With its focus on conversion, integration, testing, and statistics, it will not only give you a landing page that converts but one that is visually appealing as well.
It has a user-friendly drag-and-drop feature plus a diverse choice of market-specific templates.
What does it has to offer? 
There are over 100 market-related templates available to use and customize,
At a click, you have your landing page published on your WordPress website
Popular CRM, analytics, and email tools integrate. Working with the likes of Aweber, MailChimp, and more is a breeze,
Аutоmаtеd ЅЅL еnсrурtіоn,
For your SEM campaign, you can use the dynamic keyword insertion option,
Popups and sticky headers are options you can add to your pages,
Page interactive heat maps are also available.
Pros:
Rich in functions and tools
The template collection is great
The page editor is both flexible and powerful
A/B testing options are the best of all tools available
Options to use popups
Cons:
Not ideal for beginners
Not a pocket-friendly option
Has a bit of a learning curve
How much does it cost?
Essential Plan: $79/month for 75 landing pages, 8 Popups, and Sticky Bars. Also included are tools to build, test, and optimize for maximized conversions.
Premium Plan: $159/month for 150 landing pages, 16 Popups, and Sticky Bars. On top of the features available in the Essential Plan are premium integrations, client sub-accounts, and AMP landing pages.
Enterprise Plan: $399+/month for 375+ landing pages, 40+ Popups, and Sticky Bars. This is a custom plan, specific to your requirements and needs. A dedicated Customer Success Manager and Dedicated Launch Specialist serve you providing a maximum return on investment.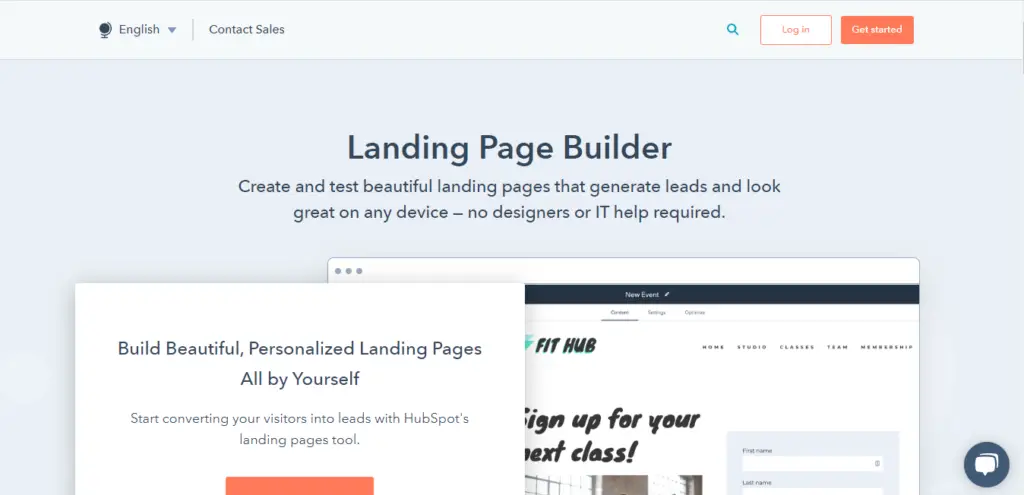 HubSpot is a fully-fledged online marketing tool that is a must-have for any serious marketing team or organization. A subscription to HubSpot gives you to access CRM, sales, and landing page tools.
Once in, head to the HubSpot landing page builder where an array of powerful, feature-rich, user-friendly features and tools await. With the tools and features now at hand, next is creating and testing your eye-catching landing pages on the go.
You won't need fancy tech knowledge or skills to start generating leads or convert traffic with HubSpot. This software has all your online marketing needs covered.
What does HubSpot have to offer?
Capturing of leads through user-friendly forms
A/B testing
Tools to help you create content and blogs
Strategies for content and SEO
Lead ads for Facebook
Your marketing needs covered all-in-one, email marketing to CRM.
Pros:
Robust A/B testing features
User-friendly page builder
Superb customer service and documentation
Flexible
Cons:
Only HubSpot customers have access to the landing page builder
The cheaper plans have limited features
Basic styled templates
How much does HubSpot cost?
Starter Plan: $40/month to capture & convert leads, understand your leads, engage your leads.
Professional Plan: $800/month includes all features in the Starter Plan plus automate and personalize your marketing, get found online, optimize conversion rates, measure traffic, and conversions.
Enterprise Plan: $ 3,200/month includes all features in the Professional Plan plus manage your teams & brands, extend the platform, and analyze revenue with full control.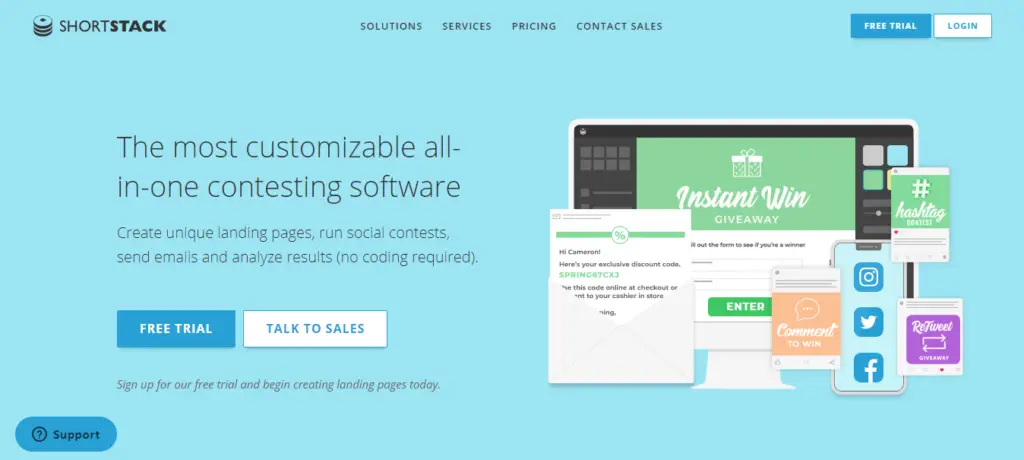 ShortStack is a rule-breaker in the landing page builder industry. It offers the option to create landing pages for hosting events or contests and give rewards. The branding and marketing capabilities of ShortStack make it ideal for the growth of your brand or blog. The email marketing tools enable you to track and record sales leads and conversion rates.
Your marketing and lead generation needs a tool such as ShortStack, which boosts them in the right direction. Worry no more as you can create landing pages that convert, and effectively promote your page via giveaways, contests, and referrals.
What does ShortStack have to offer?
The drag and drop feature enables you to customize and add widgets onto the landing page. Over 25 widgets are available for use and include voting polls, social media, forms, galleries, and many others.
Customized themes and templates that help you cut down production and launch times.
Campaign editing and customization from the dashboard.
Real-time data and analytics for your campaigns.
Manage and organize all your campaigns from one account.
Automated email scheduling for all email participants on your list.
Data storage. All the relevant information is stored and can be conveniently searched and exported.
Fraud prevention and control of created contests. Restrictions prevent repeat entries, and verification confirms the authenticity of entries to contests.
Pros:
Free plan: This allows you to try out the services before paying for them. The free plan is a plus, allowing you to boost your marketing skills with the option to upgrade later.
Ease of use: From the dashboard to the whole builder, the user experience is enjoyable. Features are well displayed allowing you to manage campaigns without much effort.
Mobile-friendly layout: This enhances the convenience of using ShortStacks.
Referral Program:  Earn some valuable credit by referring someone to ShortStacks.
Real-time data tracking and analysis: ShortStacks handles your campaigns you can follow up on how your campaigns are faring on.
Cons:
The contest feature may get pricey unless you use the contest feature regularly.
ShortStack branding appears on your campaigns when you are on the Starter Plan.
Newbies may find ShortStack a bit complicated.
How much does ShortStack cost?
Business Plan: $99/month for 10,000 entries, 50,000 views, Random Winner Selection, Website Embedding, Entry Transfers via Form Integrations, Instagram, and Facebook Comment Importer, Refer-a-friend, and Instant Win Contests.
Agency Plan: $199/month for 50,000 entries, 250,000 views, All Business Plan Features, Hashtag and Retweet Contests, White-label Campaigns, Distribute Unique Prizes and Codes, and Team Member Collaboration.
Brand Plan: $199/month for 500,000 entries, 2,500,000 views, All Agency Plan Features, Dedicated Account Manager, Digital Rights Management, Unlimited Hashtag and Retweet Contests, and 5 Team Member Seats included.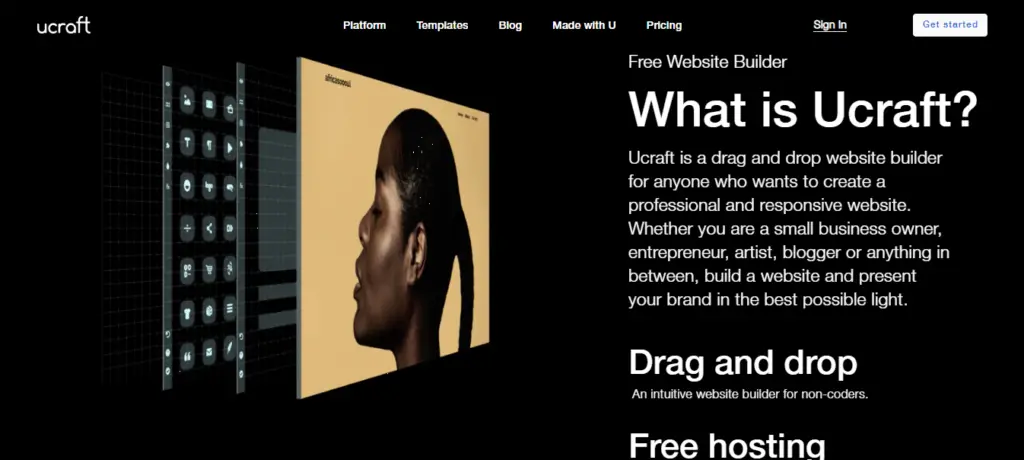 Ucraft is an impressive landing page builder doubles also as an innovative webpage builder. The landing page builder doesn't disappoint in what I can deliver. You have access to logo creation, drag and drop editing, page customization, and design.
It is great to have a standard option of creating an unlimited number of SSL encrypted pages, on unlimited bandwidth, with SEO tools on a free plan.
When looking to create stunning pages for your projects, events, or business, Ucraft has plenty of features to make the creation process enjoyable and hassle-free.
What does ucraft.com have to offer?
A design tool that allows you to tweak templates to suit your preferred layout, colors, typography and more
Editing via drag-and-drop for quick and easy page building
Live chat support is on 24/7
The Team APP through which team members get page access and editing rights
Pros:
All plans come with unlimited pages
Smart page builder
A diverse selection of template
Design flexibility and freedom
SSL encryption across all price tiers
Competitive price plans
In-built data analytics
A free to use version is available
Cons:
The free version lacks integrations
No A/B testing
Not suitable for complex webpages with specific requirements
How much does ucraft.com cost?
Free Plan: Free for connecting your domain, SSL Security, Unlimited Bandwidth, 15 Pages, Basic Elements, Google Analytics, and 24/7 Support.
Pro Plan: $10/month for Free custom domain, SSL Security, Unlimited Bandwidth, Unlimited Pages, Advanced Elements, SEO Tools, Designer Tools, Blogging Tools, Google Analytics, and 24/7 Support.
Pro Shop Plan: $21/month for all Pro Plan features plus Advanced, eCommerce, and data management features.
Unlimited Plan: $69/month for all Pro Shop Plan features plus Advanced, increased eCommerce capacity, and enhanced data management features.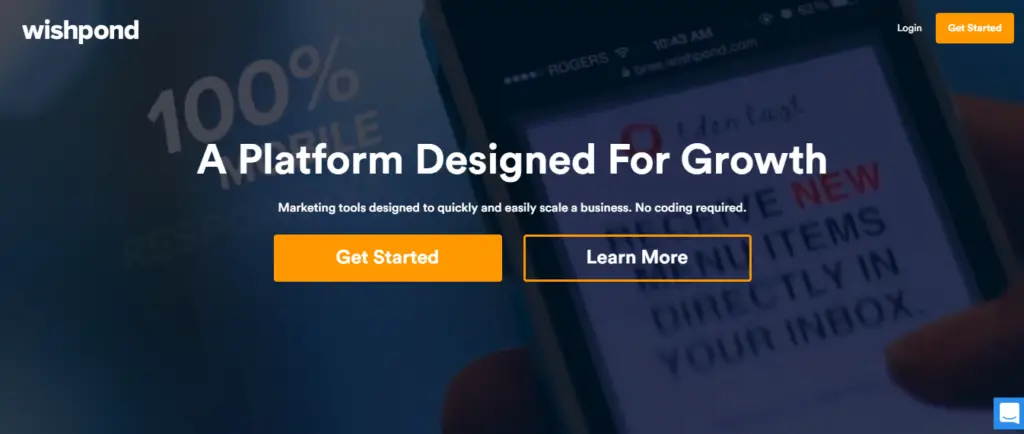 Wishpond is a fully-fledged landing page builder that offers plenty and delivers beyond expectations. Dig into the tools and features available and churn out awesome contests, ads, promos, offers, campaigns, and popups.
Lead generation is one of Wishpond's strong points. By making use of promos and contests, you can get visibility and leads via social media sharing.
Wishpond sets itself apart with an umbrella approach to your marketing campaigns. The lead management interface allows you to track all leads, apply list segmentation, identify lead converting pages after running automated email marketing campaigns.
What does Wishpond have to offer?
Customizable Call To Actions
Page analytics and ROI tracking
Page visitor tracking
Comprehensive knowledge resource base comprising webinars, articles, ebooks about the platform and how to market with it
Device responsive templates
Industry themed landing page templates suitable for varied events, industries, and functions
Fast and easy landing page creation process
Live chat support
Pros:
Lead-based pricing (not features)
No limit on the number of landing pages, popups, and social contests you can create
Starting prices and much lower compared to other landing page software
Basic marketing automation features
Cons:
Quite expensive if you want to take advantage of all the features on offer
Limited customization capabilities
How much does Wishpond cost?
Starting Out Plan: $49/Month for Unlimited Landing Pages, Unlimited Social Contests, Unlimited Popups, Email Drip Campaigns, Marketing Automation, Custom CSS, Unlimited User Accounts, and Maximum 1,000 Leads.
Everything You Need Plan: $99/Month for all 'Starting Out' Features plus A/B Testing, Custom Javascript, API Access, and Maximum 2,500 Leads.
Rapid Growth Plan: $199/Month for all 'Everything You Need' Features plus First-in-line Customer Support, Free Implementation Coaching (valued at $1,500), and 10,000 Leads (more leads come at a higher price tier).
What is the Best Landing Page Builder?
There is always something to sell or promote online. The scramble for page visitors and buyers is an ever-present reality for marketing teams today. Since the everyday website isn't built to target and convert visitors, there is the need for a page built to specifically entice visitors into action.
A landing page upgrades your marketing strategy by enticing page visitors to take action. The sole purpose of the structure and build of a landing page is to direct page visitors into signing up for, clicking, downloading, or accepting what is on offer.
Landing page builders work to ensure that your landing page is not only intuitive but also user friendly. These builders help you as a marketer and owner of a product or service to achieve lead conversion and sales.
Appealing, custom templates, drag-and-drop features, enticing popups form tool offerings to help you create a landing page that draws in visitors and converts them into sales leads.
The best landing page builder takes you through the steps of building a custom landing page in the shortest time, using relevant sets of tools, and in the most user-friendly way possible.
Conclusion
Logic begs that choosing the best or most ideal landing page builder for you is critical to all your marketing campaigns. Having a sort of one size fits all approach with your landing pages just won't cut it in the cut-throat online market space. Optimization, dynamism, relevance, and appeal are terms that need to be synonymous with our landing pages.