Online forms are a compulsory part of the modern digital experience. They help to collect vital data and help to carry out precious transactions. On many occasions, payments too. Almost everyone running a website can benefit from a webform.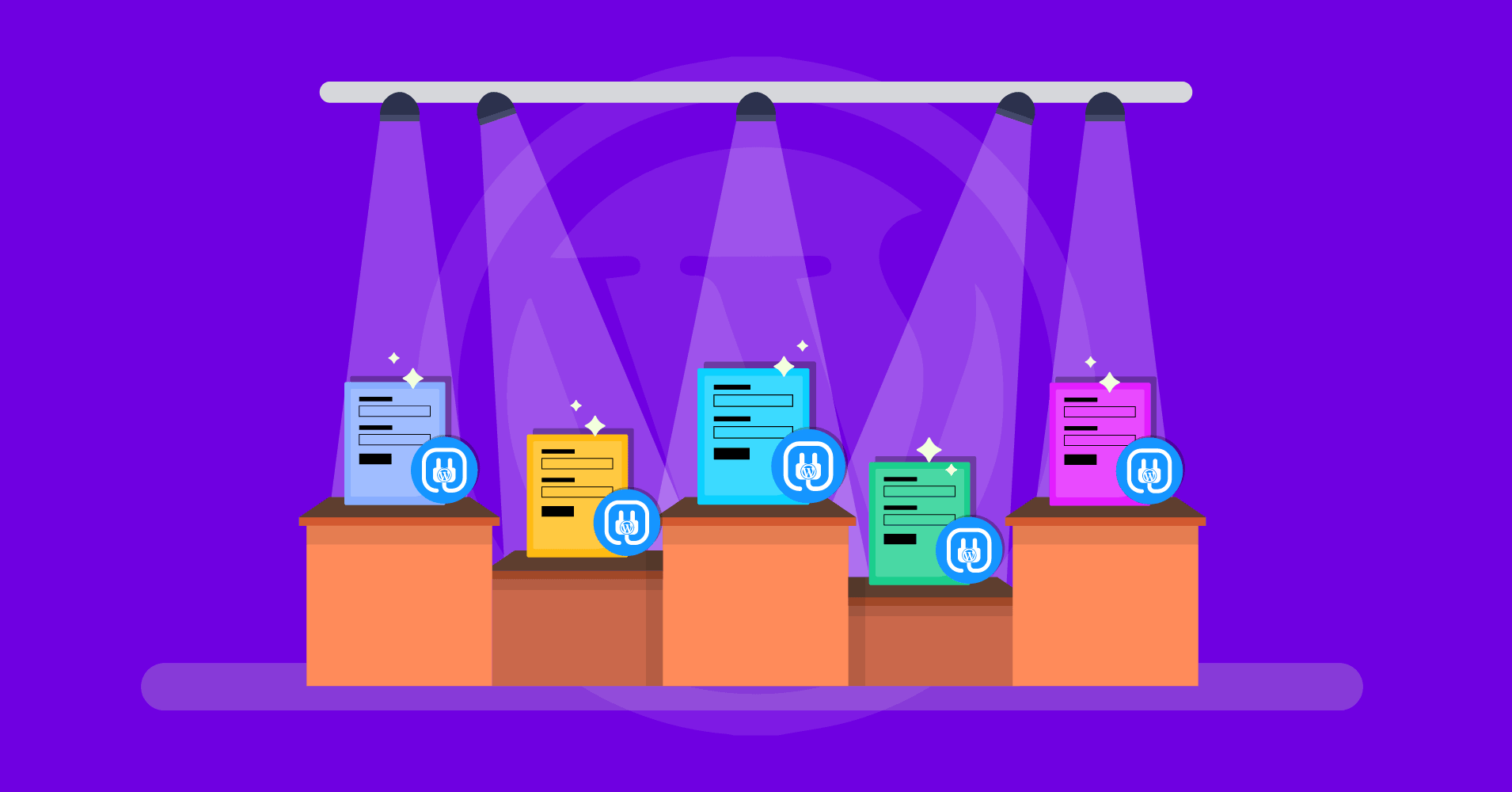 There is no denying the importance of a webform. And this is precisely why choosing a skillful form builder that will let you create the perfect form is crucial as well. Fortunately, there are plenty of contact form builders in the market. Here, we will discuss the 5 best WordPress form plugins.
WP Fluent Forms
WP Fluent Forms is the most lightweight WordPress form builder plugin. It has a user-friendly interface that even a beginner can easily use to create a form. Fluent Forms requires absolutely zero coding knowledge. You can quickly create a form and collect donations or use it for lead generation.
Fluent Forms provides the following outstanding features that make form building a piece of cake.
With a multi-column form layout, users can effectively break down a long-form and turn it into an exciting form with questions laid side-by-side. There are currently upto six-column containers, all of whom are equipped with conditional logic.
60+ prebuilt form templates to save you time. They are reusable, so you can use them time and again. Of them, 25+ are offered for free.
WP Fluent Forms also offers a great many spam protection features. Users claim Honeypot alone is capable enough to take care of spams. However, for added assurance, there are other features like reCAPTCHA, Akismet, etc.
Moreover, you have full control of how you want a form submission to be completed. You can display a success message, redirect the user to a different page, or even a custom URL.
Another exciting feat is that there are form restrictions. That means, by setting a time range of your choice, you can allow form submissions only for that specific slot.
You can have all of your data safely exported in a CSV or Excel, or ODS or even JSON format and can also present it graphically. Furthermore, if you pair it up with the Fluent PDF add-on, you can also generate PDFs.
With Image and File Upload features, Fluent Forms users can collect files of a variety of formats and sizes, including but not limited to PDF, Docx, ppt, mp4, jpg, zip, etc.
Fluent Forms comes with the most affordable pricing options. Unlike other form plugins, you can enjoy all the features with any plan.
How to install Fluent Forms on your WordPress site
WP Fluent Forms is an excellent choice for a WordPress form plugin. First, download it from the WordPress repository. Once you've accomplished that, go to the WordPress Admin Panel. From there, navigate to Plugins, and then go to Add New.
From your list of plugins, select WP Fluent Forms, click Install first, and then, Activate.
You can find a more detailed guide for further assistance.
Download Now
Gravity Forms
Gravity Forms is a big name in the form building community. It provides easy solutions and is a trusted tool among WordPress users.
The following functionalities make Gravity Form a popular WordPress plugin.
Gravity Forms sports a friendly interface with an intuitive visual form builder that makes form building effortless.
There are 30+ ready to use form fields that users can use to create the form they need.
Users can also show or hide input fields, pages, etc., based on specific actions taken by the website visitors using conditional logic, and in doing so, keep the form simple and effective.
Moreover, the email auto-responders will keep the users up-to-date with the form submissions.
Easy file uploads let Gravity Forms users collect valuable documents and photos from their audience.
Gravity Forms is great in terms of usability. However, a lot of the features are restricted and thus, somewhat forces people to upgrade their licenses. Moreover, there's a growth of premium add-on builders surrounding Gravity Forms, which significantly limits functionality for the mother product. All these often force people to look for a Gravity Forms alternative.
Download Now
Ninja Forms
Ninja Forms is a simple drag and drop solution for contact form building. It is trusted widely, and users can create a professional-looking form in seconds and use it effectively to collect information.
The following features make Ninja Forms well-received among the WordPress community.
Ninja Forms is completely beginner-friendly, which means you don't need any coding knowledge to create beautiful forms.
This WordPress form plugin has ample opportunities in terms of drag and drop, conditional logic, form layout, etc., enabling you to create complex forms without a hassle.
Furthermore, you can export form submissions as PDF, Excel files, and Google Sheets. This makes entry management super easy and beneficial.
Users will also be able to collect payments and donations using Ninja Forms.
Also, there are plenty of integrations to offer increased functionality.
If you have to create a simple contact form or a newsletter, then Ninja Forms may be just the thing you need. However, users sometimes face trouble navigating through it, and even a lot of standard features, like conditional logic, layout, and styles, are sold separately as add-ons. This is why it's always a good practice to undergo a quick comparative study before making a purchase.
Download Now
Formidable Forms
Formidable Forms is a solution-driven WordPress form plugin that offers an advanced form editor. You can use it to create a number of useful web forms like calculator forms, payment forms, registration forms, contact forms, etc.
Some of the commendable features of Formidable Forms are given below.
The drag and drop form builder enables users to create a complex form in a matter of minutes. All you have to do is drag the fields you need and drop them.
Styling is an essential factor for web forms, and Formidable Forms does take care of it. You can visually style the forms to adapt to your theme.
Formidable Forms offers a variety of add-ons, and installing them is relatively easy. You can do it with a single click.
As we have mentioned already, users can create a range of webforms with Formidable Forms, and to make things easier, there are form templates that are ready to be used.
To collect simple information like team registrations, academic history, you can also use repeater fields.
Formidable Forms is impressive when it comes to functionalities, but the licenses can be a bit too on the far end. Moreover, they charge you for primary features like MailChimp, MailPoet, Customer Support, that other form plugins like Fluent Forms give for free.
Download Now
Contact Form 7
Contact Form 7 is a trailblazer among the WordPress form plugins. Amazing features like form customization, CAPTCHA, Akismet, etc., make it a popular choice.
The following features make people still choose Contact Form 7.
Contact Form 7 is completely free, and the team has announced it will remain so. For easy tasks like a simple contact form, Contact Form 7 does the job.
There has been a prominent expansion of addons surrounding Contact Form 7, that whatever lackings you may feel, there is almost always an addon specially built for that task.
It comes with its very own spam-filter, Akismet. With Akismet enabled, you do not have to worry about your website being spammed.
Contact Form 7 is a veteran, and there's a community of wise users. So if you seem to face any difficulty while using this plugin, you can go to these communities and find people who can help you out.
Contact Form 7 is excellent if you have simple needs and do not mind a bit of a hassle. But the form plugin world has advanced a lot, and now you can find form builders with a better interface and abundant features, and straightforward guidance to help you through.
Download Now
Final thoughts
All the form plugins listed above are excellent on their own merits. A previous comparison by us has shown that Ninja Forms and Gravity Forms are pretty close.
However, if we had to put our money somewhere, we'd wager on WP Fluent Forms. Fluent Forms offers in-depth analytics that provide significant insights into the performance of your webforms. It currently offers 30+ integrations, including Trello, Twilio, MailChimp, Slack, PayPal, Zapier, etc. Additionally, the team is continuously introducing excellent features like partial form submission, advanced post creation, repeat fields, and net promoter score.