More than usual, the internet has been raging with topics on website-related platforms as the world grows digitally.
One of the most sought services for website optimization is a Form Builder Plugin which helps build contact forms that give website owners access to important details of visitors and potential customers and also helps create a safe environment for a website, blog, or page.
It is no surprise that the online market, just like the digital market is full of competitors and different strategies that keep the competing parties quite comparable.
WPForms vs Ninja Forms vs Gravity Forms : Detailed Comparison
This phenomenon is not exclusive to the Form builders in the business as there are several upscale and low-end form builders in the market and two ends have their fair share of competitiveness.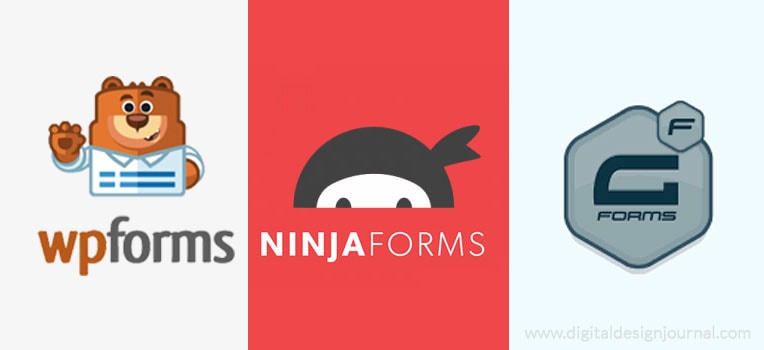 If you want to get the best performance of form building and security on your website, then it is advisable to bank on the best providers of the service. WPForms, Ninja Forms and Gravity Forms have left quite an important mark Form plugins and their distinctive features and exclusive services make it a bit difficult to select the Forms Plugin that will be perfect for you. In this article, we will look into the main features of each Form Plugin and compare their features, pros and cons.
WPForms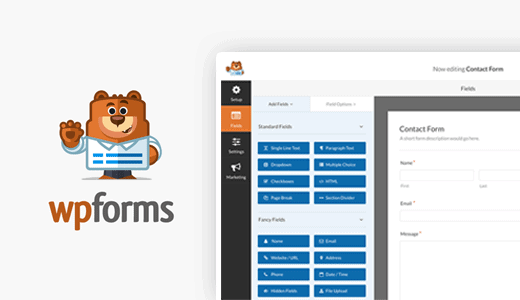 Based on reviews and online ratings, WPForms is one of the best Form Builder Plugins for WordPress websites as it offers the most secure platform with several customization options for website owners and convenient integration of extra features that help improve the relationship between visitors/customers and website owners. According to users,WPForms offer the easiest building techniques with beginner-friendly features and services that allow website owners to design the contact forms of their choice, from the simplest forms to the most complex ones.
Some of the most distinctive features available on WPForms include;
Beginner-Friendly Platform with Easy Customization Tools
One of WPForms amazing feature is its user-friendly platform with several amazing customization tools that allow website owners to design forms within a short time. With the use of easy drag and drop tools and no need of coding knowledge, you can add or remove form fields and arrange the fields as you deem fit, on a single click, hence no need for developers.
Wide Variety of Form Templates Available at User's need
If you want to create a WordPress form in haste, then you have nothing to worry about, with several pre-built templates available on the platform. All you have to do is choose the template that fits the description of the form you will like to create and make it yours by adding extra touches. Some of the templates available on WPForms include;
Simple Contact Form
Poll and Survey Form
Donation Form
Blank Form
Request Forms and
Newsletter Signup Forms amongst others.
You can also get the Forms Template Pack addon that allows you to create WordPress forms that are customized specifically for your industry. This addon provides website owners with several already made templates for a wide variety of industries and you can be certain the one perfect for your industry will be right there.
Conveniently Fix Forms in Posts and Pages
One of the most amazing features of WPforms is its ease of use which is not cut short at the drag and drop feature. You can easily add your forms to posts and pages with the simple steps below;
From the post or page, you want to add the form to' click on the "Add Form" icon that is situated above the text editor
A popup will appear on your screen, which will immediately direct you to pick the form you will like to add
Select the form and click on the "Add Form" icon and it is done.
Another deal-breaker on WPForms is the ability to Build Complex Forms in a Couple of Minutes, Rather than Hours. Some of the techniques for this advanced feature include;
Creating a survey or poll from with the Surveys or Polls addon that allows users to conduct quick surveys or polls on their website and get the best survey results on the platform in a couple of minutes. This option also allows users to personalize the survey questions in response to the answers gotten from visitors and allow them to share the results of the survey via social media and other platforms
On membership sites, users can create a custom login or registration form on the go that enables the members of the site gain access with the same login details and also add them at any section of their websites.
Website owners can easily receive payments within their forms with WPForms for donations and non-profit organizations. Payments can be made on this platform via Stripe integration or PayPal.
Another advanced form that can be created in minutes is the post submission form that enables users to accept contents like guest articles, reviews and testimonials on their website without the need of providing access to every user. This way, submitted posts will appear on the website owner's page before being posted, pending the approval of the post editor.
Some other amazing features available on WPForms include; Email Marketing Optimization, Several Payment processes, Signature, the Custom Captcha feature, User Registration and several others.
Pros and Cons
Overall, WPforms have one of the best online rating and review on WordPress Form Plugins, on its overall performance based on its features, support, ease of you and pricing. However, the platform also has its downsides. The Pros and Cons of WPForms include;
Pros
Amazing Features
Good Pricing for the product's services
Ease of Use and Convenience
Several available templates
Cons
Some users seem to have issues with delayed responses from the customer's support
Users have complained of glitches but had it solved after contacting customer's support.
Download Now
Ninja Forms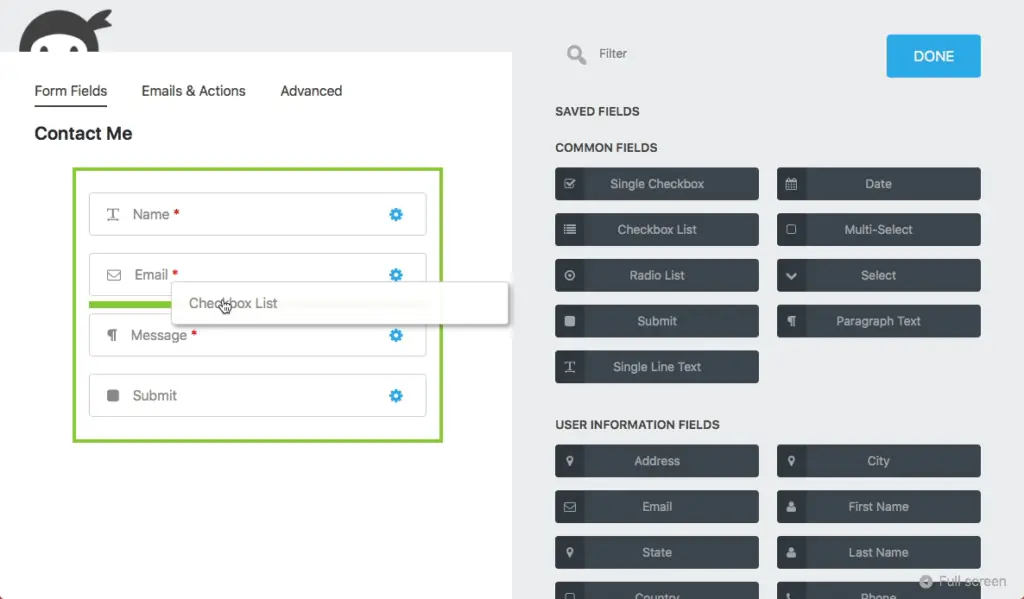 Another amazing form plugin for WordPress websites is Ninja Form. This form plugin is mostly popular for its quick contact form designs and free contact form plugins. Ninja Forms offer website owners several form building options with great customization tools that enable them to sell their products and get advance, get needed information from visitors and potential customers, get newsletter subscribers, and create surveys on their WordPress site. The forms that can be created on Ninja Forms include;
Contact Forms
Order Forms
Surveys and Poll Forms
Subscription Forms
Post Submission Forms and
Request a Quote Forms
One of the most amazing features of Ninja Forms is the ability of users to purchase addons on the platform separately, instead of getting the costly bundles, in addition to its free access for creating simple contact forms. Users will also enjoy more advanced features and services on the platform including;
The option to add advanced fields and options to forms including file uploads, multiple pages and conditional logic
Email integration and newsletter services with campaign monitor and constant contact which serves as a great option instead of MailChimp.
Several payment methods including PayPal, Stripe, Freshbooks and more
With Ninja Forms, users can track leads and convert them to sales conveniently
With several tools available on the platform, users can automate their businesses with WebMerge, Zapier and WebHooks amongst others.
Users can also opt for discounted pricing on bundles instead of purchasing addons singly based on their preference.
With the drag and drop feature of Ninja Forms, users can navigate freely on the page and easily build forms
The platform offers great flexibility as users can easily upgrade their plans from free to premium with no extra costs.
Forms can be easily created on Ninja Forms with no need for coding knowledge or help from developers.
Although Ninja Forms offer website users and online businesses a great platform for creating forms and interacting with visitors/customers it services and features do not stand out like that of WPForms. The Pros and Cons of Ninja Forms based on online ratings and reviews are;
Pros
Free plan; with a completely free plan on contact forms, website owners can create simple forms but will have to upgrade to the paid plans for advanced addons and templates
Drag and drop builder
Flexibility at the user's convenience
Ninja Forms has a great performance rate on the online scoreboard with a 4.0 overall rating.
Cons
The main plugin lacks some features to create dynamic forms and it will cost more money to install the conditional logic addon which will be needed to access the addons.
Although purchasing add-ons individually may seem cheap, it will get expensive when users have frequent needs of the addons.
Download Now
Gravity Forms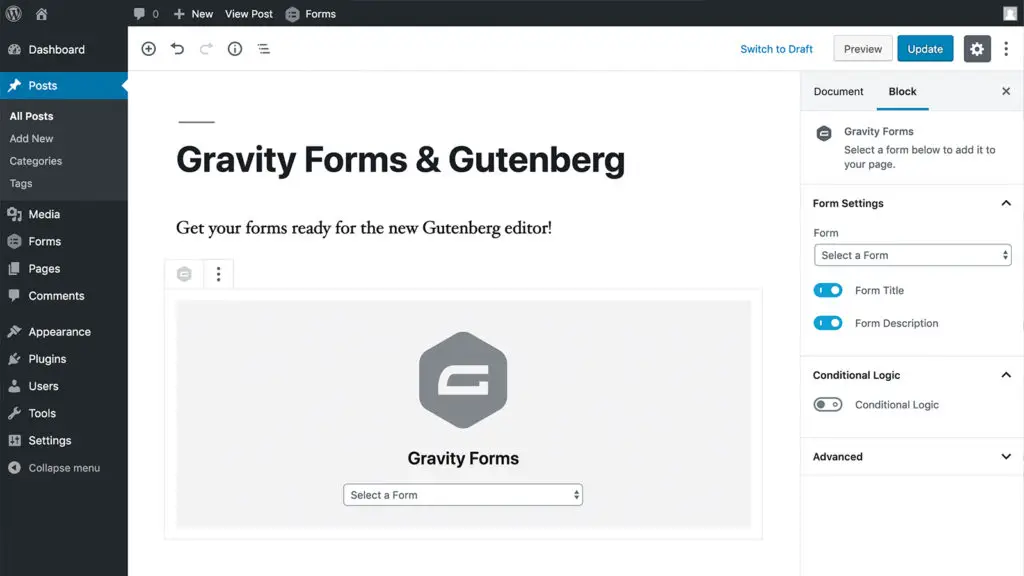 Gravity Forms is a WordPress supported Form builder that is frequently ranked on the list of best form plugins in the online market. Although not as sophisticated as WPForms, Gravity Forms provides a little more features and benefits to users than Ninja forms as it provides users with the essential tools and advanced options needed for great form creation and designs. With Gravity Forms, website owners and other online business owners can create both simple and advanced forms at great ease and convenience with great tools and features at their disposal. Some of the amazing features available on Gravity Forms include;
Several from fields that will enable users to build their forms as long as they want.
With Gravity Forms, users are guaranteed of eye-catching forms that will make their forms look amazing on different kinds of devices.
With the conditional logic, accessible to all users, users can enable the show or hide option on the fields based on their preference.
With Gravity Forms, users will get email notifications on the status of form submissions on their website.
There are several anti-spam options available on the website including; Google reCaptcha, Akismet and Captcha that help combat spamming on websites using Gravity Forms
Other users can upload files with the platform's advanced upload options
With the save and continue feature on Gravity Forms, users can save on-going form designs and continue creating them at their leisure.
Just like the WPForms and Ninja Forms, Gravity Forms comes with a drag and drop builder that allows for easy navigation on the platform.
Users can control the different aspects of their forms with the powerful controls available on "Settings". Control options include; enabling anti-spam features, redirect visitors and potential customers to any page you want.
Users will receive notifications on any submission made on each of the forms.
Users can also integrate forms on Gravity Forms with popular WordPress and non-WordPress plugins and apps and also several popular email services.
Pros and Cons of Gravity Forms
Gravity Forms has an unending list of amazing features and exclusive function, however, it has a few downsides as well, which brings us to the pros and cons of the form plugin
Pros
Gravity Forms provide users with the best features and several advanced options that enable them to create great-looking forms
With several addons and customization tools, users can conveniently create forms of several categories
The drag and drop feature in Gravity Forms allows for ease of use
The platform offers great security against spammers
Surveys and quizzes can be created in minutes
Cons
Gravity Forms is a bit high when it comes to pricing
Beginners may not find the platform very easy to use after all
Download Now
Our Verdict
WPForms, Ninja Forms, and Gravity Forms have great reviews and ratings compared to several other form builders/plugins in the online market. WPForms offer great services for both simple and complex forms with several amazing field options, unbeatable ease of use, and several pre-built templates that enable website owners to create forms without the need to start from scratch. Just like WPForms, Gravity Forms offer users advanced features and services including conditional logic addons on the core bundles. Although Gravity Forms is pricier than the other two, it provides more features that give users access to extra customization options. Ninja Forms seem to be on the downside compared to the WPForms and Gravity Forms as its features and services are not as advanced as the others.
So, if you need a form builder with the most features, Gravity Forms should be your pick. With WPForm's ease of access and pricing as well as its advanced features, it takes the lead on these 3, while Ninja Forms is great for people who prefer to purchase addons as often as they need them and get pretty good features as well.