Websites make it easier for event organizers or managers to get in touch with their potential clients. This means you get to work with people from around the world with a simple marketing tool, that everyone can access from a computer in their homes. If you are organizing a conference, meeting, seminar, lecture and so on, you can use a website to get attendees to register and reserve a spot. This is how things are done nowadays and to enjoy this, you need a very powerful and really attractive event website that will capture people's attention.
A site where people can see pictures of previous events executed, make payments and reservations for an event. So, it is very important to create an attractive but simple website that can easily be navigated by people. It could be seminars, conferences, forums, meetings and many more. There are two things to consider, in terms of design, and that is picking a one- or multi-page site template. They all have their pros and cons, a single-page site carries the most important information about your business while the multi-page carries not just your information but also a photo gallery.
Best Collection of  Event Websites HTML Templates
Another thing to consider is the payment processor, and these templates we have carefully selected for you comes with PayPal support which means you do not need to stress yourself about receiving payments from clients. All you have to do is set it up, while users can reserve and make payments with simple steps. WordPress themes are usually the best to use, because of its flexibility and availability of custom functionalities, features and much more. Check out some of the Best Event Website Templates for event hosting site projects.
Blazen Event Website Template
So, the first on the list is the Blaze event management website template, which is just perfect, if you are looking for something to put a lot of photos on display. It is a mobile-friendly site that adapts to any screen size your clients use to access it and also very flexible. It includes an AJAX contact form that allows clients to leave a message for you and the site is in high-resolution which means very attractive and colorful. You can add photo galleries and it would display high-quality images. With so many features, this template has 2 home pages with about us, speakers, gallery, blog, and FAQ menus.

Gen8 Event Website Template
If we could use the words elegant and simple, then that is exactly what Gen8 event website template is all about. You can definitely show off the quality of your work by using this template with tons of features. It is compatible with all modern browsers, two types of one-page layouts, flexible and smooth. You can choose between CSS or SCSS for the layout styling. It is built using Bootstrap 4 which makes it modern, clean and stylish with full responsiveness.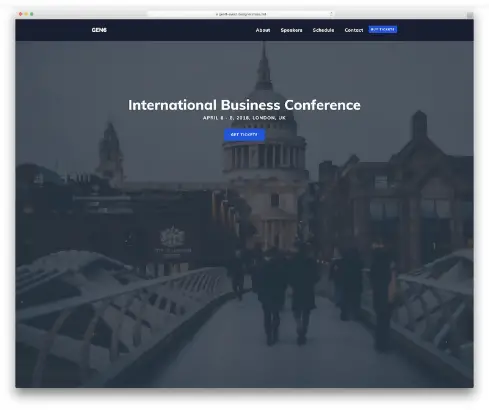 ICT Conference Event Website Template
This event website template is truly packed, more loaded and very broad with features. You can use this template to create different types of sites perfect for events such as conferences, meetings, forums, venue's, seminars, and so much more. It comes with six pages that can be customized with a creative touch to add flavour to your website. ICT will definitely help you convert clients and sell-out events easily. It is built for any mobile device, has SEO optimization, and works with the most common browsers.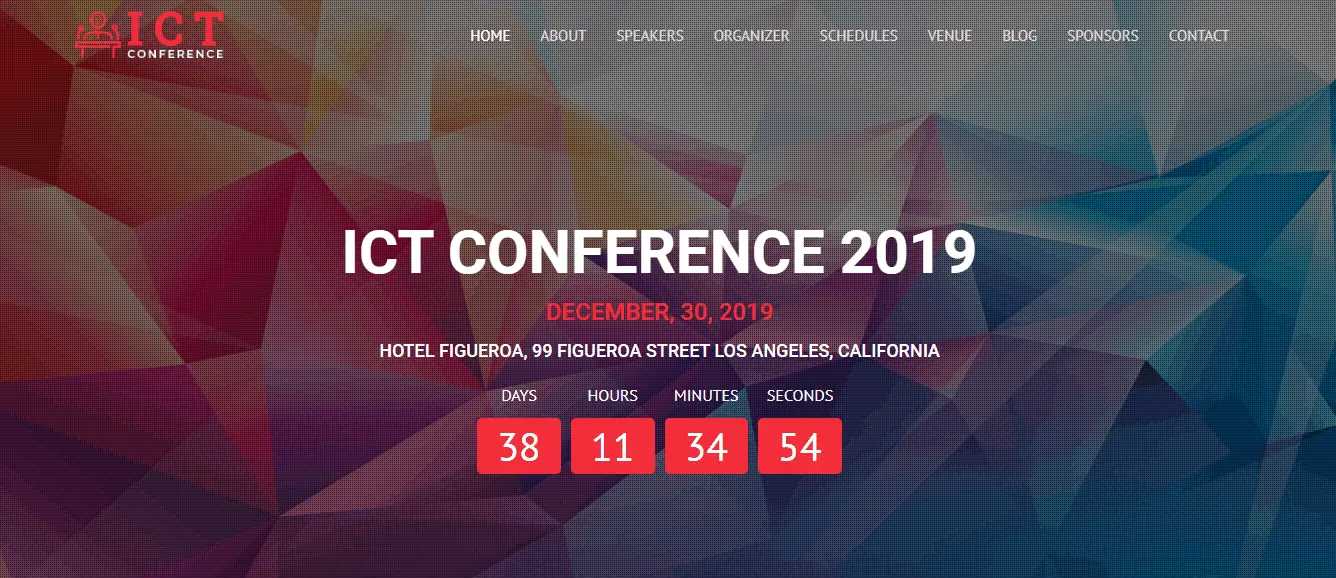 EventPro Website Template
This is one awesome event website template built using HTML5, jQuery, CSS3, LESS, and Bootstrap. EventPro is a well-prepared template with many features to enable you to create a high-quality website for your event managing site with minimal design skills. For web developers, this is an asset for designing distinctive websites for your clients. It comes fully responsive, mobile-friendly, with four front-pages, ten internal pages, eight stylesheets that are predefined and more.

Eventor Website Template
If you are looking to create an event organizing website with a modern touch as well as colourfulness, then Eventor is your go-to template. Eventor is designed based on the trends in the webspace, it has a modern layout and it is trendy as well. You get to use some of the most attractive colour schemes, a header that is static with call-to-action buttons and more. The template also comes with customized charts, six different homepage types, contact forms, Google fonts, multiple subpages, custom fonts, and many more.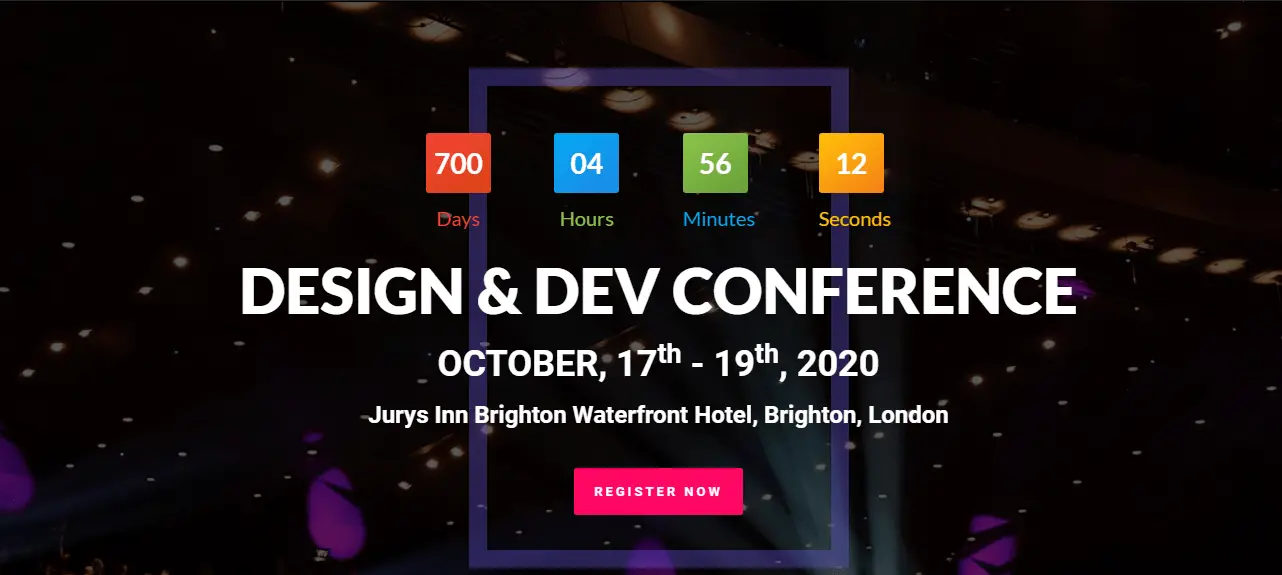 Jevelin Event Website Template
Jevelin is probably one of the most popular website templates you can find for WordPress, and this event website template is not left out. With the WPBakery page builder, this template is super easy to navigate, edit, and customize for your event site. In fact, even someone with the least knowledge of web design can use this template, that's how simple it is with sample pages to assist you in adding content. Jevelin is SEO optimized, fully responsive, mobile-friendly supports all browsers and it is high-quality.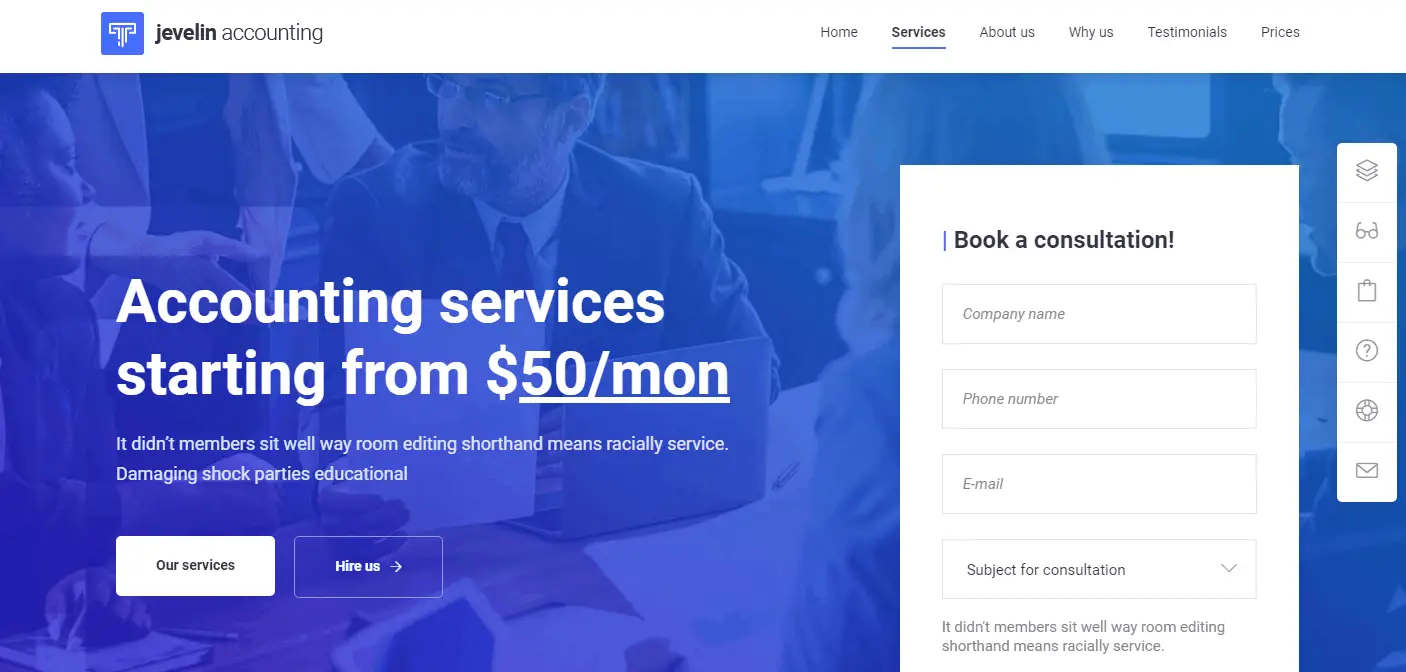 Eventium Website Template
This event website template adds a very cool vibe to your site, it is elegant, neat and ideal for exhibition, meeting, conference, seminar, and webinar websites with a modern feel. Clients or people who would make reservations on your site will definitely get the simplicity of it. Eventium comes with over 20 HTML files that are simple to edit and customize. Built based on Bootstrap, it is responsive, flexible, mobile-friendly and has pro customer support to help you with setting up.

MP9 Event Website Template
The MP9 event website template is ideal for concerts, bands, artists, musicians and so on. You definitely need creativity and some work to be able to design your site but it is still good. This template will make your event site distinct from others, with its beautiful layout in dark colours; responsiveness; retina display; mobile-friendliness and modern browser support. You get 14 HTML files that are easy to edit and adjust to meet your specifications.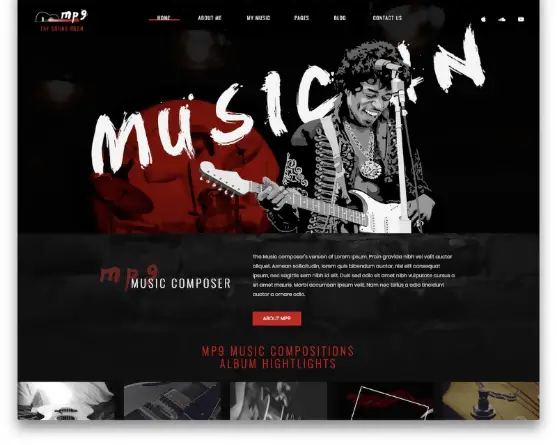 Fizcon Event Website Template
It gets easier to design a website for events using the Fizcon template. It is completely versatile and this makes it worthy to be on our list. You can use the Fizcon template to design a website that will stand out among others. Editing and customizing this template is also a very simple process, all you have to do is select out of the homepage samples and edit to add your own contents. It is mobile-friendly and responsive with features like contact form, transition effects, updates, smooth scrolling, parallax effects, and many more. You can even add event dates, speakers and the location that the event will take place.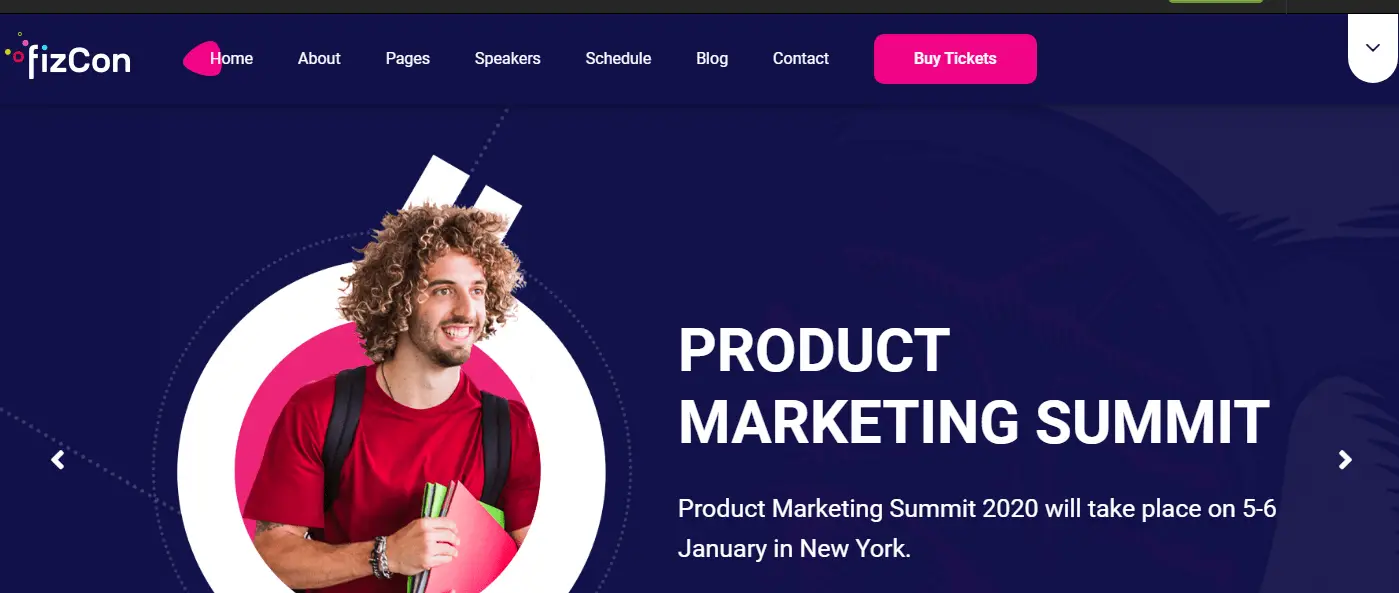 Eventex Website Template
For others who might be looking for simple, cool, great and elegance in a website, this template will give you all that. Eventex is absolutely impressive and will give your site visitors that wow factor. It is an excellent template has samples which include 5 homepage types, and 12 inside page layouts that you can choose from to build your content. Other amazing features included in this template are event schedule, timer for the countdown, Google maps for location and direction, parallax effects, pricing, smooth scrolling, newsletter forms and social media buttons.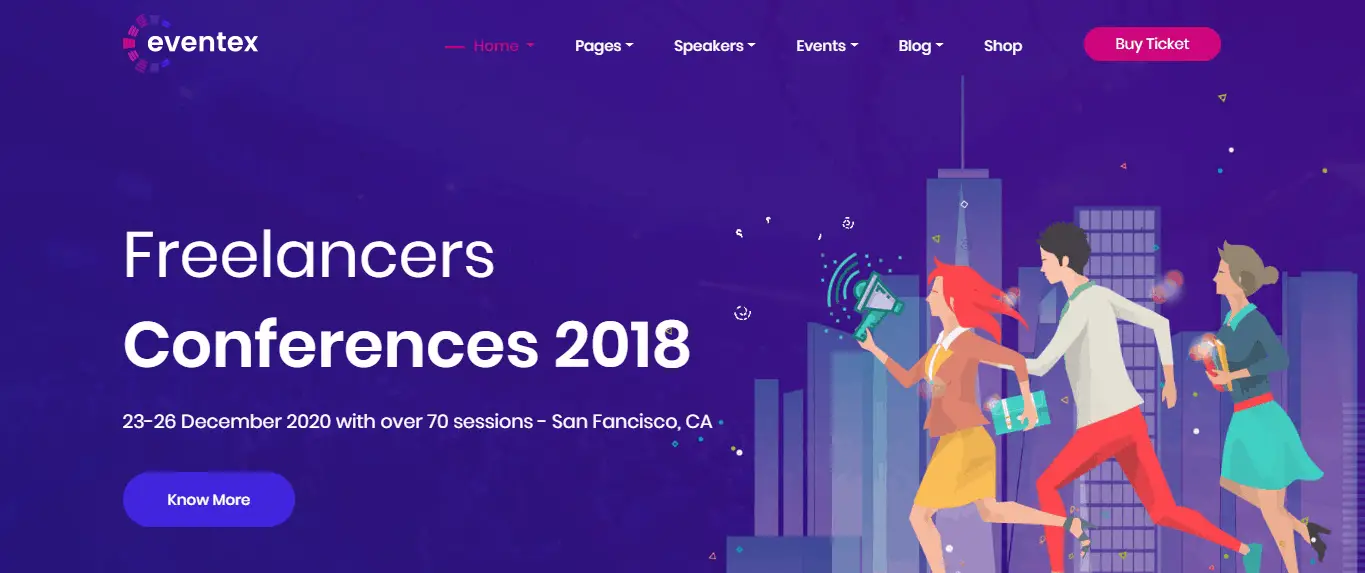 Evento Website Template
Create an adaptive website with a modern design and layout using Evento template. It is a wonderful template for building event websites either for seminars, conferences, shows, meetings and so on. This template is built based on the powerful Bootstrap system which makes it flexible with high-quality resolution display. Some of its features include appointment forms, revolution slider, schedules, slideshows, pricing tables and many more.

Divi Event Website Template
Whether you want to organize an event online or offline, it is very important that you keep things simple and easy by creating a website that will handle reservations and attendees. If you are planning a conference, meeting, seminar, launching, exhibition and so on, you can create a high-quality website using the Divi event template which is filled with a number of great features. Divi template is user- and mobile-friendly, supports modern browsers, scheduling, it has a contact form, event details and so on. Just choose a demo content and start editing and customizing your site with the Divi page builder.

Emeet Event Website Template
The Emeet template offers a memorable event website that is alluring and enticing to the site visitors. With it, you can create event booking websites for your seminars, conferences, meetings, and many more. It is fully optimized with high-resolution and easy to customize. Emeet is mobile-friendly, it works with all modern browsers and uses the latest technologies in the website design space. The features that come with it include parallax scrolling effects, 18 home page types to choose from, 10 inside pages and many more.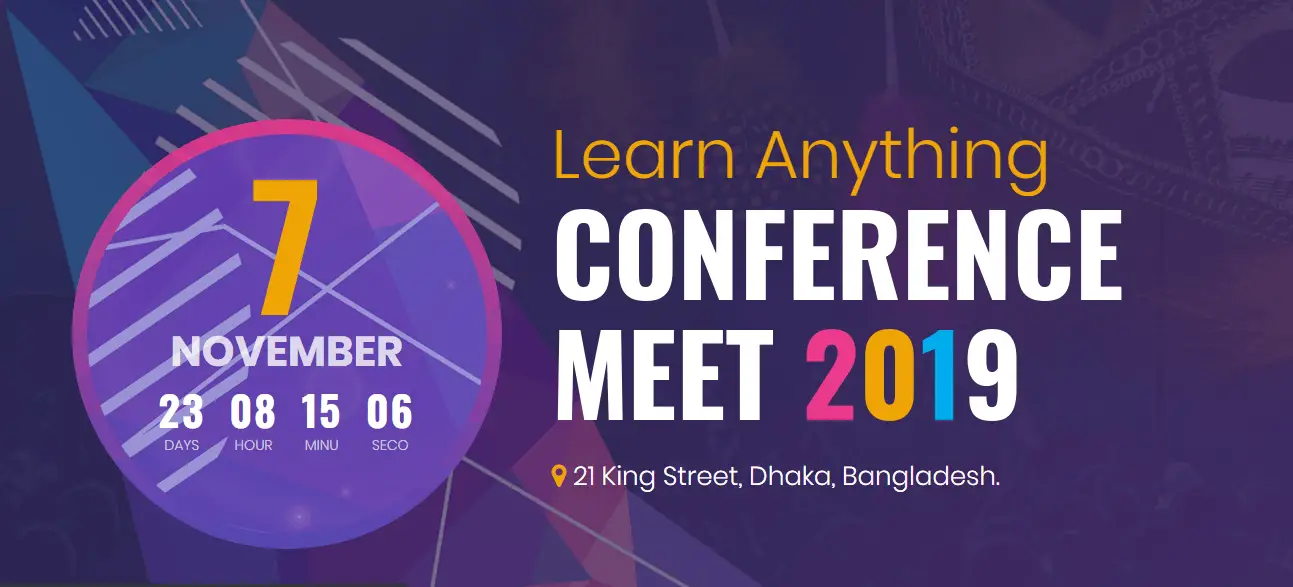 Wiscon Event Website Template
Wiscon offers a flawless type of website for any event you want to run online. This website template is very easy to use, full of features and functionalities required to run an exceptional event organizing website. A lot of event administrators, organizers, planners, companies, and more favour this template. Wiscon gives you two different hompages to work with, so you can choose from your most preferred type and start editing and customizing. Add your own logos, texts, files, titles, forms, photo galleries and so on with access to full-time pro support.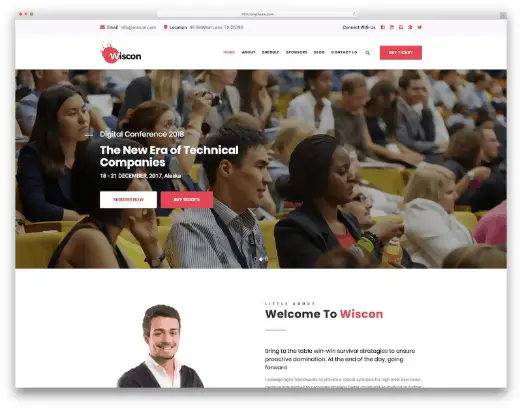 Eventalk Website Template
Give your event website life and beauty in simplicity by using the Eventalk template. It is interactive and offers fabulous visual displays for your clients and site visitors. Eventalk template will stimulate your site visitors to reserve an event ticket. It is the perfect template to use for any event management projects, seminars, conferences and many more. This event website template also comes with amazing features like schedule pages, countdown timer, sliding carrousel, media player for audio or video, shop, about us page, and many more.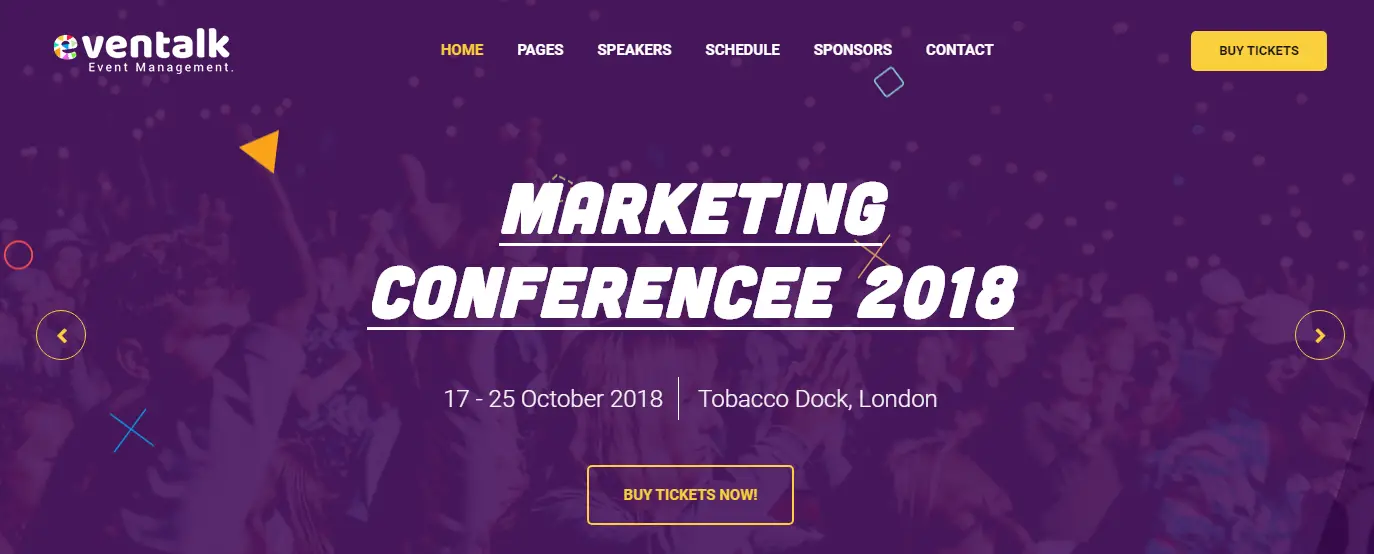 Couple Heart Website Template
Nowadays, a lot of couples make it a priority that guests coming for their wedding ceremonies; signup on a particular website to reserve their invitation. This is the new trend now as the old invitation cards are been kicked out. It is a better and faster way to make a head count of the total number of guests that will be attending an event most especially if it is based on invitation. You save cost using this modern method of invitation for a wedding, conference, seminar and more. The couple heart's template features a total of 150 HTML pages from which 20 are homepages. So, you will likely get the perfect design for your site.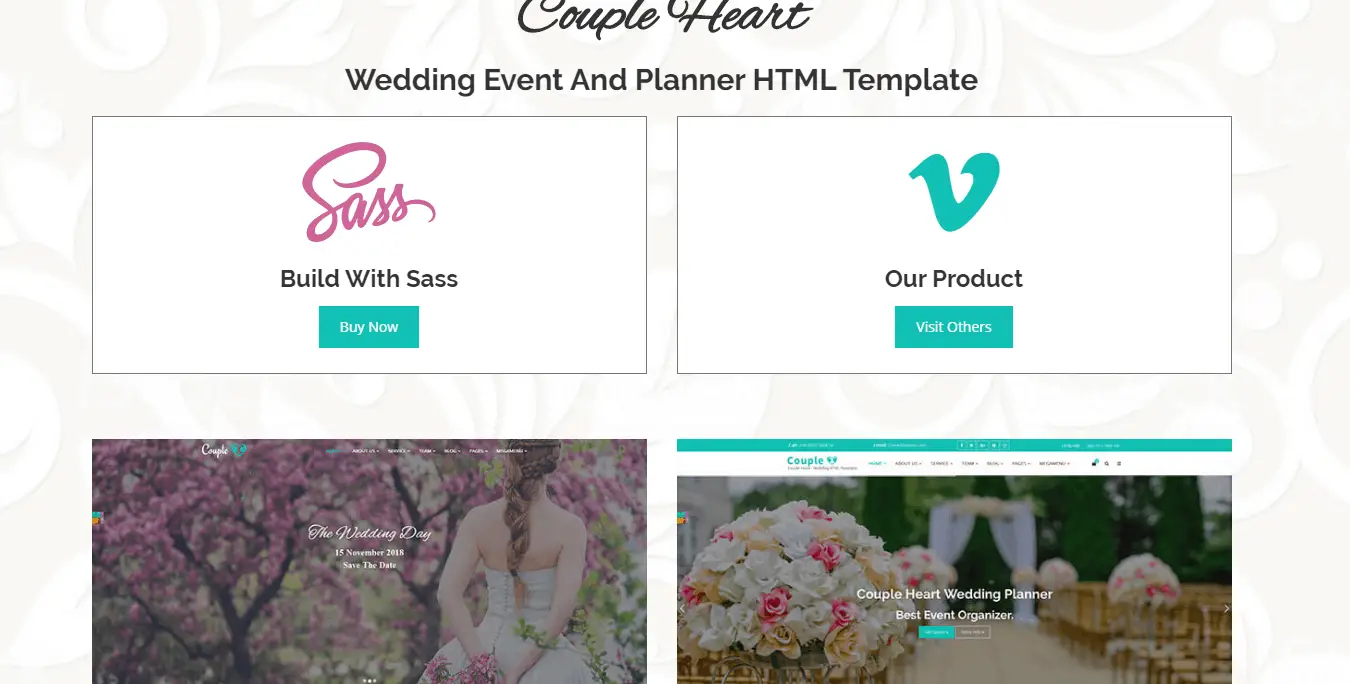 Utouch Website Tmeplate
This is a multi-purpose website template that can be used for all kinds of sites including for events. If you are an event planner who has tons of events to manage such as meetings, forums, etc. you can use the Utouch website template to really do justice to how people can book or reserve a spot for those events. It is a faster and easier way to handle reservation in a modern way with a great site. The Utouch template is really simple and easy to navigate with a number of features like galleries, sticky header, drop-down menus, sliders, and many more. It even has 0ver 30 HTML pages with front and inner pages that you can choose from when designing.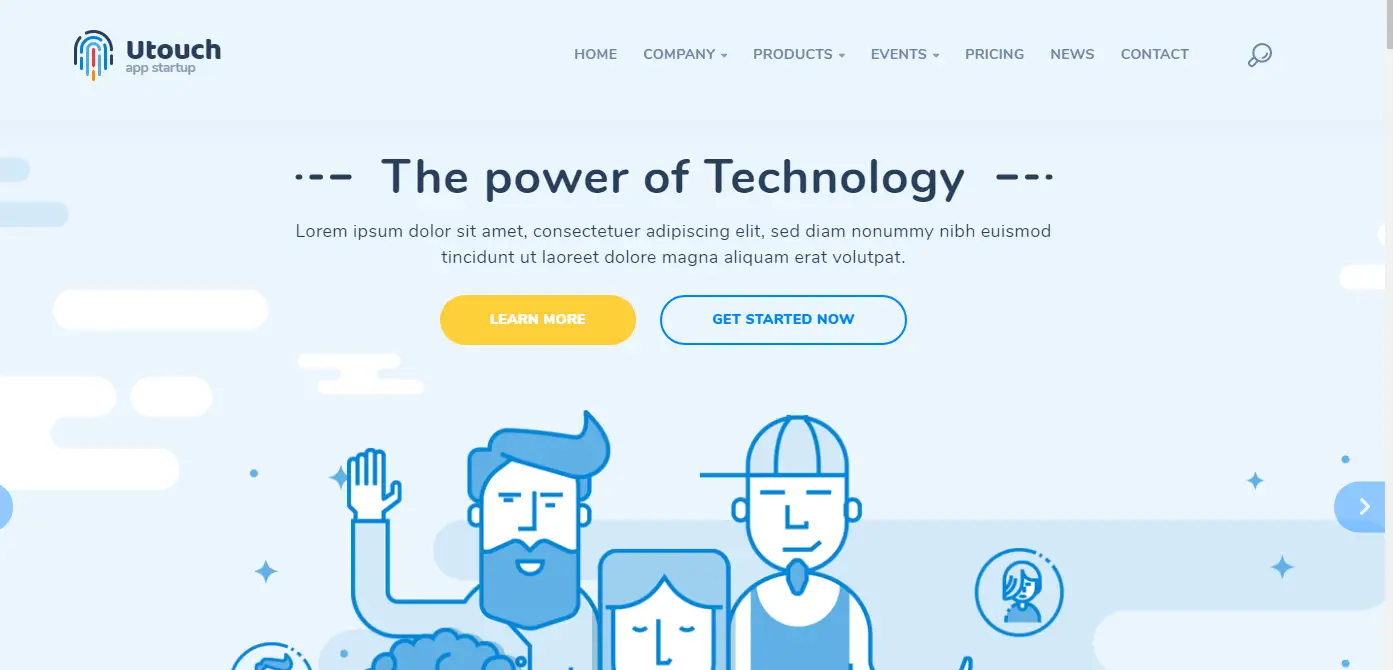 Event Planning Website Template
If this website template was not one of the best out there, it wouldn't be on this list. The event Planning template is just something else when it comes to features, it is the perfect website template for event management companies, organizers, and so on. With features that will surely captivate site visitors, this template will give your site professionalism. It comes with a total of 3 template homepages for you to choose with 13 different inner pages. Event planning is highly responsive, mobile friendly and clean with high-quality resolution images.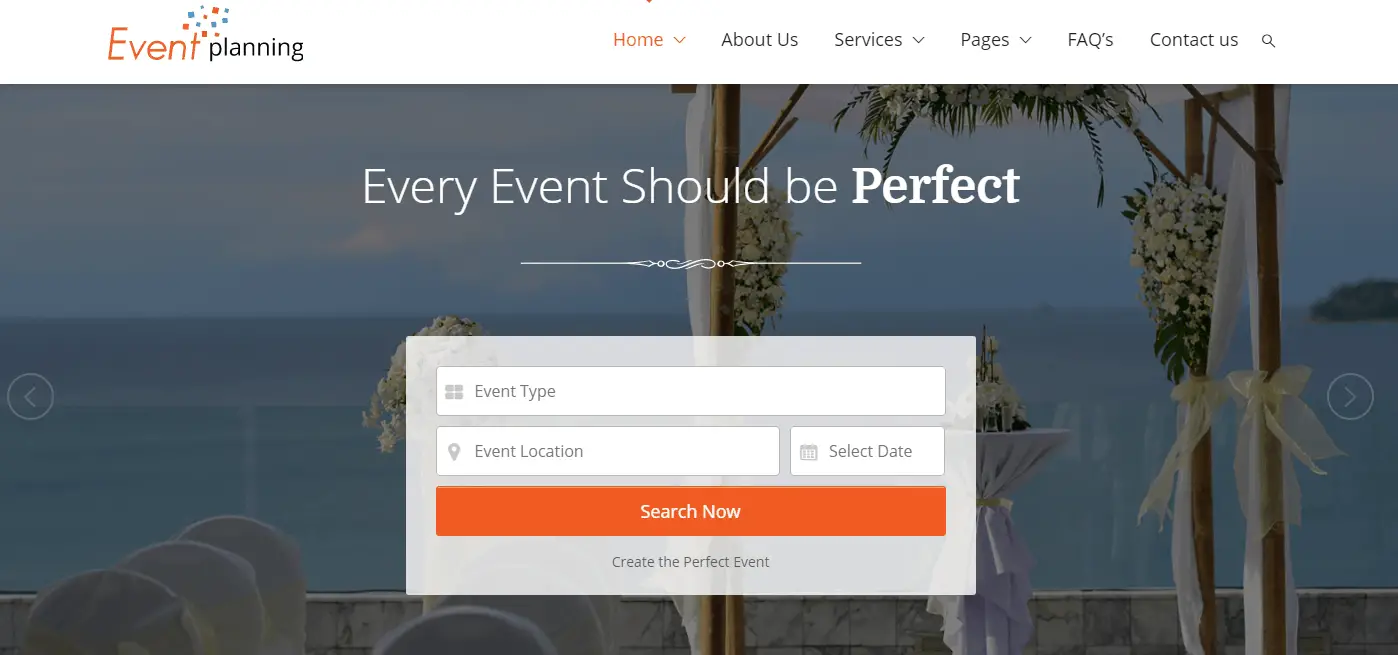 Spker Event Website Template Design
Spker event website template is the absolution solution to your event managing challenges. It comes loaded with 4 different demo options to pick from, it is modern, attractive and will get the attention of audiences fast. Spker's template has the Elementor page builder which will help you with the customization of this site with a simple drag and drop action. You can display schedules for events, maps for those attending, ticket pricing, profiles of speakers at the event, sponsors, call-to-action and many more.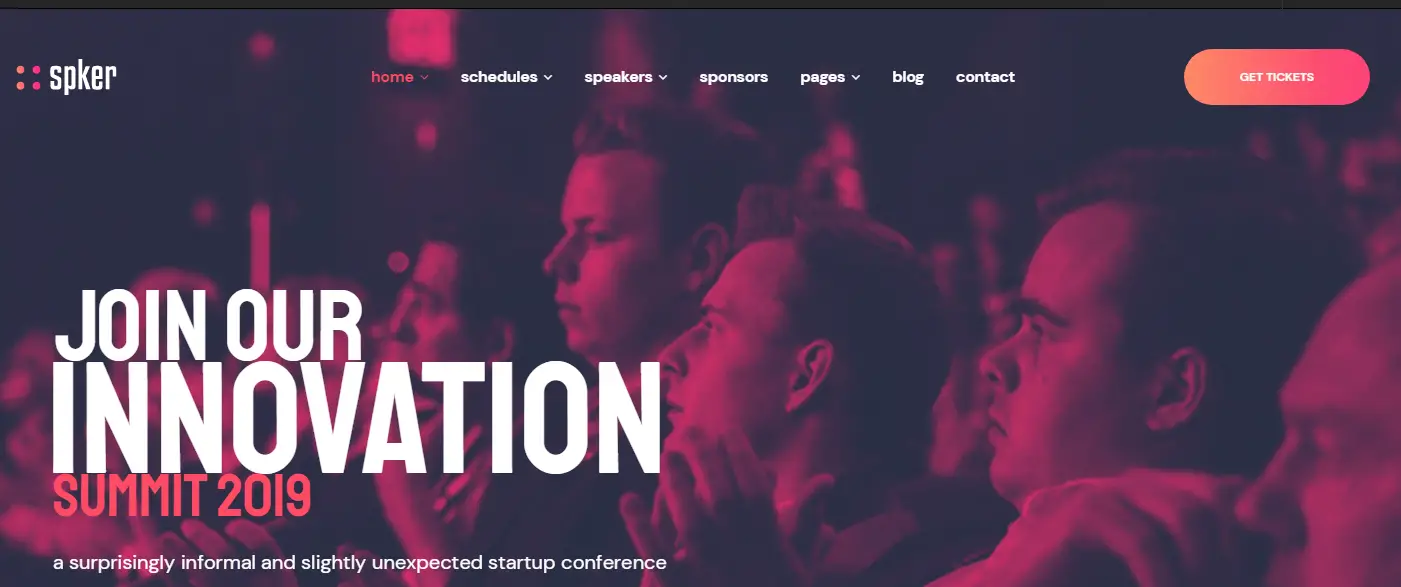 Harmoni Event Managing Website Template
The Harmoni event managing website template is a box full of presents. It is filled with dummy content that can be edited and customized to match your needs. It offers 4 different homepage types and some subpages all with predefined content as well. Some of its cool features include event booking and reservation forms, call-to-action buttons, countdown timer, PSD files, slideshow and many more.

MaxBeat Website Template
MaxBeat is simple, smooth, fast and very easy to set up and use because it comes with a dummy content. You can replace the predefined content with your own and customize the template by modifying some of the layout properties such as homepage and the subpages. This event website template also has features that will make it very easy for you to launch successful online events such as media form integration, countdown timer, gallery, maps, speakers, tick sales and many more. Get this template and start building that event site you've always wanted.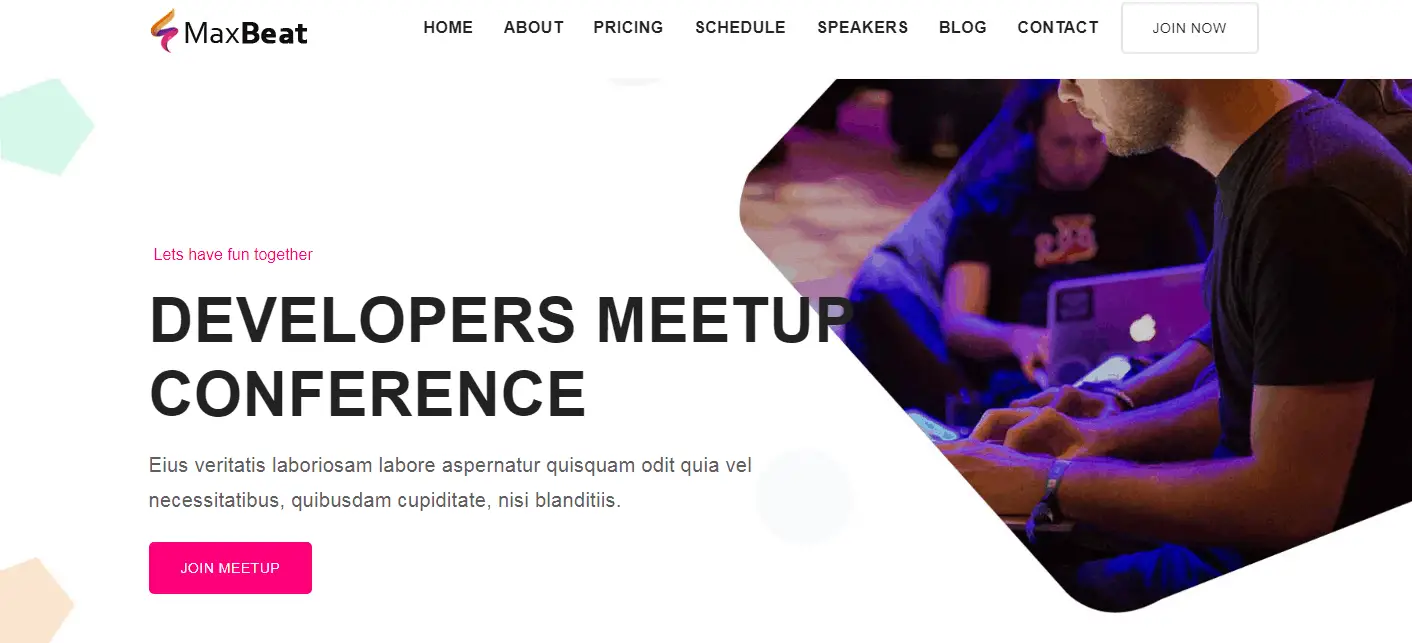 Paper Website Template
This is yet another multi-purpose website template that can also work for event management. It has a collection of the different homepage and subpage styles that you can select to build your site upon. The paper website template gives you full control with its admin panel and its design is simple, neat, modern and fully optimized for search engines. It is mobile friendly and supports our everyday browsers so you do not have anything to fear about the type of device your visitors are using to access the site. Some of its notable features include mega menus, parallax effects, portfolio page, shortcodes, pricing tables, blog pages and many more.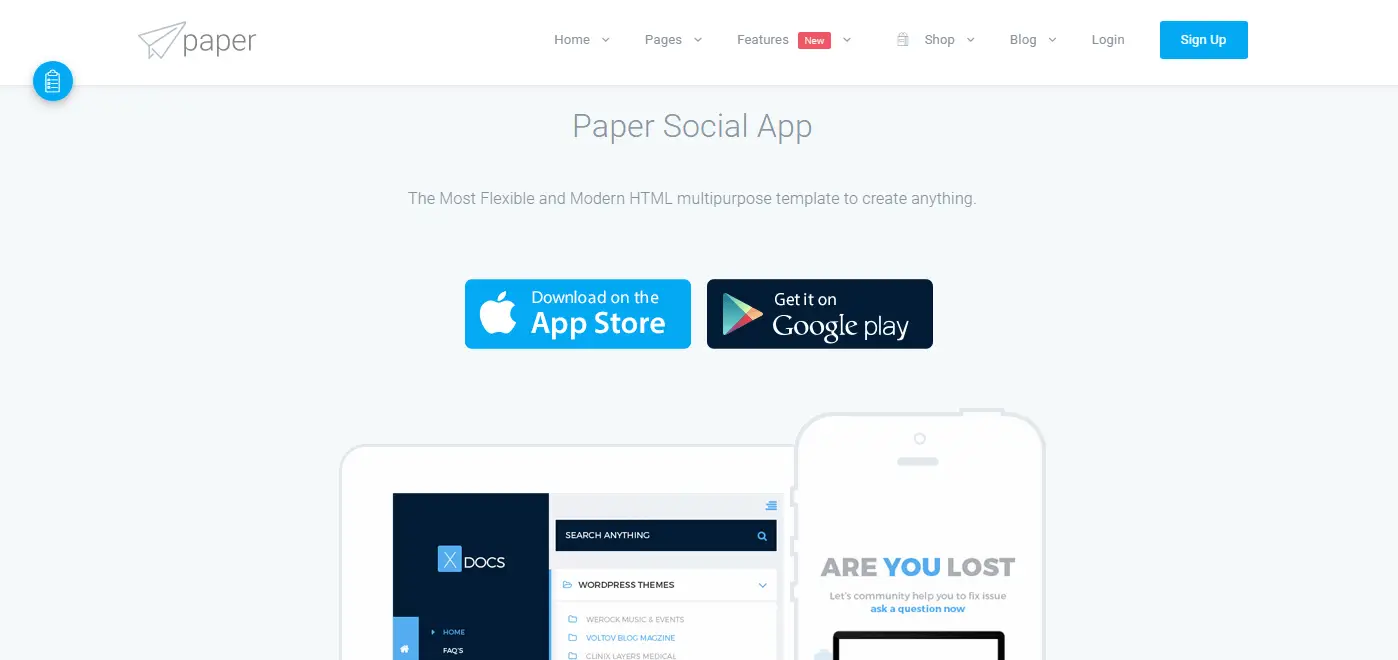 Wedding Invitation Website Template
Although this event management website template is named wedding invitation, it can still be used for other event sites as well. But for those who are looking to build a wedding invitation website so guests can register or book reservations, this is certainly the perfect template. It comes with remarkable features like five different colour skins preset in the template, revolution slider, RSVP bookings, countdown timer and more. It is easy to edit and customize and you can also use it for seminars, conferences and so on. Mobile-friendliness can not be left out and it is also very responsive.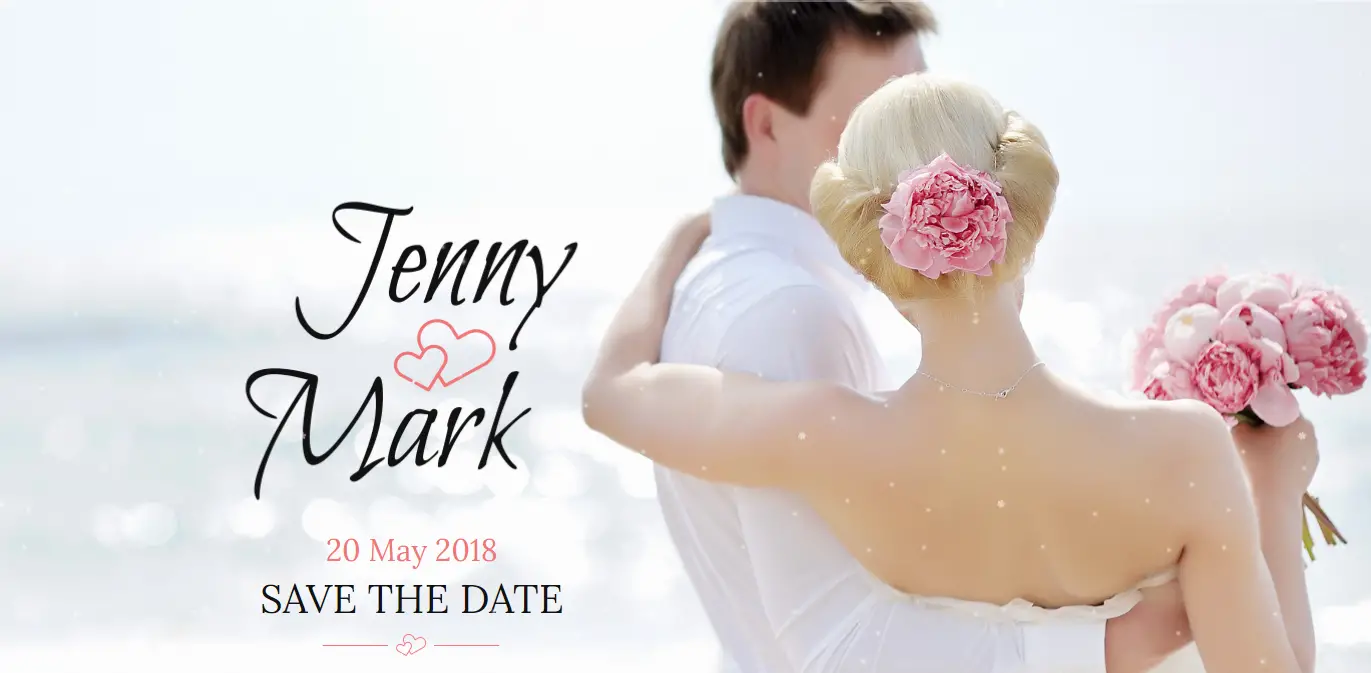 Event Organizer website Template
The event organizer is a website template that works ideally for events such as lecture schedules, seminars, conferences, meetings and more. This carries a modern style design with trendy color schemes and lots of fresh features. This template will, without a doubt, give you a professional-looking website. The event organizer template is built using CSS3, Bootstrap, and HTML5, it also uses Javascript for web element animation. It is retina-ready, responsive, mobile-friendly and works on all modern browsers.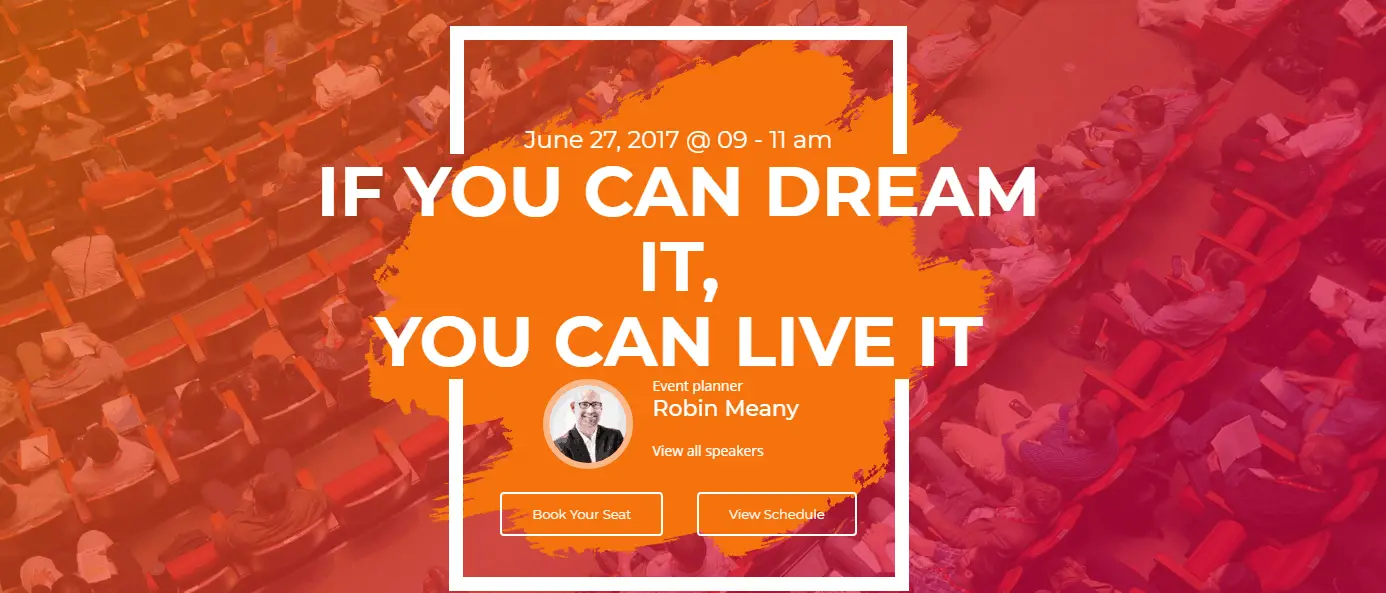 Conclusion
If you are an event planner or organizer and you are looking to move your expertise online, these are some of the best event website templates that you can find on the internet. They come with a lot of fascinating features, although some of these templates have single-page layouts and other multi-pages with lots of subpages. They also come with predefined content, colors; that can be edited and customizable for any event you want to manage such as weddings, meetings, seminars, etc. You can get these templates for a small fee and you won't regret it at all. We hope this article has helped you in making a choice on selecting one of the best website templates for your event's site. Follow our page, subscribe to our newsletter and watch out for more updates.