If you need a Google Analytic tool for your Website, then you may be having a difficult time picking the best option for you. With several free analytic tools in the market, making a pick on the best one for your website may seem difficult and that is why you have to take into account, the services that you will require of a good Google Analytics Plugin. Some of these features and services include;
An account on the demographics of your visitors
Feedback on public opinion of your website
Stay onboard with inbound and outbound links
Keep track of the most visited posts and pages on your website
Get a good statistics of the happenings on your page.
With a good Google Analytics plugin, website owners can perform these functions and get informed on information or strategies that will aid the development and growth of their WordPress websites and online businesses. Using Google Analytics is pretty either, but in this article, we are going to shed light on the best five Google Analytics plugins for WordPress. They include;
MonsterInsights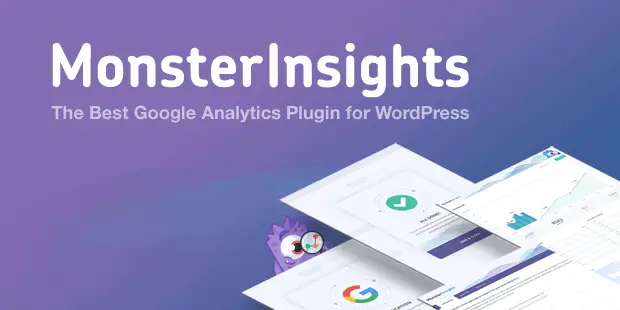 Rumour has it that MonsterInsights is unbeatably the best Google Analytics plugin for WordPress and its exclusive features and services have bought its authenticity. MotherInsights offer users the easiest setup and access to all the informative data users may need from their WordPress website. This analytic plugin offers users several amazing features and services and allows you access to;
Detailed information on visitors gender, country, device and other required data
Information on the most searched keywords, referrals, their interest and reason for visiting your website
With the forms addon available on MotherInsights, you can track the number of views on your form, the submission and conversion rate which helps you determine what your visitors will prefer to be asked and allows you modify your forms for improved participation
With the EU compliance addon, you can connect your site with GDPR in compliance with its regulation and other privacy regulations of the EU.
You can collect data from any device by setting up a universal event tracking.
Determine the number of times a file was downloaded with the download tracking feature.
Determine your conversion rates and other transactions on your website when you connect Google Analytics eCommerce tracking with Easy Digital Download, MemberPress or WooCommerce.
MotherInsight automatically works with WordPress themes, so it offers users an instantaneous install.
Instead of switching to your Google Analytics website, you can access your website statistics from your WordPress dashboard.
MotherInsight is available to users at $99.50 per year and its online scoreboard based on user ratings and reviews have been great with the recommendation from successful website owners.
How to insert into WordPress Blog
First, Download the Google Analytics Plugin by MonsterInsights ( Formerly  Yoast)  from the link.

Once you have activated the plugin, you will see a popup that is asking to start a 6 step process to complete.
Please follow these steps to configure the plugin and click on Authenticate with Google Google Account.
Click on save settings button and that's it, you have successfully configured the plugin.
Download Now
ExactMetrics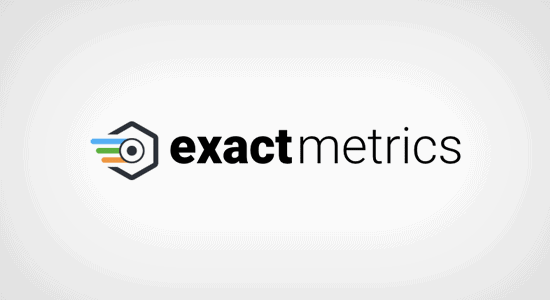 ExactMetrics is another very active Google Analytics plugins for WordPress with over 1 million installs. It is a great installation for hobby sites and new website owners, offering them a 100% free plan. ExactMetric was formerly called Google Analytics Dashboard for WordPress and it offers users amazing features for a completely free plan, including;
Tracking report on visitors and analytics report, accessible in your WordPress dashboard
It allows you see a display of live statistics including; the number of visitors on your site, source of traffic and allows you determine the region or sect of people that mostly visit your website by disclosing where your visitors come from.
Users get important details and statistics like organic searches, traffic from social media, mobile analytic statistics, bounce rate and more.
ExactMetrics also provide you with a comprehensive report for each of your posts and pages which always you analyse their stats evenly and improve your content.
Users also get full event tracking for Accelerated Mobile Pages, that is. AMP.
In a nutshell, ExactMetrics Google Analytics plugins provide easy tracking of events including downloads, emails and affiliate links amongst others, at no cost for basic WordPress websites.
Download Now
Analytify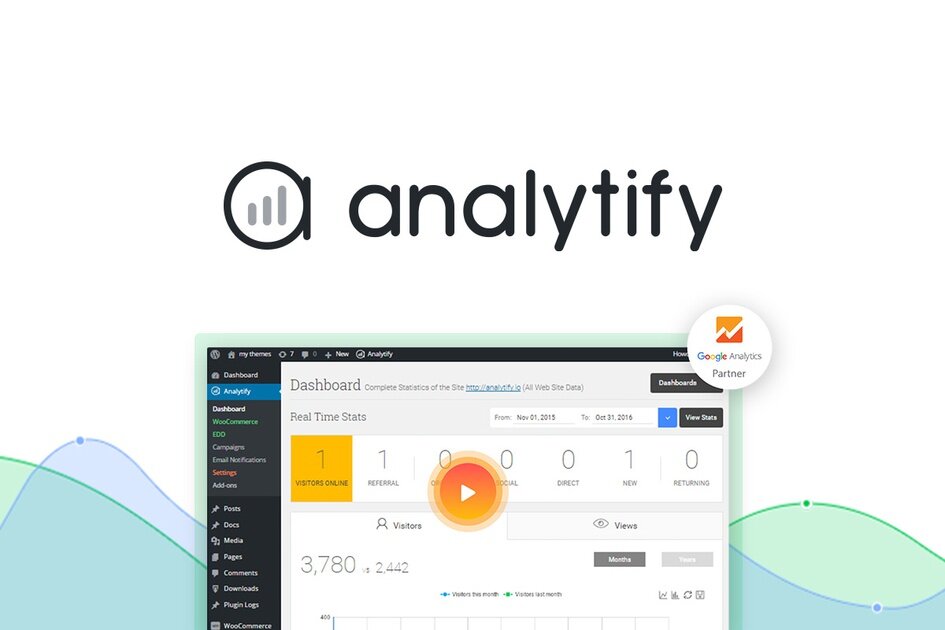 Analytify is another amazing Google Analytics plugin for WordPress that provides users with great services and features accessible at no costs. With its simple installation process and amazing services, users can easily add this Analytic plugin to their WordPress website and enjoy the features and services it offers, including;
In-depth reports on the statistics of pages and posts individually which allows you to optimize each content and improve your website generally.
Users can view the analytics reports from Analytify from their WordPress website.
There are different add-ons available on Analytify that helps improve its functionality and tracking parameters.
With Analytify, users can automatically send email reports for every post and page as well as general reports and statistics of their WordPress site.
With Analytics, users can get an overview of their sales, transactions, visitors, revenue and traffic using eCommerce tracking for WooCommerce as well as Easy Digital Downloads.
These services and features are available to users for free but Analytify also offers more advanced services with improved features on the premium version that can be accessed from $39 per year.
Download Now
Enhanced eCommerce Google Analytics Plugin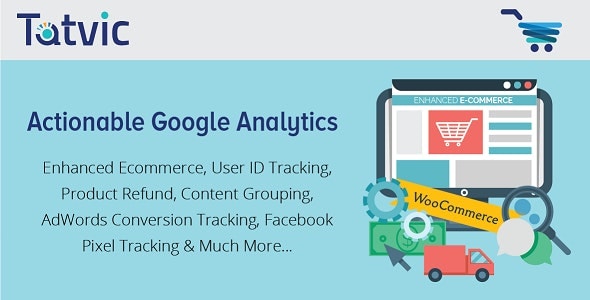 The Enhanced Google Analytics plugin is a WordPress supported Google Analytics plugin that offers great services and features for WooCommerce. It is a free plugin, therefore it has some limitations and is not exclusively compatible with all WordPress themes (it is not compatible with the custom and child theme on WordPress) and is great for online store owners. Some of the features available on the Enhanced Ecommerce Google Analytics plugin include;
With the automated eCommerce tracking feature on the Enhanced eCommerce Google Analytics plugin, you can determine your visitor's preference and optimize your websites or online business.
This Google Analytics plugin provides performance reports and stats on shopping behaviour, products, sales and checkout behaviour.
Online business owners can also track the number of clicks on a product, visitor's impression and the statistics of add to cart sequences. These details can be easily accessed on the product page, featured product section, category page and other subpages on your online store.
Enhanced eCommerce Google Analytics plugin offers these amazing features and services to online store owners at no cost. It is free, easy to use and very reliable.
Download Now
Google Analytics by 10Web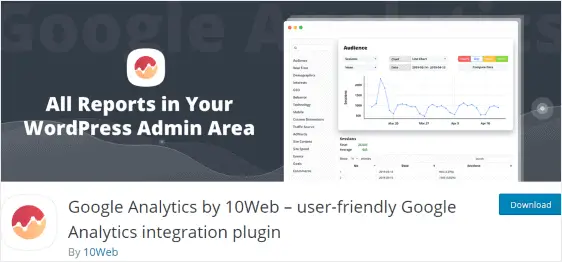 Google Analytics by 10Web may be the least sophisticated on this list as it offers pretty simple services and features to users but it certainly gets the job of tracking and analysis done. It offers users a free plan and also a premium plan that starts at $30 with more advanced functionality. Some of the features available on Google Analytics by 10Web include;
This Analytic plugin enables users to set goals within the WordPress dashboard and manage them with effective tools and features available on the platform.
Just like the other Analytics plugins on this list, users can access all analytics report and statistics on their WordPress dashboard.
You can export CSV reports to other platforms
With its automated broadcast feature, you can send email reports automatically
You will have access to important information from paid ad platforms, thanks to Google Analytics by 10Web's integration with Google Adsense and Google Ads
With Google Analytics by 10Web, you will also have access to eCommerce tracking, custom events tracking codes and custom notifications on specific data or sections of your WordPress website.
Download Now
Wrapping Up
If you have found the best Google Analytics plugin for your WordPress website, then you have to set it up or insert it into your Google Analytics tracking code. However, some newly improved Google Analytics plugins can be added to WordPress websites without the need for coding knowledge. One of such Google Analytics plugins is MonsterInsights. It is said to be the best in the online market and its set up technique will be used for this article.