When choosing the best webinar software, video, and audio quality should be given priority. Also, the software should allow many users to join without any restrictions, should be able to capture the lead data, and should provide features for creating interactive presentations.
In this article, we will cover the top ten webinar software that offers the best value and features to start the webinar journey with.
Who is the Topper: Webinarjam vs Gotowebinar vs Easy Webinar vs Webex vs Zoom?
Here we will deep dive into the few webinar software that a business can rely on. This is a comprehensive guide that will cover the software features, pros and cons, the pricing, and the download link for each of them.
Let's get started.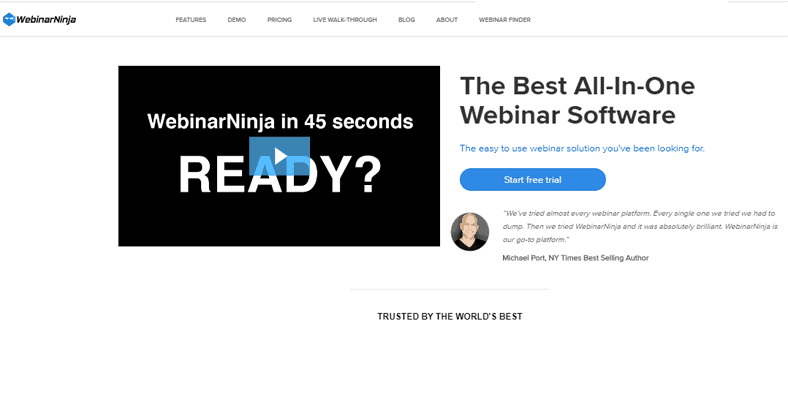 This software is considered as an all-in-one webinar solution and was founded in 2014. The best part is that the audience does not need to install any app or software to access the webinar as they can access through a dedicated URL. The software allows running four types of webinars. These are live webinars, automated webinars that are recorded, series that allows running a group of webinars, and hybrid webinars, i.e., the combination of live and recorded.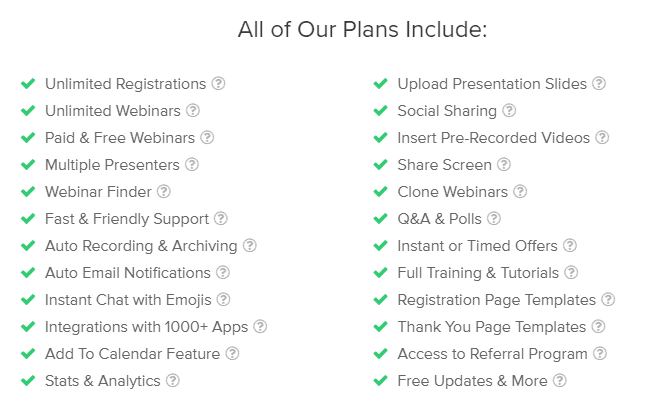 More Features! :
Share screen option for practically demonstrating ideas
Media library for safekeeping data in an organized manner
Custom registration and thank you pages that reflect your brand image
Statistics on attendees, leads generated, sign-ups vs. show-up rates, etc.
Integrations with MailChimp, HubSpot, ClickFunnels, ConvertKit, Drip, Constant Contact, Infusion Soft, and Squarespace
Built-in marketing through feature such as Webinar Finder
Last-minute signup option available
Ban attendees option available to block negative impressions
Time-zone conversions available for running webinars in different regions
Export analytics option to overview recordings, chats, polls, and registration information
Pros:
Supports all the devices
User-friendly and can be created quickly
Zero lagging and buffers during the webinar
Automated co-host mails with basic webinar guidelines
Cons:
Can get pricey when the attendees exceed 100
The automated webinar option offers only one recurring time slot
Lack of discount on paid webinars
Pricing:
Starter: $39/month
Pro: $79/month
Plus: $129/month
Power: $199/month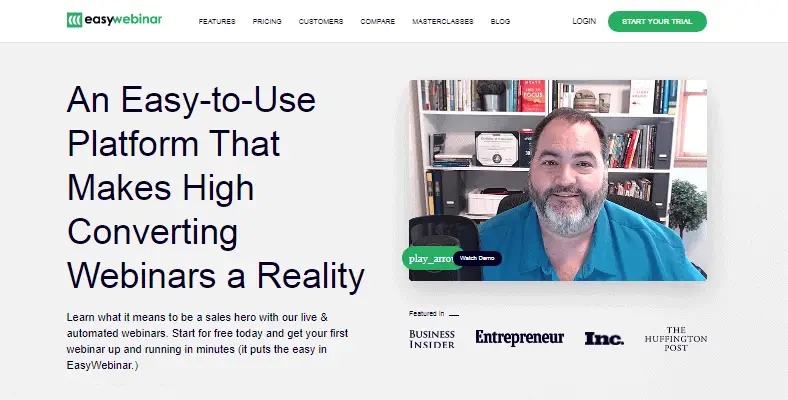 Easy Webinar was founded in 2014 and offers three types of webinars, i.e., one-time webinars, recurring webinars, and evergreen webinars. The easy admin controls, amazing audio quality, accurate analytics, and YouTube integrations make it a unique software product. You can try their 14-day free trial, before hopping on to other available plans.
Features:
Real-time chat for interacting with attendees and presenters
An attendee can be converted into a presenter at any given time
EasyCast option to allow simultaneous streaming on various social media platforms
Analytics that cover the number of attendees, registrations, and replay views
Data Export feature for downloading chat histories, time-stamped reporting, and even contact lists
Option to share offers and resources in real-time
Customizations available for registration and thank you pages
CRM and marketing tool integrations available
Presentations media for uploading and sharing slides in real-time
Ability to integrate third-party analytics such as Google Analytics or Facebook Pixels
Pros:
Secure and reliable
No buffers or lags while streaming
Up to 4 presenters are permitted
Simple workshops available for beginners
Cons:
Setup is a bit unintuitive
The software does not host videos for automated webinars
Fewer functionality and features as compared to others
Expensive price plans
Pricing:
Standard: from $78/month
Pro: from $129/month
Enterprise: from $499/month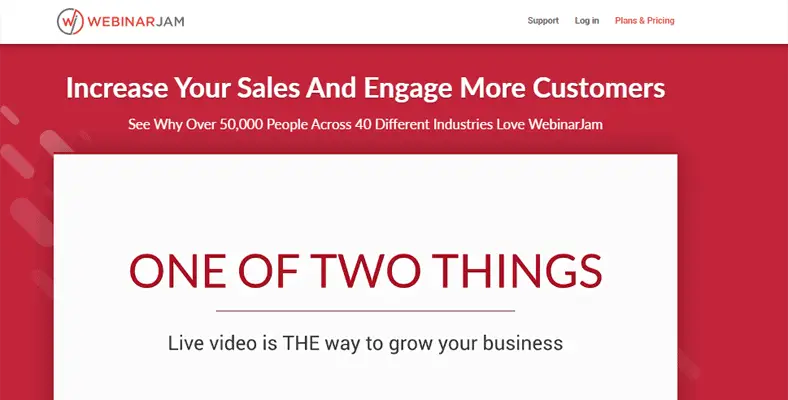 Founded in 2013, WebinarJam powers about 50,000 people across 40 countries. It is a SaaS product that offers high-definition video and audio quality to its users. Suitable for almost every industry, the software offers numerous features under one roof. Its 100% mobile-friendly and high-level customizations make it valuable for a business.
Features:
Live chat option for running discussions and Q&As in real-time
Replica Replay feature for recording and replaying the live sessions later
Flexible Scheduling and "Always On" room available for going live anytime
Attendee Spotlight feature for transforming the attendee into a presenter
Page Builder feature for customizing the registration page with the brand logo and design
Email and SMS system available for sending out invitations, acknowledgments, and reminders
Active Offers for converting the webinar recordings into content offers that can be purchased
Panic Button for creating a new live room, in case, a problem occurs
Polls & Survey option to gather audience views and feedback
Handouts feature to share files with presenters and attendees
Pros:
Supports up to 5000 attendees and up to 6 presenters
High-definition video and audio broadcasting
Mobile-friendly application for both Android and iOS users
Presentations can be easily imported from PowerPoint and Keynote
Cons:
No Automated webinars, you have to purchase their other software called EverWebinar for this feature
Multiple people on the screen are equal to a slowdown
Automatic recording is not available by default
Limited webinar designs
Replay viewers cannot fast-forward through the session
Pricing:
Basic: $499/year
Professional: $699/year
Enterprise: $999/year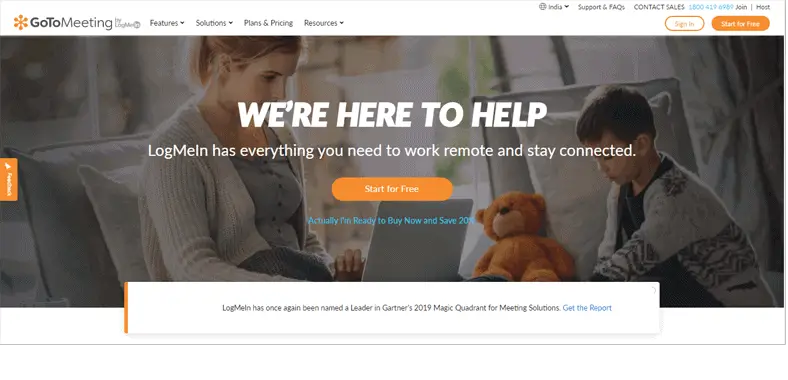 This is the most popular and widely used webinar software that hosts about 2.7 million of virtual interactive sessions throughout the year. The software was founded in 2003, is user-friendly, available in 9 languages, and responsive. GoToWebinar also offers demo videos that walk you through the basics of using the software. The product is apt for marketing, training, or corporate communications.
Features:
Branding allows the hosts to add a brand logo, colors, and other customizations
Recording facility so that the webinar can be viewed later
Live Chat to interact with the hosts through the chat option.
Event Analytics for providing insights into views, downloads, leads generated, etc.
Social Media integration offers multichannel capability by allowing streaming across social media channels
Polls & Surveys for participating in polls and surveys created on the platform
Webinar Templates can easily be imported from the past webinars
Engagement Dashboard for tracking the interaction level, involvement, hands raised and time elapsed
Source tracking for accessing data about the channels that were the primary contributors to driving traffic
Integrations with CRM platforms or other market automation tools
Pros:
The software is flexible and user-friendly
Numerous integrations and analytics are available
Dual screen support available during real-time interactions
Email automation and polls availability
Cons:
Frequent updates make it tiresome to download the newer version now and then
The software needs to work on recording quality
Outdated interface for both the back-end and front-end
Sometimes need to integrate third-party apps becomes mandatory
Pricing:
Starter: $89/month
Pro: $199/month
Plus: $429/month
Enterprise: Quotes available upon consultation
Zoom is a Video Conferencing Tool Not Suitable For Webinar.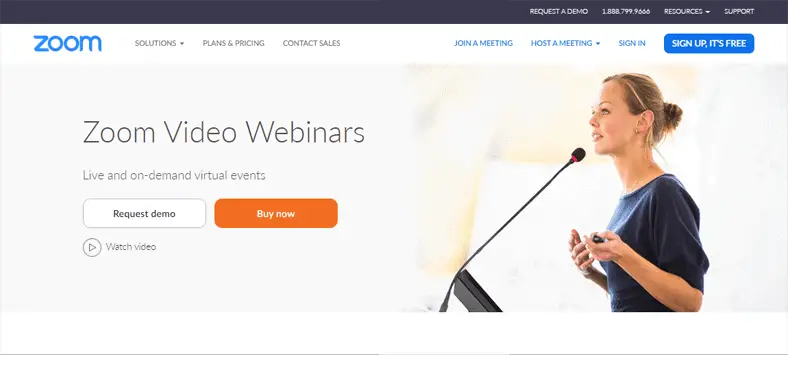 Zoom was founded in 2011 and defines their webinar solution as reliable and scalable. It is a highly recommended platform for conducting training, marketing, and corporate communications. There is no need for having a dedicated application as the webinar can be accessed simply through a browser URL. The video quality, intractability, and attendees limits are an add-on that makes the software popular online.
Features:
Can set up private as well as group chats during the webinar
CRM and marketing automation integrations are available
Payment integrations for paid webinars with PayPal, Eventbrite, and CVent
Global toll-free calling across networks during webinars
Can assign granular permission setting before hosting a webinar
Host on Facebook Live, YouTube, or any other desired platform simultaneously
Practice sessions for hosts before going live
Whiteboards are available for panelists for explaining and demonstrating ideas
Annotations are also available for adding comments and footnotes
Lead source tracking facility available
Pros:
Up to 100 participants can join with up to 10,000 view-only attendees
Easy setup and flexible registration management
Easy to use and interactive host controls
Automated analytics reports available
Cons:
Limited mobile app functionality
Audio and video quality deteriorates with internet connectivity slowdown
Premium version can be a bit expensive
Security issues as Zoombombing have been witnessed
Pricing:
One Host: $14.99 when billed monthly
One Host: $12.49 when billed annually
One Host, 100 Participants: $40 when billed monthly
One Host, 100 Participants: $33.33 when billed annually
The price hikes up when you modify the number of hosts and participants.
Check Zoom
This is an Enterprises tool for a bigger number of audience for video conferencing.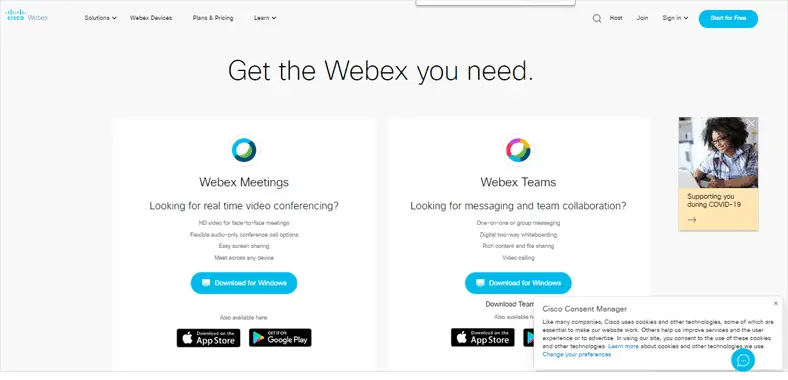 This is a Cisco product that offers scalability and lets you host virtual events like webinars seamlessly. Webex is quite suitable for hosting large-scale events across the globe. Cisco maintains high-level security and privacy for gaining the customer's trust. The software offers innovative features, lead tracking facility, and is available in 14 languages, thus forming a contributing factor in driving sales.
Features:
Automated email management to send invitations, reminders, confirmation, and follow-up emails
Active speaker technology to display current speakers on the interface
Practice sessions for hosts to rehearse the sessions before going live
Multimedia content sharing during the live sessions
Custom registration questions can be created
Attendance control for automating registration completion and approval
Webinar stats can be exported to CRMs and marketing automation tools
Consultation from experts for webinar best practices
Can edit recorded webinars, but it is charged on an hourly basis
Event pre-conference, 30-minutes before the webinar for ensuring everything is in place
Pros:
Can support up to 3000 participants
Screen sharing and live chat available
Files and agendas can be shared in real-time
Updates are effective as bugs are fixed quickly
Cons:
Better suited for team collaboration for training and knowledge
Limited functionality as compared to other webinar software
Difficulty finding mute the attendees option
Unresponsive technical support
Pricing:
It starts as low as $13.5/month for hosting 50 participants. Detailed price plans are available upon consultation.
Conclusion
A webinar is a virtually organized live video session that business industries across sectors use for interacting with clients, customer, and their workforce. It is a new form of interaction that saves time, money, and efforts. If done right, webinars can be the source for good leads and conversions down the line.