Disclosure: This post may contain affiliate links, which means if you will make any purchase through our links, we may get some commission at no extra cost to you.
Any serious blogger or online marker must definitely be aware of what SEOPressor is, and all its importance and advantages. For those new to SEO, SEOPressor is the best SEO plugin that you can find in the current market. It was actually chosen as a mandatory SEO WordPress plugin by SitePoint, giving you just a glimpse of its background.
SEOPressor plugin will give you complete SEO clarity on all your WordPress sites, coming with a host of optimization and customization features that are designed to give you easy control of SEO. You will only need a single glance to get information on all the essentials when using this amazing plugin. It gathers all the essential intelligence of SEO and presents them to you in one place for your convenience. You will be able to gain insights into the SEO health of your website with unmatched clarity.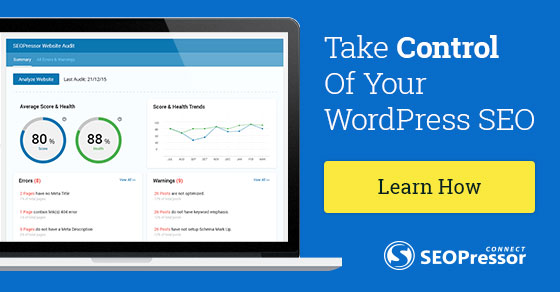 SEOPressor Connect Review
This plugin gives amazing SEO clarity on the WordPress site, having customization and optimization features that are designed to control SEO with ease. Some of its features include;
Enhanced on-page SEO analysis
Accessible SEO intelligence
Comprehensive semantic builder
Dynamic crawler control
SEOpresser is a premium WordPress SEO plugin that is not free to use. But you can get a free trial of SEOpresser for 2 weeks with the below special link.
>> Click here to get free trail of SEOpresser for 2 weeks <<
SEOPressor connect has been around for half more than half a decade, delivering real results all along. It is currently powering more than 23 million WordPress pages around the world. Some of the tools of SEOPressor include;
The five pillars of SEOPressor
SEOPressor has an advanced algorithm that emulates Google, which will help you rank better, and faster. You will receive instant feedbacks as well as recommendations on how to improve your content.
1. Improved On-page SEO analysis
Over-optimization is usually a common feature with SEO. This tool will keep you in check to ensure that you only stay on the safe side. The improved on-page analysis comes with multiple keyword analyses, a new progressive LSI keywords engine, over-optimization check, and SemantiQ Density Analysis.

2. Accessible SEO intelligence
This feature offers you SEO insights that are actionable for you to get better site-wide SEO. You will receive alerts informing you of precisely what is hurting your website, allowing you to fix them instantly. You no longer have to rely on guesswork. What you get is Score manager, Site-wide SEO Audit, and SEO Trends.

3. Comprehensive Semantic Builder
The semantic builder lets you take advantage of the essential markup standards. How the internet understands your individual website will now be fully under your control. You will be able to improve search relevancy with ease, without touching on even a single line of code. The features that come with this include Meta settings, Google knowledge graph, schema.org, Facebook Opengraph, Twitter Card and Dublin core.

4. Dynamic crawler control
You can achieve definitive indexing by customizing crawler paths. You will be able to govern completely how the search engine crawlers will navigate through your site. Steer them however you like to get better indexation control. The features that come with this include Robot Rules, XML Sitemap generator, canonical link and URL redirection.

5. Smart link manager
This tool allows you to design and monitor your optimum link profile. This is done effortlessly and will help to increase your reader retention while reducing the bounce rate. The feature of the tool include a new Link manager, automatic smart linking, and link policy.

SEOPressor Features
SEOPressor comes with newly improved features to cater to all your ever-changing SEO needs. Some of the main ones include;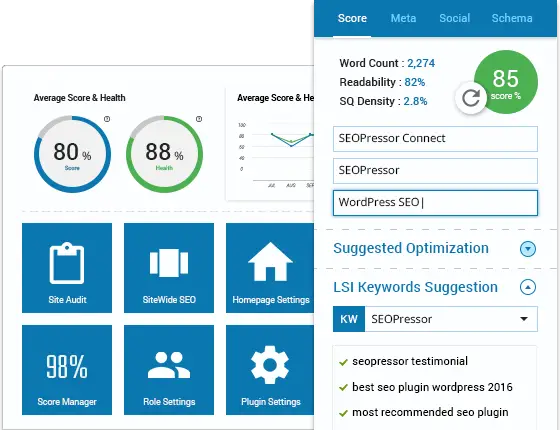 Multiple keyword analysis; SEOPressor can optimize your content for up to three keywords, all at the same time. This will go a long way in saving you some time.
SEOPressor over-optimization check; This feature does a good job of ensuring that you don't over-optimize your contents to an extent that they even look unnatural. You will no longer have to worry about the Google penalty.
Progressive LSI Keyword Engine; The progressive LSI keyword engine is enhanced and powered by LSIGraph. It will help you to reveal the full power of semantic keywords
SemantiQ density; The full meaning of this is "Semantic Quality Density". It is designed to determine whether your content is related semantically to your keywords.
Schema and Dublin Core; SEOPressor now supports both schema markup and Dublin core. You can now improve the structured data of your webpage anytime that you wish to do so.
SEOPressor Local SEO; It will allow you to maximize the exposure you get for local searches.
Google knowledge graph; SEOPressor will get you ready for Google Knowledge Graph. It is now possible to get into a knowledge graph.
Homepage settings; The homepage can be said to be the most important page that a website has. You now have the ability to optimize it the way you wish.
On page meta settings; SEOPressor has improved settings that have a monitoring function that will guide you to write the best Meta tags.
SEOPressor smart link manager; It will make sure that you have a site-wide link profile that is health.
Site-wide link policy; Gives you full control over the behavior of your outbound links.
SEO trends; It will assist you to keep track of the progression of your website. You will get to know whether it is improving or not.
SEOPressor Price
SEOPressor comes at a reasonable price of only $9 per month. This price gets you all the features including maximum on-page SEO control, unlimited domains, unlimited on-page analysis and free lifetime updates.
>> Click here to get free trail of SEOpresser for 2 weeks <<
Can I import SEO settings from other plugins?
Yes, SEOPressor has this feature and you can import all settings from other plugins.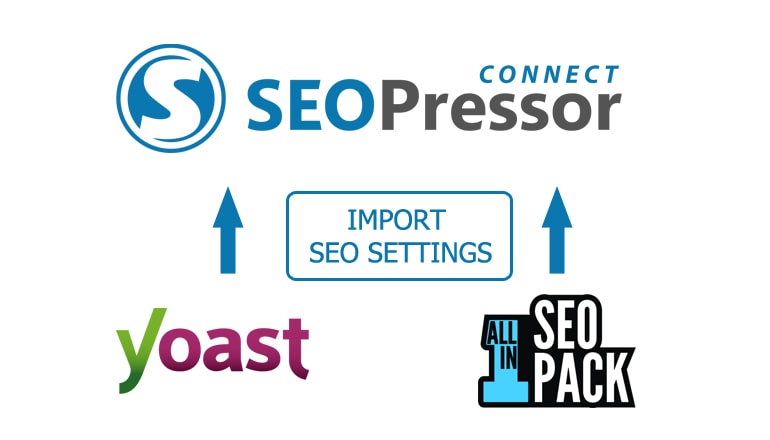 Seopressor Alternatives for On-Page SEO
WordPress on its own has some great features that provide great SEO. Some of these features vary from theme to theme.
Using a dedicated WordPressSEO plugin to optimize your site even further. Knowing how to use such plugins in the right way in order to maximize their potential is key in achieving success.
Some of the good features that you might expect to see in a great WordPressSEO plugin include;
Page analysis; A good SEO plugin should be able to analyze your page content and provide relevant recommendations based on that.
XML sitemaps; Creating sitemaps is the best way of submitting your website to search engines for crawling. A good SEO plugin should allow this to be done with ease.
Breadcrumbs; Breadcrumbs improves user interface by linking your website pages, thereby enhancing the overall experience of a user. It is an important feature for tracking page location and showing the depth of the link as well as the structure of the content of the website.
Editing robots.txt and .htaccess files; Editing and updating these files is at times easier via the dashboard of WordPress. A plugin that lets you do that is preferable.
Exporting and importing settings; An option to install plugins on one website and export the same plugin with all its existing settings to another website is another great feature that a SEO should have.
Yoast SEO (Free)
This is among the most popular plugins for WordPress, developed by Joost de Valk. Some of it main features of this plugin include;
Editable robots.txt and .htaccess
Breadcrumbs
Enabling functionality of XML sitemap is easier
Allows for inclusion of additional content at the end and front of post in RSS feeds.
Get the Free Version of Yoast SEO from WordPress plugin directory
All in One SEO (Free)
This plugin offers what you would need in a Search Engine Optimization pack in order to boost the search results of your website (SERP). Some main features are;
Google Analytics support
Sitemap support that submits your site to both Bing and Google.
Any duplicate content is highlighted
SEO Integration for ecommerce sites
Meta tags are generated automatically
Get the Free Version of All in One SEO from WordPress plugin directory
Conclusion
For the price that is offered, it is highly unlikely that you will find any other plugin which affects your website so much. SEOPressor has made itself a reputable brand that offers nothing short of high quality as well as really good support. For those who are skeptical, you get a money-back guarantee which lasts for 60 days to help you work out all your doubts.
Do you use any of them on your WordPress site for on-page SEO? Share us your thought about it and tell us what features do you like most?