Hyped up about the WPManageNinja Deals for Christmas?
This deal is giving up to 40% discount on all our top-tier premium products, including FluentCRM, Ninja Tables, and Fluent Forms.
You are in the right place if you have been eyeing Ninja Tables. This plugin helps you build a data table from scratch or with integrations. You don't even need to be a pro in coding! It's simple and user-centric, all while making sure your data are organized in a tabular form.
Ninja Tables Review: Christmas-New Year 2023 deals
Get 40% off on the Annual Plans, and 30% off on Lifetime Plans within December 15th and January 1st. Since the discount deal is only available for a limited time, you should hurry up and upgrade to Ninja Tables Pro! And if you already are a Pro user, renew your license while the discount lasts.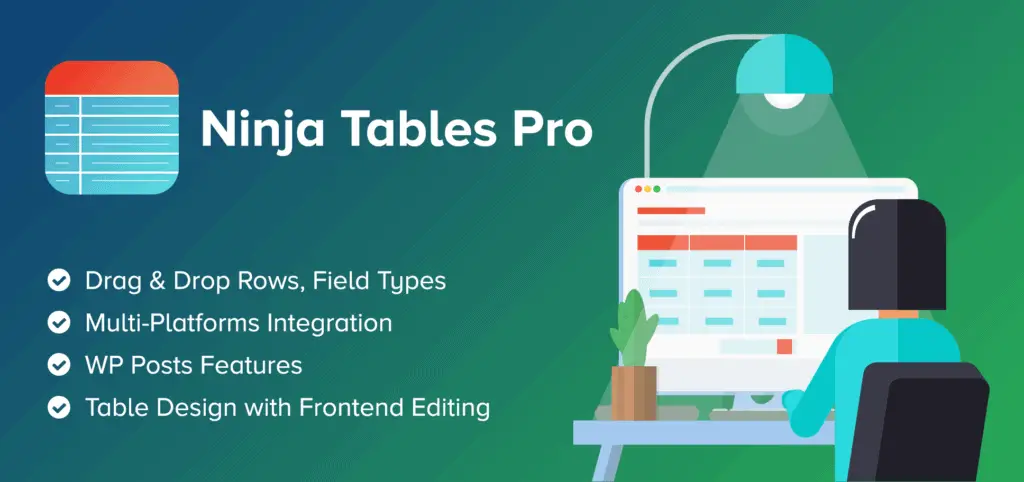 Discount on Annual Plans
| | | | |
| --- | --- | --- | --- |
| Annual Plans | Regular Price | Discounted Price | Discount |
| Single Site | $49 | $29 | 40% |
| Agency | $99 | $59 | 40% |
| Unlimited | $199 | $119 | 40% |
Discount on Lifetime Plans
| | | | |
| --- | --- | --- | --- |
| Lifetime Plans | Regular Price | Discounted Price | Discount |
| Single Site | $199 | $139 | 30% |
| Agency | $399 | $279 | 30% |
| Unlimited | $599 | $419 | 30% |
Ninja Tables Premium Features
This deal is an awesome opportunity for you to score up! Both the Annual and Lifetime Plans for the Premium version come with an extensive set of features.
Here's a quick overview:
Conditional formatting
The conditional formatting feature comes in handy when you have a large data table and want to highlight certain cells, rows, or columns based on the cell value. Ninja Tables can handle hundreds and thousands of data. So, you can set some conditions to highlight specific entries.
Media attachment
The whole point of data tables is the visual aid because long textual content can get boring. But if you can insert an image or a video to the already organized table, it becomes more exciting.
Value transformation
Using this feature, you can turn plain texts into hyperlinks. For example, if you need to call or email an individual directly from the table, you can hyperlink their email addresses or numbers. All you need is to add an HTML code to hyperlink the texts.
Advanced column settings
Apart from the Basic Settings, you can configure the column width, add extra custom css class, and style the column background and text color. Also, you can select boxes for the table to be filterable and sortable at the frontend.
Unlimited color scheme
Since a data table helps a website with a dynamic and interactive appearance, having the liberty to color the table element is something we can't ignore. Ninja Tables custom and predefined color schemes can change the vibe of your website without any coding! Color the header, footer, text, border, and add hover animation to make boring data captivating.
Dynamic table styles
Customize the table styles with three table styling libraries- Semantic UI, Bootstrap 3, and 4. These libraries are more or less available in the free version, but a few of them, including pagination, sticky header, and stackable table configuration, are Pro features.
Custom CSS/JS
This option is for users with a little bit of coding knowledge. Although it's pretty easy to use once you get the hang of it. You can try this Pro feature if you want further styling for your table beside the built-in ones.
Stackable table configuration
Ensure the effectiveness of the data table by making it responsive. Ninja Tables can have a stacked table layout where each row becomes a separate table and appears in a list form. It applies to any device.
Drag and drop
The "Sort Manually" option is restricted to Pro users only. Once it's enabled, users can drag a row and rearrange the table.
Custom filter
Filter data from tables by adding custom filters. Eight types of filters can be applied in Ninja Tables and it's easy to search data in the table with these filters.
Frontend editing
You can select user roles for editing the table from the frontend. Likewise, specify which column and table content can be editable.
Merging and calculating cells
Sometimes multiple smaller table cells may not look good. So, you can conjoin row cells or column cells. Cell merge option integrates two cells in a row, responding to the cell value "#colspan#" and adjacent cells with identical data in a column can be joined with a JS code.
Also, calculate row data of a numeric table with the Transform Value feature and calculate column data with custom JS.
Integrations
Online store owners can create interactive product tables with the Ninja Tables WooCommerce integration. The product tables can be customized as per Ninja Tables features.
Likewise, the WP Fluent Forms integration helps WordPress users create tables with form entries and tables from Google Sheets data as well.
Ninja Charts is a built-in feature for users to create ten different sorts of charts from Ninja Tables and Fluent Forms data. It's not limited to Pro users. You can also import tables, connect external CSV, create tables with custom SQL Query, or with WP Posts.
How to Claim the Ninja Tables Christmas-New Year Discount?
Follow these simple steps to get the discount on Ninja Tables.
Click on the offer link: https://wpmanageninja.com/discount-deal/
Choose your desired annual or lifetime plan
Fill-up your information at the checkout page
The coupon code will be applied automatically. However, if it's not applied during checkout, use coupon code Christmas2023 for the annual plans and Goodbye2023 for the lifetime plans of Ninja Tables.
Why Go Pro for Ninja Tables?
In case you are still wondering how Ninja Tables benefits you, here we have some intriguing facts about this plugin.
Besides the default table, you can create all types of tables that you need- WooCommerce product table, Google Sheets entries table, WP Posts table, etc.
Coloring the table and highlighting cells.
Responsive on every device.
Custom search and filter.
Row and column data calculation.
VIP support, and many more.
Christmas – New Year Sales 2023: Ninja Tables
Ninja Tables is one of the leading WordPress table plugins out there, and the reason for this Christmas-New Year Sale is to offer a massive opportunity to WordPress users! The discount is upto 40% on Annual Plans and 30% off on Lifetime Plans. So, whatever version you're using, you can upgrade during this deal.
Ninja Tables has over 50,000 active installations right now, and the WPManageNinja team is always tweaking it to become more user-friendly and ensure VIP support for all users.
FAQs About Ninja Tables Christmas – New Year Sale
What is this sale about?
Ninja Tables is up for grabs with 40% off on the Annual Plans and 30% off on Lifetime Plans for the Christmas-New Year discount campaign. The deal runs from December 15th and January 1st.
Can I upgrade from Single/Agency license to Unlimited?
If you are a Single/Agency license user and want to upgrade to an Unlimited license, you can do it by paying the difference.
How to get the discount?
Click the offer link and use coupon codes: Christmas2023 (Annual Plan) and Goodbye2023 (Lifetime Plan).
Where can I get details about the products?
You can check out the detailed documentation or video tutorials to find out more about Ninja Tables.
Where to contact for more questions?
WPManageNinja support team provides instant support round the clock. Reach out to them anytime for any queries.