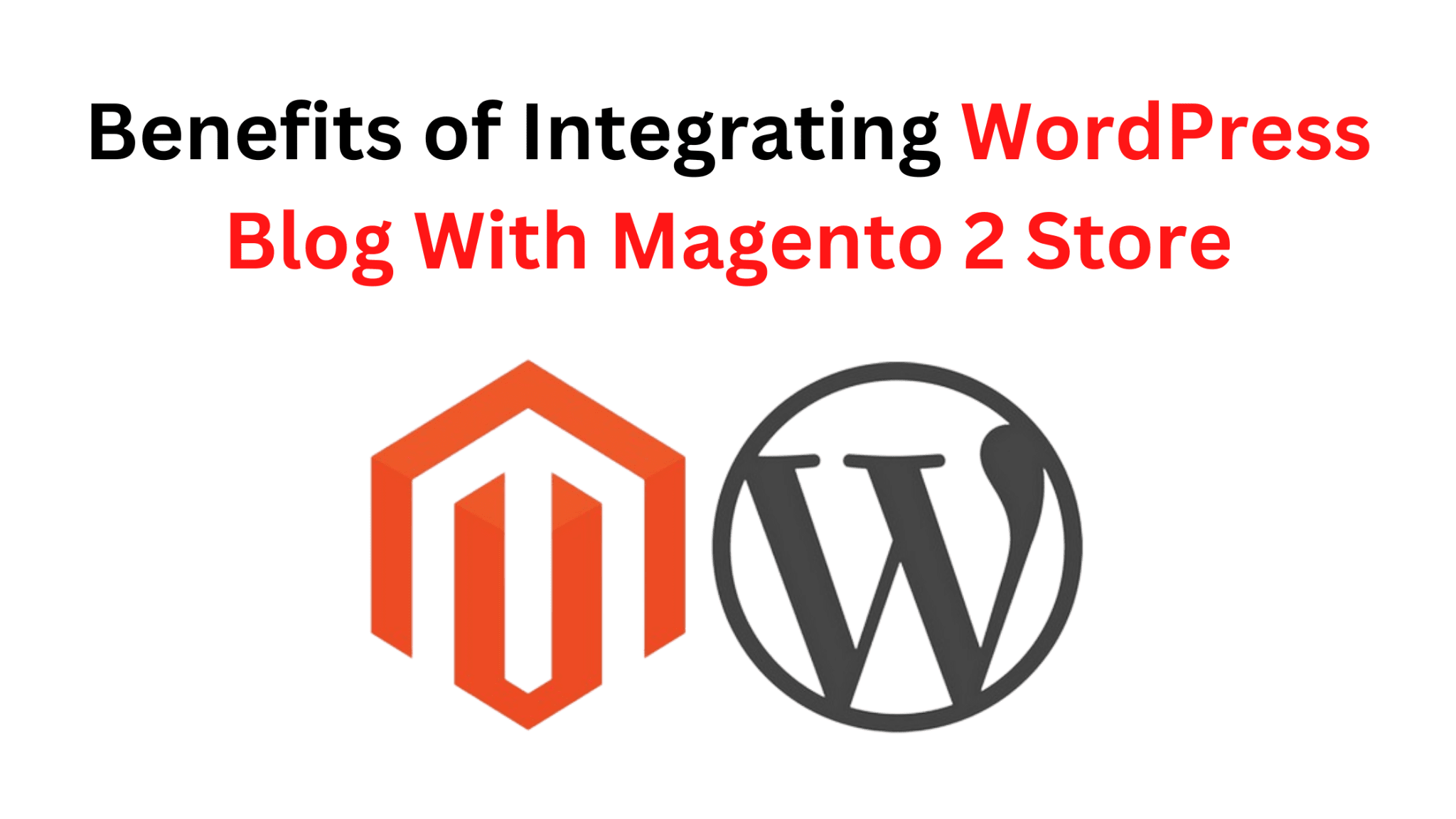 Magento 2 is a top eCommerce giant, and WordPress is a top CMS platform. Both internet giants come with many benefits.
It is now possible to integrate WordPress and Magento 2. Yes, you heard right. You can now leverage the benefits of both platforms in your eCommerce website. It lets you effectively promote your products by providing additional product information to your customers.
However, platform integration is a complex task to perform. To do that, an innate understanding of both WordPress and Magento is required. So, there is a need to hire a competent eCommerce development company to utilize the features of both platforms together.
In simpler terms, with this combination, you will be taking advantage of the combined features of both platforms. So, let's see what you will get by integrating a WordPress blog with your Magento 2 store.
Why is it Required to Integrate Two Platforms?
There are the following reasons that tell how integrating two platforms is beneficial to you.
Let's see them.
It will help share features and components of both platforms, including static blocks, navigation menus, cart data, and others.
It caters to you with better SEO across eCommerce products which helps drive stronger web traffic to your business.
It will be effective in the sales and promotion of your products with better communication with your customers.
It provides many customization options by giving access to both WordPress and Magento themes.
A WordPress blog helps interact with users and gives additional information on the products. This combination provides you with more customer engagement.
Now, let's start exploring the key features of Magento 2 that makes this integration worthwhile.
Features of Magento
Product Browsing: Magento offers various functionalities that assist you in offering a better user experience to your site visitors. This feature facilitates your users with multiple images per product, displays stock availability and product wish list addition, shows pricing tiers, zoom-in and zoom-out on product images, and many others.
Catalog Management: Regardless of the products you sell, the catalog of your online store is extremely vital. Magento provides various features like the display of virtual products, editing, complete inventory management, product creation, and sharing of products.
Customer Accounts: This Magento feature offers a detailed account dashboard, one or more shipping addresses, order history and status, newsletter subscription, billing options, and others.
Site Management: It lets you control multiple sites and stores from a single administration panel with the ability to share as much information as required. It supports multiple languages and currencies. Moreover, there is a Captcha functionality to help prevent automated software from attempting fake logins.
Order Management: This feature facilitates you to view, edit, create, and fulfill orders from the admin panel.
Advantages of Integrating WordPress with Magento 2 Store
Increased Traffic
If your online store is connected with WordPress, you will have the possibility to use WordPress SEO techniques to optimize your Magento store. It will help you drive quality traffic to your eCommerce website. In addition to increasing user impressions, it will be helpful in gaining customer interactions with the store.
A Blog to Cart Functionality
The Magento WordPress integration gives you the blog-to-cart functionality that can help you transform readers into buyers via WordPress content. You can link the blog post that promotes the products with your Magento store.
For instance, suppose a customer reads your WordPress blog and wants to purchase your product or service; this feature will direct them to go from the blog page to your online store's checkout page.
It will help you redirect your customers to the product pages via WordPress. No doubt, it will enhance the overall conversion rate of your online store.
More Customization Possibilities
Every business is different with its unique business standards and requirements. So, no doubt, every retail business requires a website helpful in attracting the target audience by representing their unique selling point (USP). Integration of WordPress with the Magento store gives access to both WordPress and Magento themes, thus offering more customization possibilities.
Magento vs WordPress: A Slight Comparison
When comparing Magento and WordPress, it is not easy to determine the winner between both. Magento is best when it comes to eCommerce features and security. Conversely, WordPress is at the top in terms of themes, plugins, and simplicity.
Let's compare both internet giants on the basis of some crucial factors.
Pricing
If we talk about Magento, you can freely download and install it. But it still requires additional costs like domain name, hosting, and plugins for integrating extra features. Besides that, it is also available in different pricing plans that you can opt for as per your specific business requirements. So, it is quite not easy to predict the cost of building a Magento 2 website.
On the other hand, WordPress is also free to use. However, like Magento, you still have to pay additional costs like domain name, hosting, security, company charges, and others. Moreover, WordPress website development also sometimes requires purchasing paid themes and plugins that increase the development cost.
Availability of Themes and Templates
Choosing the type of theme depends on the type of your web solution. WordPress offers a lot of themes that are elegant, eye-catching, mobile-friendly, and feature-rich. In comparison, Magento offers ultra-professional themes that cater to complex website development requirements.
Security
Both Magento and WordPress are highly secure and offer a wide variety of plugins and extensions to enhance your website's protection. Magento also rolls out regular security updates that protect your site from different security issues.
WordPress releases security updates that help to patch your website security issues. When updated to the latest version, WordPress will be a safe platform. Moreover, you can make your site secure and safe with best practices like using secure plugins and themes.
SEO Features
Magento lets you make changes to meta keywords, meta descriptions, product descriptions, and snippets. Additional features like Google sitemap, no-follow links, and redirects also help search engines to crawl your site faster. This makes Magento an SEO-friendly platform that ranks Magento sites higher in SERPs.
In contrast, WordPress lets you optimize permalink structures and set all the metadata for posts and pages. Using some SEO plugins like WP Rocket, or Yoast SEO, you can seamlessly bring your web solution into the limelight.
eCommerce Capabilities
Magento is a robust eCommerce solution that comes with a complete bucket of features required for developing an online store. It offers advanced features like multi-store management, mobile commerce, sales reporting tool, catalog management, shopping cart, etc., making it well-suited for creating medium to large stores.
Besides, WordPress also offers a full range of eCommerce options. It has everything from one-click payments and paid subscriptions to an entirely customizable online store. So, both WordPress and Magento come with the best eCommerce capabilities to develop a top-notch online store.
Conclusion
So, now we have reached the benefits of integrating a WordPress blog with the Magento 2 store. The post must have let you determine the best platform as per your specific requirements. Both platforms offer a lot of benefits; however, choosing the best one entirely depends on your specific business needs.
Besides, integrating two platforms will require technical assistance, as it is a challenging task to perform. So, you can invest in eCommerce development services to perfectly serve your purpose.