Thank the online marketing gods for incredible landing page builders such as Instapage and Unbounce.
Creating, deploying, and optimizing custom landing pages that convert is now a case of a quick and easy process of drag and drop.
From a marketing perspective, this works well as it allows the marketing teams to better focus on page visits to sales conversion.
Now it's time to take the scales and put Instapage vs Unbounce to see how they measure up.
A landing page building assets, Instapage and Unbounce, have unique offerings, and each is a top landing page contender.
Depending on your needs and scenarios, each custom landing page builder will offer up better tools and conversion options compared to the other.
Let's Compare Instapage Vs Unbounce
---
Let's hover over each of the landing pages a bit. A sketch image of what each landing page builder is and what you can expect to get out of each. We will then jump into the nuts and bolts under the hood of each page builder.
Check Out Unbounce's 14 Days Free Trial
Instapage is also offering 14 Days Free Trial
Introductions About Instapage
Instapage as a landing page builder is a tool for creating personalized landing pages optimized for lead conversion. Through Instapage, marketing teams obtain tools for creation, personalization, and optimization of their campaigns. With plenty of features such as multi-step forms and A/B testing Instapage makes online advertising conversion a reality.
From the founding stages of being just another landing page builder, It has evolved to become an outstanding tool for putting together personalized, dynamic landing pages.
For the serious online marketer, this is the go-to option for achieving optimized post-click experiences target audience and increased advertising conversion.
What Does Instapage Offer?
On Instapage, you will see plenty on offer and showcased as products targeted at specific online marketing purposes. As you work with Instapage, you will notice that it works towards helping you create. The creation capabilities showcased and available here will set you well towards setting up a captive, mobile-friendly, brand congruent, ad campaign.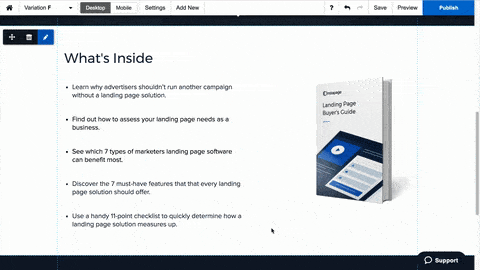 Via the Instablock concept, eye-catching landing pages become a reality within minutes just by using the user-friendly drag and drop editor. It is quite a relief that you don't have to fumble with any HTML, JS, or CSS.
Buckle up and get ready for supper fast seamless page loading regardless of device. All this comes courtesy of the Thor Render Engine.
Introductions About Unbounce
It brands itself as "a landing page platform" with its tools and features presented under this platform tag. It can create awesome landing pages, sticky bars, integrate with other apps, and much more.
The functions and tools within Unbounce are what your marketing campaign needs to get you those much-needed sales conversions.
What Does Unbounce Offer?
It is not just a typical landing page builder. There are plenty of tools and features targeted at solving diverse marketing campaign needs.
Despite carrying the single product tag, It will enable you to create an unforgettable, editable landing page with minimal effort.
It's drag and drop landing page editor is designed to have you smiling throughout the whole page building process. Building landing pages without touching an ounce of code is most welcome here.
---
Features Comparison
---
Instapage and Unbounce both pack a load of eye-popping, reliable, and unique features. We shall draw your attention to the main categories that house these notable features showcased in these landing page builders.
As we clear the fog from your landing page selection lenses, we take a swipe at how these two lead captures compare in terms of their features and toolsets.
Instapages Features
1. Optimization
It has toolsets that allow you to experiment with and optimize your landing pages.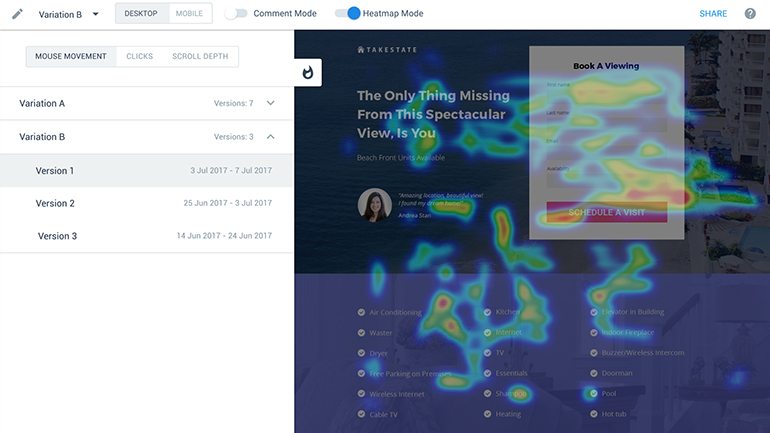 Some of the optimization features that set you well on the way to sales conversions include;
Heatmapping of your landing pages gives you an in-depth insight into visitor interaction with your landing pages and marketing campaigns. Heatmaps are a great feature that allows you that crystal ball sneak peeks into your target market's behavior.
Conversion analytics enables you to get a clearer picture of how your campaigns are doing.
A/B Testing enables you to test different versions of one campaign shedding light into which designs or optimization enhancements work best for your targeted campaigns.
As an optimization feature, real-time reporting supports instant feedback alongside other marketing campaign tools.
2. Landing Pages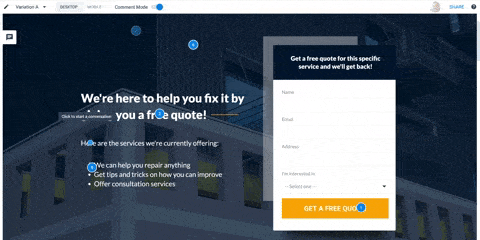 As a landing page builder, Instapage offers you plenty of noteworthy subset features that complement the landing page building process. These include;
Editable templates that are packed into a collection of over 200 designs for you to choose. These present you a quick and easy way to customize and get your landing page up and running in no time.
Image resource management that enables you to upload, store, and edit images for use on your landing pages.
Page element positioning and alignment. This feature helps you create properly laid out landing pages containing symmetrical, balanced, and well-padded elements. All this ensures that all your landing pages come out looking professional and consistent with your brand image.
Instablocks feature that allows you to quickly create customized on-brand landing pages, no coding skills necessary here.
Widgets that offer functionally enhanced post-click interaction and experience for your page visitors.
Team collaboration on the go via visual collaboration for a streamlined landing page creation workflow.
Instapage has a WordPress Plugin
3. Personalization

It has a personalization feature, AdMap, which gives you a visual representation of your campaigns along with ad campaign tracking capabilities.
This also holds a dynamic text replacement feature that automatically switches AdCopy to search terms keyed in on Google by users.
4. Forms
Instapage forms are part of the workings of landing page creation.
Lead Notification gives you an email notification for each new lead generated.
Direct Lead Delivery sends all information relating to your sales leads straight to the CRM you manage.
Form builders enable you to create forms that you can fully customize to your specific marketing needs.
Unbounce Features
It has a showcase of features that deliver on transforming your marketing campaigns and landing page conversions.
1. Customization
Unbounce has great customization options that enable you to enhance your landing page capabilities. Unbounce allows you to;
Acquire additional templates from the Themeforest Marketplace
Achieve the perfect landing page design
Create on-brand design without much effort
Optimize images automatically
2. Conversion
How well a landing page converts and its lead generation capabilities get determined by lead features such as;
Opt-in forms
Customized form redirects
Standardized lead generation form builders
3. Security and Performance
All landing pages must be secure and work according to recommended online marketing best practices.
Unbounce features SSL encryption for all landing pages with GDPR compliance at the forefront as well.
Loading of any of your popups and sticky bars is quick and seamless, location notwithstanding, courtesy of Amazon's CloudFront.
4. Page Creation
Page creation functionalities and features on Unbounce are what enable you to put together landing pages for your online marketing campaigns.
Templates featured on Unbounce though limited in variety, allow you a quick setup and launch of your campaigns.
Assisted Mobile layout page creation available at the click of a button. No separate mobile version is required.
Drag and drop functionality makes the landing page creation process quick and easy.
Publish your marketing campaigns on a custom domain or any CMS platform suitable for you.
Create AMPs and duplicate landing pages via a convenient copy-paste functionality.
Unbounce Landing Pages – WordPress plugin
5. Page Optimization
On top of dynamic text replacement and A/B testing that are similar to those on Instapage, Unbounce has additional page optimization features that include;
The dashboard display of data enables you to keep tabs on how your pages are performing. All this happens in real-time.
A proprietary technology, Smart Traffic directs page visitors to variation of your landing page that matches their preferences increasing the chances of lead conversion.
6. Sticky Bars and Popups
Sticky bars and popups aim at showcasing and communicating any special offers you may have. It features these popups and sticky bars as a means to boost the conversion rates of your online campaigns.
It allows you to set varied triggers for theses popups and sticky bars. The may include URLs, locale or cookie, and much more.
Pros and Cons
---
Instapage Pros:
Plenty of high-quality templates are available in diversified and custom categories.
An easy-to-use page builder that is well suited to novice users.
Set up and integrating with standard web tools and resources is a hassle-free process.
Premium plans offer an unmatched in-built clickable heat map feature.
Unbounce Pros:
Dynamic keyword replacement geared towards improved results in your PPC campaigns
Highly flexible gridless page editor.
Quality templates that come with built-in features for optimized conversion
Highly customizable and top-notch sticky bars and popups features. Well-built and suited to lead generation
Instapage Cons:
The popup functionality can is at the not-so-advanced level.
A bit pricy in pricing package in comparison to Unbounce.
Customization options are not at the level they could be, It has the upper hand here.
Unbounce Cons:
As a novice user, you may find it challenging to navigate its landing page editing interface and system.
It has feature-rich as compared to Instapage that offers plenty in terms of personalization, integration, and collaboration options.
A/B testing is available at the 'Optimize Level' and higher. Set yourself to part with a fee of $120 per month.
Unique Feature Comparison
---
At a glance, both Instapage and Unbounce have obvious similarities as landing page building software. Present in both are drag and drop editors, templates, analytics, and much more.
Each landing page tool does, however, have some unique highlights to it, giving it a sort of upper hand over the other.
So, what makes Instapage stand out?
It has in-built options for ad integration and personalization options. It focusses quite a bit on landing page personalization. For the campaigns where a personalized and integrated, need to form part of your strategy, then Instapage is the way to go.
Instapage's landing page editor is grid-less and, in addition to this, has mobile page design control. There is a lot to love about it's flexible page editor. The flexibility and total control you to launch brand specific and unique marketing campaigns both on desktop and mobile.
It features in-built team collaboration features and assets. For those back and forth moments in marketing campaigns, you will appreciate Instapage's feedback system. Just like in InVision, Instapage allows you to click, preview, and leave comments on any marketing campaign you are putting together.
So, what makes Unbounce stand out?
As a landing page creator, Unbounce offers advanced users the ability to edit code and add custom CSS and or JavaScript.
When building landing pages, you have complete control over how your landing page will look on either desktop or mobile.
A gridless drag and drop design interface that enables you to create landing pages, Pop-ups, and notification bars.
Pricing Comparison
---
How much Instapage cost
A visit to the pricing section on their website reveals that there is one preset pricing tier. This pricing tier, the business plan starts at a monthly rate of $199 per month or $149 billed annually. Under the business plan, you get access to the landing page builder, campaign analytics, A/B testing, amongst others.
The next tier after the business plan is the Enterprise plan. This plan is a custom plan packaged to your specific needs. If your beautiful pages require AMP support, personalization, and much more, you are better off going for the Enterprise plan.
Additionally, should you wish to test things out be for committing to any tier, you can go for their 14-day free trial with no credit card required.
How much Unbounce Cost
Unbounce a diverse set of pricing tiers giving you several pricing and package options to consider for your next marketing campaign.
Let's begin with the cheapest tier and go up to the most premium.
The Launch tier starts at $80 per month billed monthly or $72 per month billed annually.
The Optimize tier starts at $120 per month billed monthly or $108 per month charged annually.
The Accelerate tier starts at $200 per month charged monthly or $180 per month billed annually.
The Scale tier starts at $300 per month billed monthly or $270 per month billed annually. The Scale tier is suited to those enterprise needs that go over and beyond the other pricing tiers.
Final Thoughts
---
As top-ranking landing page builders, Instapage Vs Unbounce both offer great page building tools and features packed to meet a plethora of online marketing needs.
Having delved into each landing page creator it is well placed, to say that, Instapage should be your landing page builder tool of choice when;
As a small business, your needs are not quite diverse.
Scaling up your operations is going to happen soon in the coming future.
As an enterprise, your advertisement needs and post-click needs require a robust platform. It will increase ROI using this conversion rate optimization method.
Your campaigns need a vendor to take a hands-on role with both technical and CSM support.
Alternatively, you should consider Unbounce if;
Your business is small scale and doesn't forecast much growth soon.
You are tech-savvy with landing page platforms.
You stacked all up the features, pros and cons, unique offerings, and pricing of these landing page builders. Tipping the scales on plus points is Instapage, which takes the day here.