Since blogs are created for several reasons, ranging from the purposes of fulfilling one's personal drive to profit scale, it is expected that new blogs are started every day. Some complexities come with starting blogs, especially professional blogs, but with GreenGeeks, the time-wasting and complex start-up process are made more accessible. 
GreenGeeks is a platform that provides users with amazing web hosting solutions that include blog management, easy scalability, and an eco-friendly design that integrates the best hosting services. 
Greengeeks WordPress Review
Using GreenGeeks to start up your blog, professional or personal, is probably the best decision you can make concerning your new blog. With very few steps, you will get your blog working excellently using GreenGeeks.
Benefits of GreenGeeks WordPress Blog Creation
GreenGeeks will serve as a web hosting account needed for a blog start-up. When you open a GreenGeeks account, you are granted access to a free domain name
GreenGeeks works with the WordPress platform, which is a leading platform for blogging. Installing the WordPress app on GreenGeeks is very quick and easy, and it comes with automatic updates.
Easy Customizations; after the installation, you can customize and set up your blog to your liking. The Customisation feature enables you to edit plugins and themes to your taste or the liking that depicts the concept of your blog.
Below are step-by-step instructions on how to get your blog working in no time after installing and setting up your GreenGeeks account;
1. Click here to go to GreenGeeks site. Then, click on the 'Get started now' button as shown in the below screenshot.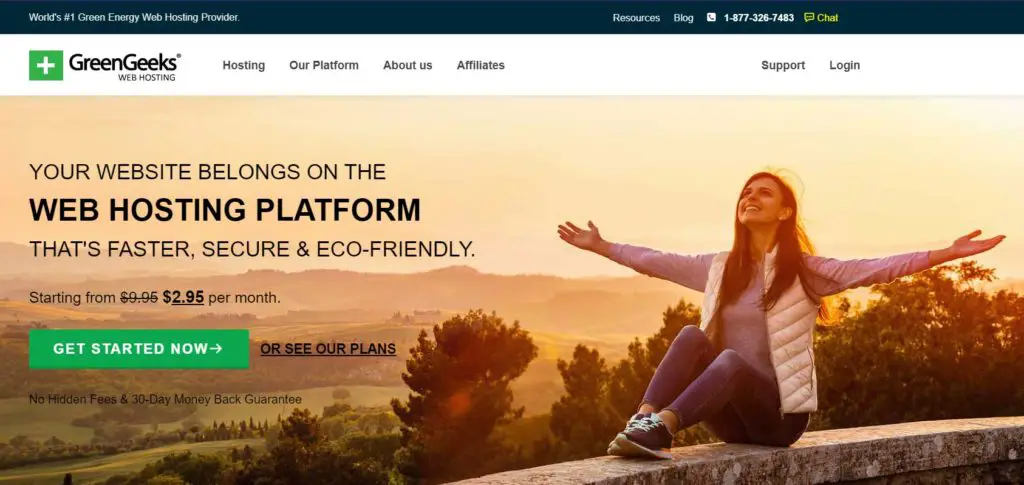 2. In the next window, you can choose 'Lite' plan if you are a beginner, otherwise select any 'Pro' plan if you are planning to create more blogs in very near future.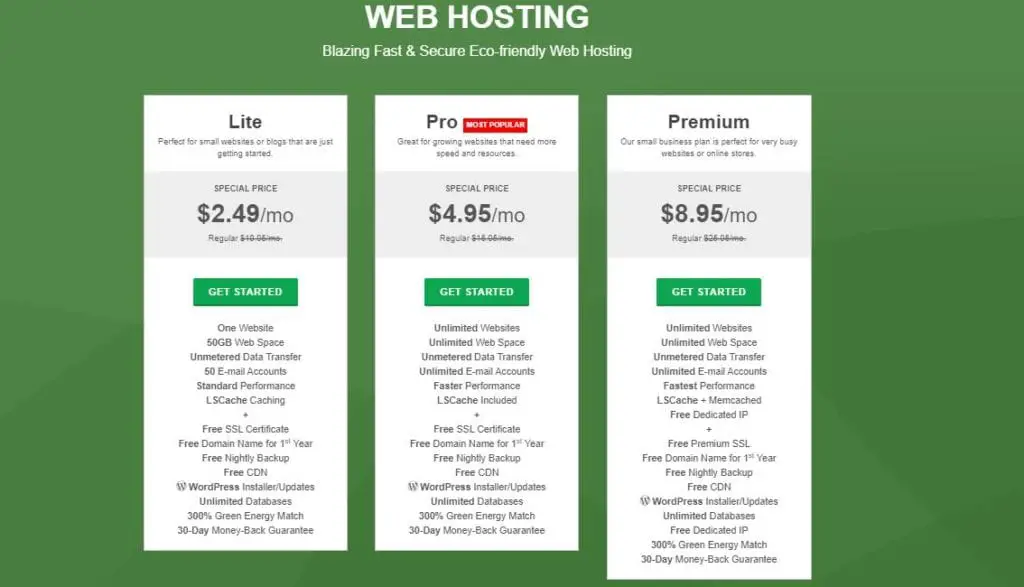 3. Setup a domain name; there are two (2) options available in setting up a domain name on GreenGeeks; you can set up a new domain name if you do not have an existing one or fill in the details of the existing one.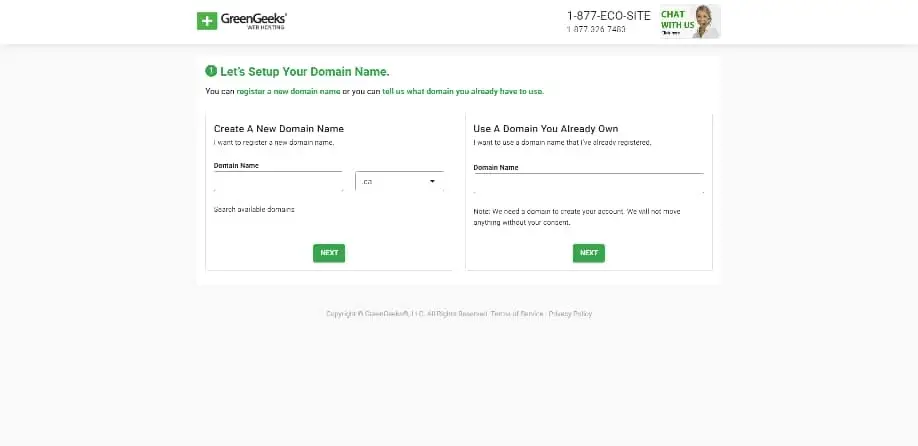 4. After setting up your domain name, you will be directed to a new page, where you will provide your account information; that includes your personal information and spatial space (Name, email, address, postal code, state, country, etc.)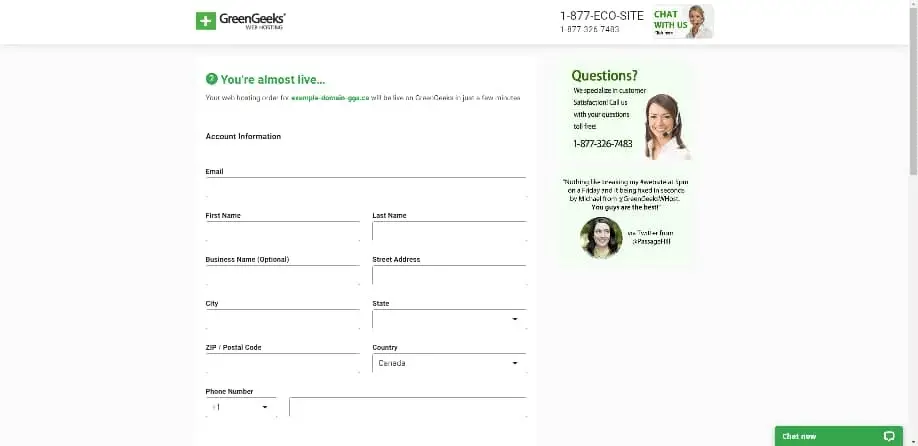 5. You will be prompted to the "Quick Launch Wizard" page, where you will select what you want to do from the options listed.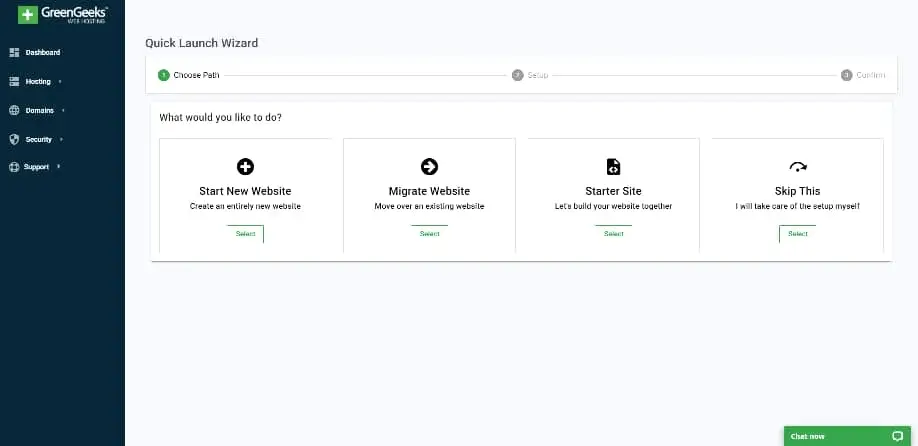 6. Click on the "Start New Website" tab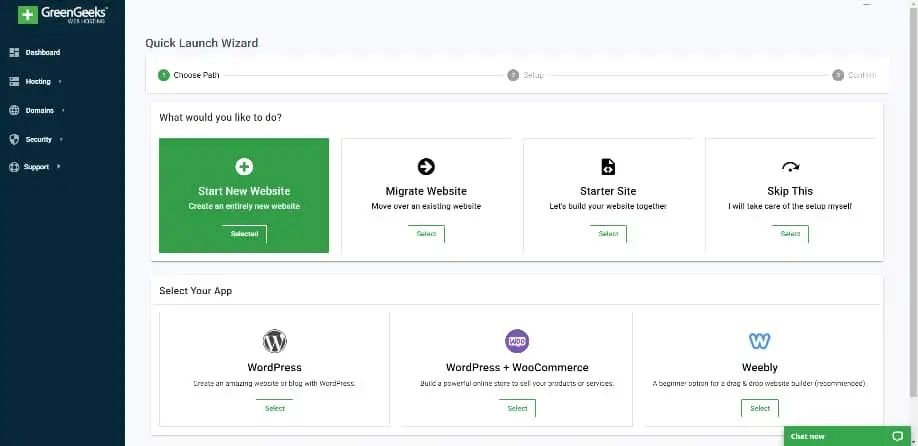 7. Select the "WordPress" tab below the option to "Start New Website."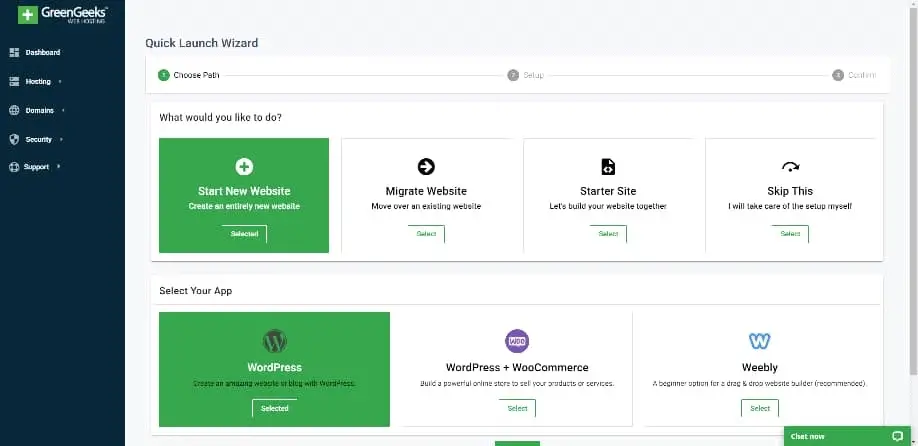 8. You will be directed to "choose a theme."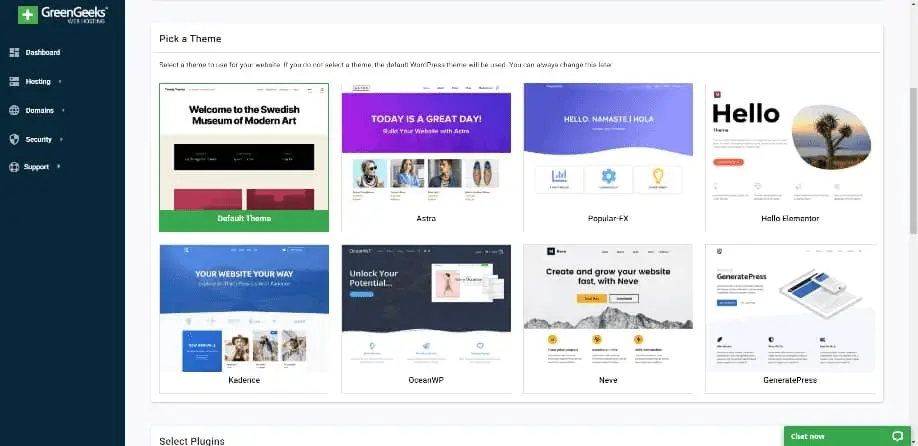 9. After this, your website will be set up completely.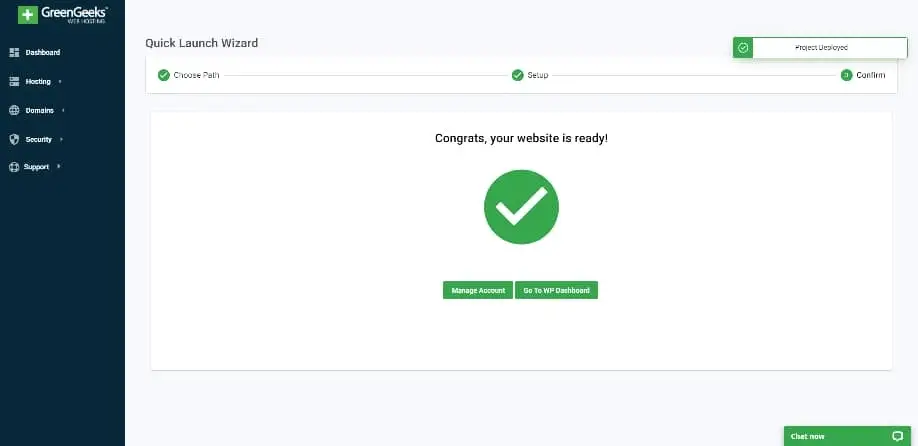 The above setup is best suited for people that are beginners with blogging and website setup; however, beginners may need more clarity on the setup process regarding domain setup and hosting packages.
Web hosting Package
A Web hosting site is definitely needed to promote your website or blog, and that's where GreenGeeks comes in. GreenGeeks provides you with tools and features to manage your site excellently. It also provides users with free domain name registration and the option to transfer an existing domain name to the platform (if you have previously registered your domain name with a different web hosting site). GreenGeeks is one of the leading web hosting platforms in the online market, usually accessible to users a $2.49 per month, but is now available to new users on a special introductory offer at $2.49 per month with a 30-day money-back guarantee and great customer support.
Features on GreenGeeks
WordPress support; with GreenGeeks, users will have their blog powered by WordPress, the best online open-source manager that allows for easy collaboration of tools and plugins and enables users to create and design their blog based on their preference.
Single-click installation; with a single click, the WordPress app can be installed and activated on GreenGeeks, and users will enjoy the automatic update of the platform's blogging software.
Ease-of-use for beginners, GreenGeeks offers users an easy-to-use template with no need for coding knowledge.
Unlimited web storage and bandwidth length for swift transfers
Free SEO optimization
Free integration of marketing tools and plugins
Unlimited customization tools for themes and plugins
Enhanced security, powered by Pro-Active Blog security
Great uptime of 99.98%
Speedy page loads
Optimized webs for blogging and database servers
With GreenGeeks, these features and services will get your blog running smoothly in no time.