Starting a Blog? Or want to know how to?
This article is easy to follow guide for beginners on How to Start a Blog.
They are so excited to see their blog growing up and turning into an ATM, but everyone doesn't succeed. They Fail and lef. Some Tries again and again. The One who left don't get anything but the one who keeps on trying and never stopping to learn and succeed.
However, It is necessary to get fail. If you know how to gain more confidence you tell yourself, "All is Well."
You know what happens on failing and how it feels, so you are better prepared for upcoming dangers. Just like our Normal Life, Blogging Life has several ups and downs.
So, Better get your heart prepared for the disappointment and your mind for trying again.
These words may sound bitter to some, but unfortunately, it's true.
I wrote this at the very beginning because I want you to get better prepare. 🙂
Let's dive into it,
To make sure we won't mess it up here is an index of the articles with Topics in sequence.
Step 1. Choose A Good Niche
Step 2: Choose the Best Domain For Your Blog
Step 3: Choose a Good Web Hosting For Your Blog
Step 4: Select an Awesome Theme For Your Blog
Step 5: Install Few Essential Plugins
Step 6: Create and Publish a Blog Post in Your Blog
Step 7: Monetizing your Blog
Step 1. Choose A Good Niche
Quick Glance on Blogging and its history
Blogging is an action of writing a blog post on the internet. This action of posting a blog post to a website such is known as a blog.
The Person who writes a blog or keeps a blog is known as Blogger. For example, digitaldesignjournal.com is a blog. I'm a Blogger because I keep the Blog and Write for it. The Action I'm doing currently is known as Blogging i.e. Writing a Blog Post.
Choose your Topic Wisely
I would advise you to choose the topic which suits you the most. In future, It can create a lot of trouble if you cannot write further on that topic or don't have any Original Idea around. Moreover, if you want to make money online through your blog, you need to create a great website beforehand. There are so many topics to write for; such as,
Health
Self-Defence
Organizing Things
Cooking
Photography
Blogging
and more.
A Blog can be based on anything you prefer;
It can be related to your passion, specialisation, hobby or expertise.
You don't need to be an expert in the particular field; you can always learn from others while also sharing the same on your blog.
If you can't decide the topic to choose, You should list out all of your hobbies, passion, expertise, love to do, etc.
Then, cut the things which aren't suitable, or you don't have much to write on and repeat this step a lot of time.
At Last, You should be left with one or fewer items in your list. Then, choose wisely what would be the best. The Topic you Choose,
Should be in demand, if you like so.
You should know at least a bit about it
You should feel happy while writing about it.
Should make you pleasure.
How much does it cost to start a blog?
In some cases, you can start a blog from $0, but it is good to invest a few bucks which will make your look professional and not wasting other's time.
If you choose to put your website on a paid website hosting, you should be able to pay for it.
Step 2 : Choose a Best Domain For Your Blog
What is a Domain Name?
A Domain is a URL where a website rests. It can be either in the subdomain or sub-directories or a domain name. Domains are used in place of ugly-looking IP Addresses because It can easily differentiate between the website and easy to remember if chosen wisely.
For example, www.wordpress.org is a domain name.
Getting in more depth
Domain Names (mainly) have these parts:-
Protocol Identifier – HTTP OR HTTPS
After PI – ://
Sub-Domain – blog or shop; shop.example.com
Second Level Domain – example
Top Level Domain (TLD) – .com or .org etc
How to choose a Domain Name?
Most Bloggers scratch their head with choosing the domain name, they keep on asking someone else to suggest them one. I hope after reading this guide, You would be able to choose one yourself.
What you should expect from your Domain Name?
Domain Name have two primary motives
Easy to Remember
Reflect you
While Choosing a Domain name, You should bear these things in your mind:-
It Should be Easy to remember – Can you remember the domain names likes 8212guildofterspizasd.online? Possibly not, but even if you think you can, can you remember this for long time? The Domain name you choose should be easy to remember as well as hard to forget.
Related to your Blog – Domain Name should not reflect what your site is not. There are many favorite websites exits whose domain name is not at all related to them. But, I would recommend you to choose one which does.
Short – Keep it Short
Simple – Keep it simple because usage of hard and complex words can make it look evil.
Pronounceable – It would be best if the domain could be pronounced easily. For ex, you can easily read domain name google.com as compared to 7792unfoldsamp.net.
What to do?
Here are some todos before finalizing a domain name:
Try not to use or Remove Hyphens(-)
Check for Copyright issues
Try to use .com domain other than any other domain name such as .org or .net
Check for social Media Availability. Recommended tool: NameChk.
How to Register a Domain Name?
The Next Step after choosing the domain is surely registering it. You could go with any domain registrar?
No, Get a Free Domain if you choose to buy Hosting from Bluehost.com  (Free Domain Forever ;))
What is a Blogging Platform?
Blogging Platforms are the spirit on modern websites and blogs. They do almost everything you need to have on your site. You can start a blog without any knowledge of Coding or need of hiring a Website Developer to do it for you.
One of the most popular Blogging Platform is WordPress; however, WordPress is not just a Blogging Platform and can be used to make any type of website, It is super charged with advance features and easy to use interface. Some of the Types of Websites it can make,
Blog
E-commerce or Online Store
Business Website
Forum or Discussion site
Business Management System
Social Media Website
Portfolio
Institutional Website
and almost any kind of website
Blogging platform
A blogging platform refers to the service o software which you will use to publish your content on the internet in the form of a blog. There are many platforms available out there, each one of them having its own pros and cons. The first step would be to choose a platform that meets all your needs. Among the most popular platforms is WordPress. WordPress covers about a quarter of all blogs and websites on the internet, showing just how much it is preferred by many. Perhaps it may be due to its simplicity and ease of use which as a beginner, is exactly what you would want.
WordPress.com vs. WordPress.org
There are two options to choose from when it comes to WordPress. The two are WordPress.com and WordPress.org. They both have their individual advantages.
WordPress.com basically is a commercial site where you will be able to host your blog for free, though it comes with some limitations. It runs on an open source platform which was created by Matt.
Your site will be free for as long as you want but you get the option of upgrading if you need to achieve some specific needs. Paying also means that your blog will be looked after pretty well and receive automatic security updates.
WordPress.org on the other hand is where you can a copy of WordPress blogging management system free of charge. This platform powers 24% of the entire web. With this, however, you get to find your own hosting company which will host your WordPress blog as well as your own domain name with which visitors will find you. You get 100% control over the WordPress software that you use as well as your blog.
Getting Started with WordPress
I Have already told what can do, and how awesome it is. Now, we will have a look at its installation and features.
Features of WordPress,
Make any website quickly
You don't need to be an internet expert to use it
You can create a website without any knowledge of Coding
Supports Plugins, You can do everything you could imagine on your site with WordPress
Open Source; WordPress is an Open Source Project, which means you download, edit and use it for free.
Many Active Users and Helpers, WordPress has a great community build around them, Who are ready to answer your question.
Free Themes, WordPress has a vast repository of Great Themes, which could give your blog a perfect look.
Free Plugins, WordPress also has a huge repository of plugins which could make your blog fully features as you Imagined.
Wait! There are still so many countless Features which I have not listed
Step 3: Choose a Good Web Hosting For Your Blog
What is Website Hosting Provider?
Of Course! You need a place which could store your Website Data Safely, and some great people who can help you with the trouble you will face. Web Hosting Providers have many Servers with runs 24×7. Most of the Providers also gives 99.99% or 99.9% Uptime Guarantee.
One of the Most Famous and Trustable Website Hostin Provider is Bluehost. Bluehost offers mind-blowing features for a little amount of money. They also offer 30-days money back guarantee. You enjoy full features of Bluehost and get your money back anytime during the 30 days from activation date if you faced any trouble or didn't like their service.
We recommend using
BlueHost – the WordPress officially recommends Bluehost but this is not it is famous for. It is famous for Providing Excellent Service and Resources in a very affordable price. You even get a 30-Days Money Back Guarantee.
Setting up a blog is not as complicated as many may think of it to be. Of course, there are a few steps that must be followed to ensure that you successfully setup a WordPress blog.
This guide will show you how easy it can be for you to setup WordPress blog with Bluehost. We choose Bluehost due to the simplicity of setting up a WordPress account there.
Setting up WordPress on Bluehost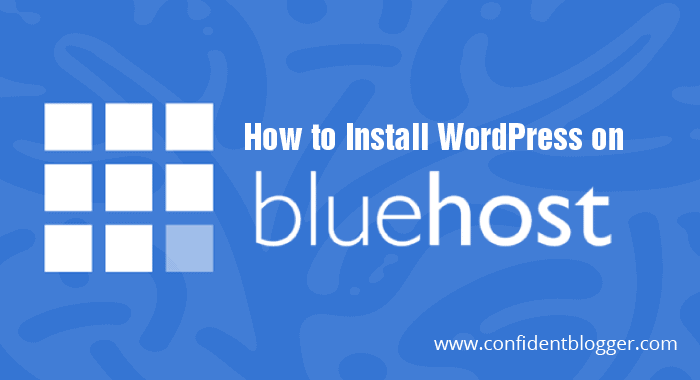 An Overview of the Steps to be followed: –
Selecting a hosting company
Selecting a hosting plan
Choose a domain name
Providing your details
Install WordPress
Start Using WordPress Blog
This is just an overview of the simple steps that you will need to follow when setting up WordPress blog. The steps will be discussed here below in length to make it easier for you to understand the process of setting up your own blog.
Step 1: Choose a Host
The first and the most important step to setting a WordPress blog is choosing a hosting company. There are many hosting companies out there that you can use but there is need to choose the best. Bluehost is the best hosting company offering the best solution for WordPress blog. You should therefore select this hosting company.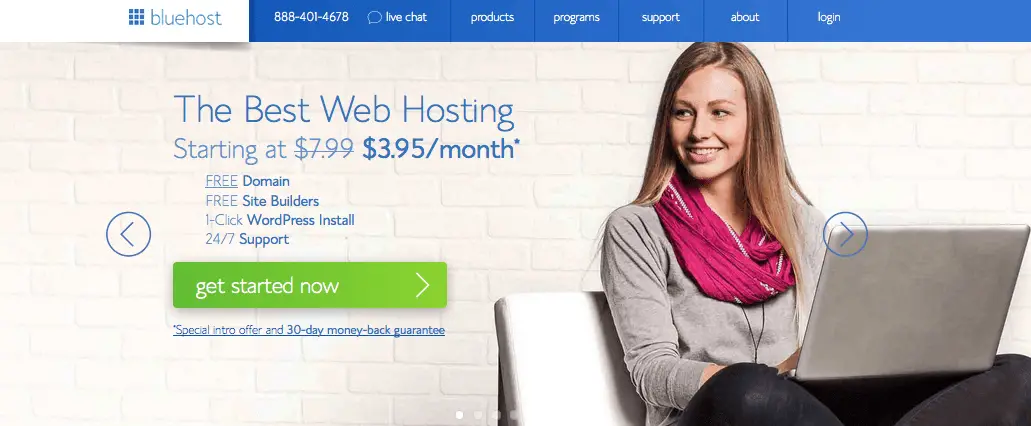 Step 2: Select a Plan
Once you have chosen Bluehost as your hosting company, you should then choose the appropriate plan that suits your needs. The plan that you purchase should reflect the needs you for your blog.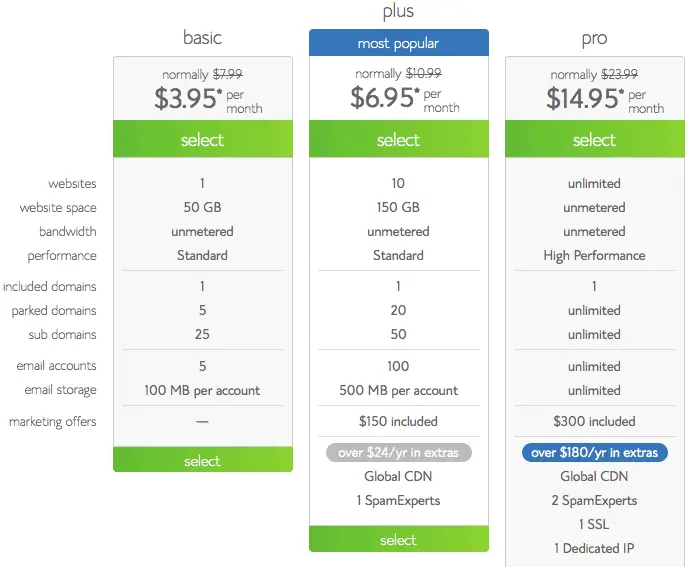 [alert color="blue"]Sign up through this link to receive a special promotional price of $3.49 a month[/alert]
Step 3: Choose a Domain
This is your web address. You may choose to enter a new or an existing domain depending on whether you previously had one or not.

Step 4: Enter Account Details
You should then enter your account details after choosing the domain name. At this step, it is important to use a working email that you can easily access for this is where the login details will be sent. At the same time, you should provide billing information to Bluehost so that the login details are sent to your email. Only after payment is when you will receive the login details.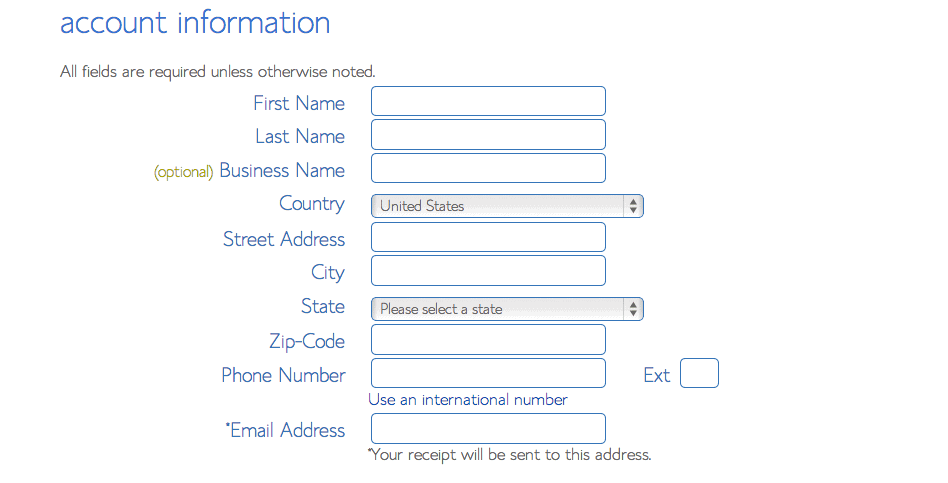 Bluehost offers some great add-ons that you would able to add in package information section. You can also change your hosting plan (go for 36 months to get lowest price) here if you want to.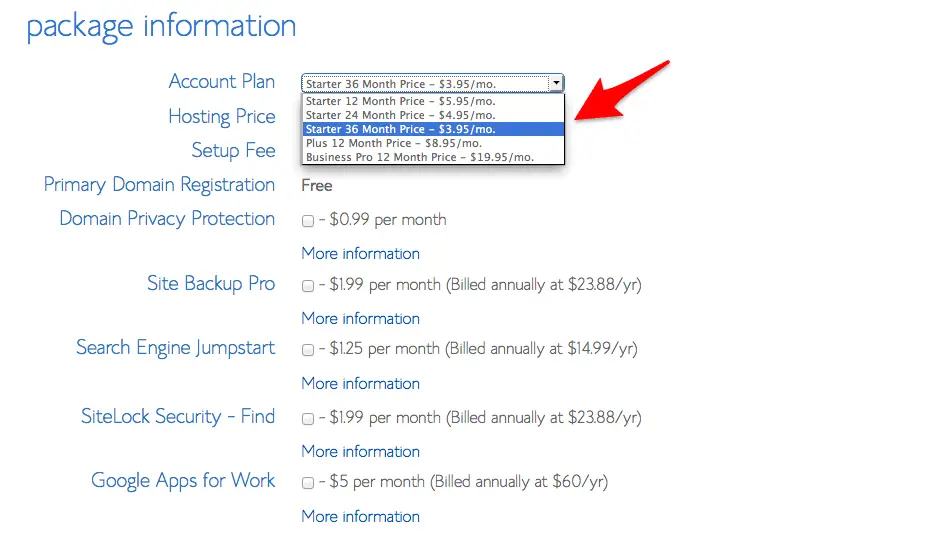 Step 5: Install WordPress
You can easily installed WordPress in one Click using the Softaculous Installer, which comes for free when you buy website Hosting with Bluehost.
Once you have received your login details, you should access the cpanel and click on Install WordPress icon.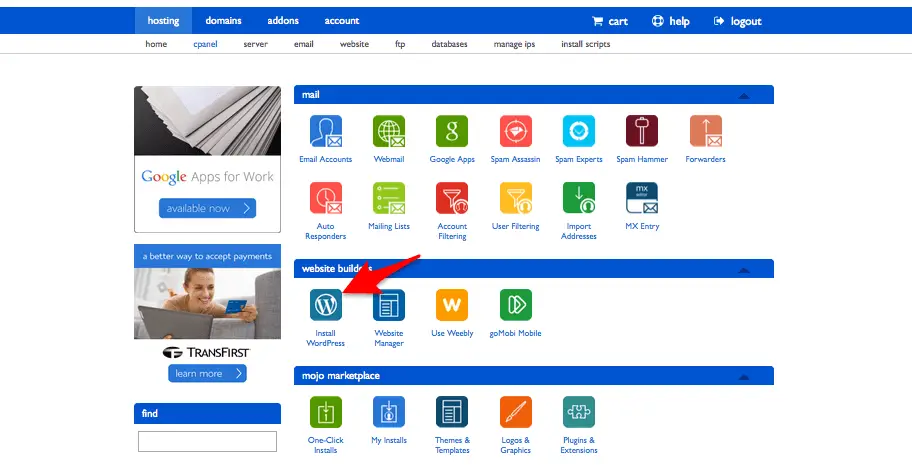 Afterwards, you should start the WordPress install process.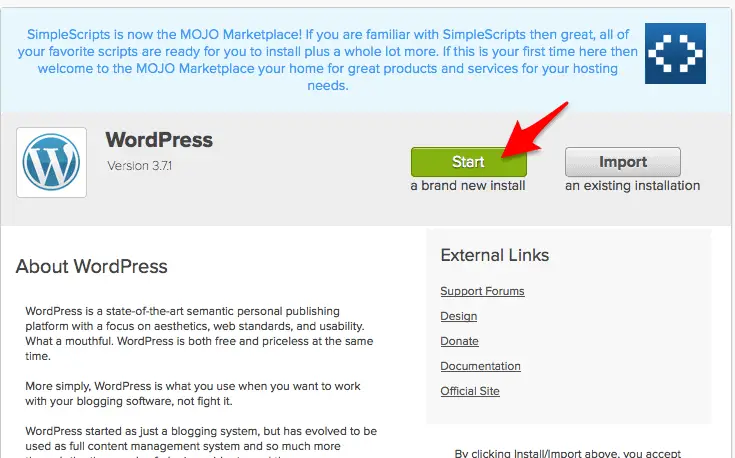 You will then be given login credentials to use when accessing WordPress.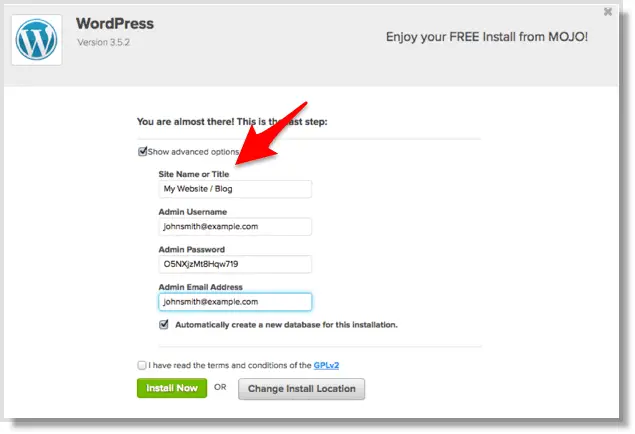 Step 6: Start Using WordPress
After the installation is complete, you should start using WordPress blog immediately.

As simple as that, you can call yourself a blog owner, or a blogger, if you so wish. It only takes for you to follow the simple steps above.
Step 4 : Select an Awesome Theme For Your Blog
What is a Theme in WordPress?
A Theme on WordPress is used to give your Website a Look.
WordPress themes can be either,
Free – WordPress Official Repository has lots of free themes which can make your blog looks beautiful.
Paid – On the Other Hand, You can buy Attractive and Smartly Coded themes from StudioPress.
Theme is like clothes for WordPress, they control where the elements should appear and when. They also control some functions of the website.
Try to choose a Theme from a reputable brand such as:-
StudioPress
WordPress Repository
ThemeForest – Last Choice
You may get very nice looking themes on ThemeForest but most of them are poorly coded. We recommend using a Framework for WP which already have functions defined and smartly coded. All you need to do is make a Very Nice Looking Child Theme.
One of the best example is Genesis. Genesis is used to most of the Top Blog and it is reliable and cheap if compared to its features. 
How to Make a Logo or Header for your Blog?
Probably, every blog needs a Logo or Header which would show and represent the Blog. Here's a Quick Tutorial on Making one for your Blog.
What will you need?
Other ways to creating a Logo:-
If you are not comfortable with Photoshop However, it is not free but you can download a 30-days trial from their website.,
Otherwise Consider
Using Logomakr.com or
Buying a Logo on Fiverr.com
Step 5: Install Few Essential Plugins
Plugins on the other hand, are used to give your website certain features, functions and Capability such as WooCommerce Plugin for making your website e-commerce.
WordPress also have a Plugin Repository where thousands of Cool Plugins are waiting to be installed.
Where to get Plugins from?
There are several useful plugins in WordPress Repository. You can choose the one you like or shop for premium plugins.
Plugins
There are quite a number of plugins that you can use to extend the functionality of your WordPress site. The different plugins performs different duties and can be installed or uninstalled whenever you wish. The basic ones that you should install first include;
Yoast SEO. This plugin is designed specifically to work with WordPress, handling all the technical optimization of your site as well as your content. It will help achieve higher rankings on search engines.
Backup plugin. This plugin will back up all your entire website or blog at a time scheduled by you to fit you the most. You can also use the BackupBuddyplugn as an alternative. It offers more or less the same features and functionality.
Akismet. It is basically a spam comment protection. It is used to check all your comments against the Akismet Web service and determine if they look like spam or not. If it catches a spam, it allows you to review it first.
Social sharing. The plugin focuses mainly on social media and sharing, letting you add icons for email, RSS, Facebook, Google+, Twitter, Instagram, YouTube, Pinterest and over 200 other social media platforms. You can also upload some custom icons of your choice. A great alternative to this plugin is;
The Monarch Social Sharing plugin. It is actually what am using on this blog at the moment.
Warfare plugin. This plugin focuses on improving social share as well as driving traffic to your site. It adds beautiful share buttons that are lightning-fast to your WordPress site, allowing your posts to be shared on some of the most popular social networks.
W3 Total Cache.This plugin offers web performance optimization (WPO) by using caching; page, browser, object, database and content delivery network support. It is designed to improve the user experience as well as speed. What's more is the fact that you can actually setup your MaxCDN settings in this plugin.
iThemes Security. This plugn allows you to take out all guesswork when it comes to security of your WordPress. It offers more than 30 ways of locking down WordPress through the easy to use plugin. You don't have to worry about any form of hacking with this plugin
All in one WP Security and firewall. This is another comprehensive yet user-friendly, all-in-one security and firewall plugin for your WordPress site.
Step 6: Create and Publish a Blog Post in Your Blog
This is the final and most important part when it comes to blogging. Once you are done with all the techy processes of setting up your own blog, you need to start working on the content that you will publish.
How to add posts etc. after integration of domain on hosting 
(1) Open url www.sampledomain.com/wp-admin
(2) Enter your user name(admin) and password(admin) or check your email to get your random password if you did not enter during wordpress installation
(3) Click on login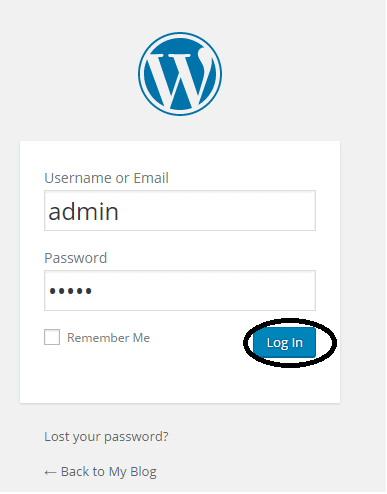 (4) To post , Click on New post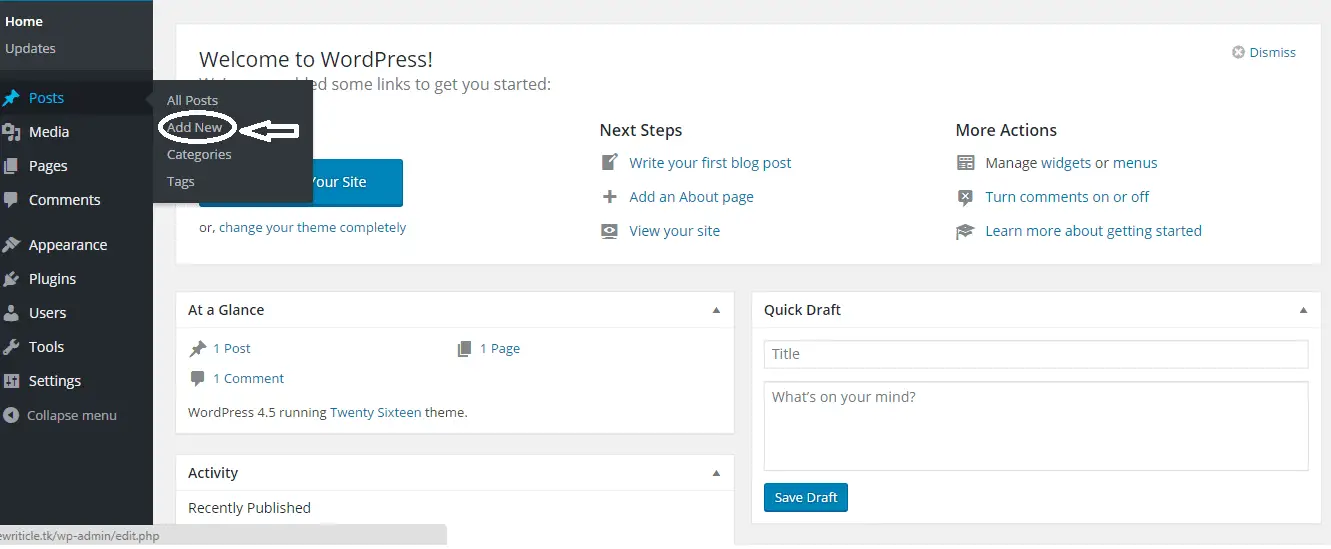 Write the post and published it.
There are a lot of factors to consider when deciding what kind of content to come up with. A few of the basic rules include;
Content is Still the King. Your content/article should be genuine and unique and must have the capability to catch the reader's attention quickly. It should be easy to read. While writing an Article,
Make it Readable – Break the Content into paragraphs and divide them with headings and subheadings.
Make it fun
Originality (Don't Copy from Other)
This is one of the most important factors to consider. Whatever you post on your blog must always be original and fresh content. Plagiarism is a major offence that might lead to great consequences such as being penalized by search engines. Plagiarism will make you rank low on the search engines and thus, reduce the number of visitors that you get.
2.Use Grammarly – Grammarly is a Great Tool. It automatically detects grammar and spelling errors and alerts you.
Informative
The only thing that will keep a visitor on your page for longer is an informative content. You must give your readers a reason to stay on your site, refer others to it and keep coming back for more all the time. Providing relevant and interesting information on your blog should do the trick.
3. Relevant
The content must also be relevant to your blog. Don't simply just write to fill in number of words. Make sure the content has high readability and is relevant to the topic involved. In other words, if a user performs a search of a specific keyword or phrase and ends up on your site, the user should be able to get all the information he was looking for.
4. Headlines and titles
Always ensure that your articles have eye-catching headlines or titles. It is the first thing that your readers will see and use to decide whether the content is worth reading or not.
If coming up with great content that meet all these specifications is a bit of a challenge to you, not to worry. You can hire professional freelancers to do it for you. All you will need to do is give instructions of exactly what you want and they will do it for you. Examples of where you can get these freelancers is on sites such as HireWriters and iwriter.
Writing Great Content
Content is Still the King. Your content/article should be genuine and unique and must have the capability to catch the reader's attention quickly. It should be easy to read. While writing an Article,
Make it Readable – Break the Content into paragraph and divide them with headings and subheadings.
Make it fun
Don't Copy from Other
Use Grammarly – Grammarly is a Great Tool. It automatically detects grammar and spelling errors and alerts you.
2. Maintain a Schedule
Scheduling your Work could be a great relief. Mark the Date when you have to write posts on the calendar. This will make you less depressed and feel more free. This can also help reader to know when your new post will arrive.
3. Social Media Optimization
Of course! You should have page for blog on Major Social Sites such as Facebook, Twitter, Pinterest, and Linkedin. This can help you drive great target traffic to your blog just by posting 50-100 words on your Timeline. Share every post you write on your Pages and Accounts.
Step 7: Monetizing your Blog
You need to pay Hosting Fees, may be domain renewal fees and several other charges. Of Course! You also need to earn something in return for the hard work.
Monetizing your blog refers to Converting Views into Money. You can
Add Affiliate Links
Display Ads
Do Sponsored Reviews
Sell Ebooks
And many other ways
What is Affiliate Marketing?
Affiliate Marketing refers to linking text with referral link which in return gives you money (sounding cool, huh?). You are paid when the Visitor do task specified by the Affiliate Provider according to their T&C. For Example you get paid X% of the Total Cost by the Amazon if someone buys a product using your referral link.
Displaying Advertisements (Ads) on your Blog
Google Adsense is one of the most commonly known Ads Provider. Sign Up for their Publisher Program. Once approved, You will get a code to be pasted wherever you want to display ads. You will get $X per Click on the Ad(s).
Selling Blank Space on your Blog
You can sell the Blank space on your Blog to someone you can display a Banner of specific dimensions you Blog. Once you have enough visitors, you can surely add this feature to your website.
Developers and Companies always look for Good Review
You can do paid Review of Products and Services on your Blog Post. This can help you earn $X/Page View or $X/month based on your Deal.
Members Only Area or Premium Content
You can make your best posts premium and only members who is paying for it would be allowed to read it. This is not a good idea for New Blog and even Reputable Blogs but still a Considerable Idea.
Warning
In between of this mess, you may want to quit at certain moments. All you have to do calm down and take some rest then think wisely upon it.
GoodLuck
At the Last, I hope your Blog would be successful, and you could accomplish your goals.
Some FAQ About Blog
How to changed the WordPress admin password.
After login, click on users
Click on all users
Click on edit option (below on admin profile)
Click on generate a new password, erase the random password, and enter your chosen password
Click on update profile, now if you login into your WordPress blog you have to use this password

What is SEO?
SEO or formally known as Search Engine Optimization is to make your website Optimized for Search Engines. You have to keep many things in mind and apply certain conditions and words on your website. Even, you could rank for the link which is coming from another reputable website. There are certain methods to rank your website (or keywords), because you need reader and money (don't you?).
What is Email Marketing?
Every blog must have an Email List where they can store their subscriber's information. They are used to send messages, blog post alerts,s or any crucial information. Email Marketing is so much powerful; it can play a major role in Getting more readers and conversions.
Wrapping Up
Blogging is a great way to express yourself to the world, and everybody should do it. The process of starting your own blog is not as complicated or expensive as many would imagine.
Anyone can handle all the steps and requirements of starting a blog. You stand to lose nothing when you try it out, but have a lot to gain from it.