Virtually every job and business depends on data to improve their products, services, and customer experiences. Professionals use data for market research, to make informed business decisions, to improve the quality of your product or service, to complete analyses, and to make predictions. Data collection provides a way to gather, record, and measure this information from customers, but these processes can be challenging and time-consuming without the right tools.
Several data collection and workplace productivity platforms exist to help you maximize your efforts when collecting and processing data. These tools all provide different features and benefits, so it's important to look for a solution that addresses the common challenges of data collection. Ideally, you or your organization would benefit from a tool that collects data easily across multiple sources and streamlines integrations with other systems. It's also important to consider how user-friendly this tool is for one or more users, and how well it can automate workflows and other processes.
Today, we're comparing two leading platforms, FormAssembly and Formstack, on key features such as ease of use, compatibility, security and compliance, user experience, and more.
FormAssembly

FormAssembly is a secure, compliant data collection platform and workflow builder that empowers organizations to become better stewards of their data. FormAssembly's robust platform simplifies data collection processes, making it easier for organizations across all industries to streamline workflows and drive essential business initiatives.
The platform's newest solution, FormAssembly Workflow, enables teams to visually map out simple to complex multi-step processes that can be automated and seamlessly integrate with Salesforce and other business systems. Along with increasing efficiency, organization, and productivity, FormAssembly's advanced security and compliance standards provide peace of mind for organizations that need to collect large amounts of sensitive data.
FormAssembly features and benefits
FormAssembly provides an all-in-one solution for data collection and workflow building, along with no-code web form building.
Salesforce integration
FormAssembly has many powerful integrations, including Stripe, Pardot, Google Sheets, Mailchimp, Paypal, and WordPress, but its robust Salesforce integration is most notable. FormAssembly's non-native Salesforce structure makes it easy to create and customize web-to-anything forms that send data directly into Salesforce. Integrating Salesforce is simple: to set up the initial connection with the Salesforce Connector, you simply enter your credentials and allow access to FormAssembly. You'll have to follow more specific integration steps afterward.
The integration allows for simplified record creation or updating for any object as well as prefilling Salesforce data into web forms. For an even easier connected form building experience, users can leverage the Salesforce Import Tool, which generates form fields pulled directly from Salesforce objects. FormAssembly also recently released their Salesforce.org Elevate Connector to streamline fundraising processes for nonprofit and higher education organizations.
Security
FormAssembly is a leading data collection solution (if not the leader) when it comes to security and compliance standards. FormAssembly is PCI DSS Level 1 Certified, has CCPA and encryption at rest, and is compliant with GDPR, HIPAA, FERPA, EU-U.S. Privacy Shield, the Australian Privacy Principles and Australian Federal Privacy Act. Its Government Cloud plan is FedRAMP Ready, and its E-Signature feature is also compliant with the Australian Electronic Transactions Act. Advanced levels of security and compliance are only available on Compliance Cloud and above plans.
FormAssembly uses Amazon Web Services for hosting and follows or exceeds best practice standards for logging, firewalls, intrusion detection, incident response, and personnel security. More information about their security and compliance standards can be found on their website.
Workflow builder
FormAssembly's new solution, Workflow, expands the functionality of the already robust platform by giving users the ability to map out entire data collection workflows within a visual process builder. This no-code, process-building interface takes data collection and processing to a whole new level. Within the Workflow Builder, users can easily combine multiple FormAssembly forms, integrations, emails, and more into complete, visual data collection roadmaps. Workflow's power comes in part from conditional routing functionality and form-to-form prefilling capabilities, as well as the bird's eye view decision-makers have of the end-to-end data collection process.
This is a game-changer for users in need of complex, multi-user workflows, such as admissions processes for universities or employee annual review processes. Workflow enhances data collection by simplifying and automating processes, while keeping multiple participants and stakeholders all on the same page. By enabling users to have greater control and visibility over the complete data collection process, FormAssembly is a great option for organizations that need to improve decision making, collaboration, and efficiency.
Form builder
Along with the versatility to create entire visual data collection workflows, FormAssembly still allows users to customize secure, sophisticated web forms within the platform's Form Builder. Creating forms is intuitive and simple, with the option to use a premade theme or fully customize the colors, style, and logo to fit company branding. Within the Form Builder, creating a web form is as easy as dragging and dropping field types into a blank canvas.
Users can also benefit from conditional logic, prefilling, and post-processing formulas. A good thing to note is that FormAssembly does not have response caps on forms and does not charge for submissions. FormAssembly forms are secure and compliant, have a considerable amount of connectors and integrations, and also provide respondent authentication, including LDAP, CAS, SAML with Salesforce, and more.
Customization
FormAssembly offers fully customizable web forms and user management. Administrators can easily define new roles and permissions for additional users and set the level of access for each form, theme, or template.
User experience
FormAssembly is an intuitive, no-code platform that can be learned by any professional, regardless of technical experience. The company provides an extensive Resource Center and FormAssembly Academy, a self-paced certification program that provides users with more advanced training.
Customer support
New users are also able to purchase onboarding implementation, consulting calls, or virtual group training to assist in the quality of their FormAssembly experience. The company also provides free welcome calls, 24/5 chat support, and an upgrade to priority support is available.
FormAssembly plans and pricing
FormAssembly offers five different plans and pricing tiers, ranging from a basic professional plan to a FedRAMP-Ready plan for government agencies.
Professional: Introductory plan with core set of features for creating web forms and collecting data. Discounts available. $89 per user, per month.
Premier: Mid-grade plan offering more robust processes and advanced integration with Salesforce. Discounts available. $224 per user, per month.
Enterprise Cloud: Advanced plan for larger organizations that use Salesforce and require scalable solutions with diverse data collection processes involving multiple departments. Additional features include controls and permissions and connection to multiple Salesforce Production Orgs. Pricing is custom based on needs.
Compliance Cloud: Secure, compliant plan for large organizations using Salesforce that need a versatile, scalable, and secure solution for collecting mission-critical data. Additional features include onboarding assistance and priority support, HIPAA, GLBA, and NYDFS compliance, and robust security and privacy controls. Pricing is custom based on needs.
Government Cloud: Secure, compliant, and FedRAMP-ready plan to meet the standards of government organizations needing to collect federal data at the Moderate Impact level. Pricing is custom based on needs.
Formstack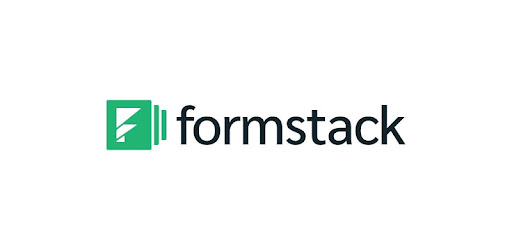 Formstack is a drag-and-drop form building and workplace productivity platform. The platform is no-code, enabling any professional to build web forms and automate data collection processes with ease. Formstack offers solutions across a greater number of industries, including legal, real estate, and insurance. They have multiple product offerings: Formstack Platform, Forms, Documents, Sign, and Formstack for Salesforce, with each plan offering different tiers and pricing. A good thing to note is that many plans/tiers limit the number of users, forms, themes, templates, and submissions. Overall, Formstack empowers organizations to minimize data bottlenecks, streamline workflows, resolve business problems, and increase efficiency while maintaining security and compliance.
Formstack features and benefits
Formstack offers an intuitive, no-code solution for form building, along with a workflows add-on for building data collection processes.
Salesforce integration
Formstack for Salesforce, their native Salesforce form builder, offers a user-friendly, drag-and-drop interface with lookup fields and the ability to name every available field in Salesforce. The Salesforce integration process is fairly straightforward: within the Integration Hub, you simply need to enter your authentication credentials. Once connected, objects and fields can be mapped as well as the ability to update (upsert) existing records.
Security
Formstack is committed to high security and compliance standards. They are in compliance with PCI, HIPAA, PIPEDA, GDPR, and other privacy regulations, and provide industry-standard data encryption. They also are compliant with both the EU-U.S. and Swiss-U.S. Privacy Shield Framework and are certified by the U.S. Department of Commerce. Additionally, they complete logging, employee training, vulnerability scans, security testing, and incident response. Formstack uses Amazon Web Services for secure and compliant hosting.
Workflows builder
The Workflows add-on is a tool for increasing collaboration that allows users to easily share an online form between team members for editing, review, and sign-off. Users can also now add integrations and Formstack documents within the Workflows add-on to keep processes streamlined. Using the specialized Workflow Form option in the builder, it's fairly easy to create a multi-participant form, add participants to designated sections, and set up authentication and access controls.
When a user completes one section of the form, it can be routed to the second user for completion, until the form is complete. Using Workflows add-on, users can streamline and automate processes, avoid bottlenecks, and stay productive, without the need to undergo advanced training or know how to code.
Form builder
Formstack recently updated their Form Builder to be more streamlined and functional for users. The builder offers ease of navigation with an organized toolbar and the ability to quickly jump between form assembling and form designing. A user can use a premade theme or design their own, with the ability to upload images and logos. The builder provides the same drag-and-drop functionality that doesn't require coding knowledge, along with advanced form fields and conditional logic.
The form builder rules are intuitive, making it easy to conditionally hide or show fields, mark fields as required, and more. Users also have the option to create a PDF with signature capabilities as part of their Formstack Documents plan. Integrated with Salesforce, these forms can be prefilled, with the added benefit of being able to lookup and populate from Salesforce.
Customization
Formstack allows advanced customization of web forms and themes using CSS. Additionally, users can be given special permissions, globally, for folders, or for themes and forms.
User experience
Formstack is an intuitive and user-friendly platform that can be mastered by any user, no matter their role or experience. They provide a comprehensive Resource Library full of blogs, webinars, guides, and more. Users can also become Formstack certified on different tracks based on each of their products. They also offer Professional Services for form building, theme customization, and training.
Customer support
Users can access assistance through Formstack's Support Center and receive Professional Services for form building, theme customization, and training. Formstack also provides an online chat service and users can receive scheduled phone support for select plans.
Formstack plans and pricing
Formstack offers five different offerings, ranging from a basic to advanced. Each product/plan has its own tiers and pricing.
Forms
$50 – $208/month or Enterprise custom pricing
Plan for data collection offering drag-and-drop form and workflow builder.
Documents
$92 – $367/month or Enterprise custom pricing
Plan that integrates with other systems to automate the generation and delivery of documents.
Sign
$16 – $26/month or Enterprise custom pricing
Plan that makes it easy to securely capture eSignatures that are legally binding.
Platform
$360 – $630/month or Enterprise custom pricing
Plans with access to Forms, Documents, and Sign.
Forms for Salesforce
$225 – $585/month or NativeCloud Pro custom pricing
Plan with native Salesforce integration with access to Forms, Documents, and eSign.
How the two platforms stack up
In terms of usability and customization, both FormAssembly and Formstack provide an intuitive interface with drag-and-drop form building perfect for any experience level. Form building is user-friendly and straightforward, but comes with extensive help documents in case you get stuck. Both platforms allow for customization of forms and have advanced integrations to Salesforce and other common systems. Where Formstack has great versatility with documents and eSignatures, FormAssembly holds the advantage with payment connectors and authentication for users and respondents, including SAML.
FormAssembly better streamlines their product offering and pricing, and doesn't limit form submissions or Salesforce integration. This is an added advantage compared to Formstack, which requires bundling of separate plans or purchasing multiple plans to receive the full experience. Most FormAssembly plans also come with a considerable amount of security standards, which only increase with advanced plans. All plans have access to the Form Builder and most Premier and above plans have access to numerous connectors and add-on packages.
But where FormAssembly really shines is with the release of their new solution, Workflow. Formstack's Workflows add-on simply doesn't compare to this advanced visual processing interface. Where the Formstack solution only lets users create a process using a single online form, the FormAssembly solution provides a visual process-building interface that lets users participate in entire data collection workflows, form multiple web forms with conditional routing to automated notification emails and streamlined connection to Salesforce.
Workflow is ideal for teams that need visual insights into the flow of data to improve decision-making, cross-department collaboration, and more. This solution comes as part of all FormAssembly Enterprise and above plans and is not an add-on feature.
To learn more about FormAssembly Workflow, visit this link.
To learn more about Formstack, visit: https://www.formstack.com/