Right now, your mind is awash with questions.
How to launch a podcast, how to maintain a podcast, elements of a successful podcast, and much more.
You have done the recordings, and uploading audios online is a no brainer.
Like all great websites, a great podcast needs proper podcast hosting.
Which podcast hosting is best for you? 
What follows this question, more often than not, is hours and hours of searching along with erupting volcano moments of frustration. Take a breath of relief as we give your podcast a shot in the arm. Since we always have you in mind, we are sharing this precious podcast related information. There are Buzzsprout or PodBean or SoundCloud or Anchor options available for you.
You can consider such as reliability, costing, tech support, ease of use, app integration, monetization, and upload capacity, and more.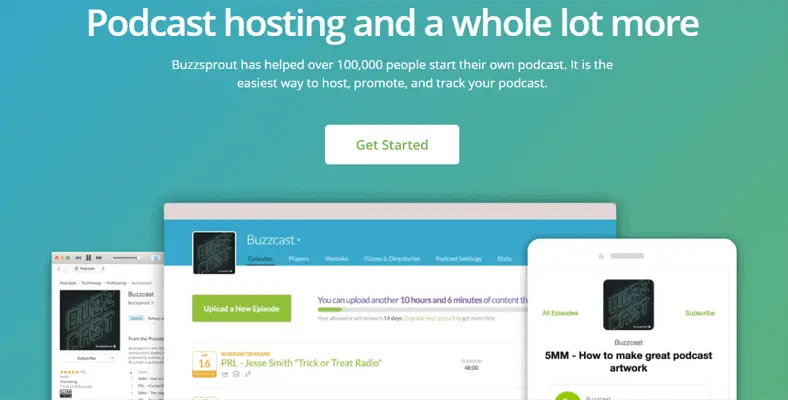 Buzzsprout is a podcast hosting industry name that has been delivering on its promises since 2009. If you are looking for hosting that is not only fair in price but also affordable, then Buzzsprout is the real deal. Access and enjoy intuitive features like the transcription of your podcast episodes, podcast web pages you can easily customize, and also podcast stats to help with maximizing the growth of your podcast.
Buzzsprout wins plenty of points for its free option. Despite this free option's limits in hosting days and storage space, it allows for one to try out the hosting before jumping into the paid packages. The free package, however, won't get you far when serious podcasting is in the offing. The paid options offered here are the way to go. These paid plans guarantee you unlimited storage space and endless hosting of your files. Podcast hosting plans range from $12 to $24 per month with extra content uploaded at a cost per hour, depending on the hosting plan chosen.
What can you expect from Buzzsprout?
1. A lot of Features
With Buzzsprout, you can create a podcast website that seamlessly integrates with your audio feeds and links to all your social media platforms.
Yes, You heard it right!. A website! See the screenshot what they stated in their website.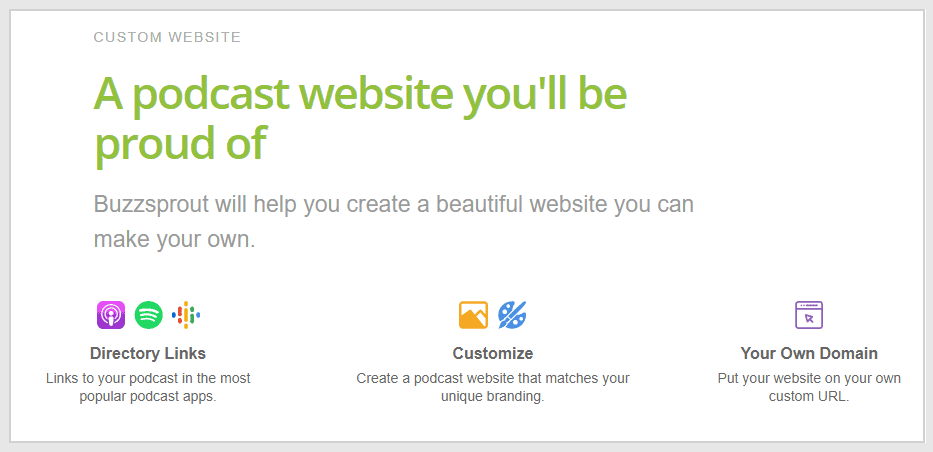 If you already have a website, you can embed the Wave podcast player. Wave is customizable to suit your preferences for either single episodes or multi-episode feeds.
Easily access information at a click, adjust the playback speed, and share podcasts straight from the Wave player.
2. Simple and straightforward podcast statistics
Buzzsprout presents its statistics in a manner that ensures you process and understand everything at first glance. The statistics pages are well laid out, uncluttered, and easy on the eye.
3. Buzzsprout Podcast transcription
This is another great feature available to you. The transcription service costs $0.10 per minute, a price that is well worth it considering it is an in-house transcription of your podcasts. The transcription process is hassle-free, edits, and revisions are seamless. What's more, you can go a step further in copy or pasting transcriptions into other websites while also publishing to your custom Buzzsprout page.
4. Monetize your podcast
You can use their built-in affiliate market place to make money with your podcast. They have partnered with a lot of brands.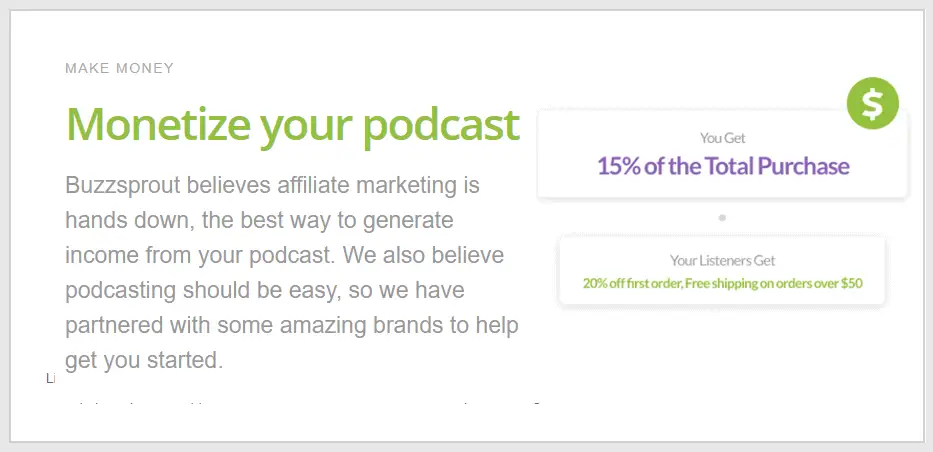 Buzzsprout Pros
Easy to use
Fair pricing (free to start and try)
Customer support
Website player
Buzzsprout Cons
Advanced features like dynamic ad insertion
Advanced analytics
Buzzsprout Pricing
$12/month plan for 3 hours of uploaded audio per month. Extra content uploaded at $4 per hour.
$18/month plan with 6 hours of uploaded audio per month. Extra content uploaded at $3 per hour.
$24/month plan with 12 hours of uploaded audio per month. Extra content uploaded at $2 per hour.
Worth noting and remembering is the free plan. Any uploaded content gets taken down after 90 days. Regardless of this, you can work around this using this free option for as long as you want. Work with it as you would an extended trial or as a full-featured podcast hosting with a 90- day limit on episodes.
Buzzsprout also has add-ons on offer on as need basis:
192k Stereo Optimization for $6/month
Episode Transcription for $.10/minute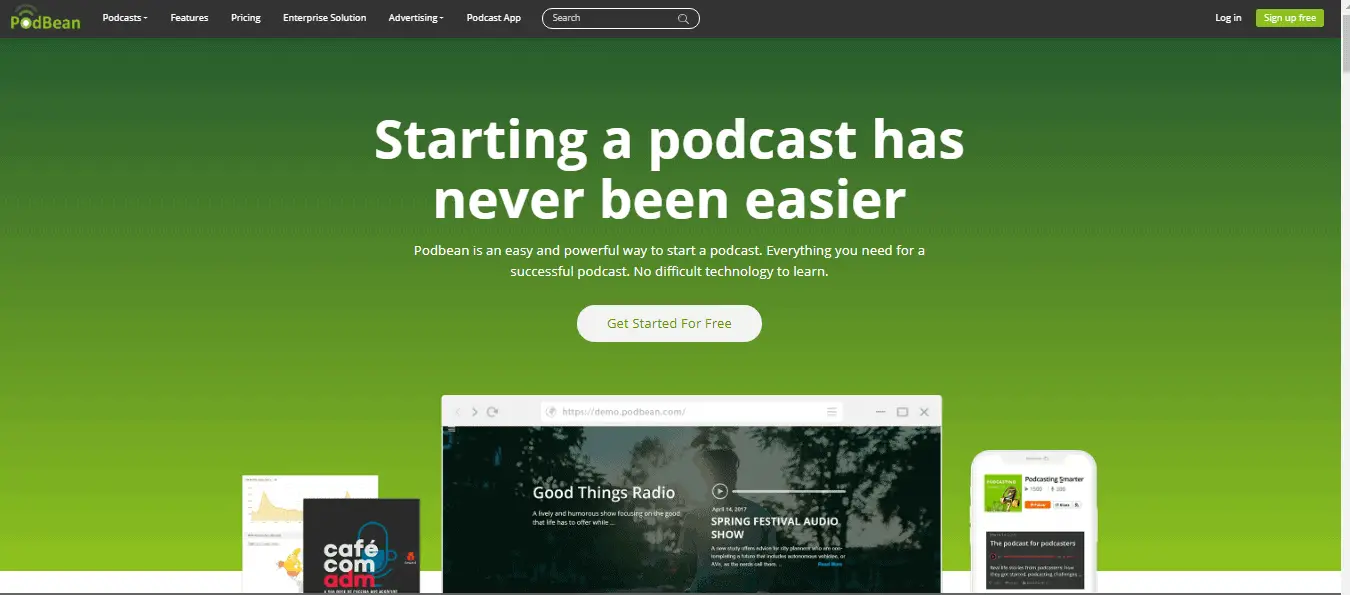 PodBean has been around for quite some time garnering an impressive podcast hosting record. It is the go-to podcast hosting for new podcasts/shows, upcoming podcasts. PodBean has an attractive set of pricing plans that range from a free 1 month (Podcast starter) trial to a $99 per month (Business) plan. Take nothing away from these plans, each one is worth its offerings. The free "Podcast Starter" offering 100GB bandwidth and 5-hour audio cap provides a good starting point for new risk-free podcasts.
PodBean is easy to work with, allowing for automated social media sharing and scheduled podcast publishing. PodBean has a cohesive list of hosted podcasts/shows ranging from technology, sports, fiction, religion, and health. This categorization of podcasts allows the immense PodBean listener and user base to access your podcast/show with ease on its website and app. The podcast figures at PodBean are jawdropping, 7.1 billion downloads, over 10 million episodes, and over 390,000 podcasters. Wow! PodBean is definitely where you want your podcast to be.
What can you expect from PodBean?
1. Detailed analytics
As a Podcaster, you need to know which of your shows are popular and what your listener retention is. PodBean provides you with these metrics and analytics. A detailed breakdown of listener engagement, downloads by the hour, and listener location statistics are available with the paid plans. This is ideal for growing your podcast/show. The free plan, however, will only give you basic stats.
2. User-engagement metrics
This optional add-on sets PodBean apart in podcast hosting. It lets you understand your audience better. Knowing if the listener is completing your episodes or ending their listening prematurely is key to your podcast's success. These metrics bring to light the impact of having ads at the start or midway of an episode. User engagement metrics are critical in gauging and understanding the overall behavior of your listeners.
3. Customizable podcast site
As you build your podcast, developing an online presence is essential. PodBean features a customizable site builder for your podcast. The process of putting up your podcast site is quick and easy. Your listeners will enjoy going through your podcast archives, reading the written content that supplements your podcast episodes while also getting to know you better as the podcast host.
Everything about PodBean's website, PodBean app, and the customizable websites is simplistic and neat in layout. Customization of podcast sites is available on all plans. Paid plans, however, offer in-depth customizations, themes, and domain mapping.
4. Business options and integrated monetization
Eventual monetization of a podcast often hangs at the back of the mind of many a podcaster, you included. At PodBean, monetization features are available for your podcast. A notable feature to start with is the Podcast Advertising Marketplace. This allows advertisers to discover which of your shows are an ideal fit for their ads. Once the ads come in, the Dynamic Ad Insertion feature of PodBean takes charge. This feature supports targeted advertising by utilizing specific demographics from your listeners. The Dynamic Ad Insertion feature also generates stats that you can share with your podcast sponsors.
Available to you is paid content protection via paywall protection. Only paid listeners can access this content. This feature named "Patron" allows you, the content creator, to link up with listeners directly and provide them with the premium content as well. The "Patron" feature doesn't use any third party, it keeps hosting, communication, and all funds in-house.
PodBean Pros
Adding your episodes to podcast apps like iTunes or Google Play is not complicated. This is beneficial to your listeners with Android devices
Setup is straight forward, even for a beginner. This means you can get started quickly
Even the free hosting plan lets you create an attractive site for your podcast
PodBean Cons
Limited security features
No uptime guarantee
PodBeans Pricing
Basic Plan: Free of charge, Podcast starter. 5 Hours of total storage space, 100GB Monthly bandwidth cap. Basic podcast stats and free themes.
Unlimited Audio Plan: $9/month, unlimited audio podcasting. Professional themes and advanced design customization. Partial monetization features.
Unlimited Plus Plan: $29/month, ideal for video podcasts and podcast monetization. Professional themes and full design customization. Full monetization features.
Business Plan: $99/month, best suited for podcast networks and business podcasts. Professional themes and full design customization. Full monetization features and Business podcasting.

SoundCloud has been a force in web-based audio/music sharing for quite some time. SoundCloud also offers podcast hosting on top of being an audio sharing platform. As a podcast host, SoundCloud offers features and storage based on pricing plans similar to its music uploading service. In case you are subscribed as SoundCloud user, you won't need a second subscription to access podcast hosting.
SoundCloud boasts of attracting millions of site visits coupled with an immense content upload of 12 content hours per minute.
What can you expect from SoundCloud?
1. Embedding
SoundCloud stands out with its player embedding feature. The player can be embedded anywhere that seems suitable for you. You don't need any coding knowledge to make it work on your site. The player lets you play either complete podcasts or single episodes, all at your convenience.
2. Ease of use
The SoundCloud podcast hosting user interface is easy to work with and navigate. Listeners and podcast authors alike find it easy to use and understand.
3. Price
The pricing on SoundCloud hosting matches the storage space offered. This means that the pricing is quite fair and reasonable, and the unlimited plan offered won't dent your wallet that much.
SoundCloud Pros
Users and listeners interact with content by sharing, liking, or even loving what they consider great content. This works well for community-centered podcasts/shows.
Podcasters on SoundCloud can comfortably create and upload content, knowing that listeners won't experience any challenges in downloading episodes. The SoundCloud app solves the many problems listeners face when trying to access podcast content from other hosting platforms.
SoundCloud Cons
Uploads based on Time and not File Size
SoundCloud sets a limit to your podcasts based on the number of hours instead of the size of audio files uploaded. This isn't the norm and limits podcasters who end up becoming concerned with hours instead of content.
SoundCloud Pricing
SoundCloud Basic: Free to upload 3 hours of any audio type.
SoundCloud Pro Unlimited: €8.25/month for unlimited upload time of any audio type.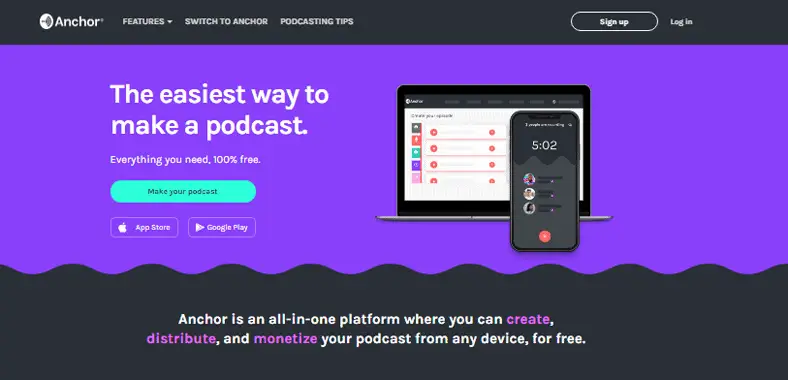 Anchor is part of the next generation podcast hosting platform, with a design to be a one-stop podcast. In Anchor, you have all the tools and features at your disposal. You can host, record, and edit your podcast via the web at Anchor.fm or the free smartphone app. This represents convenience at a whole new level.
Anchor offers free and unlimited hosting with no limits on the size of files you can upload.
What can you expect from Anchor?
Anchor provides you with stats related to downloads, the platforms to where your podcast gets distributed, and listener demographics.
Anchor Money. This feature allows you to monetize your podcast through listener support and sponsorship with little effort on your part.
Anchor distributes your podcast to major platforms like Google Podcasts, Apple Podcast, and Spotify just at the click of a button.
Record your podcast from anywhere.
Anchor Pros
Free hosting.
Mobile app for quick recording and publishing.
Anchor Cons
You have no control over the platform. Get ready for limited control over your RSS feeds
Anchor appends Ads onto your episodes without prior notice or authorization from you.
Lacks industry-standard publishing tools
Anchor Pricing
Anchor claims to be free to use for podcasters though their website states that they take a "small cut" for helping podcasters monetize their shows.
Finally
We have shared a lot above, the comparison of Buzzsprout vs PodBean vs SoundCloud vs Anchor.  The podcast hosting options above will lighten your decision-making process on hosting options worth considering.
As you narrow down on your podcast hosting, remember to head into the hosts' website and nitpick everything that would impact your podcast. Scrutinize all features, compliance, available and accessible analytics, storage space, hosting plans, ads, monetization, and bandwidth.
Cheers, and all the best in your podcasting journey!