The Survey plugins are great examples as they enable website owners to collect user feedback which can aid the improvement of businesses. Getting feedback on a website can be done in several ways, which are quite more than basic surveys, for maximum user participation. It is best to make the surveys quite fun and easy since people will not subscribe to wasting their time and data on long, boring survey options.
Features of Best Survey Software plugins include;
Visitor interaction and engagement; when your online visitors participate in your surveys, it is a great way to interact with them and also improve your brand or services where they lag.
Some survey plugins offer the best CRM software integration which makes organizations on your website a lot easier.
Good survey plugins enable users to view results easily with languages and patterns that are easy to understand.
Most survey plugins offer ease of use for beginners with easy interface and functions.
One of the most important functions of a god survey plugin is its exportability. When website users can export their data, it makes it easier to save results or reports, present them and share them with their business teams and even social media platforms.
So, if you want to know how your customers are feeling about your products or services on your WordPress website, then you need a Plugin that will enable you to run surveys on your websites easily.
In this category (best survey software for WordPress Plugins) the top 5 include;
WPForms
WPForms is ranked the best survey plugin used in creating surveys as well as the best WordPress plugin in the online market. This survey plugin comes with a survey and polls add-on that can be used to create engaging survey forms for website visitors or customers to fill out when turned on.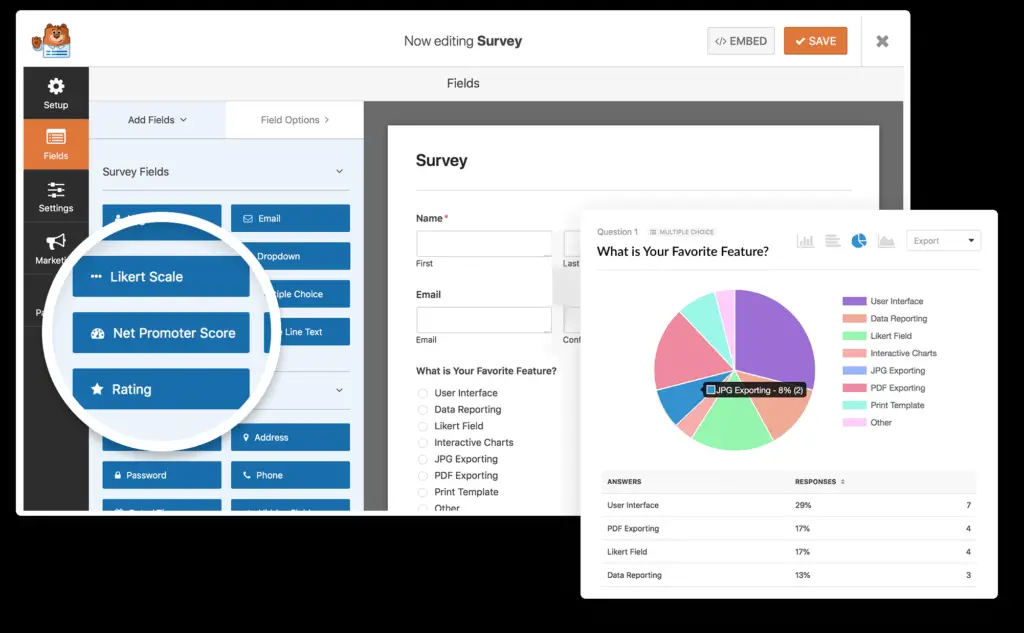 Some of the features of the WPForms include;
Ease of Use; WPForms is one of the easiest form of building plugins in the market. With its easy drag and drop feature, users can make surveys quick and easy.
Customization tools; withWPForms customization tools, website owners can add several fields of different functions as they want. Survey fields can also be made to look like text field, radio buttons, dropdown fields, checkbox lists and several others.
WPForms offers website owners several amazing functions, including the ability to make simple or advanced forms ranging from contact forms to donation forms or order forms, payment forms and several others.
With WPForms, email notifications can be sent to customers or visitors completing a survey form or poll to confirm received entries and email address.
WPForms has an exclusive Conditional Logic feature that enables you to hide or show questions based on the answers previously given. This way, your survey is modern and free of clutters.
WPForm is a very gorgeous platform that offers several types and patterns of charts including lines, bar graphs, pie charts and more that can be easily accessed from the WordPress dashboard.
Website owners can build/design the best survey forms and polls for their WordPress website with WPForms starting at $199.50 per year.
[button-red url="https://www.digitaldesignjournal.com/go/wpforms/" target="_blank" rel="nofollow external noopener noreferrer" position="left"]Download[/button-red]
RattlePress
RattlePress is another amazing survey plugin that offers simple but effective ways to conduct surveys, boost customer participation and engagement, and also promote online businesses. It is great for WordPress sites as it offers several amazing features that enable website owners to give visitors great survey options and amazing giveaway functions that enable WordPress site owners to enter the contest by filling out surveys and polls.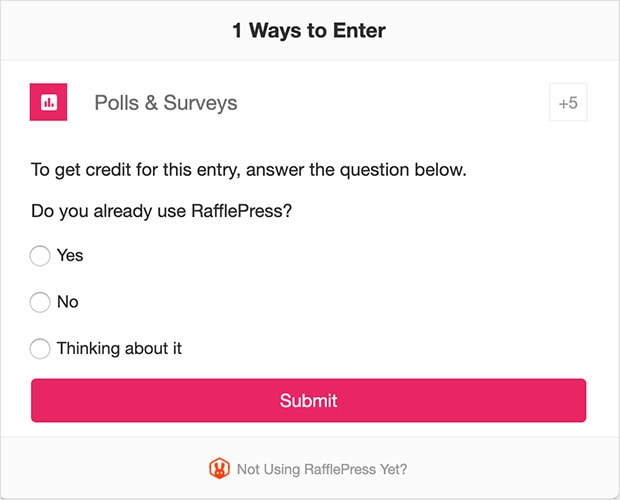 Some features of the RattlePress plugin include;
RattlePress is known for its participation influencer with its incredible giveaway contest that has been paired with surveys and polls to encourage visitor's engagement on websites and also reward visitors with extra entries after polls and surveys have been completed.
RattlePress has a reporting interface that shows results clearly with a very easy and straightforward pattern that enable people to read and understand the results easily.
The platform is very easy to use, even for non-technical people and the giveaway feature makes it a fun way of filling out surveys and polls which increases customer or visitor's participation.
With RattlePress Email marketing integration, website owners can grow their email list and attract more subscribers to the poll.
The amazing functions of RafflePress can be accessed from $39.95 per year.
[button-red url="http://rafflepress.com/" target="_blank" rel="nofollow external noopener noreferrer" position="left"]Download[/button-red]
WP-Polls
WP-Polls is a highly functional survey plugin that allows users to create polls on WordPress sites. It is completely free and it offers the simplest solutions for website owners to get visitors to participate in a poll. Although there are limited feature and no survey forms, the tasks can be done easily without costs.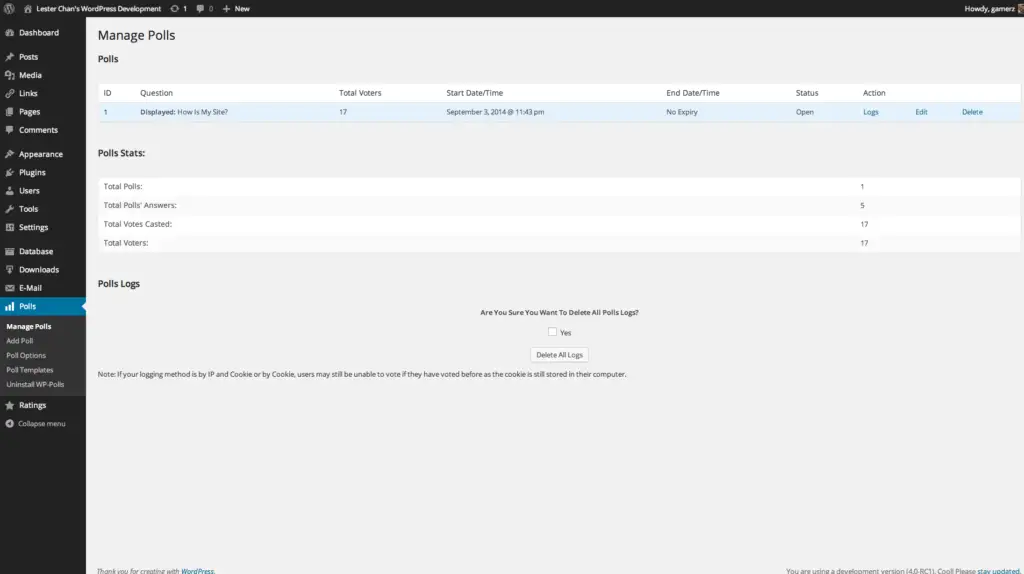 The features available on WP-Polls include;
WP-Polls is extremely functional and easy for beginners, offering instant solutions to business owners without fluffs.
It is very easy to use, as users can access the services by simply using a widget or code to add the WP-Polls to their sites.
Results are automatically available after visitors submit their votes on the polls.
There are radio buttons on the platform that enable users to access circular buttons on the polls for easy voting
Users can also access the checkboxes to select on the polls
Website owners can also save visitors responses where information of registered voters can be seen.
[button-red url="https://wordpress.org/plugins/wp-polls/" target="_blank" rel="nofollow external noopener noreferrer" position="left"]Download[/button-red]
Crowdsignal
Crowdsignal was previously called Polldaddy. It is a very popular WordPress plugin that helps in the integration of surveys and polls functions. It is quite different from the previous plugins as users will need to get a plugin API after creating a WordPress.com account since Crowdsignal is a WordPress.com product.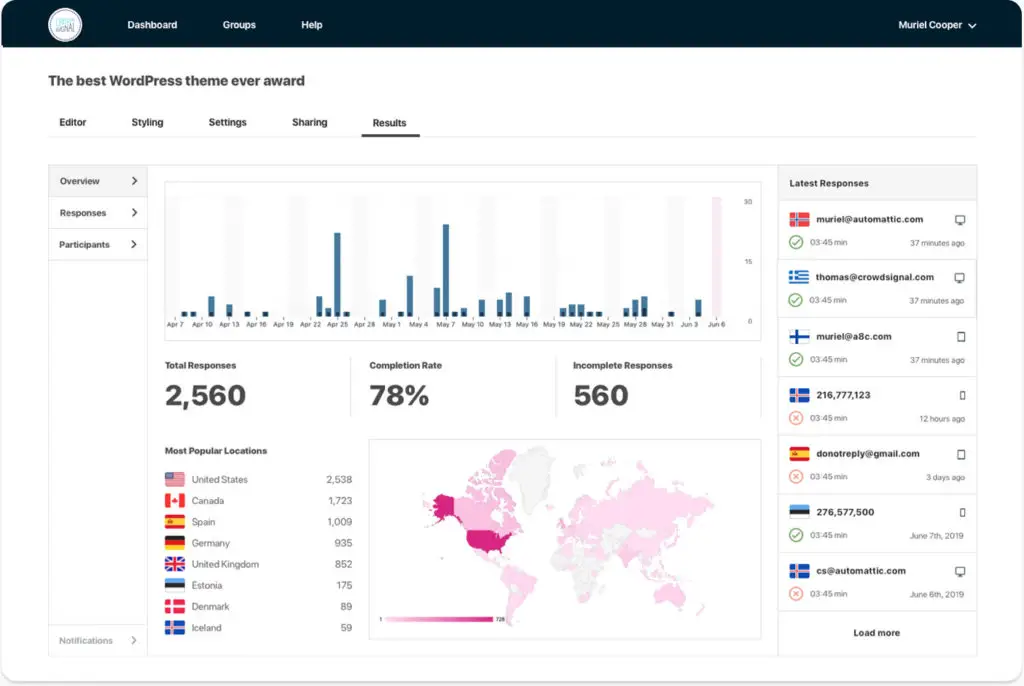 Some of the amazing features of this survey plugin include;
The survey results are very easy to generate and understand.
The platform provides a simple drag and drop builder that enables website owners to create great WordPress surveys easily.
With Crowdsignal, users can ask a variety of questions using a different type of functions including text, Likert scales, multiple choices and several others for easy or advanced survey forms based on the website preference.
Website surveys can be placed on different social media categories, emails and other websites to boost participation and public opinions.
Crowdsignal offers a free version, although with limited functions and features. To give the best experience with Crowdsignal, the premium version starts at $204 per year.
[button-red url="https://crowdsignal.com/" target="_blank" rel="nofollow external noopener noreferrer" position="left"]Download[/button-red]
Quiz and Survey Master
Quiz and Survey Master is a survey plugin that was created to help website owners create quizzes and surveys on their WordPress website. It may not have the easiest interface but beginners, but it offers several amazing features that help beginners learn fast and create the best survey forms and quizzes.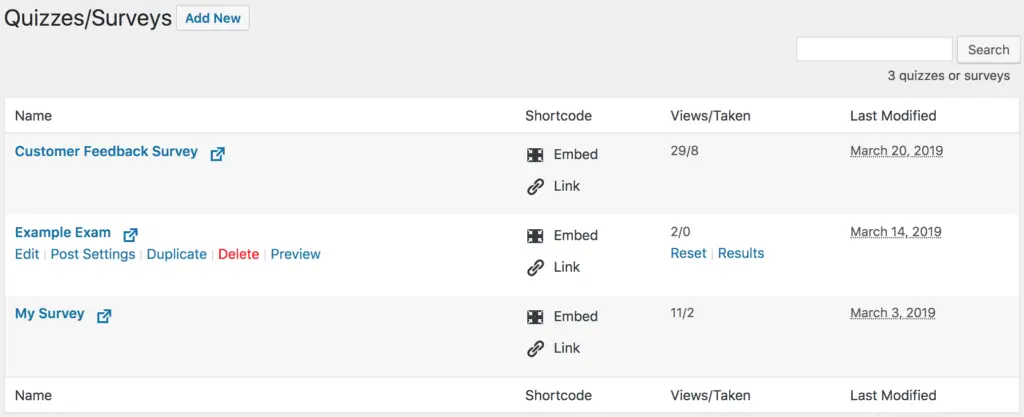 Some of the exclusive features available on Quiz and Survey Master include;
The platform allows website owners to create their WordPress quizzes with advanced tools and features including leader boards, scores and communicative answers.
With the Quiz and Survey Master, users can set up their plugins to email visitors or customers after a survey is completed, to either show appreciation or redirect them to other pages on your website.
With the reporting function, results in quizzes and surveys are made conveniently accessible and easy to understand.
Website owners also get the Multi-step survey features that enable them to create multi-step survey forms to keep visitors busy/engaged.
This survey plugin offer users a free plan, although with limited features and functions. For the full package, users can subscribe to the premium plan that starts at $99 per year.
[button-red url="https://wordpress.org/plugins/quiz-master-next/" target="_blank" rel="nofollow external noopener noreferrer" position="left"]Download[/button-red]
With these amazing WordPress survey plugin options, growing your online business with visitors or customer's interaction or opinion doesn't seem so hard anymore.
Some tips to getting a great participation level on your survey form and polls include;
Make your surveys fun and precise as long surveys are one of the easiest ways of scaring visitors. Ask brief questions that you are certain you need answers for and do not go too deep in their personal affairs. A multi-step survey is a great way to do this as the surveys can be easily separated into different pages or sections.
Be direct with your questions, so that visitors can easily understand them and provide some extra details on questions you think might be too confusing.
Do not ask similar questions with a different approach. That is simply the deal breaker as it gets tiring and boring for visitors.
Be creative in building your surveys, by including some fun options such as quizzes and giveaways.
Some surveys will not be submitted when a field is wrong. Could be the digits of your visitor's phone number or a wrong email address. It is advisable to indicate the wrong field instead of coming up submission errors that may end up tiring your website visitors.
Instead of the regular robot-like surveys that tend to make visitors submit to online distractions, a conversational survey form is advised. This way, visitors are more interested and engaged in filling out the forms because they feel like they are in a conversation.