With the help of a good website builder, you can build and design aesthetically pleasing websites, using advanced specs and great features. Getresponse is an amazing website builder that enables users to create unique online contents with the use of artificial intelligence and cost-free technologies.
With the Getresponse website builder, users can easily describe their online businesses and personalize their visual preferences through the customization of available templates or the creation of custom designs. With the Getreponse platform, website owners have all the tools and features needed to build or design business pages, portfolios and event websites within seconds.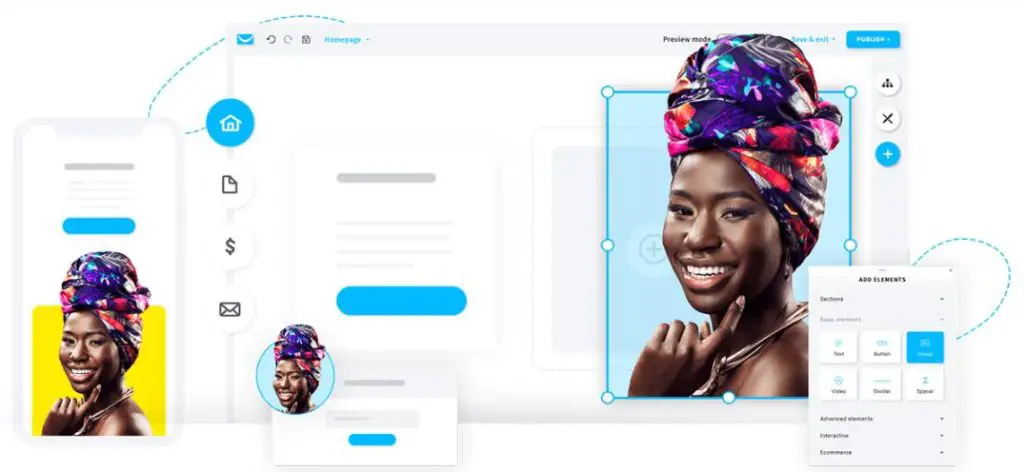 The process adopted on the platform is quick and easy, with the use of a drag and drop editor and several other features including;
Getresponse Website Builder – The Artificial Intelligent Wizard
One of the most amazing features of get response is its artificial intelligence feature that enables users to enjoy smart tools and automation.
The smart wizard automatically creates websites that have been personally customized for a user, based on the answers provided to several survey questions. Once a user logs in to their site, they will be prompted to answer several questions, which will be used.
Questions that could come up on the survey is usually based on the following;
The kind of business you run
The kind of website you want to build
After answering some questions, Getresponse AI Wizard will automatically recommend some elements for your site. Some of these elements include;
The signup form
Gallery
Contact form
Pricing table 
FAQs
After these suggestions, Getresponse AI Wizard will suggest some colour and font options for your site and prompt you to upload your logo.
There are several options for these settings on the platform, and with great customization tools, you can design beautiful websites in no time. 
>> Start Free 30 Days Trial. No Credit Card Required<<
Predesigned Templates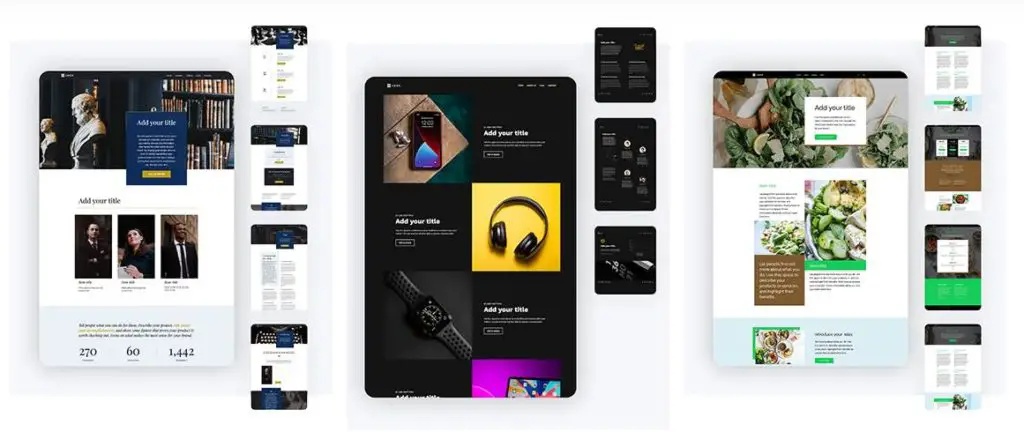 There are several templates available on Getresponse that enable users to customize their website easily, instead of starting from scratch, however, users have the option to design their websites from scratch if they want.
The templates available on the platform will be designed for specific industries and are grouped accordingly into sections like restaurants, portfolios, agencies and several others.
The templates on Getresponse are fully customizable and users will have no issues customizing their designs with the drag and drop editor. 
Customization tools
There are several customization tools available on Getresponse, which ensures users endless customization possibilities. With the drag and drop tool, Customization is made easier and faster, and users have access to the ready-to-use sections that enable them to incorporate some parts of their designs easily if they have limited time.
The website builder also has a Global design tool that enables users to quickly change the aesthetics of their website making instant changes to primary and secondary colours as well as fonts.
This feature also enables users to select colour combinations that best suit them without bringing about critical change to the website design.
Import Website feature 
An additional feature that will soon be available on Getresponse is the Import website tool that enables users to change a website design but retains most of the information. This tool is very helpful when a website owner wants to transfer certain aspects of information on a website to a new design.
>> Start Free 30 Days Trial. No Credit Card Required<<
Optimization and Reports 
Asides from creating or building a website, you also have to work on your site's online presence if you want your site to show good results.
Search Engine Optimization functions have become an essential part of online strategy for building and developing websites. Search Engine Optimization enables websites to develop natural traffic if it is well equipped. Using SEOs on websites is quite complex, and with Getresponse the complexity is made simpler.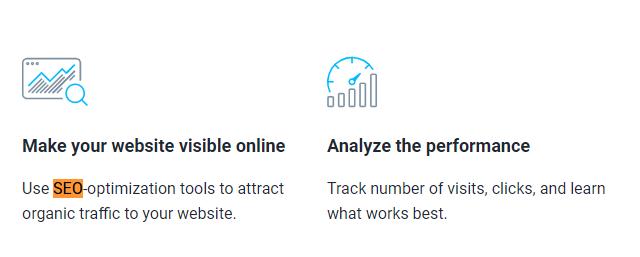 The platform indicates pages on a website that need to be enhanced, by displaying results and overall scores, with suggestions for better functionality.
Getresponse uses a smart tool that measures and records website visits and creates a static report that is easily understandable. This way, users can easily make a good decision about their website without worrying about negative outcomes. 
Mobile friendly service 
Getresponse allows for mobility as website owners can access the platform through their mobile phones. A statistical report has shown that mobile phones account for about 63% share of the platform's use.
With the website user, website owners can build their websites in a mobile-friendly manner, without the need for adjustments or additional settings. 
Domain Names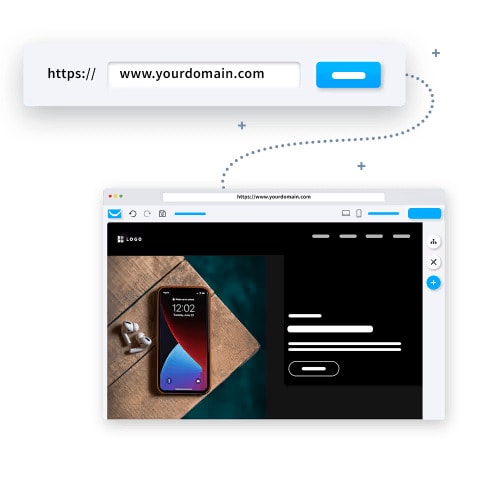 Getresponse website builder offers users domain-related services and features. Website owners can easily search for domain names that are available and purchase them directly from the website.
This service saves users from the stress of buying domains from 3rd party websites and sellers. This way, users have access to all the services they need on the platform, which improves security.
Automatic Email Marketing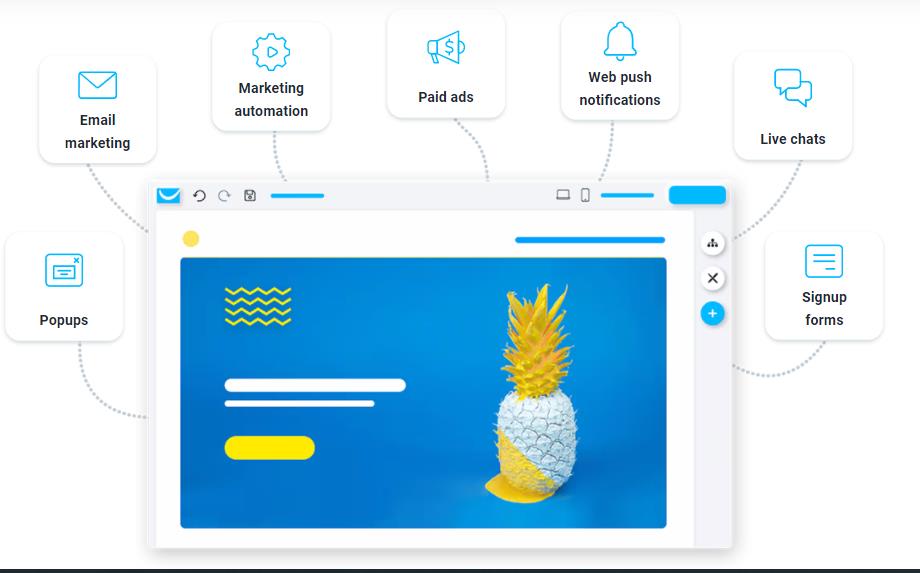 This form of email marketing may seem old fashioned, however, it provides users with pretty impressive results. Getresponse provides users with email marketing services that are suitable for big online businesses.
Email responses are automatically sent to customers when website owners do not have the time to respond personally. A feature can be set up on the platform that creates and triggers automatic email responses to enquiries made by customers, which serves as a form of advertising strategy.
The automated email marketing service is effective with planning and timing which improves your business online presence and performance. 
Getresponse Pricing
Getresponse website builder offers users amazing discounts and deals at really affordable prices. If you are just starting a website, you need to incorporate the best techniques and features to help you achieve a great business start. If you are worried about losing your money to an inefficient website builder, Getresponse has got you covered with a free trial offer valid for one month, and available to all new users.
After the trial period, users have four plans to choose from, which includes; the basic plan, plus plans, professional plan and max plan. The distinctive features available on each plan as well as their pricing includes;
>> Start Free 30 Days Trial. No Credit Card Required<<
The Basic Plan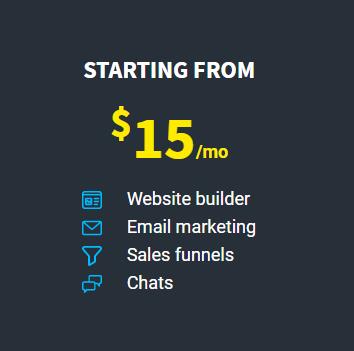 This plan is accessible at $15 per month, enabling users to access all basic tools available on Getresponse.
Users can send emails and create an engaging contact base with a list size of 1,000.
The plan includes features like; Website builder, email marketing, autoresponders, 1 sales funnel, unlimited landing pages, unlimited lead funnels, ads on Facebook and Google, and free chats.
The Plus Plan
This plan is accessible at $48l9 per month, offering users all features available on the Basic plan and other features including; up to 5 workflows for marketing automation, maximum of 100 webinar attendees, 5 Sales funnel, 5 webinar funnels, 3 user access, contact scoring and tagging.
This plan provides users with the features needed to generate leads and grow profits.
The Profesional Plan
This plan is built with features that enable website owners to optimize their results with pro automation and integrations.
It is accessible at $99 per month, providing users with all the tools available on the Plus plan.
Other features include; website push notifications, unlimited marketing automation, paid webinars, unlimited sales funnel, 5 user access, unlimited webinar funnels, on-demand webinars, webinars with a maximum of 300 attendees.
The Max Plan
This plan is designed to fulfil individual requirements and preferences.
It is customizable and flexible, and it includes all features on the Pro plan and other advanced features including; transactional email integration, multiple accounts and users, from 10 to 500, dedicated user support, account migration, webinar attending 500 to 1000, IP support, single sign-on and more.
With Getresponse, users will build highly functional websites that develop their online business and improve productivity.