Disclosure: This post may contain affiliate links, which means if you will make any purchase through our links, we may get some commission at no extra cost to you.
If you are reading this post, you are most likely to run a sports-related website, aren't you? No wonder, in 2019, no business can survive without a strong online presence. Your business niche does not make an exception at all. That is why there are so many WordPress sports themes you can find on the market. Each of them has a bunch of features and promises a stress-free website building.
Moreover, there are lots of pre-designed pages and widgets you can buy separately. There are even some best textures templates to choose from. In a word, you can find everything and anything ready-made now. Looks like there is nothing complicated for a non-techie…
Note: All Themes are Elementor Based
Best WordPress Sports Themes For Professional Websites!
However, how to choose the one and only product? The variety is extra rich. It's easy to get lost when you are a beginner.
Long story short, to select the right theme or template, you should know which features to look for. And that is why I made this post. Below I described the must-have features you need using the example of sports WordPress bestsellers.
Liform – Crossfit Sport WordPress Theme
At the outset, Liform is a fresh WordPress theme which was crafted for sports purposes. It has all the necessary pages, like Gallery, Our Prices, etc. They come as ready-made layouts, which means every page is already pre-designed. There is no need to touch a single line of source code. Just fill the templates with your content, and voila!
However, is you are tired of templates and prefer unique designs, Liform will fit too. It is an Elementor-based theme. Thus, Liform has a new drag & drop page builder, called Elementor. It is code-free, 100% creator-friendly, and provides you with the following features:
500+ ready-made content elements,
trendy web design features,
rocket-fast website building,
live preview,
built-in gallery of customizable pre-sets,
regular updates, and more.
When working with the editor, you can create outstanding layouts in minutes. There will be a built-in gallery full of different ready-to-use UI and UX components. These elements are wholly customizable and have responsive design. Basically, all you have to do to style a new page is to find the web design element or feature you like and drag-and-drop it to the Elementor window.
Among the other features of Liform, you can see:
Google maps,
Quick Contact Form,
Crossbrowser Compatibility,
Search Engines Optimization, etc.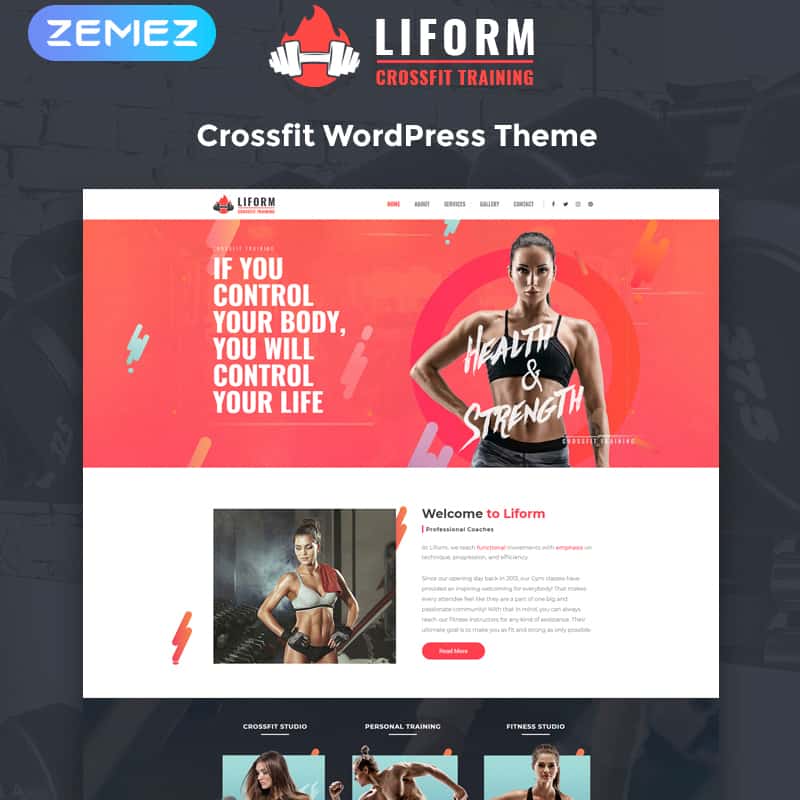 Barbellox – Gym Multipurpose Modern WordPress Theme
To start with, Barbellox has a premium JetElements addon on board. Though today you can find lots of eye-pleasing modules for WordPress, JetElements is definitely the most popular one. The plugin comes with many versatile designs and groundbreaking functionality. Here is what JetElements package contains.
There are high-class functional settings modules. Each and every component is easy-to-customize. With JetElements, you have numerous design options, charming visual effects, trendy backgrounds, eye-friendly fonts, and so on.
In case you are about to run an eCommerce site, JetElements is just what the doctor ordered. It has WooCommerce Elements integration and allows you to run a professional online shop anytime you want. Plus, you get a vast kit of eCommerce oriented components.
Also, JetElements is WPML-compatible, which means you will quickly double your audience. Would you like to enter the global market? Well, with this addon it is so easy!
To say more, JetElements supports RTL. By using the plugin, the website owner can change the text direction and create foreign-language content. Without a doubt, such a smart step will help you to attract a bigger audience.
There are many cool homepage templates and pre-styled blocks inside the pack of JetElements addon.
Plus, you get an easy-to-use Contact Form 7.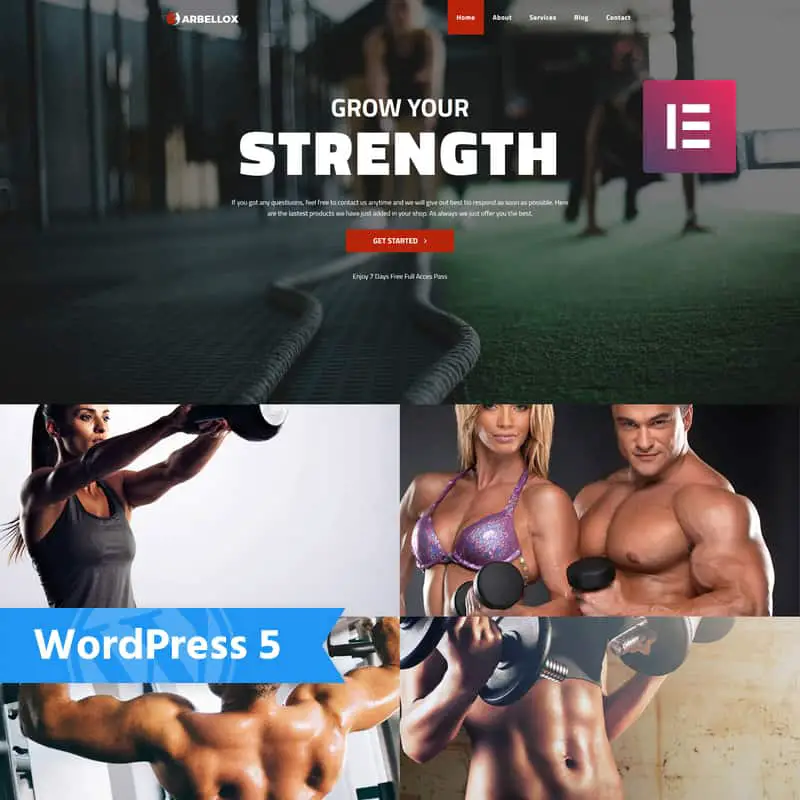 FitPeople – Fitness WordPress Theme
Do you long for an attractive WordPress theme to manage a fitness-related website? Don't miss FitPeople in this case! This is a super handy product users of any skill levels can work with. No special experience or knowledge needed! Now you can finally forget about hiring professional web designers or developers. Website building has never been easier than it is in 2019. With it, you get everything ready-made and pre-featured, and FitPeople is a nice example.
And what can you see in the pack of the theme? Before everything else, FitPeople provides the user with a mobile-first design. This feature would be helpful for any online project but especially for the one for business. Why is that? Simply because you can get the first customers even while the desktop version of the website is not ready. Long story short, mobile-first design starts building your site with its smaller version. It lets prospects discover and visit your online project immediately via mobile devices. Nowadays, half of the global traffic related to small-screened gadgets, so you surely need this feature.
Among the other features of FitPeople, there are:
Responsive design,
JetMenu plugin,
Elementor Page Builder,
WordPress Live Customizer, etc.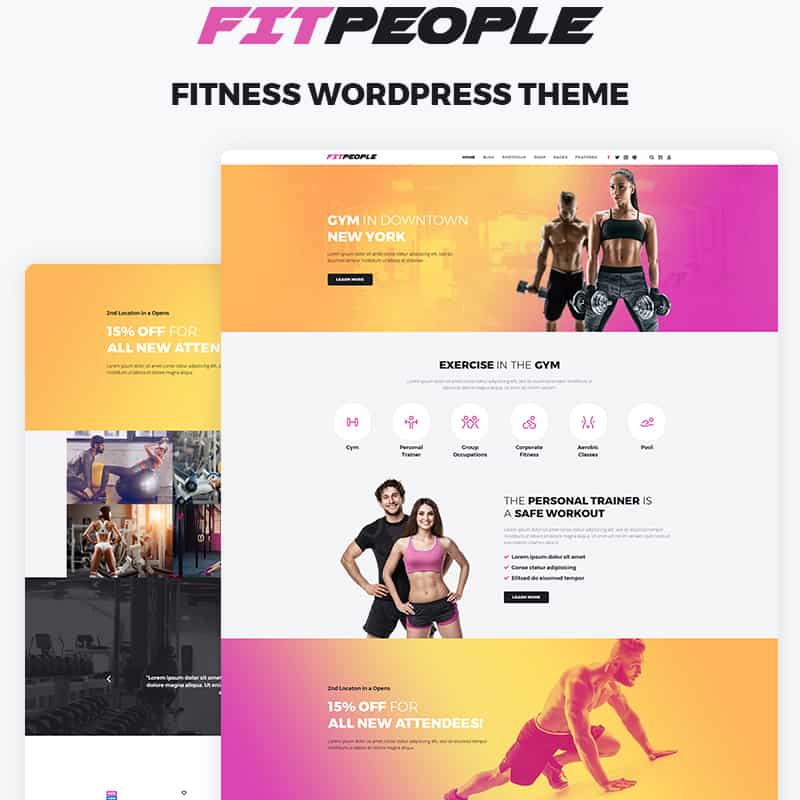 FitSpot – Fitness Studio WordPress Theme
To make a long story short, FitSport is another comfy WordPress theme made for sports business. The theme gives the website owner a complete package of various widgets, including the following:
Icons & Icon Boxes,
Image Boxes,
Testimonials,
Accordions,
Progress Bars,
Counters,
Tabs & Toggles,
Buttons, etc.
In a word, FitSport has all the needed features to showcase your business without coding. There is a sortable Image Gallery to introduce your deal in all its beauty. It allows you to sort site content on categories and subcategories. It improves website navigation and makes it more visitor-friendly. As a result, the visitors of your fitness website will rapidly find the needed page. In addition, there are beautiful Image Carousels to use for the things you want to highlight.
All in all, comfort always comes first. You can run the most unusual website, but people still won't visit it in case your site is not comfortable. Today's prospects got used to comfort, which means you should take care of it to have a popular business site. Whet it comes to FitSport, the theme provides you with a super-responsive design. Thanks to the feature, prospects will be able to enter the site via any device. No matter which screen size a customer has in hands, FitSport will ideally fit it.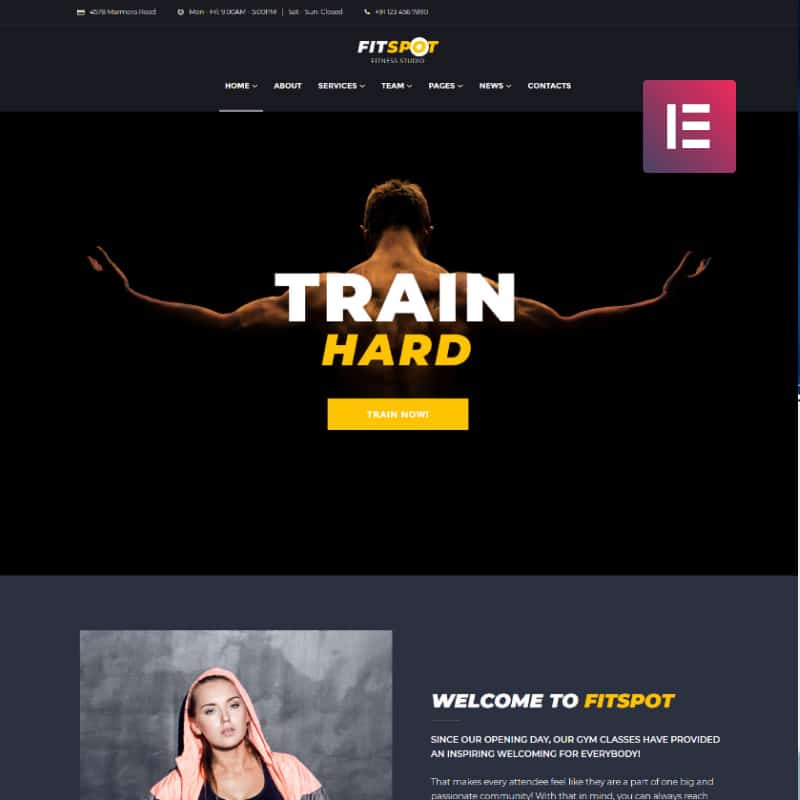 Cross Zone – Crossfit Studio WordPress Theme
Here is the next sports WordPress theme that is certainly worthy of your time. To begin with, Cross Zone comes with ready-to-use pages for any occasions. By purchasing this crossfit studio theme, you get elegant pages with ready-made designs, like:
Homepage,
About Us,
Our Services,
Our Gallery,
Contact Us, etc.
Being extremely simple in use, Cross Zone has one-click installation. Although this process is as easy as pie, there's a step-by-step guide and interactive tutorials for you. All in all, it is a vital feature for any website owner and especially for non-techies. When it comes to Cross Zone, technical support is free and lifetime. You can contact them anytime you need help or have a question.
As expected, Cross Zone comes with many outstanding plugins. One of them is JetTabs. This popular WP asset lets users craft tabs and accordions in Elementor Page Builder. To put it briefly, you will always have different stylish accordions and tabs widgets within reach. By using JetTabs, you can:
organize website content with top-notch tans,
create an amazing website design,
work with numerous ready-to-use widgets,
style your unique accordions, and so much more!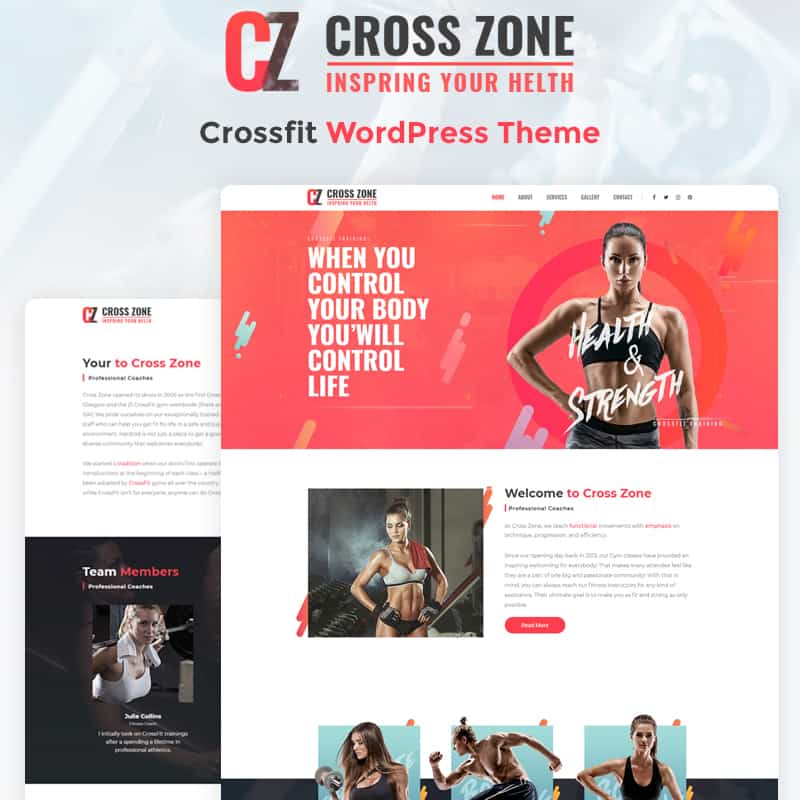 Cross Arena – Crossfit Studio WordPress Theme
When building a business website, you should pay very special attention to its menu. Firstly, this is the first thing a would-be-customer will see when they come to your website. Secondly, the whole navigation of your online project will be based on its menu. Your main task is to let a visitor find exactly what they are looking for. It should happen as soon as possible because people hate waiting. Thirdly, the properly created menu improves your SEO. As you can see, there is no way to avoid this step but do not panic. You won't need any experience for it.
With the help of Cross Arena, you can craft a perfect menu in a matter of minutes. The theme comes with a progressive MegaMenu plugin. By using the addon, you can:
sort content into categories and subcategories,
create the menus of any complicity,
keep the web design clean,
add as many menu sections as you need,
create customer-friendly site navigation,
add media and other visuals to the design of your menu.
Editing the design of your menu won't be a big deal as well. Besides, the plugin has regular updates that will be installed automatically.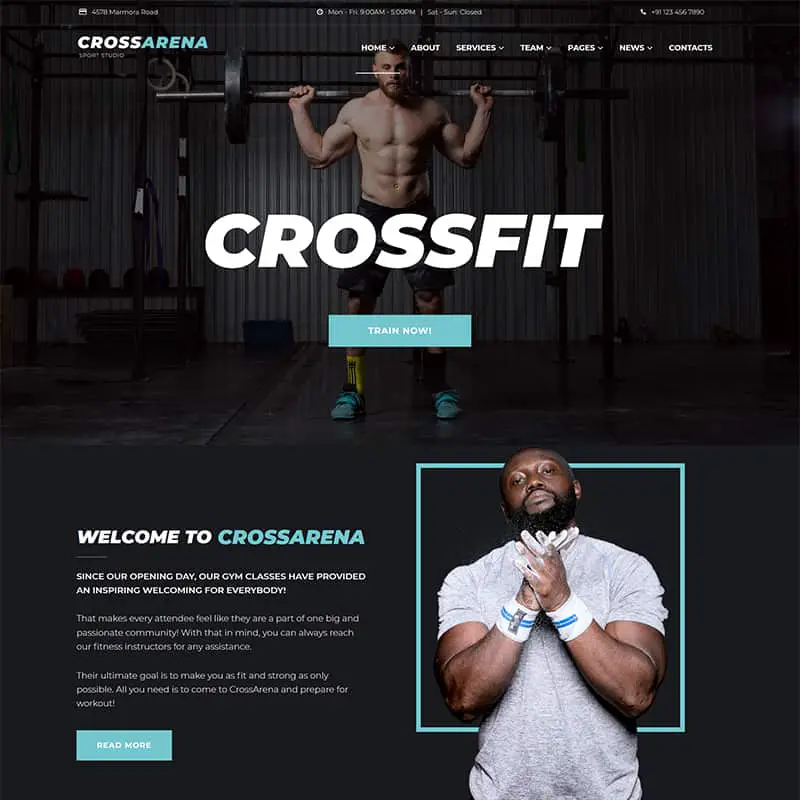 IronMass – Gym Fitness Responsive Website Template
I already said that comfort is a key factor which influences the success of any business website. Do you want your future sports site to be popular? In case you do, let's take a closer look at IronMass. The insights of this gym and fitness template would make the life of any website owner easier, and here is why.
On the first hand, IronMass offers you to use a quick Appointment Manager. The plugin will save you time and further the working process. It lets customers book an appointment online. Thanks to the Appointment Manager plugin, people will be able to do it directly on the website. What is more, with its help, you can create a detailed schedule at the drop of a hat. Here is how you can become more productive and improve website navigation at the same time.
On the other hand, there is an intuitive Timetable plugin in the pack of IronMass. By using the feature, the website owner can create online scheduled for various events. Both single and multiple. It is easy to customize the style of each event. You can display the needed elements in a carefully created timetable without overloading website design.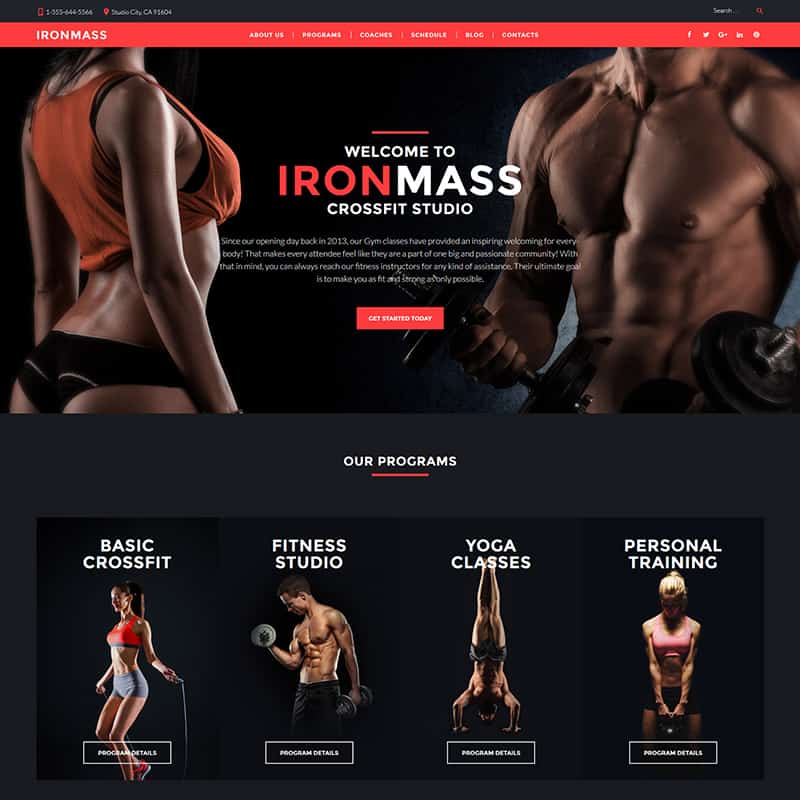 Musclex – Fitness Multipurpose WordPress Theme
First things first, Musclex is a multipurpose WP theme. It means that you can use this Elementor product to run various websites related to sports and not only. Like the previous WordPress themes, Musclex has everything and anything ready-made for you. It also contains powerful drag & drop content builder which provides a real WYSIWYG site-building experience. And what are the other features Musclex has in its package?
Before all else, you should know that this fitness WordPress theme is absolutely SEO-friendly. This point is another must-have for all online projects. You should never forget about SEO if you want to get an audience. To make a long story short, Search Engines Optimization is a smart and complicated mechanism. It works with Google and other search engines. When your site is SEO-friendly, searchers will quickly notice it among other online projects. After your business website is analyzed, it gets a good rating and higher search results. So, if you want to get successful, you do need your site to be SEO-ready.
Among the other features of Musclex, you can see the following ones:
Blog layouts,
Ecwid-ready design for eCommerce,
Alternative Module layouts,
Sidebar Manager,
Live Search that shows the results when a visitor is typing the request,
Visual Editor, and more.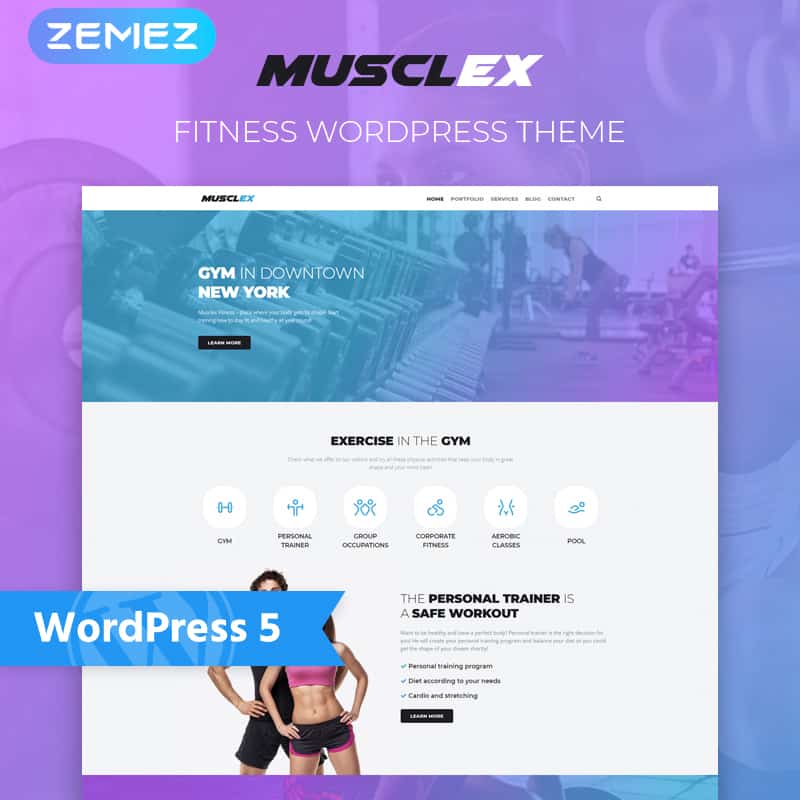 ChampionNews – Sports News WordPress Theme
Are you looking for a quick and affordable way to make a website dedicated to sports news? Just check out the details of ChampionNews because this WordPress theme is your must-see. Its pack contains a lot of helpful staff including such premium Jet family plugins, as:
JetElements,
JetBlocks,
JetBlog,
JetTabs,
JetThemeCore, etc.
You are already familiar with some of these plugins, so let me tell you about other addons. Why do you need JetBlocks? Shortly, it is an Elementor-oriented plugin which is very easy in use. JetBlocks was made to help site creators to customize their projects. With the help of this addon, users are able to design inimitable styles effortlessly. As always, no coding required.
Here is what you can see among the features of JetBlocks:
hamburger panel,
login form,
auth links,
website logo,
registration form,
nav menu, and much more!
Why do you need JetBlog plugin? As its name says, the addon will help you set up a powerful and attention-grabbing blog. You may be surprised, but, in 2019, blogs are still popular. They help to keep the audience engaged. Here are some of the styles you will get in the JetBlog pack:
Smart List,
Smart Tiles,
Smart Video,
and Smart Ticker.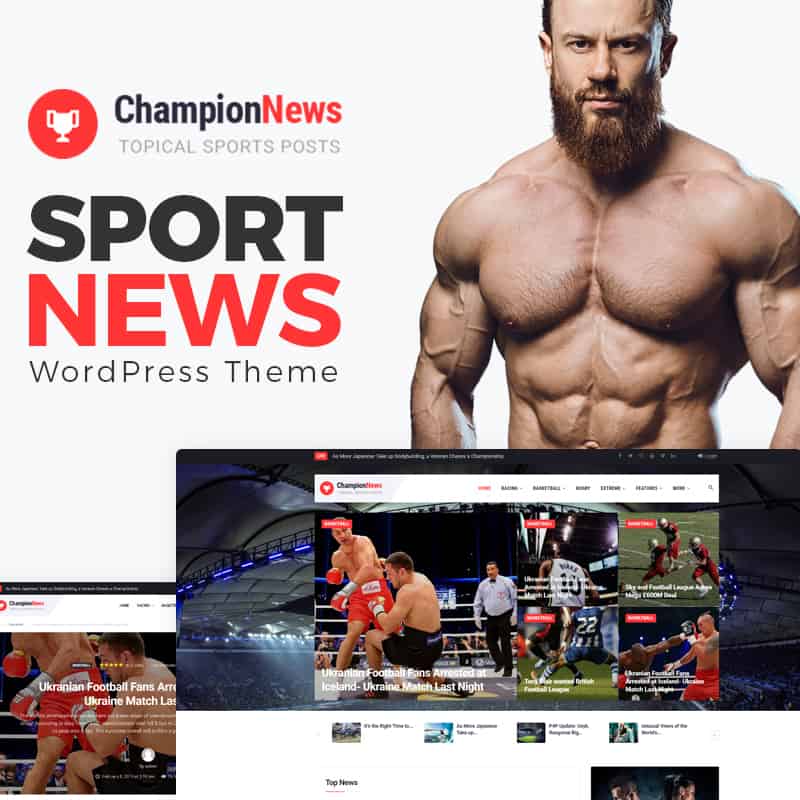 ShapeForce – Sport Studio WordPress Theme
Last but not least, here comes a feature-rich sports studio WP theme, called ShapeForce. With its help, you can design a professional sports website in hours. The pack of the theme provides you with numerous ready-made elements, including:
4 header styles,
2 different footers,
3 blog layouts,
Events plugin,
WPML-ready design,
TM Timeline plugin, etc.
Also, you can find some cool Cherry plugins in the package of ShapeForce theme. You have Cherry Projects to introduce the projects you work on in all their glory. There is Cherry Popups plugin to create various popups and keep the audience active. With its help, you can notify people about upcoming events, like sales, special offers, or new arrivals.
In addition, ShapeForce comes with Cherry Socialize plugin, and it is the next must-have for you. Honestly speaking, do you realize how huge is the influence social media has on modern prospects? To make your sports website a go-to place, you should integrate it with all popular social media platforms. Let people enter your website via their SM accounts. It will make your online project even more visitor-friendly. Plus, that is how you can get more social traffic. And any beginner knows that social traffic is the best traffic, so what are you waiting for?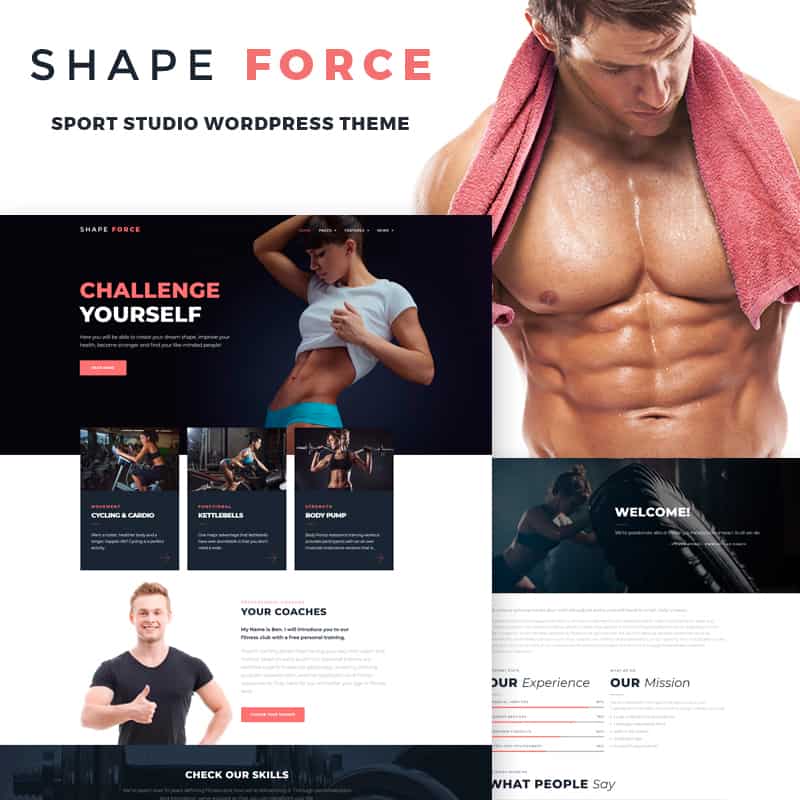 Final Thoughts
Well, these were all the best-selling sport WordPress themes I wanted to show you in this post. Needless to say, there are many more products to look for. You don't have to use exactly the named themes and templates to run an ace site for business. However, I named many must-have features you do need. There is no website that can stay afloat without having these functions and web design elements. So, the list of your necessary options includes:
Responsive design,
Readable typography,
MegaMenu plugin,
Crossbrowser compatibility,
Elementor or any other proven visual content builder,
Popups plugin,
Newsletter plugin,
Social Integration,
Search Engines Optimization,
Comfy navigation,
Quick Contact Form,
Appointment Manager,
Gallery,
Live Customizer,
Blog, etc.
To finish with, remember that no matter how attractive your website is, it should work perfectly. Your business site needs a rocket-fast loading speed to attract an audience. It also should be available via any device and browser. Let's make your customers forget about the limits or time or place!