A spike in demand for content online is occurring daily. Consequently, the popularity of podcasts has also seen a steady rise.
Plenty of free time is in our hands now. The question is, what to do with it? Why not listen to, or better yet, create some Podcasts? Since we believe that you have some creative juices flowing in you, putting up a podcast is well worth a try.
Online content provides us with options to listen, read, or both (videos). Podcasts are not only informative but entertaining as well. Think of it this way, would you opt to read an article of over 50,000 words or listen to the same article packaged in a set of engaging narrative audios.
Right now, your mind is awash with questions. How to launch a podcast, how to maintain a podcast, elements of a successful podcast, and much more. You have done the recordings, and uploading audios online is a no brainer. Like all great websites, a great podcast needs proper podcast hosting.
Which podcast hosting is best for you?
What follows this question, more often than not, is hours and hours of searching along with erupting volcano moments of frustration. Take a breath of relief as we give your podcast a shot in the arm. Since we always have you in mind, we are sharing this precious podcast related information. Here are the 10 best podcast hosting options available for you.
The compiling of this list of best podcast hosting options puts into consideration aspects such as reliability, costing, tech support, ease of use, app integration, monetization, and upload capacity, and more.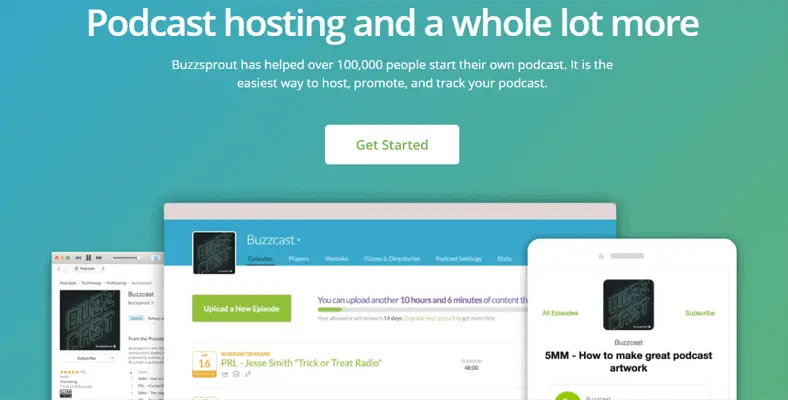 Buzzsprout is a podcast hosting industry name that has been delivering on its promises since 2009. If you are looking for hosting that is not only fair in price but also affordable, then Buzzsprout is the real deal. Access and enjoy intuitive features like the transcription of your podcast episodes, podcast web pages you can easily customize, and also podcast stats to help with maximizing the growth of your podcast.
Buzzsprout wins plenty of points for its free option. Despite this free option's limits in hosting days and storage space, it allows for one to try out the hosting before jumping into the paid packages. The free package, however, won't get you far when serious podcasting is in the offing. The paid options offered here are the way to go. These paid plans guarantee you unlimited storage space and endless hosting of your files. Podcast hosting plans range from $12 to $24 per month with extra content uploaded at a cost per hour, depending on the hosting plan chosen.
What can you expect from Buzzsprout?
1. A lot of Features
With Buzzsprout, you can create a podcast website that seamlessly integrates with your audio feeds and links to all your social media platforms.
If you already have a website, you can embed the Wave podcast player. Wave is customizable to suit your preferences for either single episodes or multi-episode feeds.
Easily access information at a click, adjust the playback speed, and share podcasts straight from the Wave player.
2. Simple and straightforward podcast statistics
Buzzsprout presents its statistics in a manner that ensures you process and understand everything at first glance. The statistics pages are well laid out, uncluttered, and easy on the eye.
3. Buzzsprout Podcast transcription
This is another great feature available to you. The transcription service costs $0.10 per minute, a price that is well worth it considering it is an in-house transcription of your podcasts. The transcription process is hassle-free, edits, and revisions are seamless. What's more, you can go a step further in copy or pasting transcriptions into other websites while also publishing to your custom Buzzsprout page.
Buzzsprout Pros
Easy to use
Fair pricing (free to start and try)
Customer support
Website player
Buzzsprout Cons
Advanced features like dynamic ad insertion
Advanced analytics
Buzzsprout Pricing
$12/month plan for 3 hours of uploaded audio per month. Extra content uploaded at $4 per hour.
$18/month plan with 6 hours of uploaded audio per month. Extra content uploaded at $3 per hour.
$24/month plan with 12 hours of uploaded audio per month. Extra content uploaded at $2 per hour.
Worth noting and remembering is the free plan. Any uploaded content gets taken down after 90 days. Regardless of this, you can work around this using this free option for as long as you want. Work with it as you would and extended trial or as a full-featured podcast hosting with a 90- day limit on episodes.
Buzzsprout also has add-ons on offer on as need basis:
192k Stereo Optimization for $6/month
Episode Transcription for $.10/minute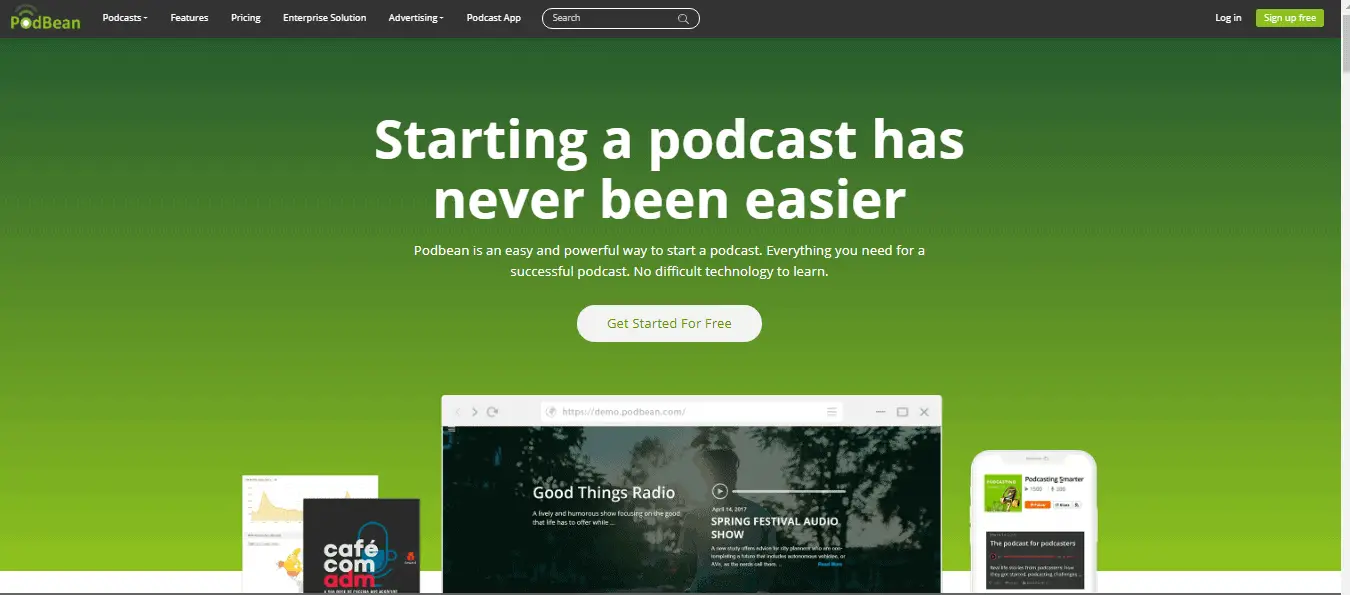 PodBean has been around for quite some time garnering an impressive podcast hosting record. It is the go-to podcast hosting for new podcasts/shows, upcoming podcasts. PodBean has an attractive set of pricing plans that range from a free 1 month (Podcast starter) trial to a $99 per month (Business) plan. Take nothing away from these plans, each one is worth its offerings. The free "Podcast Starter" offering 100GB bandwidth and 5-hour audio cap provides a good starting point for new risk-free podcasts.
PodBean is easy to work with, allowing for automated social media sharing and scheduled podcast publishing. PodBean has a cohesive list of hosted podcasts/shows ranging from technology, sports, fiction, religion, and health. This categorization of podcasts allows the immense PodBean listener and user base to access your podcast/show with ease on its website and app. The podcast figures at PodBean are jawdropping, 7.1 billion downloads, over 10 million episodes, and over 390,000 podcasters. Wow! PodBean is definitely where you want your podcast to be.
What can you expect from PodBean?
1. Detailed analytics
As a Podcaster, you need to know which of your shows are popular and what your listener retention is. PodBean provides you with these metrics and analytics. A detailed breakdown of listener engagement, downloads by the hour, and listener location statistics are available with the paid plans. This is ideal for growing your podcast/show. The free plan, however, will only give you basic stats.
2. User-engagement metrics
This optional add-on sets PodBean apart in podcast hosting. It lets you understand your audience better. Knowing if the listener is completing your episodes or ending their listening prematurely is key to your podcast's success. These metrics bring to light the impact of having ads at the start or midway of an episode. User engagement metrics are critical in gauging and understanding the overall behavior of your listeners.
3. Customizable podcast site
As you build your podcast, developing an online presence is essential. PodBean features a customizable site builder for your podcast. The process of putting up your podcast site is quick and easy. Your listeners will enjoy going through your podcast archives, reading the written content that supplements your podcast episodes while also getting to know you better as the podcast host.
Everything about PodBean's website, PodBean app, and the customizable websites is simplistic and neat in layout. Customization of podcast sites is available on all plans. Paid plans, however, offer in-depth customizations, themes, and domain mapping.
4. Business options and integrated monetization
Eventual monetization of a podcast often hangs at the back of the mind of many a podcaster, you included. At PodBean, monetization features are available for your podcast. A notable feature to start with is the Podcast Advertising Marketplace. This allows advertisers to discover which of your shows are an ideal fit for their ads. Once the ads come in, the Dynamic Ad Insertion feature of PodBean takes charge. This feature supports targeted advertising by utilizing specific demographics from your listeners. The Dynamic Ad Insertion feature also generates stats that you can share with your podcast sponsors.
Available to you is paid content protection via paywall protection. Only paid listeners can access this content. This feature named "Patron" allows you, the content creator, to link up with listeners directly and provide them with the premium content as well. The "Patron" feature doesn't use any third party, it keeps hosting, communication, and all funds in-house.
PodBean Pros
Adding your episodes to podcast apps like iTunes or Google Play is not complicated. This is beneficial to your listeners with Android devices
Setup is straight forward, even for a beginner. This means you can get started quickly
Even the free hosting plan lets you create an attractive site for your podcast
PodBean Cons
Limited security features
No uptime guarantee
PodBeans Pricing
Basic Plan: Free of charge, Podcast starter. 5 Hours of total storage space, 100GB Monthly bandwidth cap. Basic podcast stats and free themes.
Unlimited Audio Plan: $9/month, unlimited audio podcasting. Professional themes and advanced design customization. Partial monetization features.
Unlimited Plus Plan: $29/month, ideal for video podcasts and podcast monetization. Professional themes and full design customization. Full monetization features.
Business Plan: $99/month, best suited for podcast networks and business podcasts. Professional themes and full design customization. Full monetization features and Business podcasting.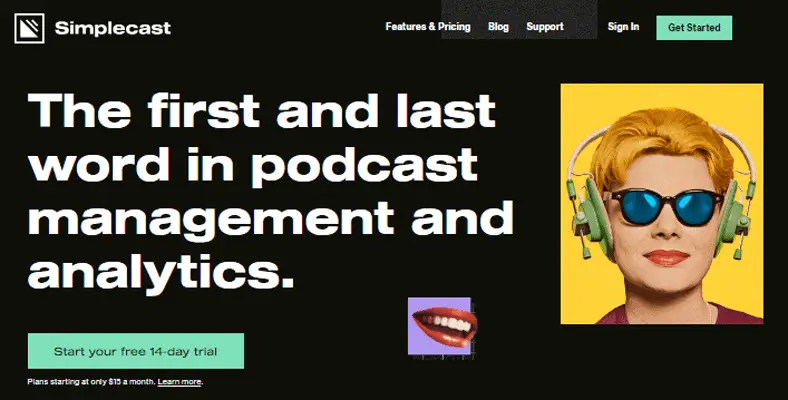 Simplecast is an advanced podcast hosting platform with modern and advanced built-in features. It has a well crafted one-click distribution feature that is well suited for both newbies and seasoned podcasters. Simplecast does have plenty going for it, but what sets it apart is the Recast advanced analytics, embed player, and access levels for podcast team members. Simplecast stands as the ideal option for publishing your podcast to wherever your audience is.
Over the years, podcasters continue to vouch for Simplecast. The diversity in podcasts and shows indicates the fact that Simplecast lives and breathes for the podcaster regardless of shape or size.
What can you expect from PodBean?
1. Episode Publishing
Simplecast takes things a notch higher when you are publishing your episode. You will notice that it shows the title of the last episode published and the episode number. This feature makes the podcast publishing process smoother and faster. Having this feature shows you how forward-thinking the guys at Simplecast are.
2. Episode scheduling
Simplecast has a scheduling feature that enables you to set when your podcast episodes go live. You can narrow down the schedule to any date and time of your choice.
3. Simplecast Embed Player
Head on to the individual episode details page to locate the Simplecast embed player. This Simplecast player is available in standard, mini-player, and show player. There are additional customization options available, such as dark and light themes, player layout, and color to match your preferred color scheme. You will only need to embed the player once.
4. Analytics
Simplecast has a unique set of analytics that deliver an unparalleled podcast hosting experience. The analytics found in Simplecast is worth the investment for your podcast. The screenshots below give a valuable preview.
Simplecast Pros
Unique analytics
Unlimited storage
Access levels and Multiple users
Embed players & Recast™
Simplecast Cons
Only higher-priced plans allow access to additional features
The dashboard's interface at first glance can be a bit confusing
Simplecast Pricing
Basic Plan: $15 per month, including everything needed to start a Podcast. 2 team member seats, unlimited storage, and uploads. A customizable performance website with a custom domain.
Essential Plan: $35/month, added essential tools for your growing podcast. 4 team member seats plus additional web players (Mini & Show) topped with various analytics for comparison.
Growth Plan: $85/month, added collaboration tools, and deeper insights. 9 team member seats. Capacity to compare metrics across 5 episodes, location analytics, and detailed device analytics. Web Player Embed Location analytics.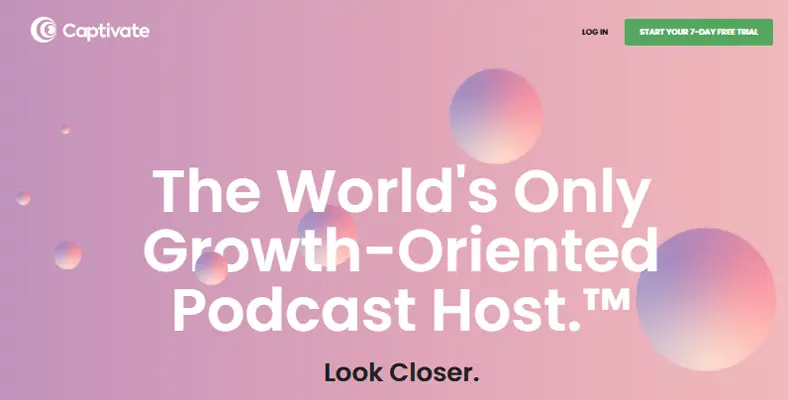 Captivate launched in 2019, hit the ground running, and has gone on to become one of the top podcast hosting options available to date. The team at work behind the scene has many years of experience in podcasting and knows what they are doing. Having Captivate as a podcast host is the only way to ensure the development of your podcast as their main focus is to steer podcasts towards growth and success.
An obvious feature of Captivate hosting is its continuous development as a hosting platform. Each day, the team at Captivate looks into the improvement and upgrading of podcast monitoring intelligence and analytics.
What can you expect from Captivate?
1. New Show
The "New Show" function guides you through a total of 8 steps to ensure that the necessary information is captured when setting up your podcast/show. This process is there to ensure that your podcast integrates seamlessly with directories such as Spotify and Apple. The whole New Show process feels like a guided walkthrough, inclusive of helpful tips to make sure you don't make any false steps. Skipping some steps is allowed, and you can choose to complete them later.
2. Analytics
On the Captive hosting platform, you can use IAB-compliant download statistics. These come in a variety of graphs and views. You will see location information, downloads over time, app and device statistics, and more. In addition to this is a neat display of average downloads for several periods giving you a snap overview of how your podcast/show is performing.
3. Distribution
As we mentioned earlier, Captivate is designed to ensure the success of your podcast/show. Captivate's distribution feature ensures your podcast gets into all the topmost directories.
4. Website
Captive hosting features the Captivate Sync, a WordPress plugin that automates the publishing of episodes to your WordPress website. Besides, you can easily publish plots from the WordPress dashboard, which will be synced to the Captivate dashboard.
In case you lack a website, no worries, Captive hosting includes a well laid out mobile-friendly website for every podcast. On top of this are automatic color selection modes, the capability to add Facebook pixels, and Google Analytics.
5. Marketing
This outstanding Captive feature delivers a Single Subscription Link shareable with buttons to help your listeners subscribe via their favorite apps. This marketing feature is unique to Captive.
6. Sponsor Kit
This new feature in Captive Hosting creates a PDF of your download stats, social media, latest episodes, and contact info. All you have to do is just key in your audience avatar and Captive does the rest. This feature comes in handy when you need to share your podcast stats with potential sponsors.
7. Team
Captive hosting allows you an unlimited number of team members plus multiple team options where the need arises. The process of adding team members is easy. Simply enter a name and corresponding email address, Captive will then send activation instructions to your team member via email.
Once team members are created, you can add one or several members to a podcast. Access levels allow for limited or full rights to either edit or change podcast settings depending on member roles.
Captivate Pros
Marketing tools
Host multiple podcasts for one price
Excellent embed player
Unlimited audio storage
Multiple publishing workflows
Captivate Cons
Individual episode analytics
Captivate Pricing
Podcaster Plan: $19/month with 12,000 downloads per month
Audio Influencer Plan: $49/month with 60,000 downloads per month
Podcast Brand Plan: $99/month with 150,000 downloads per month
Each plan allows you to host unlimited podcasts with access to all features. Captive gives you access to core features regardless of your price plan.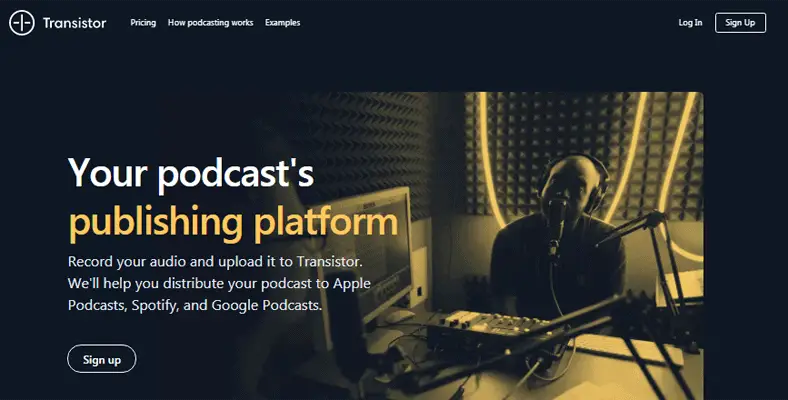 Transistor is another established and complete podcast hosting tool. The Transistor podcast hosting and publishing platform allows you to host your podcast website, store Mp3 files, distribute your show on Apple podcast, Spotify amongst others, and generate RSS feeds.
With one Transistor account, you can create and manage multiple shows without breaking a sweat.
You can create unlimited podcasts on a monthly rate just as long as you stay below the set download limit.
What can you expect from Transistor?
1. Publish Podcast Everywhere
Your podcast can reside everywhere as Transistor allows the distribution of your podcast to Pocket Cast, Podcast Addict, Apple Podcast, Google podcast, and more. Take things a notch higher by embedding your podcast to websites utilizing the embeddable podcast player.
2. Podcast Analytics
While hosting your podcast/show on Transistor, you have access to analytics that detail trends, number of subscribers, popular podcast apps, and the number of downloads. Transistor is the go-to host for thousands of brands, creative and organizations all over the world.
3. Create Private Podcast for Members
Transitor has a private podcast access feature through which only your podcast team or select members can listen through their podcast apps.
4. Import your Show off other hosting sites
Another cool feature on Transistor enables you to import your show off another podcast by keying in the current RSS feed. With ease and minimal effort, import your old shows/podcasts from another website including Soundcloud, PodBean, SimpleCast, Libsyn, and Blubrry.
Transistor Pros
Capacity to host unlimited shows. Your various streams of content are accessible in one place.
Add and manage team members through the platform.
Incredible analysis, detailed, and accessible statistics page.
Transfer your episodes to a new host without a hitch.
Plenty of flexibility with how your podcast can be listened to.
Transistor Cons
It's quite expensive, the more downloads, the more you pay.
Not ideal for hobbyists.
Relatively new. It doesn't have the established reputation of some of its larger, older competitors.
Transistor Pricing
Starter Plan: $19 /mo
Professional Plan: $49 /mo
Business Plan: $99 /mo
Libsyn is a podcast hosting name that holds veteran status having been around since 2004. Ask any Libsyn user, and they will tell you, a hosting provider with years of experience is worth having. Libsyn hosting takes pride in getting your podcasts available to listeners everywhere. The people at Libsyn also pride themselves on having the tools and tweaks for the best podcast hosting experience. On top of all this, is the great customer support that they promise won't disappoint.
What can you expect from Libsyn?
1. Custom Mobile Apps
With Libsyn, you get access to customized Android and iOS apps tailored to your brand. These provide a distinct opportunity to grow your podcasts or brands as you invest in your show.
2. Libsyn Directory Listing
A directory listing on Libsyn is a feature that allows your content to get discovered by a multitude of listeners who access the Libsyn directory.​
3. Content Monetization
There is always an opportunity to earn from your podcasts/shows. Libsyn allows you access to their monetization tools to either opt-in on advertising or set a fee for access to your content. Everything related to your brand is in your hands on Libsyn.
4. Libsyn Player
Highly-customizable, mobile-friendly, and easy to use are the characteristics that quickly define the Libsyn player. This is a player that enhances the listening experience on your podcast/show.
Libsyn Pros
They are an industry expert in the podcast hosting space.
Ranks well amongst podcast hosting options to consider.
Pricing can be considered reasonable.
Libsyn Cons
Not easy to use. There is a bit of learning required to get the hang of things.
No free options. Sign up is required to access the Libsyn services.
Libsyn Pricing
Classic 50 Plan: 50MB monthly storage at $5
Classic 250 Plan: 250MB monthly storage at $15
Advanced 400 Plan: 400MB monthly storage at $20
Advanced 800 Plan: 800MB monthly storage at $40
Advanced 1500 Plan: 1500MB monthly storage at $75
Advanced 3000 Plan: 3000MB monthly storage at $150
Blubrry has been a top-level podcast hosting platform game-changer ever since it rocked the scene in 2005. Blubrry has continued to drive podcasters wild with its digital media interface tag as it expertly caters to media creators, media consumers, and advertisers. Since its inception, podcasters have flocked to Blubbry in droves seeking the payload of features on offer.
So why is Blubrry so popular?
Blubrry has won accolades courtesy of its WordPress plugin, PowerPress. This nifty plugin allows podcasters to upload their podcasts directly from the WordPress dashboard. This process doesn't require any logging into the Blubbry platform, how convenient!
What can you expect from Blubrry?
1. Powerpress Plugin
This WordPress plugin continues to be crucial to the process of swift sharing of podcasts to WordPress powered websites. The Powerpress plugin also integrates well with multiple RSS feeds, thereby enhancing the process of podcast streaming via WordPress.
2. Unlimited bandwidth
Podcasters often worry about the occurrence of traffic issues when considering a hosting option. Blubrry stands by its word in being the host that cares for you, letting you worry about creating content. You will be pleased to find that all Blubbry hosting plans come with unlimited bandwidth. You can now focus more on your content creation as Blubrry has you covered.
3. State-of-the-art analytics
Blubrry presents its analytics in a simple, clean, and digestible layout. The analytics contain detailed information in the form of charts and graphs that present data related to episodes, dates, downloads, client distribution, and more.
Blubrry Pros
Seamless integration through Powerpress, well suited to WordPress users
Free 25% overage of your service plan
Unlimited bandwidth on all payment plans
Detailed analytics (Certified by IAB)
Above par customer support
Free media migration
Blubrry Cons
The Interface is not beginners friendly
Lacks a free plan
Pricing options are much towards the expensive end
Blubrry Pricing
Small Plan: $12/month for 100MB
Medium Plan: $20/month for 250MB
Large Plan: $40/month for 500MB
Extra Large Plan: $80/month for 1,000MB (1GB)
Professional: Unlimited Storage

SoundCloud has been a force in web-based audio/music sharing for quite some time. SoundCloud also offers podcast hosting on top of being an audio sharing platform. As a podcast host, SoundCloud offers features and storage based on pricing plans similar to its music uploading service. In case you are subscribed as SoundCloud user, you won't need a second subscription to access podcast hosting.
SoundCloud boasts of attracting millions of site visits coupled with an immense content upload of 12 content hours per minute.
What can you expect from SoundCloud?
1. Embedding
SoundCloud stands out with its player embedding feature. The player can be embedded anywhere that seems suitable for you. You don't need any coding knowledge to make it work on your site. The player lets you play either complete podcasts or single episodes, all at your convenience.
2. Ease of use
The SoundCloud podcast hosting user interface is easy to work with and navigate. Listeners and podcast authors alike find it easy to use and understand.
3. Price
The pricing on SoundCloud hosting matches the storage space offered. This means that the pricing is quite fair and reasonable, and the unlimited plan offered won't dent your wallet that much.
SoundCloud Pros
Users and listeners interact with content by sharing, liking, or even loving what they consider great content. This works well for community-centered podcasts/shows.
Podcasters on SoundCloud can comfortably create and upload content, knowing that listeners won't experience any challenges in downloading episodes. The SoundCloud app solves the many problems listeners face when trying to access podcast content from other hosting platforms.
SoundCloud Cons
Uploads based on Time and not File Size
SoundCloud sets a limit to your podcasts based on the number of hours instead of the size of audio files uploaded. This isn't the norm and limits podcasters who end up becoming concerned with hours instead of content.
SoundCloud Pricing
SoundCloud Basic: Free to upload 3 hours of any audio type.
SoundCloud Pro Unlimited: €8.25/month for unlimited upload time of any audio type.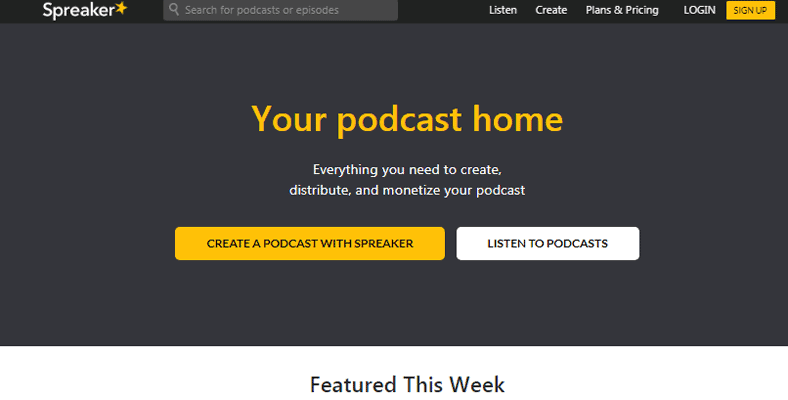 Spreaker makes the list as an alternative podcast hosting platform that offers podcasters the stage and mechanism to reach new audiences while also exploring the field of podcasting. On the go, Spreaker is a podcast hosting and podcast listening platform. The aim of this all in one aspect is to attract the cream of podcasters and listeners.
Spreaker has a unique chat feature that allows listeners and users to chat while streaming a podcast/show.
What can you expect from Spreaker?
Access to basic analytics. These take you a step closer in your quest to understand your audience better.
Mobile apps and software are available to podcasters and listeners on the platform.
The ability to explore listeners.
Free plans are available.
Chatting support during streams
Supports distribution platforms
Spreaker Pros
Reasonable pricing.
The free plan comes with several advanced features
A category leader in Best Podcast Hosting
Spreaker Cons
Only offers support via emails
Its features don't match up to other podcast hosting solutions in the market.
Spreaker Pricing
Free Speech Plan: $0 for multiple podcasts hosting.
On-Air Talent Plan: $6 per month for multiple podcasts hosting, customizable RSS feeds, programmatic monetization.
Broadcaster Plan: $18 per month for multiple podcasts hosting, customizable RSS feeds, programmatic monetization, limited access podcasts, advanced statistics.
Anchorman Plan: $45 per month for multiple podcasts hosting, customizable RSS feeds, programmatic monetization, limited access podcasts, full statistics, customizable player colors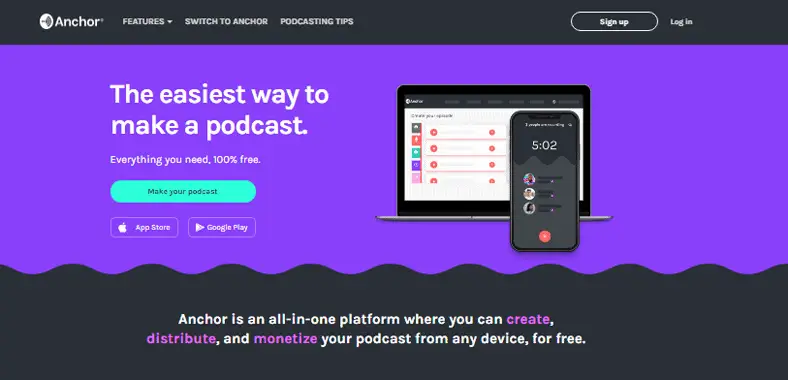 Anchor is part of the next generation podcast hosting platform, with a design to be a one-stop podcast. In Anchor, you have all the tools and features at your disposal. You can host, record, and edit your podcast via the web at Anchor.fm or the free smartphone app. This represents convenience at a whole new level.
Anchor offers free and unlimited hosting with no limits on the size of files you can upload.
What can you expect from Anchor?
Anchor provides you with stats related to downloads, the platforms to where your podcast gets distributed, and listener demographics.
Anchor Money. This feature allows you to monetize your podcast through listener support and sponsorship with little effort on your part.
Anchor distributes your podcast to major platforms like Google Podcasts, Apple Podcast, and Spotify just at the click of a button.
Record your podcast from anywhere.
Anchor Pros
Free hosting.
Mobile app for quick recording and publishing.
Anchor Cons
You have no control over the platform. Get ready for limited control over your RSS feeds
Anchor appends Ads onto your episodes without prior notice or authorization from you.
Lacks industry-standard publishing tools
Anchor Pricing
Anchor claims to be free to use for podcasters though their website states that they take a "small cut" for helping podcasters monetize their shows.
What is Podcast Hosting?
Podcast hosting is the process involved in the housing of audio files, and the management of podcasts/shows via an online server. When it comes to Podcast hosting, in most instances there is always a price tag. This pricing ranges from about $15 to $99 charged every month, although there are free options available, albeit with limited functionalities.
Podcast hosting allows podcasters and listeners to create and upload shows, listen, and download shows respectively. As a means of distribution, podcast hosting allows listeners and podcasters to link up and exchange relevant audio content.
As a podcaster, podcast hosting will get your audio files housed and accessible online. Moreover, for enhanced listener reach and engagement, RSS feeds are provided for referencing by podcast distributors such as Spotify, Apple Podcasts, Google Podcasts, TuneIn, and Stitcher.
How to Start a Podcast?
A podcast is in simple terms, an audio blog. Podcasts are made up of episodes that are similar to blog posts and cover a variety of topics. Over the years, the popularity of podcasts has continued to increase. Populations are becoming more and more of listeners.
Podcasting is heading in the right direction, and further growth in this industry is yet to come. If you wish to delve into podcasting, now is a great time to start.
What follows is here is a guide on how you can get a podcast up and running, from planning, launching to publishing.
Planning your Podcast
Here you will be answering some questions whose answers are crucial to how far you will go with your podcast.
What's the purpose of your podcast?
Who is your Podcast targeted at?
What reason does your audience have to listen to you?
What will the naming of your podcast be?
Planning your Podcast Episodes
You have already decided what you will be churning out as content, now you have to think about the episodes.
How Long will your podcast episodes be?
How frequently will new episodes be released?
Choose suitable and interesting episode titles.
Recording your Podcast
The groundwork is done, you have planned everything about your show, now comes the recording of your first episode.
Acquire suitable recording equipment.
Acquire suitable recording and editing software.
Compile scripting for your show.
Train yourself on how to talk into a Mic.
Look into having remote guests or co-hosts.
Editing Your Podcast
Now you are ready to go into the production process. Here you will make edits to any errors in recording, merge and stitch different audio clips, plug in some sound effects or music, and use leveling and EQ to ensure everything sounds perfect.
You can opt to have a pro edit your show.
Alternatively go for the simplest option, Alitu (The Podcast Maker)
Select suitable music for your podcast
Publishing your Podcast
This is the sweetest part, getting your podcast live to the listening masses out there.
Put together appropriate cover art.
Compare and select your Podcast Hosting.
Submitting your podcast to preferred directories.
Decide on which website to put your players and show notes on.
What Equipment do you need for podcasting?
Podcasting needs equipment, and this equipment needs to match or even exceed all podcasting expectations.
1. A Computer
This is a must-have for recording and upload of your audio files.
2. Microphones
Using your computer's inbuilt microphone is not recommended.
Look into the following options instead;
USB mic:
Condenser – Blue Yeti
Dynamic – ATR 2100x-USB
XLR mic:
Condenser – Rode NT1 Kit
Dynamic – Heil PR-40
3. Audio Interface
This is a device that acts as a bridge between your microphone and computer. It works by converting analog signals from the microphone into digital signals that are useable on your computer.
4. Pop Filter / Windscreen
You will need a pop filter to help minimize those moments of plosives as you speak.
Plosives are blasts of air that come off your mouth as you speak.
Pop filters will keep your mic from going into the red zone all the time.
5. Headphones
Headphones are the tools that will help you avoid many unexpected mistakes and retakes. Get used to wearing them and enjoy hearing yourself as you churn out your podcast.
6. Headphone Amplifier
A headphone amplifier becomes a necessary addition to your podcast arsenal when you plan on having several hosts on your show. It is much like a unified amplifier and headphone splitter.
7. Mic Stands
Mic stands help with the positioning of your microphone, which translates to enhanced sound quality and improved posture during shows.
8. Shock Mounts
Microphones are highly sensitive to sound, therefore having shock mounts is a great idea. This will save you from the inconvenience of editing out unwanted sounds.
9. Acoustic Treatment
Acoustic treatment is necessary for rooms or areas that experience echoing or reverberation of sound. This treatment though not noticeable, at times, often goes a long way in improving your podcast recording process.
10. Editing Software
For beginners, Garageband and Audacity are free, user-friendly options to use for recording podcasts. A professional paid alternative is Adobe Audition.
11. Podcast Hosting
Hosting is a must-have for your podcast once you are done recording your episodes. There are plenty of viable options to consider, both free and paid plans.
12. Website Hosting
Your audience will want a place where they can go to for information and resources that relate to your podcast. Having a website for your podcast will serve them well in this regard.
Finally
We have shared a lot above, the 10 best podcast hosting options above will lighten your decision-making process on hosting options worth considering.
As you narrow down on your podcast hosting, remember to head into the hosts' website and nitpick everything that would impact your podcast. Scrutinize all features, compliance, available and accessible analytics, storage space, hosting plans, ads, monetization, and bandwidth.
Cheers, and all the best in your podcasting journey!