Architecture shapes the urban landscapes we inhabit. Architects design the buildings to be stylish, modern and convenient. Likewise, web designers create digital space, which looks modern and stylish (UI), as well as convenient to navigate and operate (UX). Today, I share with you 15 best construction themes to help you design your web presence like a pro.
Easy-to-create Bootstrap Construction Website Templates
Choosing a high-quality construction theme in 2019, make sure that your theme has the following features:
It's optimized to launch below 2 seconds.
It offers visual editing.
It has a powerful structure and navigation.
It looks well on every screen.
It offers additional content blocks, widgets, and plugins.
It has prebuilt social integration and working forms.
The theme features many ways to contact you and is optimized for conversion.
Below, you'll find my picks for the top 15 construction HTML5 themes.
Quality Group Home Builder Website Templates
Let's get started with one of the business templates. It will be optimal for any construction or architecture agency. To liven up the experience of your site guests onsite, this theme offers you intricate CSS animations and a hero set of UI blocks. With four Blog layouts and a handful of Gallery types, you get a chance to present your company like a pro. Moreover, improve the user's experience onsite with Material Parallax, which adds true immersion to your website pages.
Finally, QualityGroup theme is the one optimized for fast loading. With this theme, you won't have to search for tricks to improve your site's performance. Main features:
Variety of ready-to-use inner pages;
Free premium images included;
CSS transitions and animation effects;
Multiple gallery types.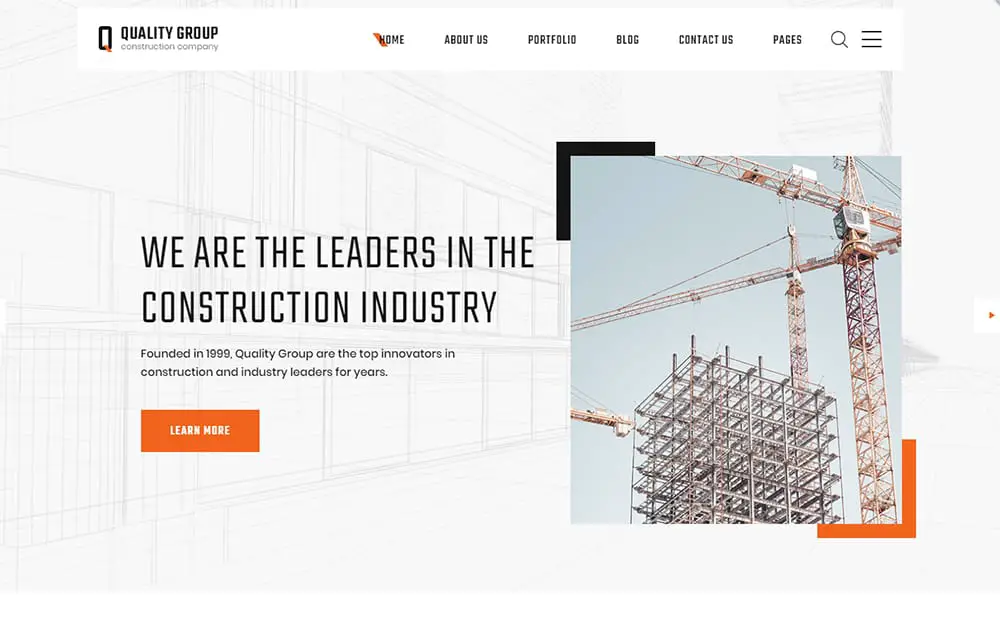 Sheppard – Marine Construction Classic HTML5 Theme
Shappard is a clean and reserved template that establishes a highly professional and trustworthy web presence for a marine construction agency. With an abundant UI kit, this theme furnishes for creating all types of content from blog posts to social media widgets. To improve the visual appeal of your web presence, take advantage of the large pack of premium images you get free. Save your time and effort on buying additional imagery packs.
Needless to say, Shappard is built with the responsive Bootstrap 4 and offers you pleasing adaptive layouts out of the box. Finally, this template is easy to customize thanks to the rich panel of options it provides you with. Main features:
Parallax;
Bootstrap 4;
Working forms;
Cool CSS3 animations.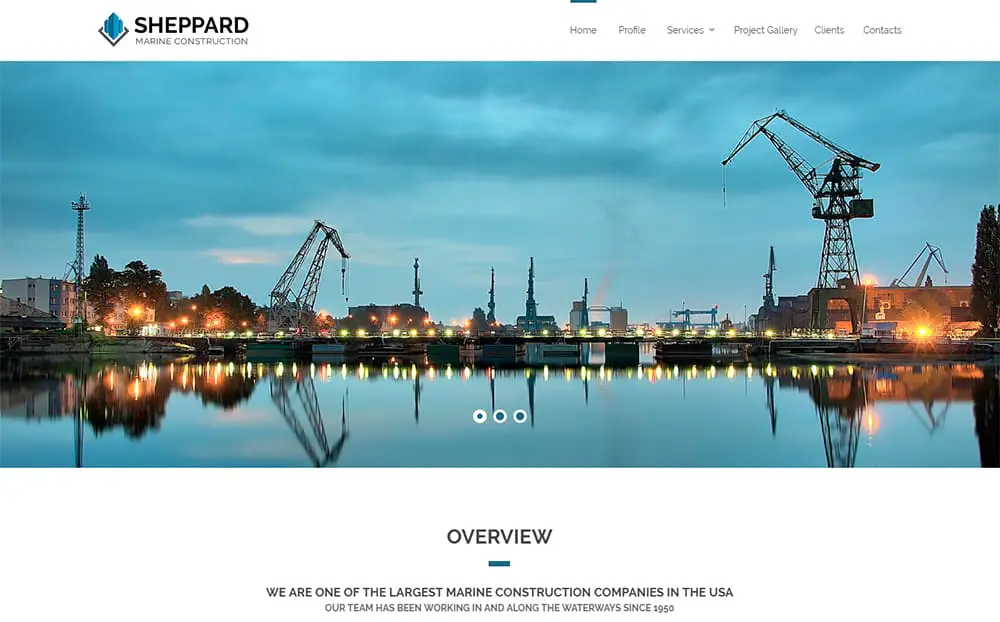 Constructor – Monstroid2 Family Construction HTML5 Theme
Constructor will do a great job serving as the basis of your classy construction web presence. This theme is a part of the advanced family of Monstroid2 themes. This means that Constructor delivers your the top-notch extended theme editing capabilities and unparalleled customization ease for newbies.
With Construction, you get access to all the power and beauty of Monstroid2 templates. You get access to the advanced UI kit for web developers and extended Bootstrap toolkit. Moreover, with Constructor, you can represent the 3D models of your projects onsite thanks to Building Information Modelling (BIM). Finally, this theme lets you access more than 40 ready-made pages for construction.
Main features:
Multiple header and footer layouts;
4 Blog layouts;
Working Newsletter Subscription and Contact forms;
Part of Monstroid2 family of themes.
To learn more about Constructor theme, check out the following video: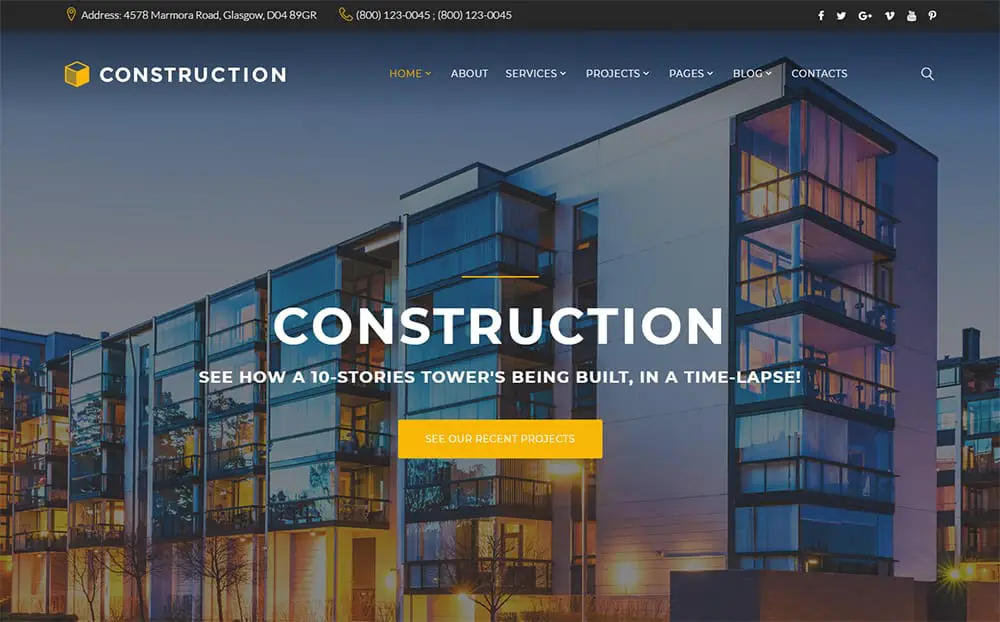 Arche – Architecture HTML5 Theme
Arche is an incredible theme, which brings you the attractiveness of modern minimal web design. This theme has all the building blocks to devise a representation of your business on the web. This theme comes with the full set of pages for such purposes as company presentation and introduction of the services you provide.
For improved responsiveness, this HTML5 theme has the new-gen Bootstrap 4 on board. With this innovative grid, the UI blocks of your theme automatically adjust their width in a smart way. Moreover, this template comes with a full array of customization opportunities for you. Take advantage of the ready-made UI kit shipped with the theme to diversify the presentation of your business online. Other features:
Incredible CSS3 animation;
SCSS and Pug files included;
Optimized for speed;
Parallax effect.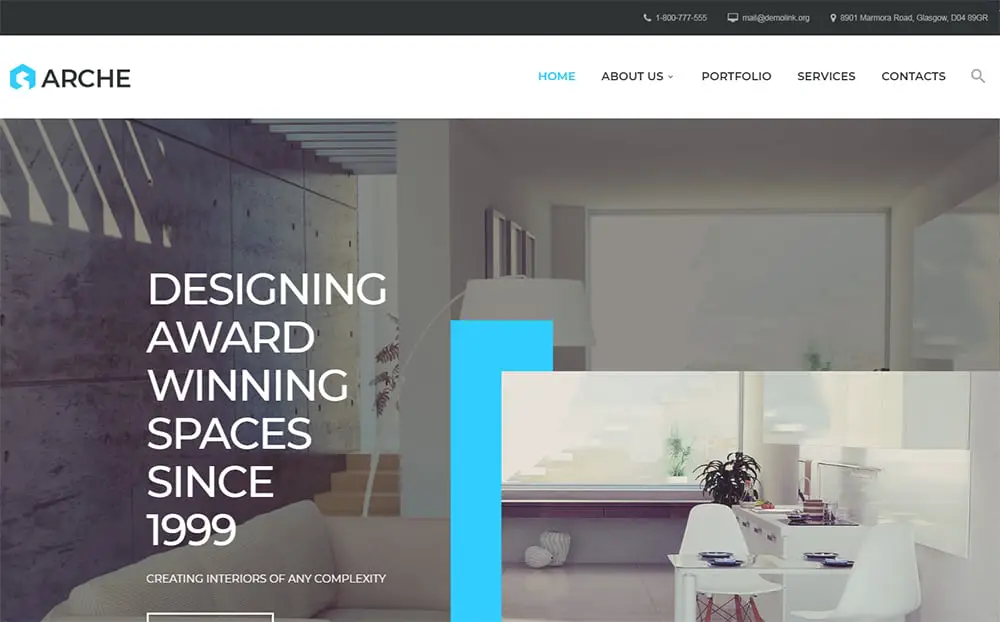 Funture – Architecture Interactive Website Theme
Funture is an ultimately visually stylish and minimalist theme for architecture agencies. This theme adorns dazzling image grids of your projects with material black text blocks. Funture is ultimately minimalist, allowing for eye-friendly and memorable content presentation.
This theme is made with the help of the latest Bootstrap framework and incorporates a customizable flexbox. Moreover, Funture is highly interactive offering you unlimited scrolling animation, Showcase Slider and other valuable visual tricks. Needless to say, all the animation incorporated to this theme is fully customizable, so you can further adjust interactive effects to your liking.
Finally, Funture theme has a rich package of ready-made HTML pages. It includes 18 ready-made pages and a separate Intro Website. Other features:
Unlimited Possibilities Animation;
Showcase Popup Gallery image;
Showcase Slider;
Intro Website.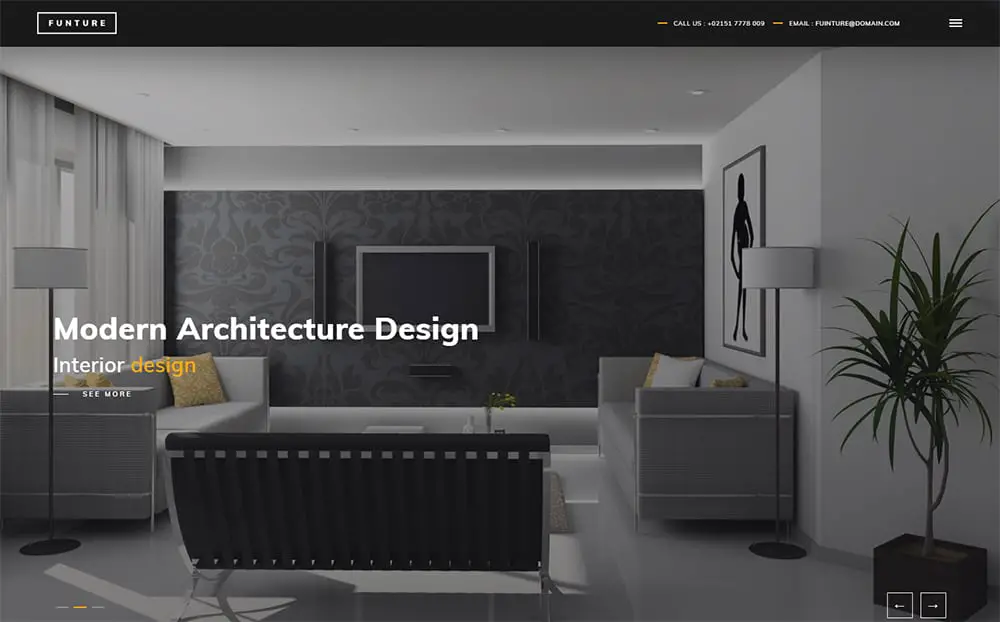 Roxtone – Construction Company HTML5 Theme
Roxtone is a well-thought and conversion-oriented website design for a construction or architecture company. This HTML template comes with the rich set of pages and UI blocks that help you develop a strong web presence within a small period of time. Moreover, Roxtone includes a bonus package of construction-related imagery that you can employ for your project at no cost.
Needless to say, Roxtone is built to foster strong user engagement with the help of advanced CSS animation and diverse transition effects. Moreover, this template delivers you multiple options for effective blogging and presentation of your projects with the Gallery of your website. Other features:
Working Newsletter Subscription and Contact forms;
Powerful Search functionality;
Responsive Slider;
Google Maps and Fonts.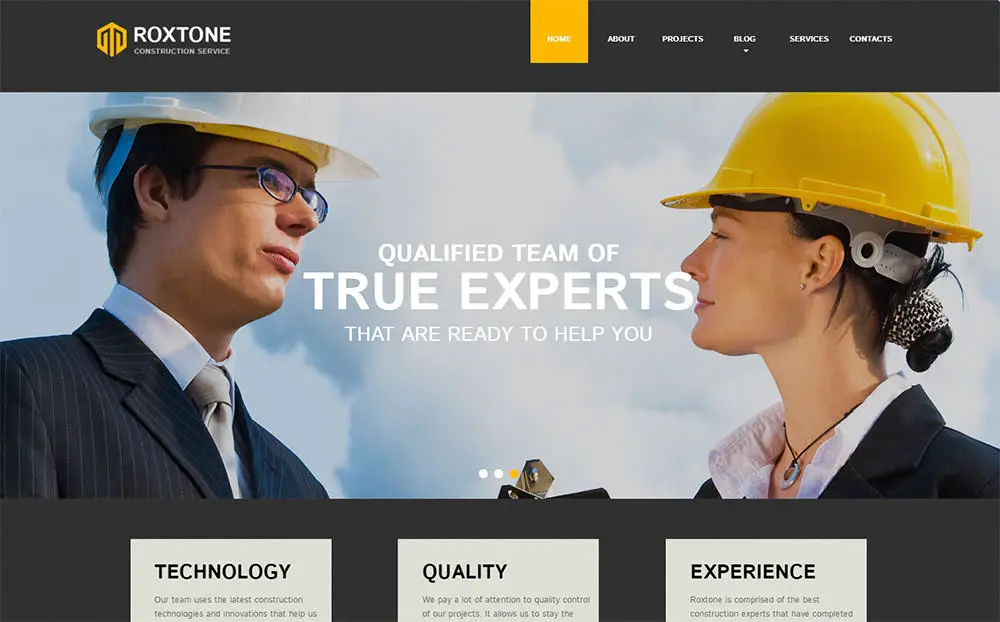 Arty – Creative Architecture HTML5 Theme
With Arty, you get a chance to build a creative architecture website exactly the way you want it to be. This Bootstrap 4 template is flexible and displays with equal grace on all screens from large to small. Moreover, this stylish theme incorporates trendy particle backgrounds, statement-making fonts, and depth-adding Material Parallax.
The coding of Arty theme is extremely powerful. It's well-commented for a breeze customization experience, as well as bulletproof for invincible security. On top of this, Arty theme's UI is enhanced with professional content animation tricks. With the increased engagement, users are more likely to keep browsing your website and convert. Other features:
Huge set of UI elements;
Google Fonts;
Powerful search functionality;
Fully responsive.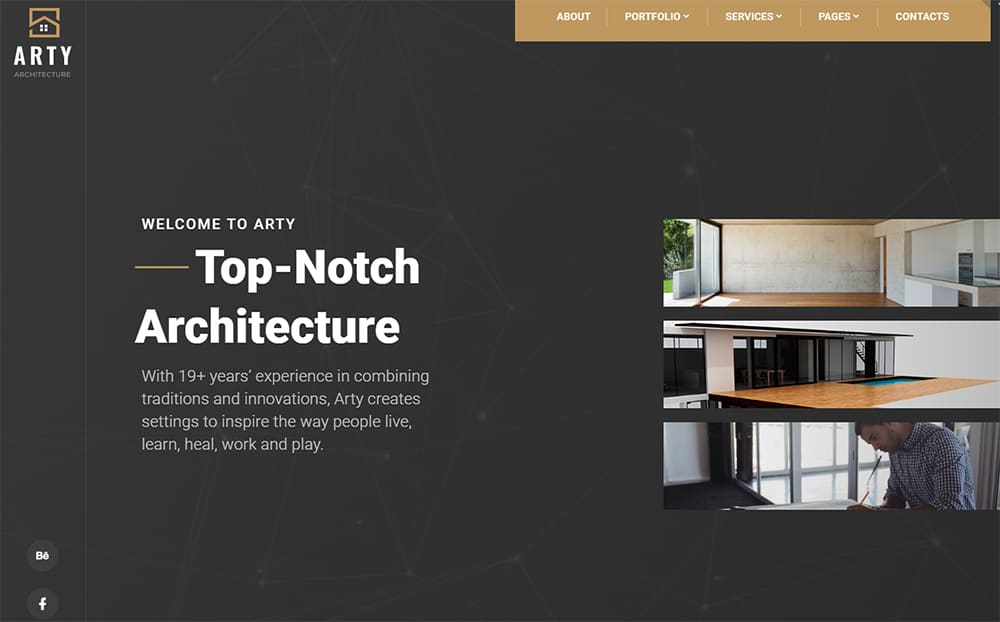 R&Co – Multipage Business Center HTML Template
R&Co is a fast, stylish and well-organized template for a business center web presence or different kinds of construction companies. This theme is designed with the help of thoroughly optimized coding. Thanks to the developer's comments within the coding, it's easy to read and modify it. Moreover, this theme is created with Bootstrap 4 as its basis. This technology underpins the responsive grid structure of your website. With Bootstrap 4, your web presence will score well on every screen.
Next, R&Co is a theme with a carefully thought-out UI. It incorporates the whole assembly of pages needed to jumpstart your website, as well as an ample collection of content display elements. Last but not least, R&Co features present-day content animation tricks which add to the engagement potential of your site. Other features:
SCSS and Pug files included;
Parallax effect;
Google Map;
Variety of working forms.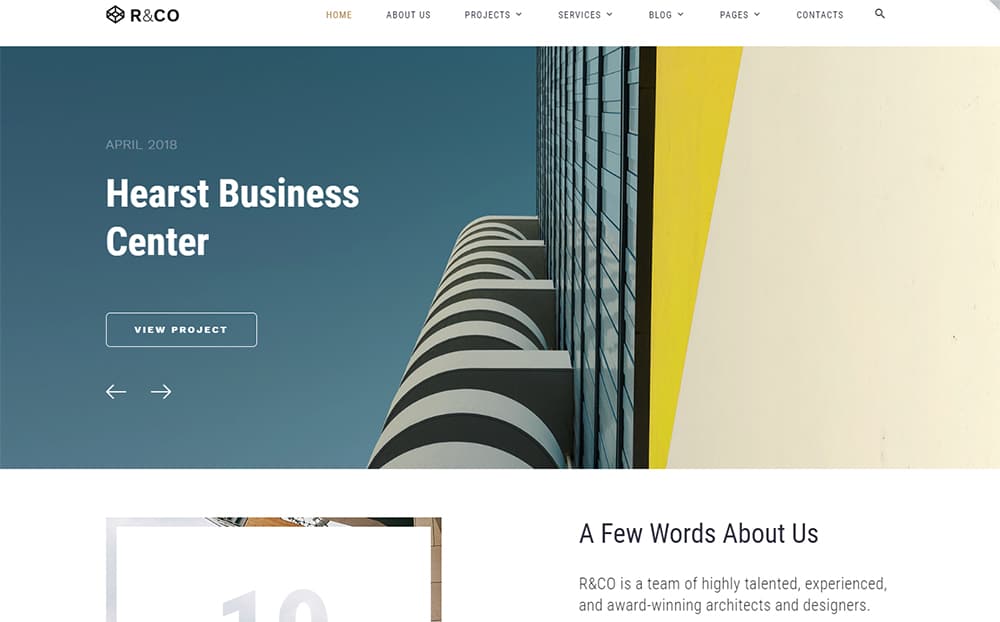 Quarter – Construction Ready-to-use HTML5 Theme
Quarter is a multipurpose theme that meets the needs of construction, real estate, and heavy industry. This theme has a polished-to-perfection clean design, which serves best for uncovering whom you are and introducing your services. This template comes with all the needed source files, such as HTML, CSS, js and Pug files.
Fortunately, you don't have to know coding to go live with Quarter theme. This template comes with a visual builder on board. Novi builder allows you to choose pages and the alignment of sections on your website. It also lets you add content, switch colors, adjust headers and footers, etc. As a result, it will be simple for you to make your website meet your needs and the expectations of your target audience. Other features:
Material Parallax;
Optimized for SEO;
Multiple header & footer layouts;
Novi builder.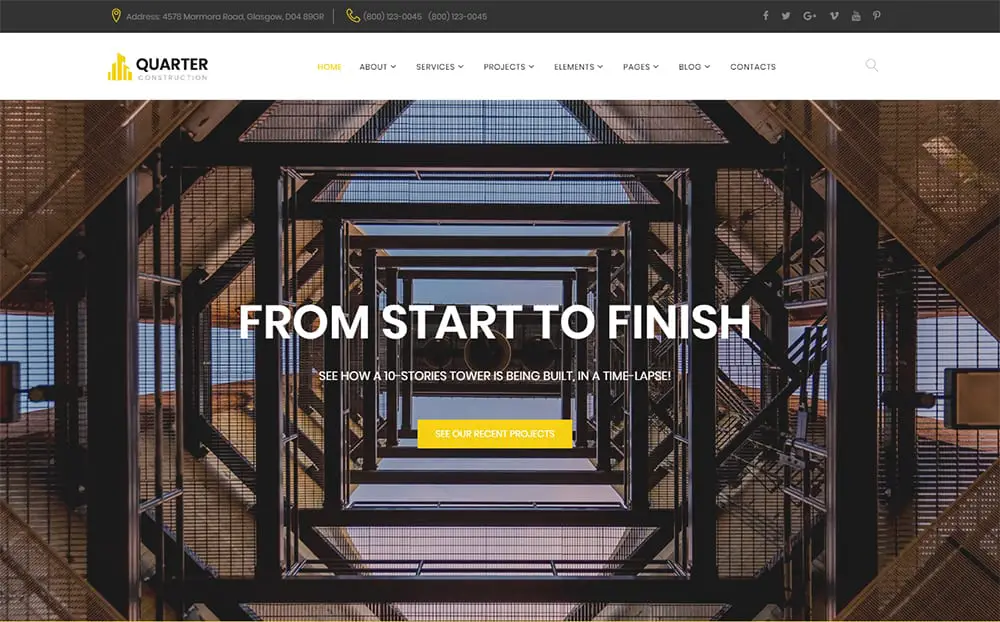 Arch – Architecture Company HTML5 Theme
Are you looking for a futuristic and minimal web presence for your pioneering architecture agency? Being trendy on the web is no more an issue with the clean Arch theme. It offers you 20 ready-made and well-thought pages that serve for all needs you may ever have online. At the same time, all of these pages feature incredible UI elements, Material Parallax sections, cool CSS tricks, and astonishing image grids.
Arch also offers you powerful functionality. It has all you need for powering the effective search feature. Moreover, Arch incorporates Megafooter, which enhances navigating your website. Moreover, this theme by default incorporates strong social integration options, built-in popular forms, Google Map and more. Other features:
Large pack of UI elements;
Megafooter;
Parallax effect;
Optimized for speed.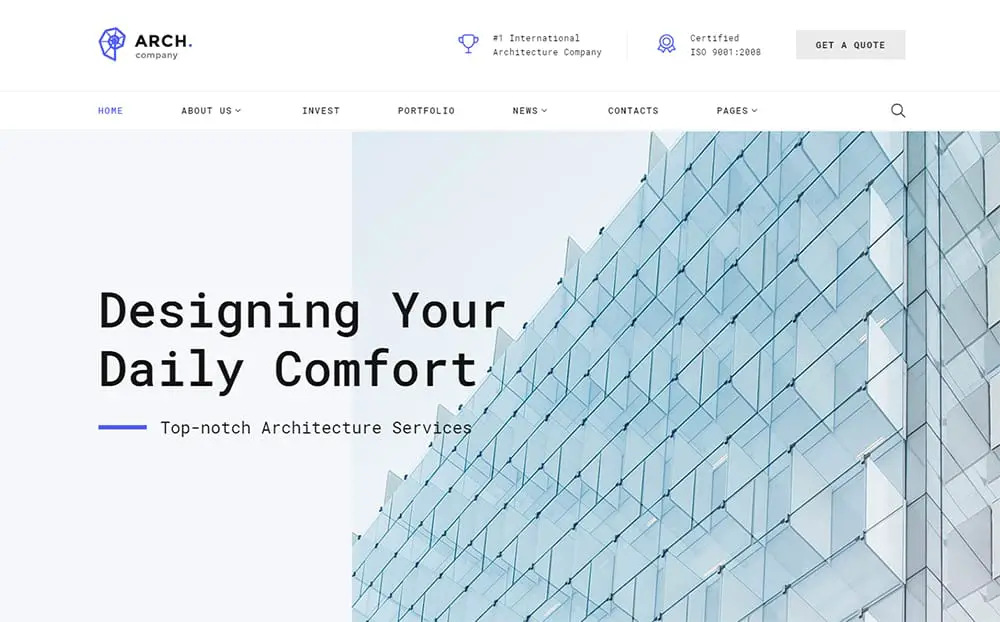 TheNext – Multifunctional Theme for Digital Portfolio
TheNext is a leading theme for a digital portfolio of any kind. This theme is truly multipurpose with more than 30 ready-made website designs all neatly packed in this theme package. Moreover, the collection of TheNext's ready-made elements exceeds 2K professional designs. You're welcome to combine these blocks in any manner to create your unique and eye-catching website. You can also take advantage of 200 pre-made pages that speed up the creation of your website.
Among other draws of TheNext theme come 15 amazing Blog layouts with or without a sidebar. In addition to them, you get 30 pre-saved slider modifications, which make switching between amazing sliders an easy thing. Finally, this theme is online shop ready. It makes it simple to power an attractive and usable e-store on your site. Other features:
30+ Portfolio & Team pages;
Slider Revolution;
200+ shortcodes;
30 skins.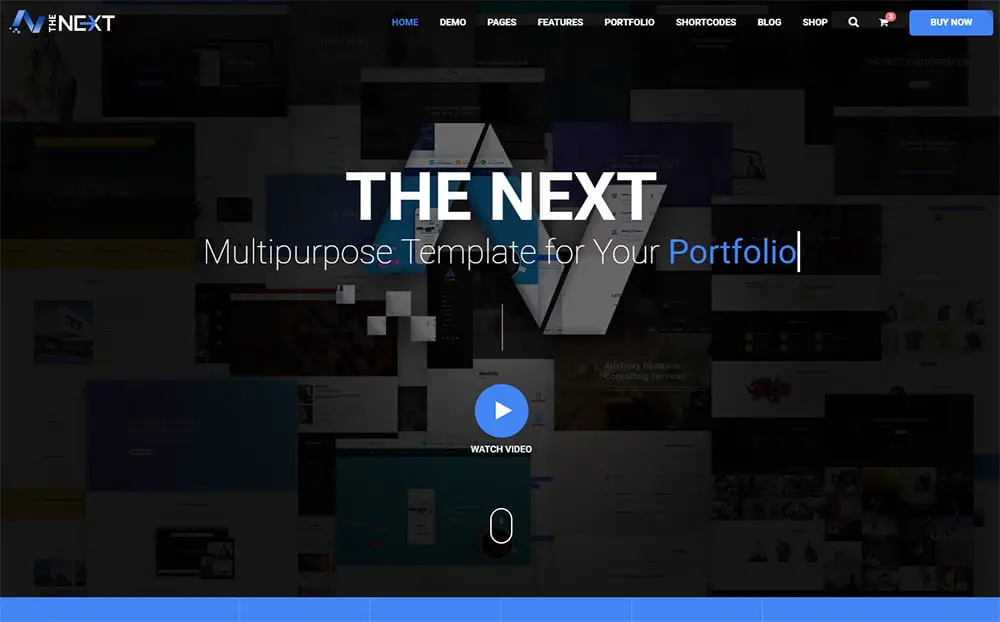 Mariner – Marine Construction HTML5 Theme
With Mariner, you can build a responsive and reliable marine construction web presence in a matter of days. This template will be optimal for those who have a basic understanding of working with HTML and CSS code. Thanks to its thorough and sleek coding, this theme loads within a short period of time and pleases users with its fast performance.
Mariner increases user engagement with inventive CSS animations and tricks that enhance user experience on your website. Moreover, this template features a bonus image package for you that contains construction-related imagery. Finally, Mariner includes all the forms necessary to contact you in a convenient manner. Other features:
Parallax;
Built with Bootstrap 4;
Responsive slider;
Optimized for speed.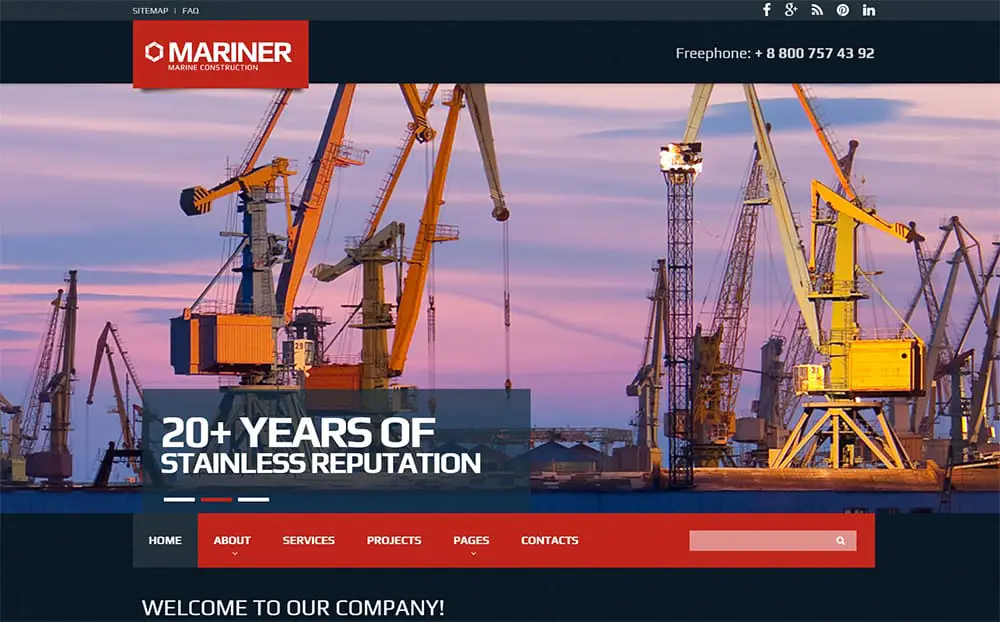 Evolwent – Interior Design and Architecture HTML5 Theme
The next item in this list, Evolwent has an elegant and minimal design, which turns your website into a welcoming space. This theme will be a bulls-eye choice for interior design and architecture agencies. Evolwent incorporates an engaging top slider, intriguing content animation, Parallax effect and a present-day collection of fonts. Moreover, with Evolwent, you get tons of premium images for architecture and interior design free of charge.
Next, Evolwent is optimized for effective content presentation on small screens. The theme is equipped with Bootstrap 4 and offers you present-day responsiveness. Finally, this lightweight HTML5 theme has a package that's optimized for performance. Other features:
Google Map;
Working contact form;
Responsive slider;
Optimized for speed.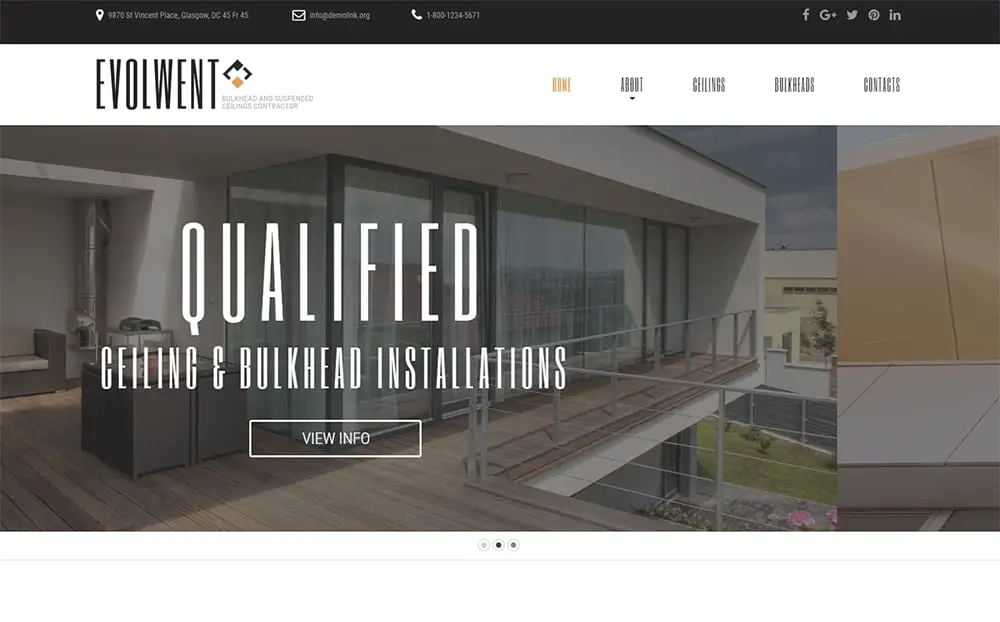 Builders – Construction Company HTML5 Theme
Builders is a well-thought niche template for the construction industry. It offers you effective layouts for content presentation, bonus premium imagery, responsive sliders, rich social integration and more. In total, Builders includes 20 HTML pages, which is more than enough to power a strong web presence on the run.
The theme is based on Bootstrap 4 and features invincible display on mobile screens. For your convenience, Builders also incorporates ready-made Contact and Newsletter subscription forms. Just provide your email address and start getting emails from your customers. Needless to say, this theme is fully customizable and lets you control every aspect of your website's display. Other features:
2 different Home pages;
Smooth transition effects;
Owl Carousel slider;
Nivo slider.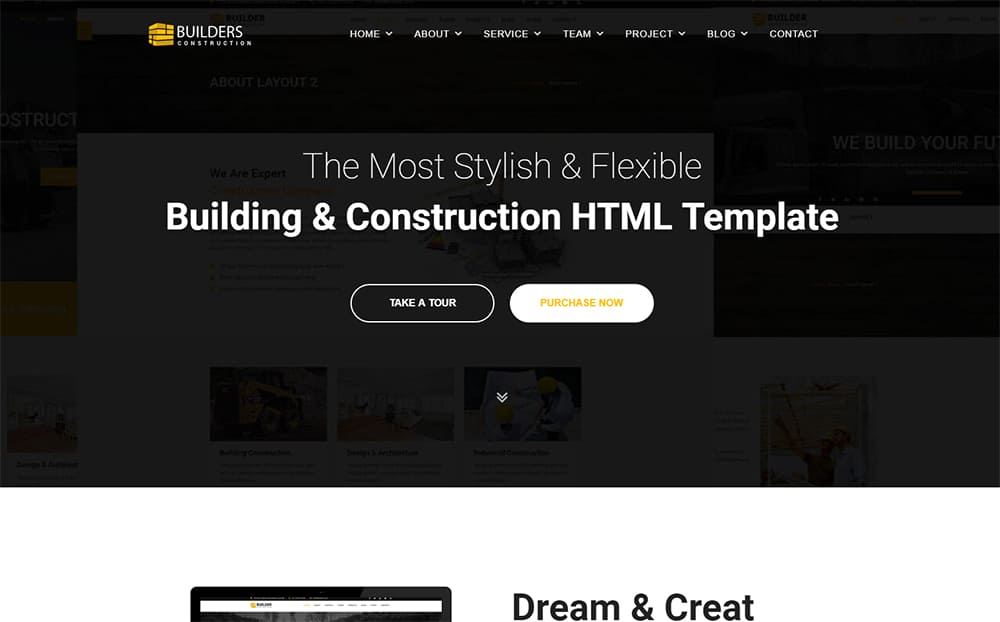 Creek – Construction Industry HTML Theme
Thanks to its powerful functionality and universal nature, this template will be a great fit for next to every architecture website. Every section of this theme is optimized to help you achieve high conversion online. Creek includes 45 ready-made pages that serve literally every need of your digital web presence. With Creek, you get a chance to combine these pages and their elements on the go.
Needless to say, Creek is built employing only valid semantic coding, which is comprehensively commented for your convenience. Creek preforms ultimately fast, loading within 2 seconds and pleasing your site guests with its lightning-fast response. Finally, this theme emphasizes social integration and helps you increase the count of your followers in social networks. Other features:
Working forms;
Google Map and fonts;
Powerful search engine;
6 Blog layouts.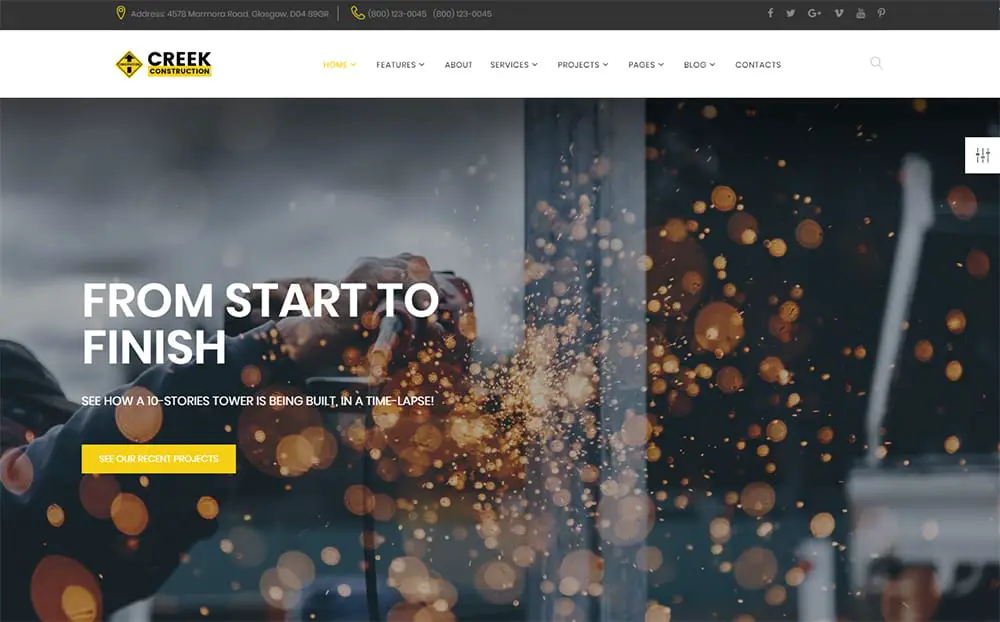 Over To You Now
You've just seen the best website templates for construction on the web. These themes are all optimized for speed, responsive, feature-rich and stylish. Any of them would serve as a sound basis for a great web presence. So, just choose the item that best suits the purposes of your project, and heads toward going live on the web.
Finally, I'm happy to tell you that all of these themes are well-documented. You'll get access to a detailed guide on working with the theme, as well as to multiple more advanced tutorials and video guides. Moreover, with these themes, you also get high-quality support which will help you solve any issues you may face.
Which theme would you choose for a construction website? Share your thoughts in the Comments section below.
Stay tuned for more!